'We have seen only half the truth in cash-for-votes scandal'
Last updated on: December 13, 2011 12:06 IST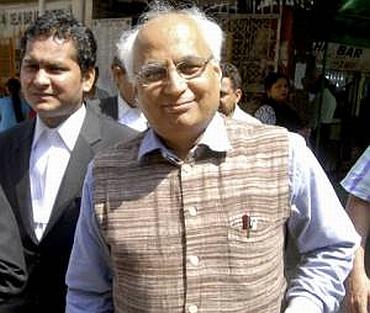 Once a key member of the Bharatiya Janata Party think-tank and an aide to former prime minister Atal Bihari Vajpayee and senior leader Lal Kishenchand Advani, Sudheendra Kulkarni quit the BJP after the 2009 general election.
About a year before he left the party, Kulkarni made national headlines when he along with three BJP MPs, one party worker -- and according to Kulkarni with the blessings of L K Advani, then the Leader of the Opposition in the Lok Sabha -- exposed horse-trading during the no-confidence motion against the United Progressive Alliance-I government on July 22, 2008 that is now dubbed the vote-for-cash scandal.
For this act, this IIT-Bombay graduate, once a member of the Communist Party of India-Marxist, was arrested on September 27 and released on bail on November 18 after a 52-day incarceration in Delhi's Tihar Jail.
In a long column in the Indian Express (external link) newspaper, he articulated how he spent his time in jail.
In this interview with Rediff.com's Prasanna Zore, Kulkarni spoke about what the nation has gained by the exposure of the scandal, his life in Tihar jail, how the solitude and jail life has strengthened his resolve and conviction to continue his fight against the corrupt, and, of course, about his relationship with L K Advani after he quit the BJP.
Are you missing your solitude?
Yes and no, because it was imposed solitude for me. While it did immense good to me, life goes on. I have been released on bail.
The main learning from my experience is one must experience solitude wherever one is; even in the midst of a crowd or in any circumstance one must be able to look within oneself and experience that companionship with oneself.
Would you now voluntarily confine yourself into solitude?
Of course! See voluntary choice of solitude is very different from enforced solitude by way of imprisonment.
Getting solitude is very difficult because of the life we live especially in cities. We are all the time engaged in activities where our attention is outward; it is not focussed inward.
Therefore, I now feel even more convinced that all people should have opportunities to experience solitude some way or the other: By going close to nature; by going on pilgrimages.
Has your 52-day imprisonment made you more spiritual?
Of course, it has made me more spiritual. I had turned spiritual quite some time back, but this experience has strengthened my faith in God because when you are in jail, and especially when you are in jail for wrong reasons, you know that you have done no wrong, but wrong has been done to you, you wonder about justice in the system.
And when I went there (Tihar jail) I was thinking not only about justice to myself, but as I have mentioned in my article (in the Indian Express), there are thousands of innocent people (in Tihar jail) who are suffering much more.
Seventy five per cent of the inmates in the jail are undertrials. And whenever the trial gets completed at least half of them are acquitted (by the courts), proved innocent. And yet they will have undergone punishment for years together.
This is the case about the biggest jail in India, in the national capital. One can only imagine the plight of the prisoners (undertrials) in other jails across the country.
So when you thought about justice to these people you think naturally what is justice and who is the ultimate dispenser of justice in life. The ultimate dispenser of justice is God.
Our courts may fail, there may be lot of corruption in the working of our criminal justice system, but ultimately the justice of God will prevail.
Is being fatalist a solution?
No, no. This is not fatalism, not in the least.
So, what's the solution?
The solution is struggle to change the system. There is a big difference between fatalism and activism. Fatalism is (thinking that) nothing can be done it is all predetermined; let's just accept what comes.
That is not how I experienced my jail life in Tihar. I have come back strengthened in my conviction and my resolve to struggle, to fight and to fight to change the system.
Of course, I know that I can make a very little contribution,but this is the resolve of activism and not the passive acceptance of the reality.

Please click NEXT to read further...
'We were sort of VIPs in Tihar... it's a flaw in the system'
Last updated on: December 13, 2011 12:06 IST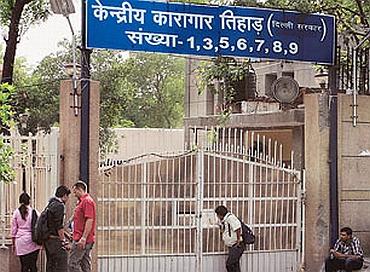 How long did it take for you to get used to the hardships of a life in jail? How would your normal day begin and end?
I cannot call them hardships for myself at all because these are the things (mopping the floor, getting up at 5.30 in the morning, which I did voluntarily) that one must accept.
If you have chosen the life of an activist then you must be ready to accept all the 'so-called hardships' that come your way.
When I went to jail, I never complained in my own mind that I have been deprived of my freedom and condemned to suffer some hardships.
Of course, it took some time for me to get used to the fact that there were mosquitoes that affected my sleep and that Delhi was getting colder with the onset of winter and in jail with the given bedding there was some sort of physical discomfort.
In spite of that I very quickly got into the routine, which I decided largely by myself.
What I wanted to do was spend my time thinking about all that I saw and experienced.
To briefly tell you what I did during the course of my typical day...
I was lodged in ward number 4 of jail number 3 of cell number 1. Cell number 1 happened to be the same cell in which Amar Singh had been lodged before he was admitted to hospital (That is some irony because the former Samajwadi Party leader was arrested also in the vote-for-cash scam).
The typical routine of the jail is that the warder comes and locks you up at 8 in the evening and opens it at 5.30 in the morning and there are no exceptions even when you are some VIP.
During the day you are allowed to walk freely within the premises of your (small) ward comprising 20 cells of 8X10 feet each. If you had to go outside the ward you had to take (the jail superintendent's) permission to go to the library or to the administrative block.
Each ward has a jail chowkie where jail staff is stationed all the time and it was not very difficult to take their permission. But we were not allowed to go to other wards and there were 12 wards in the jail.
I could see the other wards only on the day I was freed after the jail superintendent kindly gave the permission to go round the entire jail after the news had come out that the high court has granted me bail.
What I saw was that the living conditions in other wards were far inferior... you know we were sort of VIPs... we were (searches for the right word to describe his VIP-ness) political activists... but if you saw the barracks in which hundreds of people were made to live... the capacity of Tihar jail is just about 6,000 but there are 14,000 inmates there today. So there was congestion there.
Going back to my daily routine I would get up in the morning and I had decided that I have to do some sewa (service); give something back to the place where I had been sent due to circumstances.
My sewa firstly was in the form of looking after the temple, masjid and an all-faith complex that had place for everybody to pray. I decided to take the responsibility of cleaning that up. In the jail the system is there are no employees; jail inmates do everything.
Unfortunately, it is the poorest of the poor from other wards who are brought to different wards to do the cleaning up work. I felt it was something that I should do. So I did it and thereafter I used my time for morning exercises, yoga, pranayama and some hours of concentrated study, reading, writing, what I have done here (shows a book with his jottings).
In the afternoon I'd spend some time teaching inmates who were either illiterate or semi-literate. The class would sometimes comprise one student, sometime for our six students only because I could not call inmates from other wards.
I had to make do with those yearning to learn from my own ward. They were intelligent people but due to circumstances they could not study much.
In a way I also became a student because in Tihar there is a battalion of Tamil Nadu state police stationed in all the wards maybe because they (the jail authorities) don't want the Delhi police to be too friendly with the jail inmates.
I used that opportunity to learn some Tamil from them and then the jail superintendent was kind enough to get me involved in the activities of what it called the IGNOU centre.
The Indira Gandhi National Open University has a centre in ward number 11, which is devoted only to the inmates who are taking distance-learning courses from the prison.
The jail superintendent asked me to conduct some motivational lectures and that helped me to get in touch with people who were really aspiring to use their time in jail to study something different and be useful.
That was a very enriching experience and in the course of my 52 days they sought my involvement and suggestions. Incidentally, that is also the place where the library of the jail is located and I used to go there very frequently and I gave a suggestion that was accepted.
Because Tihar has a very sort of cosmopolitan mix of people -- foreigners, educated people, totally illiterate people, very rich, not so rich -- I suggested starting a film club there.
I suggested in addition to the films shown on television, Tihar should show the best films from around the world and give the inmates to savour the best in films.
Good movies stay with you throughout your life. The superintendent liked the idea and we managed to form Satyajit Ray Film Club. I wrote a letter to my colleagues here (at the Observer Research Foundation in Mumbai) and they compiled a set of best movies from around the world and send them across to Tihar.
Is that also a flaw in the system? VIP activists get VIP treatment inside the jail...
Of course, it's a flaw in the system... not that it (the cell where I lived) was far too luxurious... not in the least. There was no difference between the food served to us and others. But just in the upkeep of the ward we could see the difference.
Other wards were far more congested; hundreds of them living in one big hall.
I think that kind of a situation makes it gloomier for inmates especially if they have to live for months and years together. It's not conducive in my view for decent living.
Please click NEXT to read further...
'It was only through horse-trading that the government survived in July 2008'
Last updated on: December 13, 2011 12:06 IST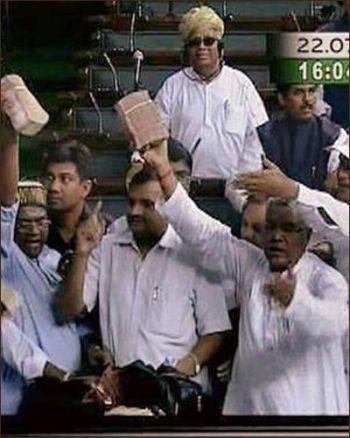 Did you ever feel suffocated after you were locked up at 8 in the evening inside your cell?
No, the limited space and other things somehow did not become considerations for me at all. Because I knew the same is the lot of other inmates and I really had no right to claim more (comforts).
Although in our ward they had allowed a television in each cell I didn't take that facility because I didn't want anything to disturb my solitude.
In the evening I used to spend a lot of time on physical exercises and brisk walks within the ward. All that helped me.
After 8 the only thing I did was read, write and solve Sudoku puzzles that I would collect from the newspapers and meditate. By around ten I would retire for the day.
Has your daily regimen changed after your jail stay?
It has changed to some extent. What I lack here in Bombay (Mumbai) is lack of open space. Because Tihar is somewhat away from the main city in Delhi and therefore the air is little cleaner. I miss that in Bombay.
In your article in the Indian Express you have blamed Dr Manmohan Singh's government for your imprisonment. Was it Dr Singh's government or the law of the land that was responsible for your jail term?
The judiciary acts on the basis of the chargesheet filed by the police. And the Delhi police is controlled by the Union home ministry. The basis of my being sent to jail is the chargesheet prepared by the Delhi police.
Your movements were restricted inside the jail. How did you manage to meet Maoist ideologue Kobad Ghandy?
Kobad is lodged in the high security ward at Tihar jail. He has a medical condition and it so happened that our ward is located right next to the hospital.
He would come quite regularly to the hospital and when I came to know that he comes at a particular hour I used to go and see him.
When I was at IIT in the late 1970s after the Emergency there was lot of student activism to protect democracy, civil liberties and I knew that Kobad was very active during those days in an organisation called Committee for the Protection of Democratic Rights.
Not that I interacted much with him, but I knew he was quite a well-known name in those days.
During our conversations we discussed many things, but the Kobad that I came to know is a person who is very sensitive, a man of values, and he is now engaged in a serious study of why Communist movements have failed both in India and abroad.
Let us talk about the 'cash-for-votes' scam... When you planned it were you always sure of its success? And in hindsight, what has the nation gained from this exposure?
The entire nation and the entire world today knows that there was horse-trading in July 2008 (when money was given to three BJP MPs to vote for the Congress-led UPA in a vote of no confidence that could have led to collapse of the UPA-I government) and it was only through horse-trading that the (Manmohan Singh) government survived (on the issue of the nuclear deal with the US after the Left parties withdrew support to the UPA-I government).
The government was in a minority and it indulged in blatantly corrupt practices to win a majority and the people involved in this, at least some of them, have been now made accused in the case and the chargesheet itself says that they participated in horse-trading, they gave money for the purpose of winning the favour of the three BJP MPs.
If you see the WikiLeaks exposure of April 2011 it brought out how there was horse-trading involving other Opposition MPs. WikiLeaks in fact corroborated what we had tried to expose in July 2008 through our cash-for-votes operation.
As far as the success of the operation is concerned, we took the risks and I think we have been vindicated.
It has taken a long time, but in spite of the delay the judicial process has moved on. I must thank the honourable Supreme Court for its intervention. Otherwise, this case wouldn't have moved on at all.
It was only after the Supreme Court intervened, the investigation (into the cash-for-votes scam) gathered momentum and it doesn't matter that I was sent to jail.
If that is the price to be paid for bringing the truth out in the public, then I think my imprisonment and the imprisonment of my two colleagues Mahavir Bhagora and Faggan Singh Kulaste (both former BJP MPs) as well as Sohail Hindustani who in fact has stayed the longest in jail... he was the first one to go to jail. Our imprisonment has served the purpose.
Please click NEXT to read further...
'Humbled by the way in which the BJP leadership appreciated our work'
Last updated on: December 13, 2011 12:06 IST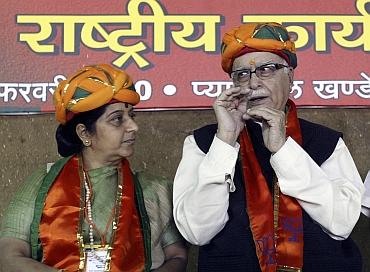 But who do you think are the real people who were really behind this horse-trading?
Will they ever be brought to justice?
Will their names ever become public?
I don't want to take any names, but as soon as I came out of Tihar, I have said that what we have seen is only half the truth.
The full truth is yet to come out and it is the responsibility, I think, of all concerned citizens of India to demand that the full truth comes out.
While one could understand the involvement of the three BJP MPs in exposing the horse-trading, why involve someone like Sohail Hindustani?
Was he so crucial to the entire operation?
Of course, he was crucial.
I take objection to (people casting aspersions on his character)... just because he (Sohail Hindustani) is an ordinary person I go entirely by his involvement in this (cash-for-votes scam).
I am not talking about his involvement in (other issues)... we are not in the business of giving character certificates, but in this particular operation his involvement has been absolutely above board.
He has not taken a single paisa for himself and he has suffered the most.
After your release from jail, has your relationship with the BJP improved?
I was immensely heartened by the fact that the BJP leadership took up this issue with enormous conviction and determination.
On September 8, Advaniji defied the government to arrest him. He said, 'If our MPs are guilty then I am also guilty, arrest me. Whatever they did was with my authorisation as Leader of the Opposition (in the Lok Sabha in 2008) then.'
This was a very bold and almost unprecedented challenge thrown by a senior leader like Advaniji (in protest against the arrest of the two former BJP MPs). I think that really was the turning point in this entire matter.
Thereafter, when I was in jail, Advaniji himself came to meet me, Arun Jaitleyji (the Leader of the Opposition in the Rajya Sabha) came twice, Nitin Gadkariji (the BJP president) came, Sushma Swaraj (the Leader of the Opposition in the Lok Sabha) came (to meet me).
The fact of the matter is they spoke outside the jail and this showed that the BJP took it as a matter of conviction.
Even when we took it up (decided to stage the cash-for-votes operation) it was the party's decision, not the brainchild of A or B unrelated to the rest of the party. I am grateful to the party leadership for their support and solidarity.
Has the thaw between you and the BJP melted then?
(After considerable thought) I have felt really humbled by the way in which the party leadership has appreciated our collective work. And that has given a lot of strength and inspiration to us.
Would you be open to be Mr Advani's aide again?
Even in the last two years I have worked very closely with him. In that sense, a certain association with the BJP leadership has continued even when I was not as active as earlier.
You wouldn't say that you would be part of BJP's think-tank again?
I don't want to comment on that at this point.
How did your mother cope with your incarceration?
Her strength comes from her faith in God. She has suffered a lot in life, but she is a very strong woman.
Please click NEXT to read further...
Check out our TOP slide shows
Last updated on: December 13, 2011 12:06 IST