Amit Mitra: The face of change in West Bengal?
Last updated on: April 5, 2011 10:58 IST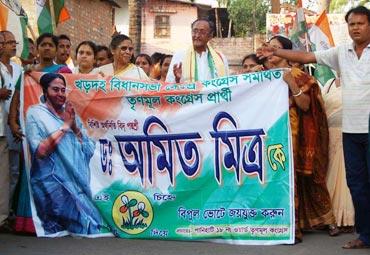 Trinamool Congress candidate and Federation of Indian Chambers of Commerce and Industry secretary general Amit Mitra, who is pitted against Communist Party of India-Marxist candidate and West Bengal Finance Minister Ashim Dasgupta, is confident that his party is heading for a victory at the forthcoming assembly elections in West Bengal.
Mitra has taken leave of absence from FICCI to contest the assembly polls. 

Having spearheaded FICCI for the last 15 years and co-operated with government officials and industry leaders, Mitra has been a major agent of policy change in agriculture, food processing, small business, education, health and vocational training.
Rediff.com's Indrani Roy Mitra interacted with Mitra informally on a hot summer day during his campaign around Khardah in North 24-Parganas district.
Click NEXT to read further...


'Amit Mitra zindabad, Trinamool Congress zindabad'
Last updated on: April 5, 2011 10:58 IST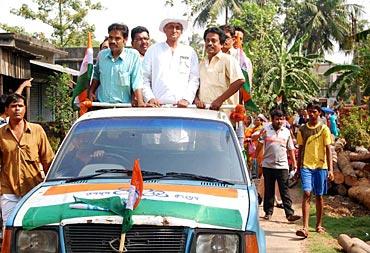 The day was way too sultry for April. Amit Mitra was busy touring his constituency. The day's campaign was split into two parts: rural and urban. Clad in a white dhoti and kurta that looked a wee bit incongruous with sneakers and a Panama hat, Mitra waved at the people who had gathered around his jeep, occasionally folding his hands in a polite namaskar.
He maintained a warm smile throughout, never letting the soaring temperature take its toll. 'Amit Mitra zindabad, Trinamool Congress zindabad', thundered his supporters and fellow party workers from behind. A small group escorted the jeep and cleared the way ahead.
It was a tough drive for the man behind the wheel, as the road was narrow and bumpy. People on both sides of the road comprised mostly housewives, small businessmen, students, children and old people.


Which way does the wind blow?
Last updated on: April 5, 2011 10:58 IST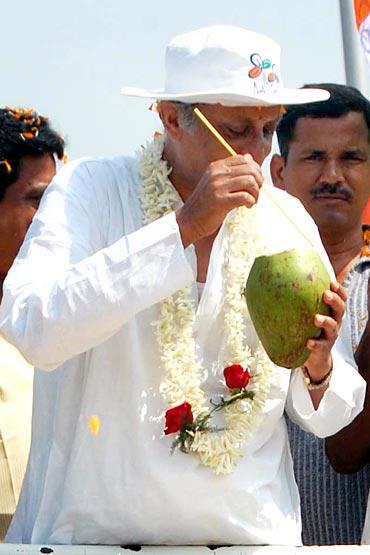 A man in his late 60s walking with a stick caught our attention. "Dada, ki bujjhchhen, voter haoa kon dike? (Which way does the wind blow -- Trinamool Congress or Left Front?)" we asked.

"Assembly election holo giye one-day cricket match. Sesh bol obdhi bojha jaye na ki hote cholechhe. (It is difficult to predict, you see. Assembly election is like a one-day cricket match. You cannot say anything unless the last ball is bowled)," spoke the experienced mind on condition of anonymity.
How right he is, we thought and moved on.

We then got off our vehicle and started walking alongside Mitra in order to speak to him.

He took two short breaks: once to have green coconut to quench his thirst and then to have lunch at a local restaurant.


'It's a new road for me altogether'
Last updated on: April 5, 2011 10:58 IST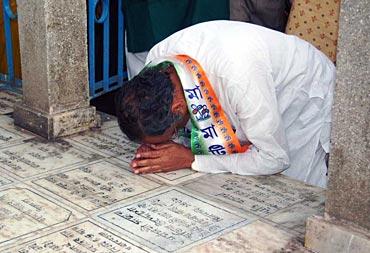 Mitra also sought the blessings of Lord Panchanan (the other name for Lord Shiva) at a local temple before setting off for the second round of the day's campaign.
During an impromptu conversation that we could manage, Mitra made it clear he was there to communicate with the people and not with the media. We present here some of his thoughts:
On his new assignment
When I first joined FICCI on my return from Virginia, it was a great challenge. Historical changes took place. FICCI had only 20 economists then, and now the number is 220. From a Budget of Rs 3 crore (Rs 30 million), it moved to that of Rs 120 crore (Rs 1.2 billion). FICCI now has 17 offices in India, 9 offices abroad and houses 600 employees.
Hence, it has been a challenging road in FICCI all through.
Now that I am contesting the election, it is a new road for me altogether. But I am the one who hates taking a path well-trodden. I would rather take a new course and leave a trail. I am loving my new assignment of helping (Trinamool chief) Mamata Banerjee build a better Bengal.
On being projected as the trump card

I don't believe in this word. Each of the 294 candidates of the Congress-Trinamool alliance is vital. Each one is special. And it's unfair to discriminate.
About his contender Dr Ashim Dasgupta

West Bengal Finance Minister Dr Ashim Dasgupta is senior to me by a few years. We share a cordial relationship. I respect him a lot. Ours is a contest of ideology; there is nothing personal about it.


'I am acting as one of Mamtadi's soldiers'
Last updated on: April 5, 2011 10:58 IST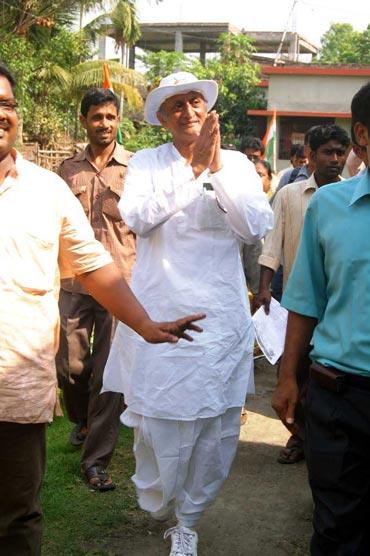 On the present state of Bengal's economy
West Bengal has a huge potential. But sadly, it is economy that is in shambles. Now that Bengal is on the brink of a change in governance, its economy has to be turned around.
A new beginning is knocking at the state's door, a brand new financial structure needs to be designed based on transparency, integrity, merit and governance of the people.

Party cadres cannot and should not be allowed to rule any longer.

Once the party-cadre rule is over, the people of West Bengal will get a democratic and people-centric government under Mamata Banerjee. And I am acting as one of her soldiers in making this possible.

On what led to the bankruptcy of Bengal

Minimal capital expenditure made by the government over the years had led to this kind of bankruptcy. There would be a tectonic shift in the flow of investments and expansion of existing industrial units if Trinamool Congress comes to power in the state.

On the future of investments in the state

The state's bankruptcy can be turned around within a reasonable period of time under Mamata's leadership. For that, one needs to build people's confidence.

Restoration of confidence would result in enterprises which had left 20-30 years ago to come back. Also, the existing ones would feel charged and would plan growth and expansion.


'An election is all about people'
Last updated on: April 5, 2011 10:58 IST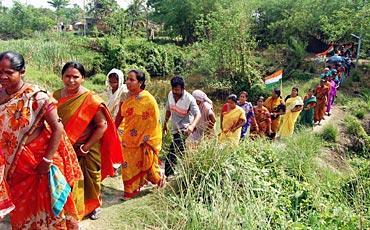 On the infamous 'militant trade unionism' in the state

The Trinamool Congress manifesto clearly spelt out Banerjee's approach towards a collaborative relationship between the management and the employees.

On his experience of working with Mamata Banerjee (Mitra worked as the chairman of the railway expert committee).

Seeing Banerjee's vision and methodology of work, I am convinced that the change we are all looking for in Bengal can be achieved through her leadership

On why is Mamata Banerjee the 'sole agent for change'

No political party in the country had come out with a cogently argued critique of the misdoings of the Communist Party of India-Marxist's misrule through hard empirical evidence.

No political manifesto has produced a list of deliverables with a time line. Trinamool Congress will usher in a change this time: I am quite optimistic about it.I am banking a lot on the positive vibes that we are getting from the people. An election is all about the people, isn't it?


'Is this how TMC plans to ring in change?'
Last updated on: April 5, 2011 10:58 IST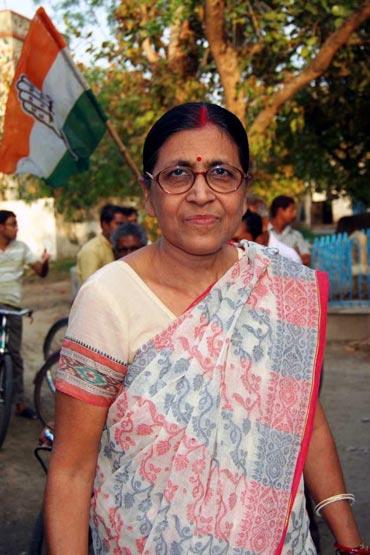 A hot and humid day was now coming to an end -- a sunny afternoon was rolling into an evening of light breeze, much to our relief. Mitra's campaign was not yet over.

He was now on foot, visiting Panchanantala Bazar of Sodepur, an urban area under Khardah constituency.

At this point, the rally, for some unknown reason, went completely haywire. Was it exhaustion or lack of coordination?

We had no clue.

"Is this how TMC plans to ring in change?" barked a middle-aged woman from behind.Homemaker Shivani Dutta, accompanied by her kin, had come to cheer Mitra.

To her, Mitra represented 'change' that everyone around her was talking about all the time. But she was irked over the lack of harmony that marred the rally. "We all want a change in governance. No democracy should allow a party to be in power for three decades," she said.
"But the party that the people are putting their faith on needs to be better organised, you see. Orchestrating a rally efficiently is the bare minimum one expects of a political outfit that is projected to be the future 'ruler' of Bengal," she added.

Irrefutable logic, this.

But is anyone listening?