'India's one of the most exciting nations in the world'
Last updated on: March 29, 2011 18:56 IST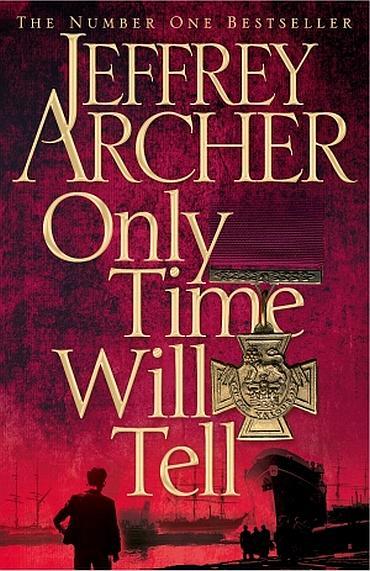 Jeffrey Archer speaks with Sudarshna Dwivedi about the first book of his five part The Clifton Chronicles series, what pushes him to keeps writing at 70, his fitness routine, cricket and India!
It is all serene and quiet from the glass French windows of the rooftop meeting room of The Trident hotel in Mumbai. The city presents a picture perfect backdrop of the sea and the snaking traffic around it, minus its noise and chaos. But the scene changes soon, as Jeffrey Archer enters the room.

The energy and life that he brings with him is palpable. He has really bounced back into his element with Only Time Will Tell -- a gripping tale of deceit and betrayal, nobility and friendship, love and heartbreak, hardships and survival.

His first book of his planned The Clifton Chronicles series records the life and times of Harry, born to Maisie and Arthur. But Maisie happens to have had a chance sexual encounter, just before her marriage with Hugo Barrington, son of the shipping magnate Sir Walter Barrington. So Harry's paternity is in doubt, for his mother and the reader.
Arthur goes missing soon after marriage, never to return and Maisie takes the job of a waitress to ensure that her gifted son gets the education, he deserves. In the boarding school the paths of the Cliftons and the Barringtons cross again despite the huge class divide.
Giles, Hugo's son, becomes Harry's best friend, and the link that unwittingly introduces Emma (his sister) in his life. The first book deals with Harry's journey from birth to 20 years and covers a time span of 1920 to 1940.


Lord Archer is amazing. At an age, when most men think of sitting back on their laurels and relaxing, he has planned and delivered the first of his Clifton saga of five books spanning a hundred years. No less than a chronicle will do for him.

What did he have in mind when he embarked on this colossal task?

"Cane and Abel had 84 reprints. I even rewrote it. But then I thought why only this should be read again and again? Why should Cane and Abel remain my best, most popular work? I was 69, so I thought if people think it my biggest work, why not write something bigger, something spanning 100 years -- 1920 to 2020 -- five books -- my best work, something much bigger for people to remember me by when I die. So this is what I had in mind."
Please click on NEXT to read more from this fascinating encounter with one of the world's top-selling novelists
'Death is much more dramatic'
Last updated on: March 29, 2011 18:56 IST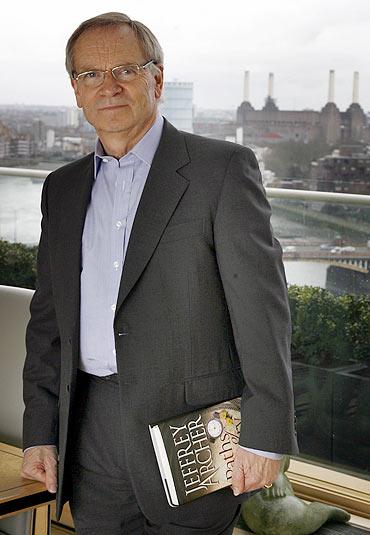 But are they going to be divided in chunks of 20 years each? "No," he says emphatically "the next one -- book two will deal with war (
World War II
) and the problem with war is that it is big and it cannot be concluded in a certain number of pages. So the next book will deal with a different time span (
ten years
) and the book after that may cover 30 years."
"I think physically and mentally this is going to be one of the toughest things I have done in my life!" he adds.


And for this toughest task of his life he has chosen a hero that has a lot of Jeffery in him. To a question whether Harry is so real because he shares something of the author, he agrees emphatically, "Yes, I am Harry! Though there is some Giles too in me, but I am more of Harry."

We will have to wait till next year to know how Harry fares during the war in a new land with a new identity that too of a man wanted for murder. How he will escape from the clutches of the American police to continue his long journey is known only to one man.
Archer says he is going to live for a 100 years and when I say I hope so does he, it is welcomed with a resounding yes and a huge chuckle.
Archer, whose first draft of the second book is ready, even as he goes on a whirlwind promotional tour of the first, worldwide, has all ready the opening of the third book -- in his mind.
"Emma and Harry will have a child -- Sebastian and there is going to be an adopted child Jessica, who is half-Jewish. These are the two who will be introduced in the second book and who will take the chronicles forward in the third book with the rest of the cast."

Why did he kill Jack, such a nice character whom he calls one of his 'finest piece of writing' in the first book itself and not even give him a last meeting with Harry? "There must never ever be a last meeting. Death is much more dramatic."
'I am the author, not you!'
Last updated on: March 29, 2011 18:56 IST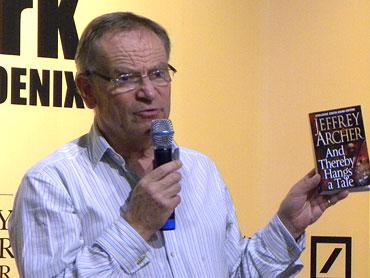 Naturally he does not want to divulge if the story has a happy ending for Emma and Harry nor is he willing to take a bet on Harry being finally established as Clifton's son.
"How can you be so sure?" he roars good-naturedly. "I am the author, not you!" But I am the reader, not you; my response with equal emphasis draws a hearty chuckle.
The only nugget he is willing to share is about Maisie who I thought had a very rough deal throughout the book and suffers the cruellest blow at the end when Harry dons the identity of a dead man and is dead to the world.
He does write a letter to his mother informing her of the truth, but certainly a letter is a poor substitute for a son.

"Wait for book two, Maisie will be very big. She who left school at 14 will not only learn to read and write, but will get a degree at the age of 60 in book three. She was unaware of the contents of Harry's letter because she could not read. So it remained unopened. Emma wanted to open it, but Maisie did not agree."
Does that mean that Emma and Maisie remain in touch? "Wait for book two," he says with his impish smile and a twinkle in the eye.

Sebastian is the son born to Emma with her supposedly half brother Harry. Their marriage is cancelled on this count in book one. But his very existence is going to raise the issue of incest. And since Archer revealed that Sebastian is going to be prominent in book two, three and four, how is he going to deal with this issue?

"This is going to be a problem. But as long as the reader is not sure if Hugo is the father of Harry or Arthur, things can be worked out." He plans to maintain this suspense till the end. This firms up my belief that Harry will not turn out to be a Barrington and evokes another round of hearty laughter from the clever author.

Archer says he has no idea about the contents of book three, four and five nor does he have any clue about the end, but I do not believe him.
A craftsman of his calibre who chisels his books to perfection with 17 drafts will surely have his story in place before he ventures forth with his first sentence.
'Indians blog about me more than anyone else'
Last updated on: March 29, 2011 18:56 IST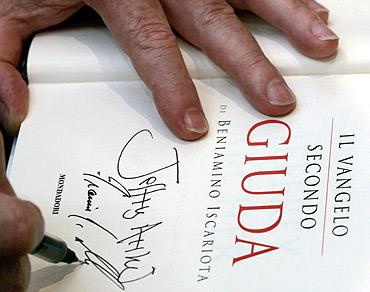 Lord Archer does reveal that we will get to see Hugo in a big way in the next book. Even Fisher, the bane of Harry's life in the hostel, will resurface -- more vicious and dangerous. "He meets Harry in the battlefield, when they both join the army. He will try to kill him."
I say I find the ploy of switching identities with dead persons too old. Comes the quick reply, "But it gets him off the hook. The big and important thing for him is for Emma to believe that he is dead."
"Right, but it leaves the reader on the hook and him with the task of getting Harry out of the shoes of a dead murderer. How will he do it? "Honestly, I had no idea while I was writing the book." But he has it all figured out now.
He is happy with the reception of the book. "Everyone is telling me this is the best thing you have done. The sales are up 30 percent on the last book. It's a big surprise. I am now ahead of any author in the world now." He finds his readers wonderful.
"They write to me all the time. Indians blog (about) me more than anyone. I have more Indians blogging to me than any race on the earth."

For some time now he has made an annual visit to India. Does India fascinate him?
"Fascinate?" he thinks for some time, "It is a good word. It (India) is constantly changing so much and so quickly. You have seen it in your lifetime. I come back and it has changed in a year. I think at the moment you are one of the most exciting nations in the world."

He finds the Indian people very nice, very gentle, very kind and the worst drivers in the world. He hates the snarl of traffic on roads and the way people cut lanes to remedy it, he once again offers his services as the minister of transport, something he has been doing every time he is here.
He admires Indian women, but Indian cuisine does not interest him. "I can't handle hot," he says and as he never eats the third course, he does not realise what he is missing by way of sweets. But he is not fond of English cuisine either -- he likes Italian.

The secret of his fitness is his thrice a week training at the gym. He wants to be fit, because he wants to live forever and keep writing.
'It is you who should be giving aid to us'
Last updated on: March 29, 2011 18:56 IST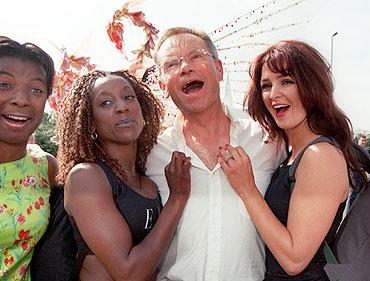 "Indians are assets," he says about Indians settled in the UK. "Indians are hard working, well educated, very determined and adding greatly to our way of life. There are some races that are not. I have a friend who has just entered Parliament, who is a Muslim, just 36 years old? No, I have no problems with Indians."
He reacts quite hilariously when ask how he feels about Britain freezing economic aid to India till 2015, as that much aid is needed for some poor states here.
"It is you who should be giving aid to us. Things have turned around. We want aid from you. We want the money back, every penny, we need it," he screams. He thumps the table with gusto to drive home his point.

His enthusiasm makes me ask him if he misses politics? "A little. But I keep in touch, meet people read newspapers. I read the Times this morning as well. But writing is what I like. This keeps me fascinated. This is my life."

His take on the present political scenario in Great Britain is: "We are in a terrible mess and I hope (Prime Minister David) Cameron can get us out of it but the man I was having lunch with today, a financial wizard, says it is not possible. So I am keeping my fingers crossed."

He is rich enough not to let the economic downturn bother him. "Money is wonderful and the privileges that come with it, but that is not what I live for. I live to write. I am happy because I can write. I will be very unhappy if I could not. So it is not money, but my work that makes me happy."

Despite working in The Writers Block, as his latest writing place on an island is called, he has never suffered it himself.
"Certainly at the end of the day I am shattered physically. But my trainer is making me do a certain set of exercises. She says my shoulders and arms are coming too forward. So she makes me do this set of exercises after each session."
And writer's elbow? He writes for eight hours in four shifts of two hours each when working on a book. Before I realise what he is up to, Archer gets up and demonstrates shoulder and arm exercises expertly a few times, announcing, "This is what I keep on doing, plus stretches and walking a little."
'Appreciation is what motivates me'
Last updated on: March 29, 2011 18:56 IST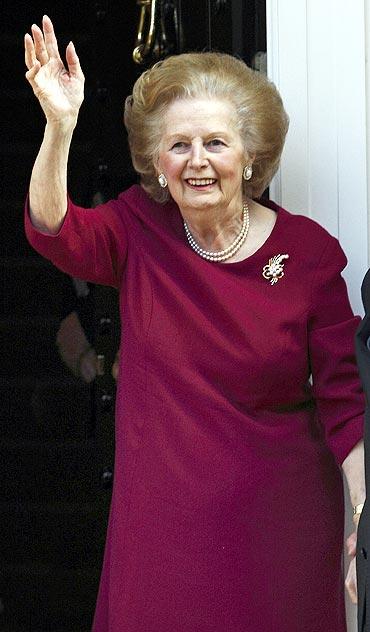 He gets to sleep about five hours a day and may doze for half an hour if he feels too sleepy. He does not drink except an occasional glass of red wine in the evening.
So what gives him the high needed to ride on the top waves of life with boundless energy? "England's win in cricket," he says. His love for cricket is well known. "Honestly, the appreciation of my readers is what really motivates me."

He is an admirer of the Tata family that uses 65 percent of its income for philanthropic purposes. "This is an example for the whole world -- the Americans, not only the British. There are several rich families that can follow this."

"I have already started the process. In fact, my 70th birthday is set on this. I have given six of my paintings to Oxford and six to Cambridge. To my wife's hospital, I have donated a million pounds."

He has some amazingly strong women in his life. Mary, his wife; Margaret Thatcher; and his mother. He admires all three. "My mother was a remarkable woman who faced some very tough times. But in that generation and ours too, it was common. I have no doubt that you must have faced some tough times too."
"But for the present generation -- our children and their children -- things are lot easier. But it is easier because of the previous generations."
He narrates an incident when he had gone to hand over awards to young achievers -- men and women in their thirties.

Seated behind them were their parents. "I ordered them, 'Turn around and look at them. It is because of them that you are here today.' My mother was a very strong woman. If she was alive today she would be doing all the things I am dong -- writing novels. She did write a book, though it didn't get published. It was a detective novel. I have used scenes from that in almost all my books."
'I am proud to be a workaholic'
Last updated on: March 29, 2011 18:56 IST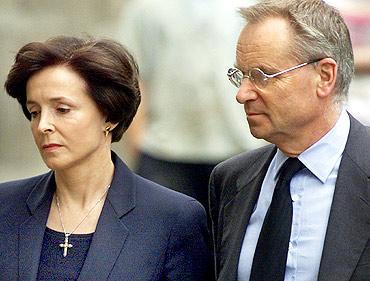 The theatre, cinema, reading and watching cricket are some of his methods of relaxation. After devoting 90 percent of his time to work Jeffrey Archer devotes just ten percent of his time to relaxation.
What always brings a smile to his face and warmth to his heart is his work. He is very proud to be called a workaholic. Even when he has finished a project and is seemingly relaxing, his brain is constantly working on his next book. Why does he drive himself so hard?
"I want people like you to say I am the best. How can I get that that if I am lazy? How can I get that if I am happy with my first draft? So I go on and on so that people like you can say it is better than (French master novelist Alexandre) Dumas. I do not just want to be financially successful and quite a good story teller. I want to be Dumas."
"So I go on and on and on and I always will, because I want you to read my second book and say, 'My God! I can't wait for the third.' That is what I want. It would be easy to write all the books now and collect millions and millions of pounds. And most of the people will accept it, but you will not accept it. So I have to have book two good enough for you. And book three good enough for you."
"I look forward to reading what you have to say," says the warm, courteous charmer, with whom I share a birthday, as the interview ends, but not before we fix up four more interviews at the publication of each of the next four chronicles.
It makes my day.