Kejriwal alleges Haryana govt-DLF nexus to favour Vadra
Last updated on: October 9, 2012 20:29 IST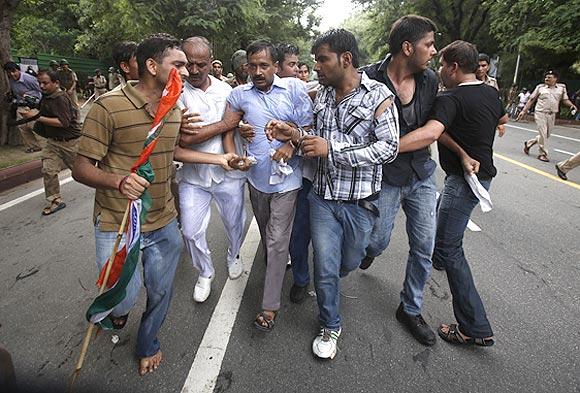 Claiming more evidence of a nexus, activist Arvind Kejriwal on Tuesday demanded a probe by retired Supreme Court judges into the business relationship between Robert Vadra and DLF and a white paper by Haryana government on the benefits it allegedly gave to the realty major.

In a follow up to his earlier allegations of a quid pro quo between Vadra and DLF, he claimed he more proof to show there was a "nexus" between Haryana government and DLF, which was given land, circumventing laws.
"Prima facie there is strong evidence (against Vadra). We demand an independent probe by a Special Investigation Team of retired Supreme Court judges. An FIR should be lodged against Vadra immediately," he said.
Kejriwal, a former revenue service official, claimed that it was a "fit case" for the income tax department to raid Vadra but when the country's finance minister himself says that his account books are clean, "then who will have the courage to take action".
While there was no reaction from Vadra, Congress spokesperson Rashid Alvi rejected as "baseless" the fresh charges levelled by him against Robert Vadra and said there was "nothing new and no proofs".
Daring Kejriwal to issue a white paper on the finances for his campaign, Alvi asked Kejriwal to file a criminal complaint in the matter and approach the court so that law can take its own course.
Read documents by India Against Corruption on the Haryana government-DLF nexus
Click on NEXT for more...
Kejriwal alleges Haryana govt-DLF nexus to favour Vadra
Last updated on: October 9, 2012 20:29 IST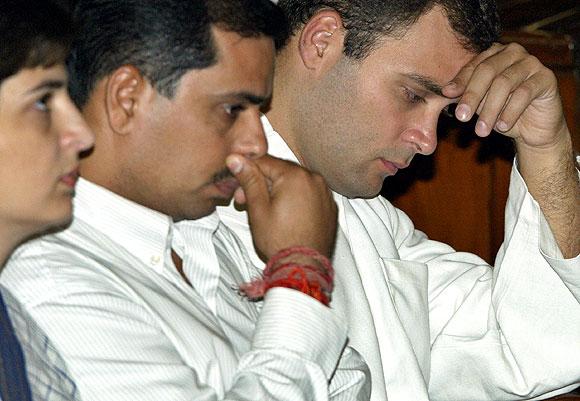 Rejecting the allegations, Corporate Affairs Minister M Veerappa Moily said the matter relating to land deals was examined and it was found that there "no serious infirmity or violations" of Companies Law. "Appropriate action was taken for a few typical violations," he said.
Refuting contentions that this case would not hold water as Vadra is a private individual, lawyer Shanti Bhushan said Section 9 of Prevention of Corruption Act and Section 114 of Evidence Act clearly shows that a solid case can be made.
Nobody gives a benefit, which has a value of hundreds of crores, without expecting any advantage in return. One can easily imagine what kind of advantage one could expect from a politically influential person like Vadra," he said.
Seeking clarity from the Congress whether it has any relations with Vadra, Kejriwal said, "If not, why the country's finance minister, law minister and even the corporate affairs minister are jumping into his defence and what is his relationship with government?"
Ruling out approaching court in the matter, he said that the government should either act against Vadra or Prime Minister Manmohan Singh and Haryana Chief Minister Bhupinder Singh Hooda resign from their posts.
Listing out several alleged favours that the Haryana government doled out to the realty major in the past, Kejriwal demanded a white paper into the transactions between both the parties in the past ten years so that the truth comes out.
He cited a Punjab and Haryana high court order in which it cancelled the decision to allow construction of a SEZ by DLF instead of a hospital as planned. He referred to the court order which said "facts alone are enough to establish the nexus" between the government and the realty major.

Click NEXT to read further...

Kejriwal alleges Haryana govt-DLF nexus to favour Vadra
Last updated on: October 9, 2012 20:29 IST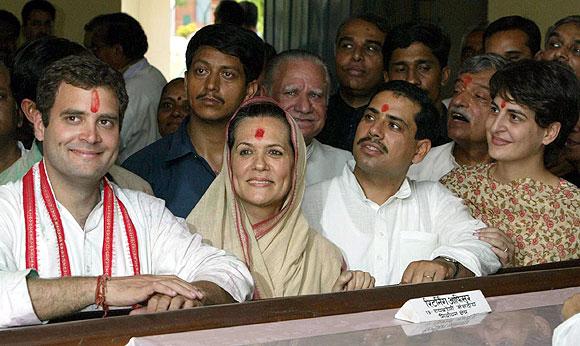 Kejriwal also claimed that Vadra bought 50 per cent stake in DLF SEZ Holdings in 2008, a year after it was formed, but sold it back to DLF in 2009. "What role did he play in that one year when DLF SEZ was under Vadra's control," he asked.
He also alleged that 350 acres of government land was given to DLF by rejecting the bids of two construction majors even without opening their technical bids. "The other two had quoted higher prices for the land than DLF which would have resulted in the government getting more money," he alleged.
Alleging that the government allowed the DLF to increase population density from 250 to 625 per hectare in one of its projects, he said though there has been such changes in other projects, but there "has not been such a phenomenal increase".
Kejriwal also claimed that government favoured DLF by cancelling land acquisition process after its companies managed to buy land at a cheaper price from farmers in Manesar.
"The government offered Rs 12 lakh per acre when it announced acquisition of land. But six alleged front companies of DLF offered Rs 20 lakh to farmers. Many farmers fell prey and sold their lands. Some farmers did not sell their land to government. Then government invoked the final notice and in a distress sale, all the farmers sold it to the company.
"Two days after, the government fraudulently cancelled the land acquisition order and issued licences in favour of DLF," Kejriwal alleged.
Responding to DLF claims that they had not given unsecured loans to Vadra, he claimed that the account books of Vadra paints a different picture.
On claims that it gave advance to Vadra to buy a property, he said, "Is it a normal business practice to give an advance of 90 per cent of the amount of transaction and let it remain with the seller for more than two years without even bothering to take possession of land? Is it a normal business practice to let this advance remain interest free," he said.
TOP photo features of the week
Last updated on: October 9, 2012 20:29 IST
Click on MORE to see another set of PHOTO features...
© Copyright 2022 PTI. All rights reserved. Republication or redistribution of PTI content, including by framing or similar means, is expressly prohibited without the prior written consent.