Unabated bloodbath in Libya; West mulls sanctions
Last updated on: February 25, 2011 18:22 IST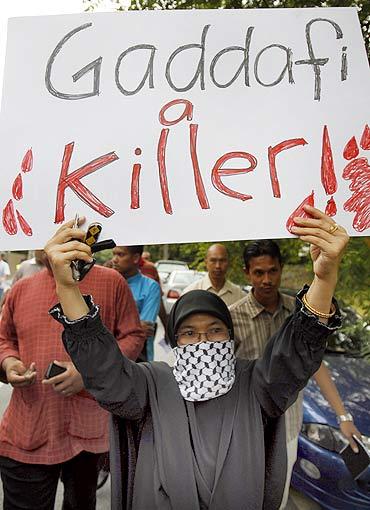 Libyan forces loyal to Muammar Gaddafi attacked anti-regime protesters with machine guns and rocket- propelled grenades at a mosque in Zawiyah leaving nearly 100 people dead, as outraged western nations on Friday prepared to slap sanctions against Tripoli.
Undeterred by the brutal military action, protesters, who have gained control of several eastern cities, advanced closer to 68-year-old Gaddafi's stronghold of Tripoli.


Speculation was rife over the whereabouts of the Libyan ruler who, in a marked contrast to a 75-minute address from a podium outside his Tripoli home on Tuesday, told the state TV on telephone last evening from an undisclosed destination that al-Qaeda of Osama bin Laden was responsible for unprecedented protests against his 41-year rule.
An increasingly isolated Gaddafi said the uprising against his regime was not a people's revolt in the style of Egypt and Tunisia, but inspired by Osama's outfit.
Please click NEXT to read further..
Unabated bloodbath in Libya; West mulls sanctions
Last updated on: February 25, 2011 18:22 IST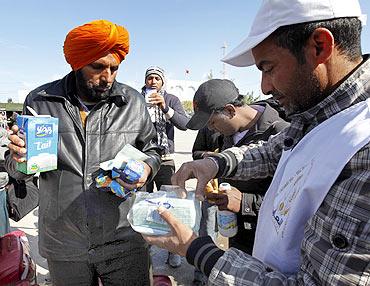 There had also been reports of a fierce battle for control of an airport near the opposition-controlled city of Misrata, about 200 km from Tripoli.
However, the worst violence was witnessed in the town of Zawiyah, about 50 km west of Tripoli, where troops opened fire with automatic weapons and an anti-aircraft gun on a mosque where protesters had been taking shelter last evening.
Witnesses told Al Jazeera the death toll in the violence there was estimated to be close to 100. But Gaddafi's opponents reportedly managed to capture a military air base.
Unabated bloodbath in Libya; West mulls sanctions
Last updated on: February 25, 2011 18:22 IST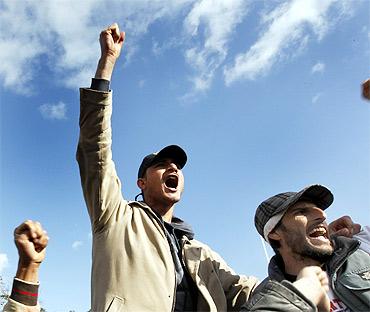 In Washington, United States President Barack Obama spoke over phone with French President Nicolas Sarkozy, British Premier David Cameroon and Italian Prime Minister Silvio Berlusconi and discussed the Libyan crisis.
The White House said the leaders discussed a range of options that both the US and European countries are preparing to hold the Libyan government accountable for its actions.
It said all options were on the table, including sanctions. State Department spokesman P J Crowley said the Obama administration supported a European proposal for the UN Human Rights Council to recommend Libya's expulsion from the body.
He said US Secretary of State Hillary Clinton, at the direction of Obama, is travelling to Geneva on February 27-28 to address a meeting of the UN Human Rights Council and mobilise the international community against the Muammar Gaddafi regime of Libya.
The UN Security Council is expected to meet soon in New York to consider further action against Gaddafi's government.
Unabated bloodbath in Libya; West mulls sanctions
Last updated on: February 25, 2011 18:22 IST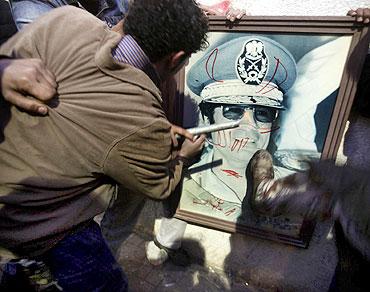 Reports from Tripoli said the bodies of people killed in the capital city have been cleared off the streets.
Witnesses said pro-Gaddafi militiamen, including foreign mercenaries, were patrolling Tripoli's main streets, firing in the air.
Security had also been stepped up outside key government buildings, and homes and hospitals had been raided in search for opposition supporters, they said.
In another blow to the Libyan leader, his cousin and close aide Ahmed Qadhaf al-Dam announced that he had defected to Egypt in protest against violence in the country.
Quoting a statement from al-Dam's office, Egypt's official MENA news agency said that he had resigned from "all his official functions."
Al-Dam, who had a permanent residence in Cairo and oversaw Libya's relations with Egypt, resigned on Thursday "to protest against the handling of the Libyan crisis."
The statement called for "a halt to the bloodbath (in Libya) and a return to reason in order to preserve the unity and future of Libya."
Witnesses said a pro-Gaddafi army brigade attacked Misrata's airport with mortars and rocket-propelled grenades.
They told Al Jazeera that pro-democracy protesters had managed to fight off that attack.
"Revolutionaries have driven out the security forces," they said, adding that "heavy machine guns and anti-aircraft guns" were used against them.
Unabated bloodbath in Libya; West mulls sanctions
Last updated on: February 25, 2011 18:22 IST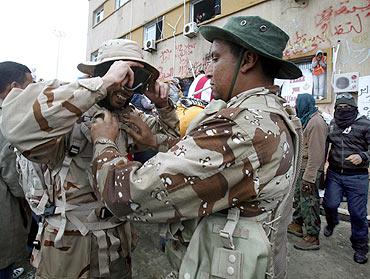 European Union foreign policy chief Catherine Ashton said the 27-nation bloc needs to consider sanctions like travel restrictions and an asset freeze against Libya in a bid to stop violence there.
NATO's main decision-making body also planned to meet in an emergency session soon to consider the Libya situation.
Top UN human rights official, Navi Pillay said there are reports of mass killings of thousands in Libya that should force the global community to "step in vigorously" to end the crackdown against anti-government protesters.
The Swiss government, reacting to the Libyan situation, has ordered a freeze of any assets belonging to Gaddafi in the country.
The death toll since violence began in the over week-long uprising remains unclear, though Francois Zimeray, France's top human rights official, claimed on Thursday it could be as high as 2,000.
Earlier, Franco Frattini, Italy's foreign minister, said a number of 1,000 was "credible".
The Paris-based International Federation for Human Rights put the figure at 640 as of Wednesday. Foreign governments were continuing to evacuate their citizens from the country, with thousands flooding Libya's land borders with Tunisia and Egypt.
Libyan state TV, meanwhile, announced that every family in the country would receive 500 dinars ($ 400), and that wages for some categories of public sector workers would increase by 150 per cent, in what was being seen as an effort by the regime to assuage anti-Gaddafi feelings.
© Copyright 2022 PTI. All rights reserved. Republication or redistribution of PTI content, including by framing or similar means, is expressly prohibited without the prior written consent.