After the rain, the digs pour in: 'Tip tip barsa paani' in Mumbai Metro
Last updated on: July 03, 2014 19:50 IST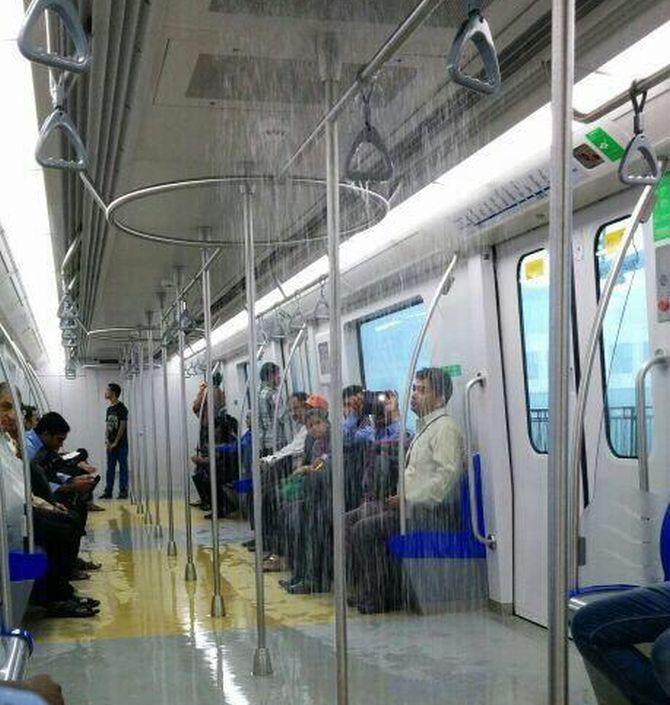 It took eight years and Rs 4,321 crore to build the Mumbai Metro. But less than a month after starting operations, the newest mass transit system in Mumbai has spectacularly failed in the face of the city's legendary rains.
Twitter swiftly reacted when an image of water started leaking around 11.30 am in a compartment of a Ghatkopar-bound train.
@abhishektelang asked "Are they trying to Harvest Rain Water inside Mumbai Metro??? #EpicFail #ThisisMUMBAI."
@sapanv tweeted, "If you're running late, just take a shower on your way to office in the new Mumbai Metro."
@coolfunnytshirt said, "Mumbai Metro Rail converted to Mumbai Metro Rain! Amazing! #Respect
Have some monsoon pictures you would like to share? Please post your photographs HERE or send them in at citizen.reporter@rediffmail.com

Please click NEXT to read more…
After the rain, the digs pour in: 'Tip tip barsa paani' in Mumbai Metro
Last updated on: July 03, 2014 19:50 IST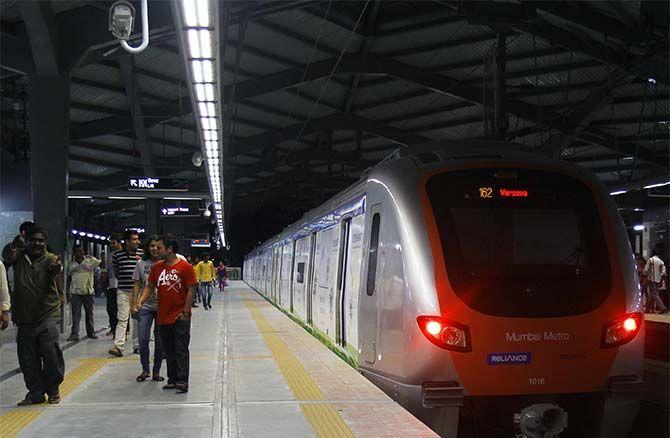 The reactions continued to pour in.
@inageshk asked, "Q: One thing that Mumbai #Metro has which Bangalore Metro doesn't? A: Showers within the train.
@bwoyblunder said, "Instead of repairing the leaking Mumbai Metro, how about diverting it to WaterKingdom?"
@YearOfRat added, "Had Raj Kapoor been alive today, he'd be working on getting a white saree clad heroine inside Mumbai Metro. You people have no imagination."
@Reviewero tweeted, "If traveling by Mumbai Metro, download tip tip barsa paani on phone.. as soon as it rains… put it on and start dancing."
Have some monsoon pictures you would like to share? Please post your photographs HERE or send them in at citizen.reporter@rediffmail.com
Please click NEXT to read more…
After the rain, the digs pour in: 'Tip tip barsa paani' in Mumbai Metro
Last updated on: July 03, 2014 19:50 IST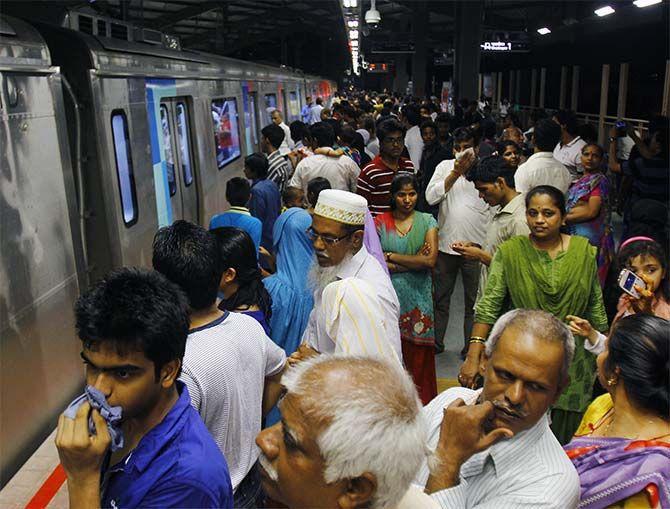 @mediacrooks said, "The rain in rail stays mainly in the train -- Eliza Dolittle (while travelling on the new Mumbai Metro)."
@Siddhantmt said, "Take free bath. We do believe in clean journey. #MumbaiMetro #RelianceMetro."
However, after the image went viral, an official of the Mumbai Metro One Pvt Ltd said, "At a few locations, leakages were reported during the first spell of rainfall. These leakages are being rectified. In construction of such structures, these leakages are normal and generally require attention after the first showers."
Have some monsoon pictures you would like to share? Please post your photographs HERE or send them in at citizen.reporter@rediffmail.com