26Jagan loyalists resign, AP Cong in trouble
Last updated on: August 22, 2011 14:52 IST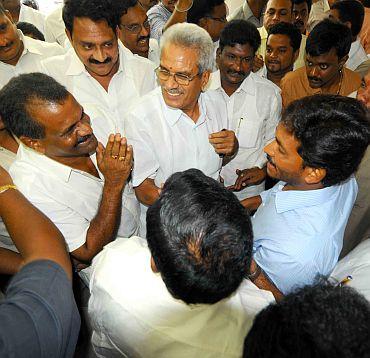 The political crisis and uncertainty for the Congress government in Andhra Pradesh further deepened on Monday, with 26 members of legislative assembly (of the party) submitting their resignations in support of beleaguered YSR Congress president and member of Parliament YS Jaganmohan Reddy. Mohammed Siddique reports.
Twenty-six Congress members of legislative assembly owning allegiance to YS Jaganmohan Reddy on Monday tendered their resignations to the Assembly Secretary Sadanand. Two rebel Telugu Desam MLAs and one rebel Praja Rajyam Party MLA also submitted their resignations.
YSR Congress spokesperson Pilli Subhash Chandra Bose said that the 26 Congress MLAs and two Congress MPs have also resigned from the primary Congress membership.
The MLAs, angered by the inclusion of the name of former Chief Minister YS Rajasekhar Reddy in Central Bureau of Investigation's First Information Report as a criminal conspirator have decided to quit, only to plunge the Congress government in a deep crisis.
Click NEXT to read further...
26 Jagan loyalists resign, AP Cong in trouble
Last updated on: August 22, 2011 14:52 IST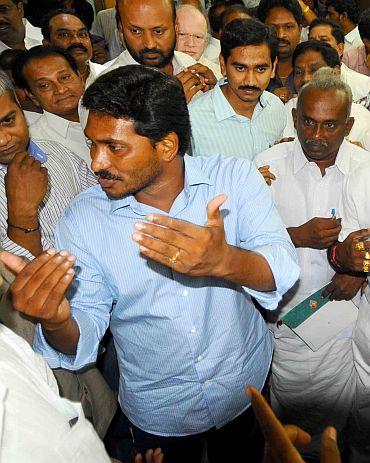 However, the resignations will not be sufficient to bring down the government of Chief Minister N Kiran Kumar Reddy, as Congress' strength has been bolstered by 17 members, with their merger with Chiranjeevi's Praja Rajyam Party.
The Congress also enjoys the support of seven member of Majlis-e-Ittehadul Muslimeen. Even if all the Jagan loyalists keep their word and quit, Congress will continue to enjoy the support of around 150 members in the 294-member House.
However, Jagan supporters were putting up a brave front.  J Prabhakar, a spokesman of the YSR Congress claimed that another 20 MLAs were also ready to quit. "This will be sufficient to bring down the government.
Pro-Jagan MLAs had started gathering at the YSR Congress headquarters in Hyderabad, from where they will first proceed to YSR's statue at Punjagutta in Hyderabad to pay tributes to him.
Click NEXT to read further...
26 Jagan loyalists resign, AP Cong in trouble
Last updated on: August 22, 2011 14:52 IST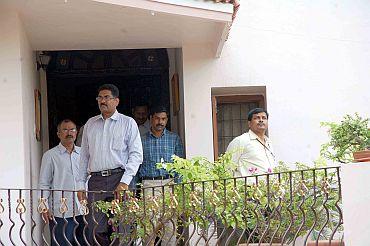 After submitting their resignations to the Legislature Secretary, they will take leave for Idupualapya, the family estate of YSR in Kadapa district.
Interestingly, those resigning also include three legislators from Telangana region who had earlier submitted their resignations in support of Telagana state. They include actress turned politician Jayasudha, Konda Surekha and Satyavati.
The continuing Central Bureau of Investigation raids against Jagan's empire on the orders of the High Court has triggered the latest political crisis for the Reddy government, at a time when the Telangana region was already in political turmoil and the Congress MLAs from the region were already under tremendous pressure to quit in support of Telangana state.
Click NEXT to read further... 
'Cong trying to vilify image of YSR through CBI'
Last updated on: August 22, 2011 14:52 IST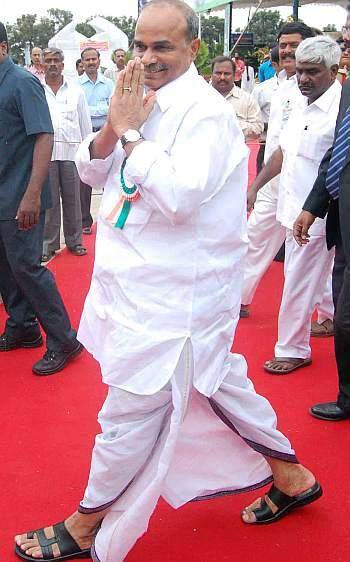 YSR Congress leader and one of the legislators who resigned - Pilli Subhash Chandra Bose told the media at the state assembly building that doubts still persist in the minds of the people about the cause of YSR's death in a helicopter crash.
In a statement issued by legislators after submitting their resignations, Jagan supporters recalled that it was YSR who had put new life into a lifeless and dormant Congress party in 2003 through his 1400 km long, 67-day Padytara during the scorching summer season.
He alleged that the Congress party was trying to erase the memory of YSR from the minds of the people and was using agencies like the Central Bureau of Investigation to vilify his image.
Bose said that when such attempts were being made against YSR, people who love and admire him cannot remain in the Congress party. He expressed confidence that many more members of legislative assembly will come out of the party in protest.
Those who have resigned include 26 MLAs of Congress, two rebel of Telugu Desam Party and one rebel of Praja Rajyam Party.