Tour diary: Amid all the violence, humour hasn't deserted Syria
Last updated on: October 25, 2011 08:17 IST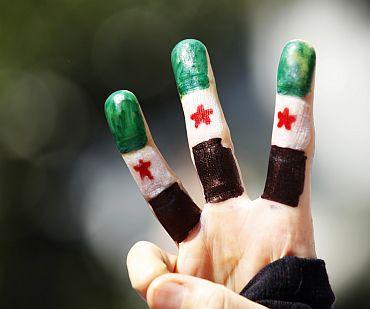 With Syria 'evolving' after the 'Arab Spring,' senior journalist Seema Mustafa takes stock of this ancient country as a member of a visiting Indian delegation. She realises that the ground reality in Syria is quite different from what has been portrayed; the fact that Syrians are wary of the 'US game plan' and that it's a country with a beautiful blend of modernity and deep-rooted traditions. Excerpts from her tour diary:
The airport was deserted, and as we soon learnt tourism to Syria has dropped dramatically over the months to near zero figures.
But before we had time to dwell on the empty corridors we were taken over by a Syrian "missile", in the form of Abdul Razzaq, our "guide".
Within hours we realised that he was far more than a guide, this being a rather humble description for this delightful Syrian patriot who mixed tourism and security with amazing ease. At the relics he turned into a guide, taking us through Syrian civilization with visible relish.
In the government corridors he became an official, often bossing lowly bureaucrats and turning back vehicles that did not meet with his standards. At Homs he became a security expert, creating a corridor through crowds and rushing us through with expert guidance.
And when exasperated with our questions and squabbles restored order with a smiling crack of the whip, as the tone and tenor of his "my lovely Indian delegation" had us assembling in a straight line, fingers on lips, as we stood at attention before Razzaq who acknowledged the success of his tactics with his beaming smile and half closed eyes.
Please click NEXT to read further...
'Syria now wants to look East, and not West'
Last updated on: October 25, 2011 08:17 IST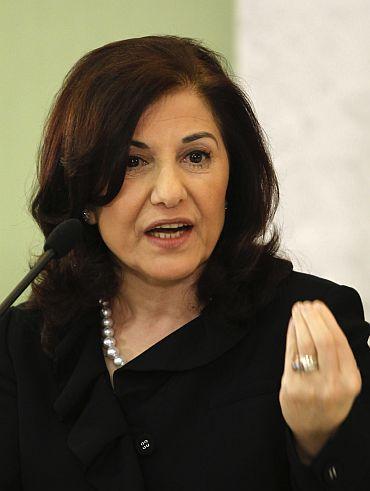 Political and media advisor to President Bashar al Assad, Ms Bouthaina Shaaban effortlessly overshadowed women leaders like United States Secretary of State Hillary Clinton.
Intelligent, passionate and brutally frank Shaaban has been leading the talks with the Opposition, has been travelling to counter Western propaganda with a recent visit to Russia and is clearly the president's right hand.
She took us through the current situation in Syria, the US-led game plan for the region, government's efforts at reforms, and the role of the media that clearly had her nonplussed.
"As a Syrian woman I started to ask what is the reality in Afghanistan, Pakistan, how do I trust what I am reading or seeing anymore," she said pointing to the outright lies that the media was feeding into its huge disinformation campaign.
"I am not sure whether it is information or a campaign," she added. Shaaban did not hesitate to pull punches, hitting out at the Arab media as well and pointing out that the government now wanted to look East and not West.
"Nothing justifies arrogance and injustice," she said saying she had decided not to travel West even though she had a daughter in London.
"I cannot take it, I do not accept that my brown skin makes me a terrorist, or that as a Muslim woman I am a potential terrorist," she said.
Stressing on secularism she pointed out that the "most impolite question in Syria was to ask 'what is your religion.' And when told that the visiting Indian journalists had not been able to visit Homs, she was astounded, "But why, you must go there and see for yourselves."
She said that she only wanted us to write a balanced picture, not take sides, and just report the situation as we saw it. And within minutes the slow wheels of the bureaucratic machinery were moving to facilitate a visit to the troubled spot.
'Leave religion out of politics'
Last updated on: October 25, 2011 08:17 IST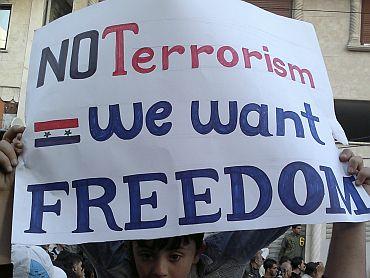 Another surprise was the Grand Mufti of Syria Ahmad Badreddin Hassoun who is perhaps the anti-thesis of similar religious leaders from countries like Saudi Arabia.
A handsome, articulate man he is close to President Asad but told us in his office at Damascus that the government had committed political, economic and educational mistakes, but these could not be rectified by violence, but only through dialogue.
His face became red as he tried to suppress his tears when speaking of his 20-year-old son who had been killed along with his doctor less than three weeks ago. He said that his son paid the price for his own refusal to leave Syria.
Totally committed to secularism, the Grand Mufti said that his advise to the Muslim Brotherhood was to leave religion out of politics, and to shun violence.
Extremely well informed he spoke of the demolition of the Babri mosque, of India and Pakistan saying his advise to Pakistan was to re-unite with India; and to the fanatics in India to "get out of the religious circle into the national one."
Infrastructure in this sanctions-hit country is excellent
Last updated on: October 25, 2011 08:17 IST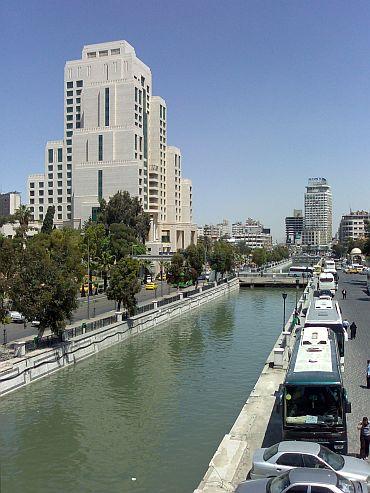 Damascus and Aleppo, which constitute between 50 to 60 per cent of Syria's population, were completely peaceful. The souks were bustling with local visitors, the hotels of course were empty with a big drop in tourism, but the restaurants were full of Syrians drinking 'arack' and going through the delicious kababs and chicken and rice.
There is no prohibition in Syria, with liquor -- including local beer and wine -- easily available. Sheesha (hookah) is popular with all ages and men and women alike.
Christians, Muslims of all sects, and the few Jews who still reside here mix freely with no one volunteering information about his or her religious identity.
The women are beautiful, smart, dressed in the latest of fashion with hijab clearly a personal choice in the private sector. In government it is not allowed with about 800 government school teachers recently transferred to clerical jobs for insisting on wearing the hijab.
The infrastructure in this sanctions-hit country is excellent. The 200 kilometre distance to Homs took just 90 minutes on excellent roads that should put even New Delhi to shame.
The traffic is sober and disciplined, the roads wide and well lit. Syria is self sufficient in food and gets its extra money from olive oil, pistachios, apricots and of course some reserves of oil and gas.
'We are facing an economic war launched by Europe'
Last updated on: October 25, 2011 08:17 IST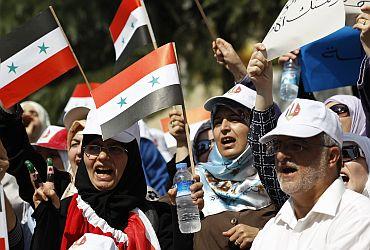 There is a huge parallel economy that no one talks of as there are no banks in Syria because of the sanctions with even the Indian embassy getting its salaries through banks in Lebanon.
The exchange rate of the Syrian pound equals the Indian rupee with the US dollar taken directly by shopkeepers in the souks and restaurants.
But the markets are feeling the heat of sanctions. The government is worried about this with Shabaan and the Syrian foreign minister Walid al Moallem speaking of the US game plan to use economic pressure to foster rebellion against the Asad government.
Moallem is a seasoned, sophisticated politician, and pointed out that the Western powers had used economic sanctions in the "erroneous belief" that "the people will feel hunger and will revolt. We understand this from the beginning."
He went on to add, "We are facing an economic war launched against us by Europe," but was positive that the resistance by Syria would succeed.
Moallem admitted that earlier Syria was moving towards market economy and had neglected social justice in economy.
"Now we are more careful about this," he added. And like Shaaban, he said that the direction was now towards Asia in the East, with South America and Africa included.
One did not come across a single police or army barricade while driving into Homs. It was as if the deserted streets were ungoverned, with crowds surrounding our vehicle and shouting slogans in support of Syria and India.
'95 per cent of the trouble is over'
Last updated on: October 25, 2011 08:17 IST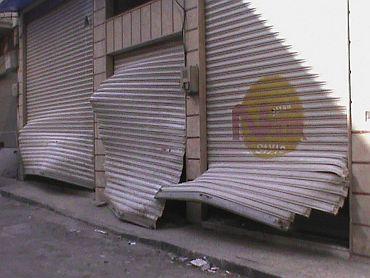 Even so the tension was palpable and being familiar with conflict zones, one realised that an attack was very possible as the rebels are known to mix with the local population and attack the army and government personnel from time to time.
The anger and grief was spilling over in the hospital with the victims -- including a tiny child and an army general. The doctors were clearly overworked, with a beautiful woman doctor, however, taking some time off to tell us that 10 to 20 patients came in every day, that their injuries were grievous, and that the rebels were using bullets that burst inside the bodies.
The patients included women and children. She did not feel that the situation had improved greatly but Governor Ghassan Abdul Aal was optimistic that the situation would be brought under control soon.
 The army casualties equal that of the civilians according to him, an indication of the closed combat situation in Homs. It was also a pointer to the fact that the Asad government has now decided against using tanks and armoured vehicles and is relying more on taking out the armed rebels individually.
Of course, Abdul Razzaq made it clear when we were leaving that the "military eye" is very sharp, and that "95 per cent of the trouble was over." The tension and fear was evident in the eyes of the women, who did not respond to questions, but looked at us silently with their eyes speaking volumes.
Homs reminded one of our Kashmir, or Dantewada, isolated and yet central.
In the midst of all this, humour has not deserted the Syrians.
Homsy's (residents of Homs, currently a trouble spot in Syria) are in Syrian parlance, a little cracked. And are quite the butt of jokes that they accept good naturedly.
'Why did the Homsy stare at the orange juice can all day? Because it said 'concentrate'.
Homsy: I was born in Lebanon.
Lebanese: Oh really, what part?
Homsy: All of me, silly!
Homsy: Excuse me sir, what time is it?
Man: It is 3.15.
Homsy: This is weird, I have been asking this question all day, and every time I get a different answer.