TN poll jackpot: Sona, ghar, rupaiya...
Last updated on: March 31, 2011 14:38 IST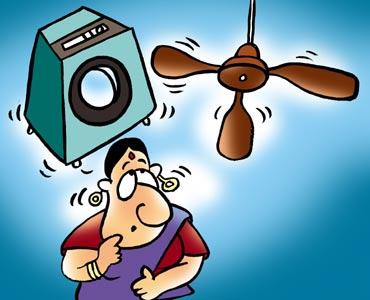 A Ganesh Nadar and Uttam Ghosh take a trip through the crazy universe of Tamil Nadu election freebies.
Do you want a washing machine or a fan?
This question may well become the crucial factor that determines which party -- the ruling Dravida Munnetra Kazhagam or the Opposition All India Anna Dravida Munnetra Kazhagam -- will win the assembly election in Tamil Nadu.
Like politicians with filmy backgrounds, the annoucement of freebies during elections has become a huge part of Tamil Nadu politics.
If you vote for the DMK, you will get a mixer, grinder and a washing machine.
And if you vote for the AIADMK, you will get a mixer, grinder and a fan.

So to choose between the two main political parties, you essentially have to decide whether you want to stay cool during the scorching summers or not waste precious hours rinsing dirty clothes.

Please click on NEXT to read further...
TN poll jackpot: Sona, ghar, rupaiya...
Last updated on: March 31, 2011 14:38 IST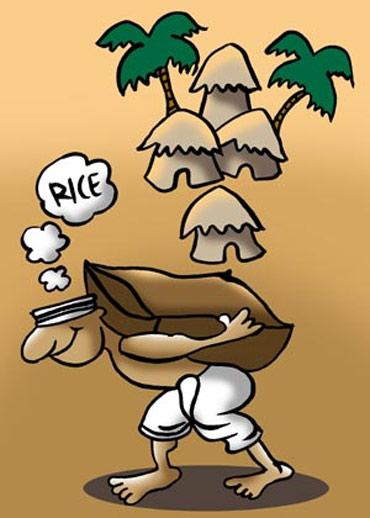 And while you are making up your mind about that important point, do you also want a free laptop?
If yes, you better have a child studying in college, because the DMK has promised free laptops for college students.
In case your child is in high school, worry not, for then the AIADMK will provide you free laptops.

The winner of the laptop benevolence round has to be the DMK. You see, college students have the right to vote, school students don't.

Are you feeling left out because you don't have children in high school or college? Don't, because it is raining freebies in Tamil Nadu right now.

The DMK's largesse, thankfully, also extends to families living Below the Poverty Line, the ones who desperately need these measures to just survive.
For BPL families, the ruling DMK promises 35 kg of free rice per month.
Not to be outdone, the AIADMK has pledged 20 kg of free rice to all ration card holders.
And to make up for the 15 kg difference in rice allotment, Amma (as AIADMK chief J Jayalalitha is fondly known) is giving 20 litres of mineral water free every day to BPL families.
TN poll jackpot: Sona, ghar, rupaiya...
Last updated on: March 31, 2011 14:38 IST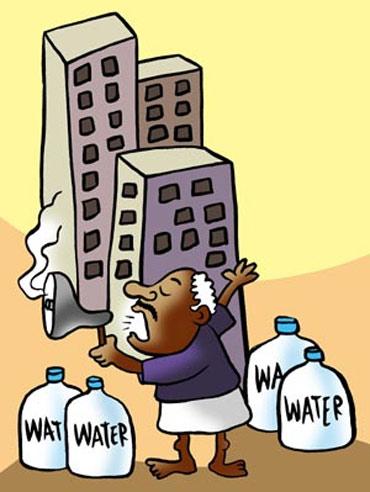 When it comes to a choice between water and rice, voters in rural areas are likely to choose the latter while residents of urban areas will opt for water, which is perpetually in short supply in Tamil Nadu's cities.
An impertinent observer may wonder how the government of the parched state, which for years has waged a war with neighbour Karnataka over waters of the Cauvery river, will manage such an impressive supply of water.
But our political leaders don't let minor issues like feasibility come in the way of their promises.
TN poll jackpot: Sona, ghar, rupaiya...
Last updated on: March 31, 2011 14:38 IST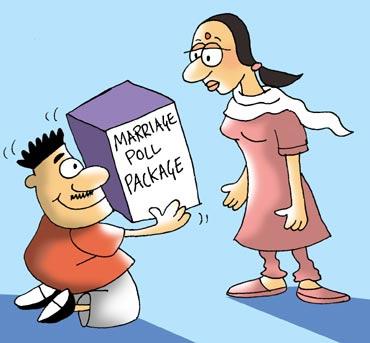 The skyrocketing price of gold has not stopped the AIADMK from including it in its list of poll freebies. The party will hand over 4 grams of gold for a
mangalsutra
and Rs 25,000 to girls from poor families who are getting married.
If the bride is a graduate or diploma holder, the AIADMK has promised to give Rs 50,000 for her marriage.

The party has planned its 'marriage poll package' to counter the DMK's plans of giving Rs 15,000 for the wedding of girls from poor families.

In a marriage of convenience, each side can distribute the spoils evenly and end up with two grams of gold and Rs 12,500 or Rs 25,000, depending on the level of the girl's education.

The battle of the freebies continues even in the arena of public transport.
The DMK, which already provides bus passes to students in government buses, will do so for private buses too.
The AIADMK has not only usurped these promises, it has gone a step further and promised free bus passes for all citizens over 58 years of age.
TN poll jackpot: Sona, ghar, rupaiya...
Last updated on: March 31, 2011 14:38 IST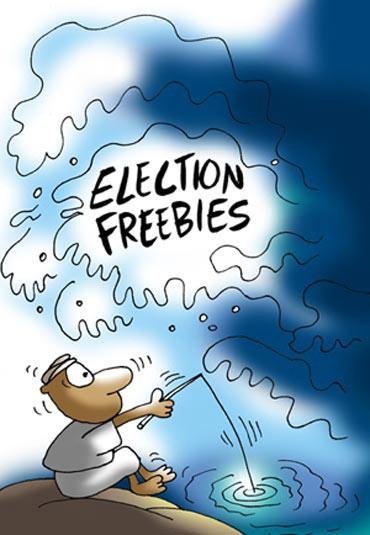 The DMK has promised to build 21 lakh (2.1 million) concrete houses for the underprivileged while the AIADMK has declared that it will give land measuring 3 cents (1,308 square feet) to poor families to build houses, which seems a tad far fetched given the population and geographic size of the state.
Its alternate promise -- of providing 300 sq ft houses to impoverished families -- seems more feasible.
Some cynics may argue that if the state government -- ruled by either DMK or AIADMK, starts living up to its promises -- the state's coffers will be empty soon.

But these experts forget two vital arguments: Firstly, politicians almost never keep their promises. So the chances of either of these Dravidian parties delivering on all their lucrative promises are unlikely.

Secondly, the state's treasury would anyway be plundered by the politicians of the ruling party, so it wouldn't hurt to spend some of the government's funds on those it is meant for -- the Aam Aadmi.

Maybe the leaders of Tamil Nadu have apparently not heard the saying: 'If you buy a hungry man lunch, he gets one meal. But if you teach him how to fish, he can look after himself for the rest of his life.'

But since we live in a time of tsunamis, fishing may not be a very good idea. So most respected netas, bring on the bonanza of freebies!