In Thiruvarur, a daughter seeks votes for the CM
Last updated on: April 7, 2011 11:29 IST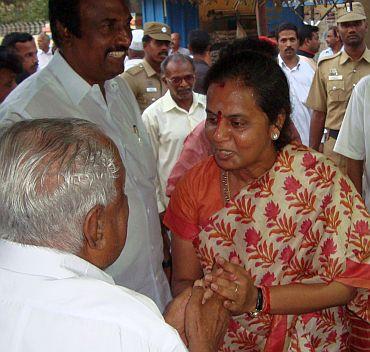 Tamil Nadu Chief Minister M Karunanidhi's daughter Selvi is sweating it out in Thiruvarur, seeking votes for her father.
Despite the odds stacked up against him, her father's AIADMK rival is confident about causing an upset in the DMK chief's hometown. Saisuresh Sivaswamy reports.

"Aiyyo paavam, sogusu amma (poor thing, she's a woman of luxury), look at how she is toiling in the heat and dust for her father."

The statement, from a member of the throngs watching Selvi, Tamil Nadu Chief Minister M Karunanidhi's daughter working the voters at Athikadai near Mannargudi, sums up the image perfectly. We are in the innards of Thiruvarur, birthplace to the venerated trinity of Carnatic music, saint-composer Thyagaraja, Muthuswamy Dikshithar and Syama Sastry.

Clearly, Selvi, born with more than a golden spoon in her mouth and married into a family with comparable affluence (her husband is Murasoli Selvam of Udaya TV), is clearly not born to the manner of the politician.

Please click on NEXT to read further...
Selvi doesn't have the word power her father is famous for
Last updated on: April 7, 2011 11:29 IST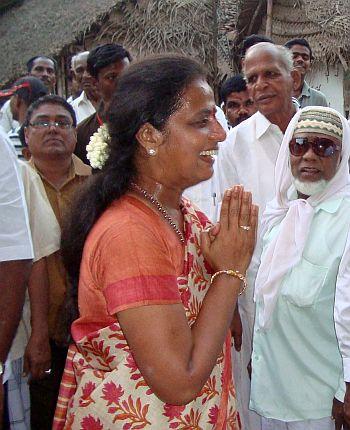 You can see her sweating profusely as she walks through the Muslim neighbourhood, telling the voters to vote for Appa. Somewhere deep inside, it's a moving sight. How many fathers are blessed with such a daughter -- importantly, how many deserve such a daughter?
Not only is Selvi unaccustomed to what she is doing -- her half-sister Kanimozhi being the natural here -- she also doesn't have the word power her father is famous for. Her message is simple and direct -- perhaps because the audience is such.
"
Appavukku vottu podunga (please vote for dad)
." That, delivered with folded hands and preceded by a
vanakkam
, is about it as she walks through the marketplace, greeting the shopkeepers who are more than happy at the attention.
Selvi has been hitting the road every day
Last updated on: April 7, 2011 11:29 IST
And what an attention it is. As Karunanidhi is engaged in a clearly do-or-die battle to retain power an unprecedented sixth time, Thiruvarur, the constituency in the lush Thanjavur granary belt, has been entrusted to his daughters to nurture. Sons M K Stalin and M K Azhagiri have their own battles to fight elsewhere.

So Selvi has been hitting the semi-rural constituency every day, morning and evening. There are carbine-wielding securitymen keeping anyone from getting too close, permission to be there has been granted on the strict condition that 'no questions please', and the party cadre is in strength. It can get tiring, as it did towards the evening on Wednesday, but Appa needs her.

Selvi is more at home as she walks through the narrow, squalid mohalla. Muslims have always stood by her father, and there is no reason to believe they have abandoned him now. She makes it a point to greet the women, hiding shyly behind the door and often in a veil, be playful with the children, and tell the men to remember Appa. And in one place sharing tiffin with the conservative family.
'I am not contesting against the CM, but against a candidate'
Last updated on: April 7, 2011 11:29 IST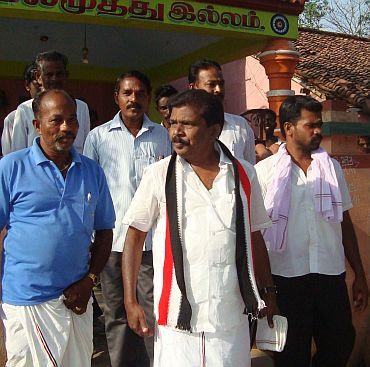 Meanwhile the muezzin has sounded the call for the
maghrib (the evening prayer)
, but no one has made a move towards the
pallivaasal (mosque)
.
"Only Friday Jumma is important," a man in a lungi tells me when asked if Selvi has chosen the wrong time to seek votes.

Sampath, one of the Dravida Munnetra Kazhagam functionaries accompanying her, says Selvi makes it a point to ask the voters about their problems and tries to offer solutions instantly. "From providing medical attention to asking why children are not in school and paying for their education, she has been doing it."

K M Rajendran, the All India Anna DMK's candidate for the prestigious seat, thinks the Kalaignar (scholar, as Karunanidhi is known) packs no punch. "He is a sundakka (roughly, small fry)," he crows to me as he rests a while in a loyalist's home before hitting the rigorous campaign trail. "I am not contesting against the chief minister," he tells the people, "but against a candidate."
'I will defeat Karunanidhi'
Last updated on: April 7, 2011 11:29 IST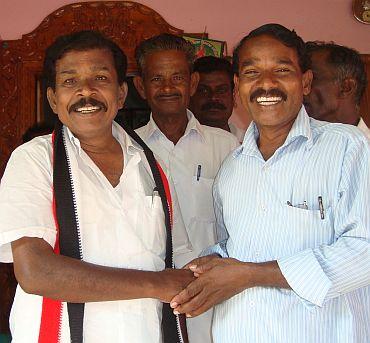 "I will defeat him," Rajendran continues inside the house. "Have you seen this constituency? How poor it is? What have they done here that they (
the DMK
) are seeking votes? The people know everything, they are full of scams, and will vote accordingly."
Earlier in the day, DMK strongman and former Union shipping minister T R Baalu claimed to me that "there was a wave" in favour of their front and the DMK-led front would get at least 150 votes.
Opinion polls predicting a clean sweep for the rival AIADMK-led front are just that, opinion, he says. Earlier too, the DMK had been written off, but the party proved the sceptics wrong, as it will do now.

Neither Baalu nor the DMK's T M Selvaganapathy has much to say, making one wonder if it was worry at a possible negative feedback or the attention that the seizures of crores of rupees across the state -- whispered to flow from the DMK -- has garnered. Wherever I go, that's the talk of the town.

"Why can't they just distribute the money to the poor and be done with it?" is a question that is constantly asked, and in the people's mind there's no doubt where it has come from. The mind-boggling figures thrown up in the recent spate of scams.
Rajendran has a chequered past
Last updated on: April 7, 2011 11:29 IST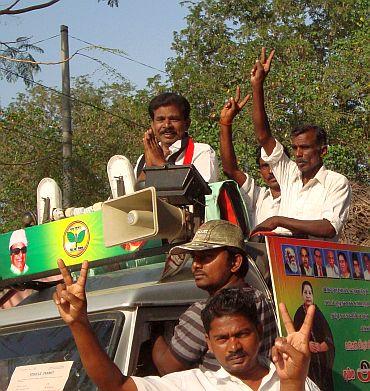 Rajendran too believes in this theory about the money trail. "I am worried," he admits, "We can fight anything, but how do we fight crores of money being given away to voters? They (
the DMK
) did it in the Thirumangalam bypolls (
in 2009
), and they are doing it again."
The AIADMK candidate has an interesting, even chequered, past within his party.
He spent time in Tiruchi jail in a murder case he insists the DMK had framed against him, he even spent some years in the wilderness as AIADMK boss J Jayalalithaa froze him out, and now faces a revival of sorts with the nomination against the chief minister.
The Opposition, naturally, ridicules him as a '
balimaadu (sacrificial pawn)
' and an 'outsider' (he is from Kodavasal, outside Thiruvarur).
For the CM, Thiruvarur is a homecoming of sorts
Last updated on: April 7, 2011 11:29 IST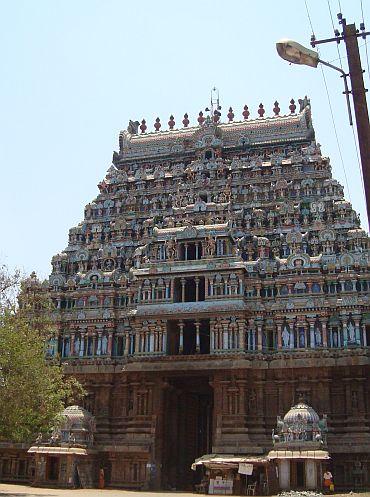 A lesser man may have quailed at the contest against a formidable opponent, but Rajendran says he is prepared.
"There may be violence," he warns, and not from the other side. "What can we do, faced with this flow of money?" His supporter says in private that it is an idiom he is familiar with.
For Chief Minister Karunanidhi, Thiruvarur is a homecoming of sorts.
Born in nearby Thirukuvalai, this town is where he cut his political teeth decades ago. All along he wanted to return here, his supporters say, and it was the recent dereservation from a Scheduled Caste constituency that made it possible.

Thiruvarur, of course, has a resonance in Tamil Nadu that goes deep beyond this association. Part of the great Chola kingdom, the town is dotted with temples that makes the self-proclaimed rationalist's nomination from here raise eyebrows.

Perhaps there is a message in it for the sceptics -- not all of them the non-religious kind.