In A Raja's backyard, '2G scam' is unheard of
Last updated on: April 5, 2011 11:57 IST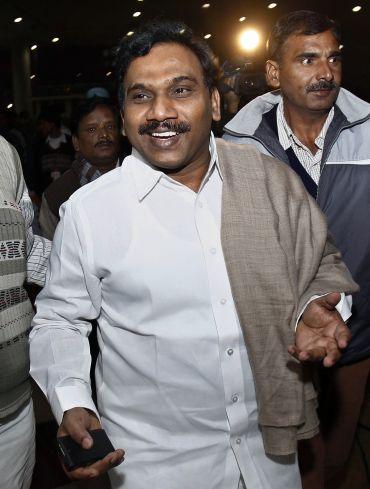 He may be cooling his heels in Delhi's Tihar Jail for his alleged involvement in the 2G scam, but the developmental work and the projects he executed in this reserved constituency are the main plank of the ruling Dravida Munnetra Kazhagam, which is facing a tough competition from arch-rival All India Anna Dravida Munnetra Kazhagam.
However, the multi-crore 2G spectrum scam, which the Comptroller and Auditor General estimated had caused a loss of Rs 1.76 lakh crore to the country's exchequer, seems to have no impact at least in this constituency, which was nurtured by Raja over years after he became Perambalur MP in 1996.
Perambalur adjoins Tiruchirappalli district. Though a few educated and well-off people in Perambalur spoke about the 2G scam and its implications, people in rural areas like Velur, Raja's native place, say they had no clue of what the scam was and how much money did the country lost.
People fondly remember Raja as a "good and humble" person who executed a number of development projects and brought several educational institutions to the district, which has never seen such facilities.
He shifted to Nilgiris seat in 2009 after Perambalur became de-reserved in the delimitation exercise. There is talk that Raja is being sidelined by the DMK but the party has nominated his loyalist M Prabhakaran as the candidate, who is seeking votes on the plank of developmental works implemented by the former telecom minister.
Please click NEXT to read further..
DMK's loss, a gain for AIADMK, DMDK?
Last updated on: April 5, 2011 11:57 IST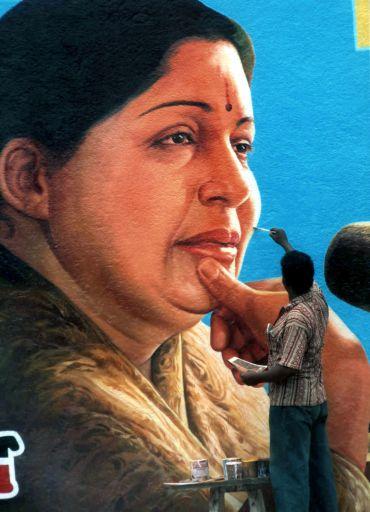 With Raja not in the scene and DMK stalwarts like M Karunanidhi and M K Stalin giving a miss to campaigning in this district, AIADMK workers are jubilant and feel that campaigning by their chief J Jayalalithaa and DMDK president Vijayakant would put them in an advantageous position.
DMK's main poll plank seems to be the pet schemes of its government like free colour television sets, rice at Re 1 per kg and free houses and the "good work" done by Raja.
The party, which was initially hit by dissidence when Prabhakaran was chosen, has now set its house in order with all leaders, including the sitting MLA and others, campaigning for the party nominee.
The AIADMK cadres feel the 2G scam and the 'anti-incumbency' wave against the DMK Government will help them wrest the seat from the ruling DMK, which has been winning the seat since 1996.
Several people whom PTI spoke to said they have not yet decided their preference and will do it only when they go to the polling both.
Local journalists say the current mood in the constituency looks like 'pro-AIADMK' but things could change. One common complaint the villagers and people in Perambalur town is the frequent power cuts and rising prices.
'Raja would have ensured the victory of this person'
Last updated on: April 5, 2011 11:57 IST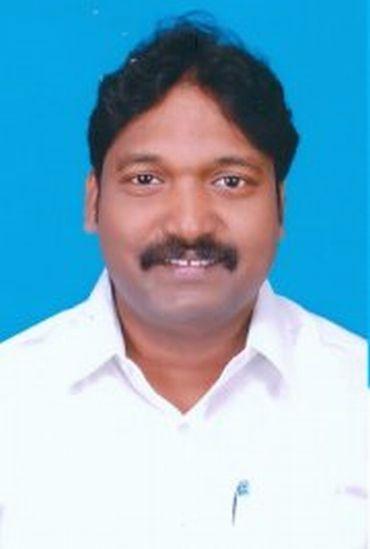 The constituency, which has a total of 2.25 lakh electorate, mostly comprises of rural segments and Dalits, Muslims and Christians constitute majority of the voters.
DMK workers miss the former Telecom Minister 'very badly' as they feel he would have campaigned very hard for party candidate and his follower M Prabhakaran, who joined the party only a few months ago.
Muthusamy, a DMK functionary in the town, said: "Raja would have ensured the victory of this person by now. He would have campaigned day and night for the candidate and people would have welcomed him...now we have no one."
However, farmer Muthusamy, who claims he has been voting for the DMK since C N Annadurai founded the party in 1950s, says Raja's absence and arrest will not make any difference.
"Whether Raja is here or not, there are a majority of people who vote for the DMK. I am one among them and my entire family will continue to vote for the DMK," he says.
Prabhakaran is also seeking votes from the people by listing the achievements of the DMK government and the facilities brought to the district by Raja.
"Raja has done everything to the people of this constituency and Kunnam. Whatever Perambalur is now it is because of him. He completely changed the area," he told PTI.
'Difficult for DMK to get urban votes'
Last updated on: April 5, 2011 11:57 IST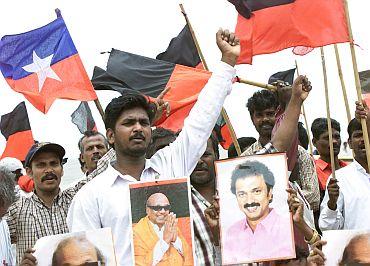 However, the AIADMK camp is giving a tough fight to Prabhakaran by raking up the 2G issue and the "unimplemented promises of Raja and the DMK government."
AIADMK nominee R Tamilselvan is confident that the campaigning in favour of him by Jayalalithaa and Vijayakant will help him in romping home the constituency.
Though there are no major complaints against sitting MLA Rajkumar, people say if the "pro-AIADMK wave sweeps the entire polls, then Perambalur will also go that way."
Suresh Kumar, a software professional, says he will not vote for the DMK as he feels the "party is corrupt to the core" and it is responsible for the 2G scam.
"All educated people are aware of the 2G scam and the DMK's links to it. So, getting urban votes will be difficult for the DMK...but in rural areas there are people who still don't understand the magnitude of the scam," he says.
'Amma is the only choice'
Last updated on: April 5, 2011 11:57 IST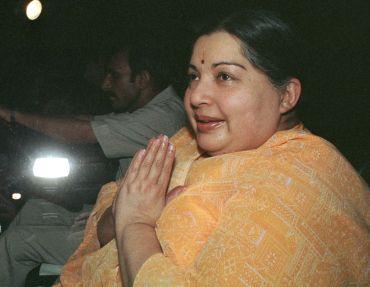 Tea stall owner Velusamy, who hails from a near-by village, asks what 2G is all about. "What is 2G? We don't know. All we know is Raja is in jail. When asked reason, people said he went to prison for corruption....we have no idea what is 2G and 3G."


"He (Raja) has done a lot of good work...he brought many new things to Perambalur and near-by villages. I hope he soon comes back and start his good work again," he says.
People in the village say Raja was instrumental in setting up a Government Arts, Medical and Polytechnic colleges to Perambalur saving the people from the pain of travelling to the nearest city of Trichy to study.
He was also instrumental in laying roads in Perambalur town and near-by villages which were neglected by people who were in positions before Raja, DMK workers claimed.
Ponmani, a housewive, says she wants a change in the government at the state level and will vote for Jayalalithaa.
"The DMK has done some good work, but I want change. So Amma is the only choice," she says.
© Copyright 2021 PTI. All rights reserved. Republication or redistribution of PTI content, including by framing or similar means, is expressly prohibited without the prior written consent.