Amma isn't the blessed one yet in her temple town
Last updated on: April 6, 2011 10:42 IST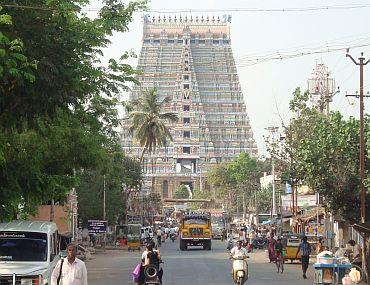 Saisuresh Sivaswamy travels to temple town Srirangam in poll-bound Tamil Nadu, a seat which J Jayalaithaa has chosen to contest. But will she be given a red-carpet welcome?
It is billed as a David versus Goliath battle by a media ever hungry to coin the next turn of phrase, but a visit to Srirangam, foremost among Vaishnavite Brahmin pilgrimage centres, shows there is neither a David nor a Goliath in the fray.
Jayalalithaa, the former chief minister, the only leader from the All India Anna Dravida Munnera Kazhagam and the woman everyone expects to displace the current Dravida Munnetra Kazhagam regime in Fort St George -- is an absentee candidate. Unlike Goliath, she has not been visible much.
Yes, no one expects her to lose a seat which has elected more AIADMK legislators than otherwise. Still, the voting public does not look at the past while casting its ballot but the future. And not necessarily the candidate's future, but their own.
Please click NEXT to read further..
'What has she done for us?'
Last updated on: April 6, 2011 10:42 IST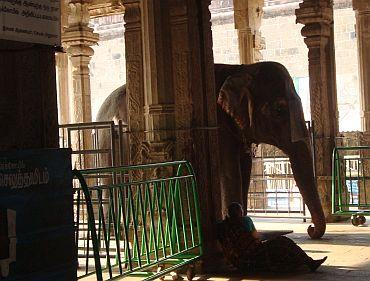 "What, you have come here looking for Badrinath? Kedarnath? Or any other
teerth
?" asked an aged Brahmin mockingly when waylaid for directions to Amma's ancestral home.
"Who is this Jayalalithaa? What has she done? What will she do for us?"
These are two questions that the few I spoke to in the agraharams (the streets around the temple where only Brahmins live) and inside the Ranganathaswamy temple asked repeatedly.
"Neenga sollungo (you tell me) sir, she was chief minister before, what did she do for us? Everyone said 'Oh, a Brahmin has finally become chief minister', but what did she do for her community? For Srirangam? For this temple?"
Kizha Chittrai street has basked in fame
Last updated on: April 6, 2011 10:42 IST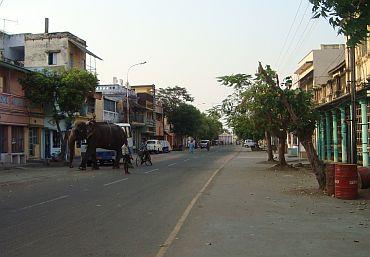 "But what can she do for Brahmins? Nothing," says another, reasonable resident. "And, we know it. Whoever comes to power, cannot do anything for us, that's the politics of Tamil Nadu. So why should we bother about her or anybody else?"
Perhaps because this time the battle has been given an extra hue of interest as her ancestral home was supposedly in Srirangam, before the family migrated to Karnataka (she is a Kannadiga Iyengar).
No sooner was this fact known that a buzz ran through the Kizha (east) Chitthirai street where her family is said to have lived. Overnight a house has been identified, an ancient resident recalled memories of her, and the town seemed to bask in its 15 minutes of fame.
'The whole story of her living here is nonsense'
Last updated on: April 6, 2011 10:42 IST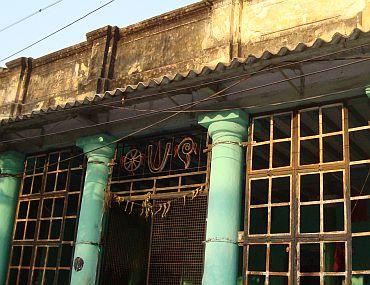 Days after she rolled out her campaign from the temple town, the street has resumed its somnolent existence.
Divyaprabandham (the Vaishnavite sacred hymns sung by the Azhvars) classes are in progress, boys are playing street cricket, there is no sign of any celebrity.
A woman accosts me as I wander the street. "You know, this whole story of her living here is nonsense. Me, I have lived in that house where they say she was there as a child, and let me tell you it is false. My mother died two years ago when she was 93, she spoke of everyone on this street but not once did she mention Jayalalithaa, paarthelha (see)? Please don't get carried away by people saying they saw her, played with her etc."
'Everyone knows she is a Kannadiga'
Last updated on: April 6, 2011 10:42 IST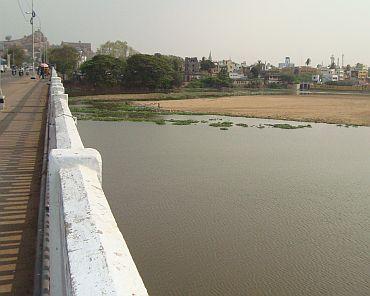 A Dravida Munnetra Kazhagam worker accompanying N Selvam (the David in the earlier mentioned analogy) is categorical where Jayalalithaa's origins lay.
"Aiyo sir, she is not from this Srirangam, but from Srirangapatina, near Mysore sir. Paarunga (look), everyone knows she is a Kannadiga, if she was from here she will be a Tamilian, ille (no)?"
It doesn't help that unlike her arch-rival M Karunanidhi, whose early life and later is well-documented, a lot about Jayalalithaa's origins is the subject matter of speculation. So there are any number of tales, each claiming credibility, circulating in the state, and depending on who you listen to, the tale can be murky or riveting.
N Anand is no pushover
Last updated on: April 6, 2011 10:42 IST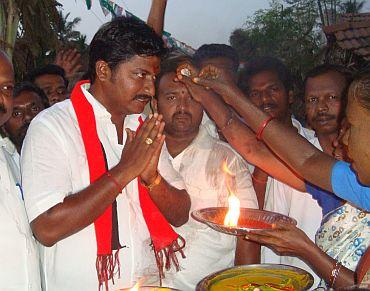 But this is not an issue that is clearly detaining her main opponent, N Anand, who is speeding along in his convoy in the dusty lanes and bylanes of Srirangam, away from the Ranganathaswamy temple which is at the centre of the town's identity, history and geography.
Clearly, the upper caste votes won't come easy to the candidate from the Mutharaiyar community (OBCs), nor does he seem to care.
For his own people form the bulk of the town's population. With around 25 per cent of the vote expected to stay with him, Anand's supporters believe he may be a political novice, an 'outsider' (contrasted with his lady opponent's roots in the town), but no pushover.
Unlike the other side which believes the election is already done and dusted in its favour, the DMK candidate is leaving nothing to chance. He moves among the hamlets and settlements at a frenetic pace that is difficult to keep pace with even if you are on wheels, he makes it a point to mingle with the population, and is greeted with the traditional aarti in hut after hut he calls on.
The DMK's voter mobilisation has always been impressive, but this time thanks to the Election Commission's diktats, there is no monetary impetus being offered, at least not witnessed by this reporter.
The somnolence in Srirangam is visible
Last updated on: April 6, 2011 10:42 IST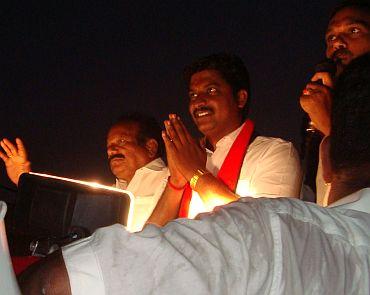 Strangely, though, in the time I spent chasing him, trying to get some words out of him, I didn't hear Anand say much.
Oratory aside (in a party given to Tamil efflorescence, surely that cannot be a plus point), even simple exhortations to vote for him or the party didn't escape his lips. The rabble-rousing is being done by others, evidently given to hyperbole.
The urging to vote was not in Anand's name, but in the DMK's and Chief Minister M Karunanidhi's name. 'For that alone will ensure ponnaana aatchi (golden rule).'
In contrast, the AIADMK's campaign, launched near the temple last week, was invisible on the streets of Srirangam. A few hours spent surely cannot be an effective barometer for gauging campaign effects, but the somnolence is visible.
But then, what can you do if the presiding deity of your town is the reclining Vishnu but, maybe, emulate him.