Thousands wait for last 'darshan' of Sathya Sai Baba
Last updated on: April 25, 2011 20:36 IST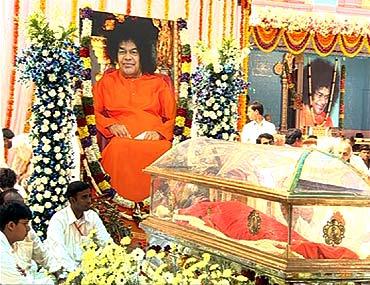 The outpouring of grief at Puttaparthi continued on Monday with over one lakh devotees visiting the temple town to bid final farewell to Sathya Sai Baba. The spiritual leader had passed away on Sunday morning.
Reportage: Vicky Nanjappa in  Puttaparthi
Special prayers conducted
Last updated on: April 25, 2011 20:36 IST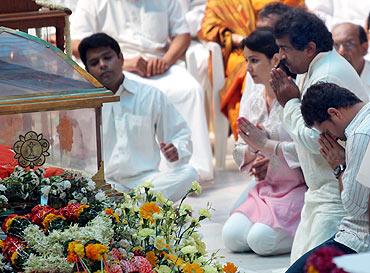 For many shocked devotees, the news of the spiritual leader's death has probably not sunk in.
Special prayers are being conducted all through the day at Puttaparthi.
No untoward incident
Last updated on: April 25, 2011 20:36 IST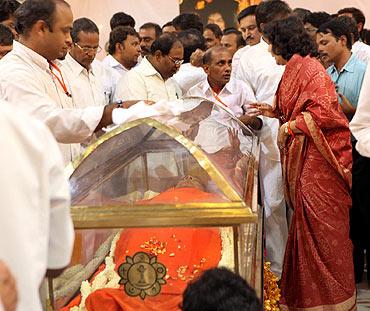 The manner in which the trustees, police personnel and volunteers have managed the rush of devotees -- who have flocked to the town to pay their last respects to Sathya Sai Baba -- is commendable.
Not a single incident of unruly behaviour has been reported so far.
Tight security arrangements in Puttaparthi
Last updated on: April 25, 2011 20:36 IST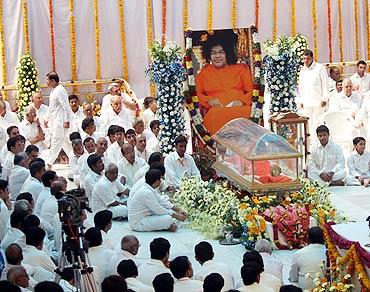 The security around Sathya Sai Baba's ashram continues to be tight with 6,000 police personnel guarding it.
Devotees from across the world, including several foreigners, have congregated in Puttaparthi to pay tribute to the spiritual leader.
Hundreds of volunteers managing the crowd
Last updated on: April 25, 2011 20:36 IST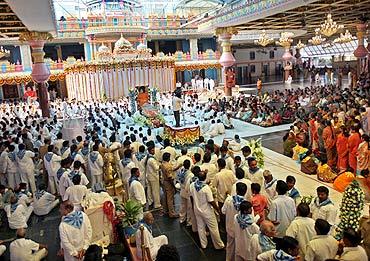 Inside Sai Kulwant Hall, where his body lies in state, at least 100 volunteers are managing the crowd skilfully. They are dressed in white shirts, trousers and a blue scarf inscribed with Om Sai Ram.
These volunteers constantly urge the devotees to stick to their queues.
Grieving devotees break down
Last updated on: April 25, 2011 20:36 IST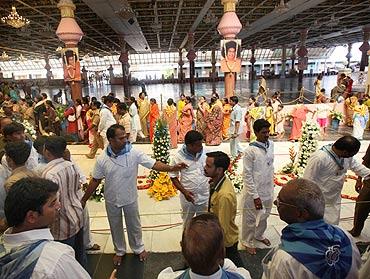 Above the casket of Baba, there is a life sized portrait of the spiritual leader, sporting his saffron robe. 
Many grieving devotees, who approach the casket with folded hands, break down when they see the body of their beloved guru.
Devotees ready to wait indefinitely
Last updated on: April 25, 2011 20:36 IST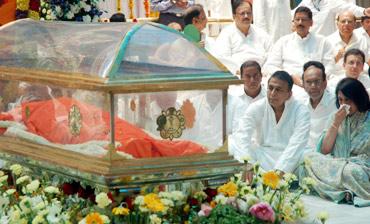 Many of these ardent devotees have been waiting for hours to catch a glimpse of Sathya Sai Baba's body. Those standing in the queue are ready to wait indefinitely for a darshan of their Swami. None of them has complained about the long wait.
Prime Minister Manmohan Singh and Congress chief Sonia Gandhi are expected to reach the Sathya Sai Baba's ashram on Monday and then pay their last respects to the spiritual leader. Gujarat Chief Minister Narendra Modi, who was one of the first to condole the death of Sai Baba, is also expected to arrive in Puttaparthi at 9:00 hours on Tuesday. He is expected to attend the last rites on Wednesday. However, there was no confirmation on the same.
A host of other celebrities are also expected to visit Puttaparthi on Tuesday.
On Wednesday morning, Sathya Sai Baba will be accorded a state funeral. The funeral is expected to be a private affair, which will be attended by members of the trust, some volunteers and dignitaries from the Andhra Pradesh government.