Those who called me a liar should apologise: Digvijay
Last updated on: January 4, 2011 17:42 IST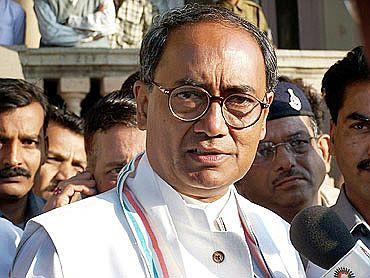 Under attack over his claim about a call from late top cop Hemant Karkare, Congress leader Digvijay Singh on Tuesday produced a record of the conversation the slain Anti-Terrorism Squad chief had with him on 26/11 and sought an apology from Maharashtra Home Minister R R Patil and all others who had dubbed him a 'liar'.
Singh released the details of the call records he obtained from BSNL's Bhopal office at a press conference three weeks after his remarks about the call created a controversy, which even resulted in the All India Congress Committee distancing itself from the matter.
'I was dubbed a traitor'
Last updated on: January 4, 2011 17:42 IST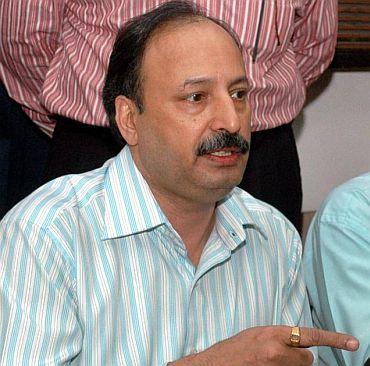 "People called me a liar. I was dubbed a traitor and a Pakistani agent. It pained me that the Mumbai police made selective leaks saying that there were no records of the talks between me and Karkare," said Singh.
"It was all the more painful for me when the Maharashtra home minister said in the state assembly that no such call was made. All those who have dubbed me a liar and have put a question mark on my honesty, sincerity and credibility should apologise or at least express regrets now when I have produced these documents," Singh said.
He said a letter from BSNL about the call records proves what he had said.
'The call came from Karkare's office'
Last updated on: January 4, 2011 17:42 IST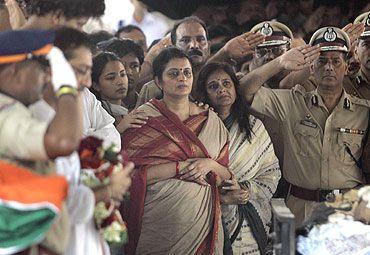 "The call came from his (Karkare's) office landline on my mobile phone number," Singh said, adding that Karkare's number was the official telephone number of the Maharashtra Anti-Terrorism Squad.
According to the records released by Singh, the ATS chief rang him up at 5.44 pm and the conversation continued for more than six minutes. Hours later, Karkare was killed in the 26/11 terrorist attacks in Mumbai.
'Karkare was being threatened by some right-wing activists'
Last updated on: January 4, 2011 17:42 IST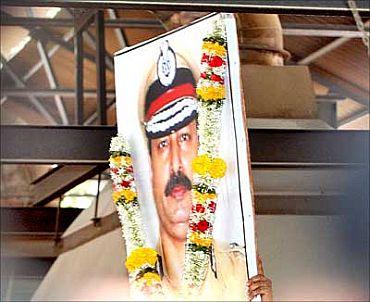 The Congress general secretary had stoked a controversy with his claim that Karkare had called him on the day of the Mumbai terror strikes and told him that he feared for his safety from Hindu extremists.
He later asserted that he had never doubted the role of Pakistani elements in the 26/11 strikes and had never said that right-wing activists were behind the terror attacks.
"But it is a fact that I am on record saying that he (Karkare) was being threatened by some right-wing activists," Singh had said.