'This could be the Maoists' final push'
Last updated on: May 26, 2013 19:22 IST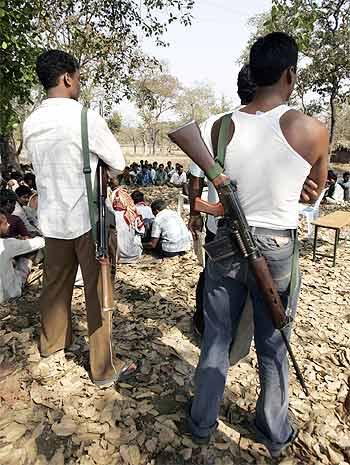 When Rahul Pandita speaks about the Maoists, their strategies, the response of the state and central governments to Maoist violence, he makes sense. The author of Hello, Bastar: The Untold Story of India's Maoist Movement, has had 15 years of experience reporting from what the mainstream media describes as "Maoist infested areas."
A day after Maoists gunned down the founder of anti-Maoist militia Salwa Judum (Peace march), Mahendra Karma, Prasanna D Zore spoke with Pandita for his insights into what he terms as the ageing Maoist leadership's "one final push to their war against the State in their lifetime."
Excuse me for being cynical but with the latest Maoist assault is the road now clear for the Bharatiya Janata Party to recapture power in Chhattisgarh?
I don't look at it that way. This (massacre) has got nothing to do with the BJP (coming to power again). There are two ways to it: One way of looking at it is, the Congress would get sympathy from this incident. That's what even Chandrababu Naidu (the former chief minister of Andhra Pradesh) thought when he was attacked (by the Maoists), but he lost.
But Chandrababu Naidu survived that attack. In this case almost the top Congress leadership in Chhattisgarh is decimated now...
I don't think in this case it will make much of a difference. See the Congress is keen to expand in Bastar which really holds the key in Chhattisgarh. In the last elections, out of 12 seats in Bastar the BJP took 11. That is why the Congress strategy is to be active in this area and they had this Parivartan rally.
But I think in many ways, in the area and in the state per se, Raman Singh (the current chief minister and BJP strongman) is on a very strong footing. This way or that way, I think, this is not going to make much of a difference.
Click NEXT to read further...
'Military operations against selective Maoist leadership won't work'
Last updated on: May 26, 2013 19:22 IST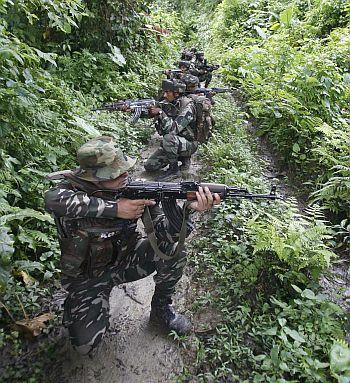 The state administration has come in for a lot of flak for not providing adequate security to the Congress leaders' Parivartan rally. What's your take on it?
I think it is too early to start saying this. Because, you know, the moment the news of this attack spread, I have been sharing on TV that there was a security lapse etc. But we don't know anything about that as of now.
Another thing is, it is no rocket science to understand that there are senior Congress leaders including Mahendra Karma who have been on the hit list of the Maoists for more than seven years now. There are obviously security concerns in this area. Now, whether the state police or CRPF should have done something or not I can't tell you before more details emerge.
From my experience let me tell you that it is not possible to follow the steps taken as standard operating procedure by the security forces. The SOP is to not allow more vehicles in this area move together. Now in this weather do you think it is possible to move by foot? Do you think they can travel long distances like this? Obviously, there are such things that the SOPs do not take into account while dealing with a place like Chhattisgarh or Dandakaranya (the place that encompasses the densely forested areas of Odisha, Chhattisgarh, Andhra Pradesh, Madhya Pradesh and Maharashtra where the Maoists have a strong presence).
What could be the political and security fallout of the massacre?
I think the Maoists have sent two very clear signals. One is that they wanted to eliminate Mahendra Karma (and they have done it as per their strategic need). What they wanted to showcase was, whosoever goes against them would be eliminated no matter how long it takes.
Second, they wanted to prove that they can launch attacks of such scale and magnitude at will in this region (Dandakaranya) where they could run amok for two hours without getting countered by anyone (security forces).
Look at the landmine blast. It is a wonderfully orchestrated operation. The news channels that are claiming that there were between 1,000 to 1,500 armed Maoists are exaggerating the figure. They said the same thing when Sukma collector was abducted. This is b******t.
Usually, in such attacks about 200 to 300 Maoist guerillas take part. About 100 of them will be from the PLGA (People's Liberation Guerilla Army) which is the battle-hardened military wing of the CPI Maoists. The rest of them will be from the base force.
In this case, I think, there could have been more cadres from the PLGA because you are dealing with armoured bodyguards etc and Mahendra Karma, I believe, must have been surrounded by heavily-armed bodyguards. The reports that I am getting at this point is that some of these bodyguards ran away when the Maoists attacked.
There are two other things. One is the significance of the timing of the attack. After about three weeks it would be impossible to sustain any kind of (military) operation against the Maoists in large swathes of Bastar because the monsoons will be there and many regions will be inaccessible. After a point you won't be able to pursue the Maoists in this situation.
Also, if you do, you will be putting many of your soldiers to grave risk. This risk exists throughout the year but during monsoon this risk amplifies. One of my friends from Dantewada, after the attack, tweeted that some of the soldiers had to be brought to the primary health centre in Dantewada (the attack took place in April 2010 when Maoist rebels killed 75 CRPF jawans) but the bus in which they had to move would not work. This sort of thing demotivates security personnel.
Do you see more paramilitary coming into Chhattisgarh now? Or will the Army in some way get involved in countering the Maoists?
I don't see the Army getting involved because the Army is not too keen to get involved in this. They have already spread themselves thin in places like the northeast and in the coming months their engagement in Kashmir is only going to increase. It will be a PR disaster if they will be deployed here (to counter the Maoists).
I don't think the Army is too keen but if they get the orders they will have to go obviously. Right now I don't foresee that, but what will happen at best, which will happen of course, is some increase in sustained military operations against the Maoists. The battle will be pushed full scale. They will target selective Maoist leadership but this kind of strategy won't work on the ground.
Click NEXT to read further...
'Maoists are mentally prepared for the State's response'
Last updated on: May 26, 2013 19:22 IST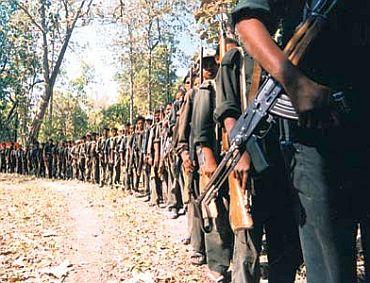 You have pointed out that the attack on Mahendra Karma is "the Maoists' last stand"? Could you please elaborate on what you mean by that?
That is my feeling, because most of the Central Committee (members of the CPI Maoist) is finished. Most of the leaders are either eliminated or arrested. Many of the top Maoist leadership, including their supreme commander (Mupalla Laxman Rao alias Ganapathy) are fast ageing. So in a way it (this attack) is their final battle. The Maoists want to give it a one last shot to see where it goes. They want to give it one final push to their war against the State in their lifetime. I think they are mentally prepared for the State's response (to such an attack), especially after the security forces entered Abujmarh (the Maoists' forested stronghold in central India) last year for the first time.
The other thing is that after Prabhakaran's experience (the LTTE chieftain who was killed by the Sri Lankan forces four years ago in his den), the Maoist leadership knows that they can't rely on just one area for very long. That was the mistake Prabhakaran made. He could have left in the early stages of the war but he chose not to and he got overconfident.
The Maoists have had close ties with the LTTE and their whole training module comes from the LTTE. The way they lay their IEDs etc, because they were trained by the erstwhile LTTE cadre. I think it (Prabhakaran's killing) is playing on their (of the top leadership's) minds.
I won't be surprised if most of the senior leadership of the CPI-Maoist have already shifted their base from Abujhmarh.
The Maoists are quite keen on expanding their base in Assam, as we know from the arrest of two central committee leaders from Assam.
What's your sense? Has the senior CPI Maoist leadership shifted base to Assam? If not Assam, where else?
I think Assam is too early; it is their base in the making. But I am sure the security forces won't find them there; they would have shifted to some other place.
Do you think the senior Maoist leadership would have pre-empted the strategy of the security forces?
That is a very strong possibility. An attack of this scale is not done with a day's preparation. It is launched after several months of preparations, planning and strategy. This attack would absolutely have had an okay from the supreme commander and from the politburo.
Would you term this as the 'most audacious attack' by the Maoists?
I think this is one of the most audacious attacks. Two other attacks come to my mind. One is, of course, the 2010 attack on the security forces in Dantewada. The other was the February 2008 attack on the police armoury in Nayagarh district, Odisha, where 500 Maoists looted the armoury for about five hours.
I think in terms of magnitude and impact, this attack (in which Mahendra Karma and 27 others were killed on Saturday) is one of the most audacious attacks in the history of Maoists.
What do you was the biggest mistake made by Mahendra Karma and his convoy?
I can't comment on this right now because the details coming out are very sketchy. Don't trust the TV channels; they will say what they have to without verifying (what they are reporting). I don't know if he was travelling with his Z Class security entourage or not. There are conflicting reports on whether he had Z Plus security or not when he was attacked.
Click NEXT to read further...
'Something like this always leads to collateral damage'
Last updated on: May 26, 2013 19:22 IST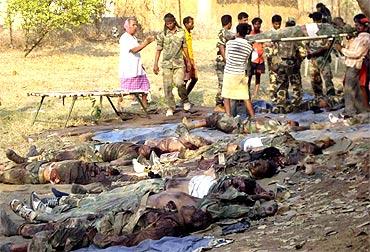 Any particular Maoist leader who you think could be responsible for this audacious attack?
I think in this area (the Maoists' stronghold), there are many Maoist leaders who are capable of executing an attack on this scale. There is comrade Kosa, a tribal, who is a very able leader. Then you have Ramanna, of course, who many believe was also the mastermind of the 2010 blast (in Dantewada).
I have been getting some information that either Ramanna or Kosa may have been shifted recently from this area to some other area, but I think one of them could be very much a part of this operation or the mastermind.
Do you think the state and the central government will take whatever it takes to pursue and eliminate senior Maoist leaders?
In the coming few days we will really see some upping of the ante. The whole political establishment in Chhattisgarh is speaking in one voice; the prime minister has also spoken sternly about the attack. I think they would like to send some kind of message across that they will act, or at least pretend to act, against the Maoists.
In this situation, though, we will have to wait and see how much they succeed against the Maoists. From my experience, something like this always leads to collateral damage.
You know what happened just a week back. Eight tribals were killed, three of them were children.
TOP photo features of the week
Last updated on: May 26, 2013 19:22 IST
Click on MORE to see another set of PHOTO features...