A second wave of floods
Last updated on: August 21, 2010 01:44 IST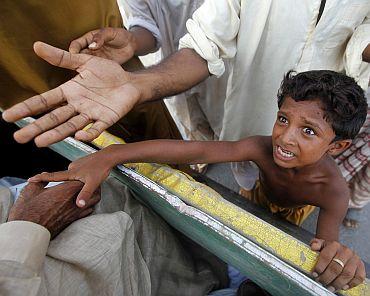 A second wave of floods has inundated several areas in Balochistan even as the worst deluge in Pakistan's history led to mass evacuation in Sindh regions where around 3.6 million people have been affected and over 600,000 displaced.

Floodwater on Friday inundated new areas in Sindh where, 1,447 relief camps have set up where 610,614 affected are taking refuge, according to officials.

The UN said "significantly more donor support" is needed to provide relief to the millions of people affected by the worst deluge in Pakistan's history.

The cities of Shahdadkot, Qabu Saeed Khan, Mero Khan and Sajawal in Sindh were evacuated in the face of a flood torrent emanating from Garhi Kheru. The floodwaters have already devastated hundreds of villages in the region.

Click on NEXT to read further...


Rivers in spite
Last updated on: August 21, 2010 01:44 IST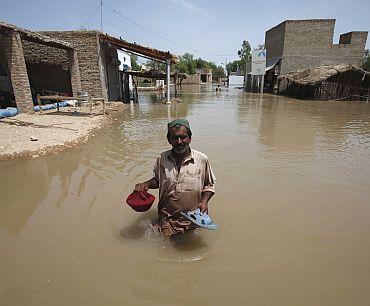 The Flood Forecasting Division warned that the Indus river was in "very high flood" at Kotri Barrage in Sindh and that the situation could take a turn for the worse in the next two to three days.

Flows of over 700,000 cusecs were recorded at Kotri on Friday and officials said the river could flood nearby low-lying areas in the next few days.

In Balochistan, hundreds of thousands of people took shelter on rooftops and high ground after a high flood tide entered Gandhaka area of Jaffarabad district. The high flood in Mola river posed a threat to Jhal Magsi and Gandahwa areas.

Despite rescue missions mounted by army helicopters and boats, a large number of people were stranded in flooded areas. The floodwaters destroyed hundreds of houses and washed away cattle and crops on thousands of acres.


Epidemic strikes the flood-hit
Last updated on: August 21, 2010 01:44 IST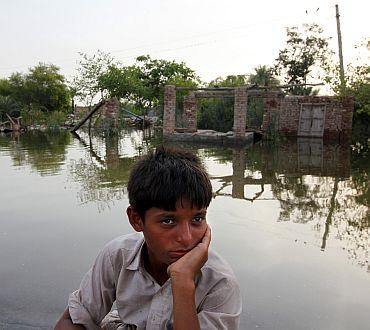 The Gandhaka grid station, government installations and roads were submerged. There were also reports of flood victims suffering from cholera and gastro-enteritis.

Hospitals and medical camps were facing an acute shortage of medicines, officials said. There were also reports of deaths from various areas. In Nowsheran Virkan, two boys drowned while bathing in floodwaters.

Due to inadequate disaster management planning the situation in the relief camps set up in Karachi and on its outskirts has also worsened with thousands said to be deprived of basic facilities.

Rescuers recovered the bodies of two children from flood waters near Basira town, 15 km from Muzaffargarh in Punjab. The children were among the passengers of a bus that had fallen into the floodwaters.

Director Operations Disaster Management Authority (DMA) Sindh Khair Muhammad Kalhoro said that 3.684237 million people have become victims of the destruction unleashed by the devastating floods in Sindh.


The struggle for aid claims lives
Last updated on: August 21, 2010 01:44 IST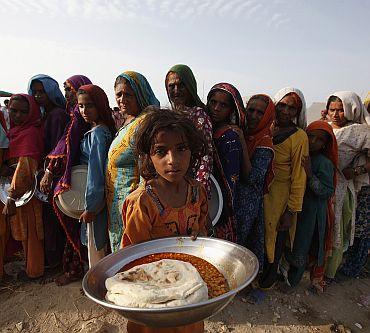 The numbers show that the floods perished 126,216 livestock and ripe crops spreading on a land area of 1. 555359 acres.

The floods in Pakistan have caused a catastrophic calamity with around 2,000 people killed in the floods in the country.

In another tragic incident to compound matters two women were killed in a stampede in a camp distributing free food and Zakat money.

Police officials said that the two women died when hundreds of poor women scrambled for free food and Zakat money at a camp in Korangi in Sindh.

The camp was set up for women affected by the floods and to distribute flour and food. Hundreds of women turned up at the camp in a bid to get the bags of flour and money.

However, the situation turned chaotic following a brawl among some of the women. Several women fell unconscious due to suffocation. They were rushed to Jinnah Hospital, where two of them identified as Malooka and Shamsa, could not survive.


Needed: 'More donor support'
Last updated on: August 21, 2010 01:44 IST
Last Ramazan, over a dozen women were killed and several others wounded in a stampede, which broke out in a narrow street of Jodia Bazaar in the city.

The UN said that though the level of funding for relief efforts had improved, "significantly more donor support" was needed as the emergency was continuing to unfold in Sindh and Balochistan provinces.

The UN also said the worsening security situation was affecting relief efforts in Tank and Dera Ismail Khan districts in the northwest.

Floodwaters were receding in Rajanpur, Muzaffargarh and Dera Ghazi Khan, the worst hit districts in Punjab as the swollen Indus river made its way south.

"There continues to be a need to significantly scale up the response across all affected areas, and in particular in Punjab and Sindh," the UN said in a report.


2000 dead, 3.5 million houses destroyed
Last updated on: August 21, 2010 01:44 IST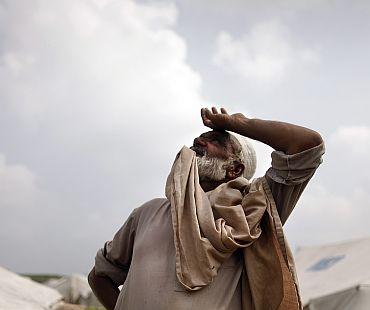 "Though funding levels are now improving in key sectors, the continuing threat of flooding in many areas and the manner in which affected populations are spread across a vast area persist as major operational challenges," the UN report added.

The floods, which began at the end of July, have killed around 2,000 people and affected 20 million.

Over 160,000 sq km have been affected by the floodwaters, which also destroyed 3.5 million houses.

The Food and Agriculture Organisation said around 200 000 cows, sheep, buffalo, goats and donkeys had been confirmed as dead or missing but the final numbers will be much higher, possibly in the millions.

Millions of surviving animals were facing severe feed shortages, threatening generations of Pakistan's livestock, it said.