The woman who conquered an acid attack
Last updated on: July 11, 2011 13:31 IST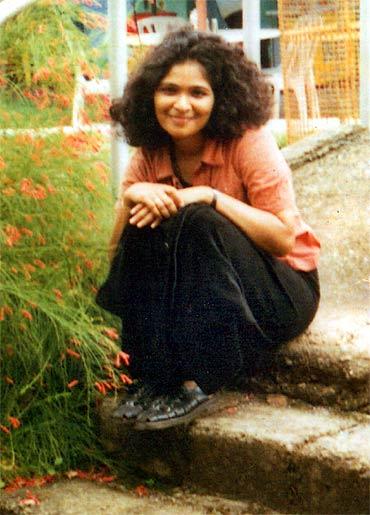 Thirteen years after a barbaric acid attack on her face, Shirin Juwaley has pulled herself from the brink of trauma to help other victims like her.
A Ganesh Nadar profiles an exceptionally brave woman as we continue our series on Extraordinary Indians.
Shirin Juwaley is an amazing lady. Her life was similar to many other young women like her -- she completed her schooling, graduated and agreed to an arranged marriage with hopes of a happy married life. But her world came crashing down when she was only 24.

After her wedding in February 1998, Shirin saw the deep cracks in the relationship and realised that she did not want to remain trapped in an unhappy marriage. "I dared to opt out and asked for a divorce," she says, remembering how she returned to her parents' home and started working.
On May 28, 1998, when she was returning home at around 9 pm, she saw a man dressed in black trousers, black shirt, black monkey cap and dark glasses. She knew that was her husband. She saw him for a second before he threw acid on her face.
In that split second, her life changed forever.
Shirin's husband flew to Kuwait the same night. As she was in hospital for two months and had only her mother to help her, she did not pursue the police case.
With her face disfigured, her trauma was intense. She felt the case would drag on unless he was arrested, and decided instead to build her own life once again.
She wore a burkha to cover her disfigured face
Last updated on: July 11, 2011 13:31 IST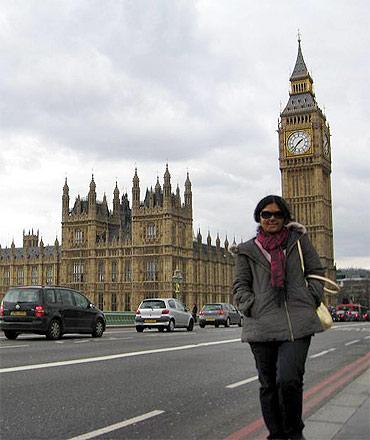 After being treated in two Mumbai hospitals, she went to the United States in 2001 for further medical care. In the US, doctors recreated some of her lost facial features. Her mother paid for her medical expenses at first; later on the Tata group gave her financial assistance.
"Apart from the Tatas, who really helped me a lot, many individuals came forward to help as Mid-Day newspaper had carried an article about me. School children offered to give me their pocket money. It was very touching. I still have all the letters I received those days," she remembers.

The fact that people were taken aback when they saw her face for the first time left Shirin badly bruised and she kept herself isolated for a year. But slowly she began to realise that she could not continue living like this.
She started going out, but hid herself behind a burkha. Then she went online to look for support groups for burn victims and formed a support group in Masina hospital in Mumbai.

When she went to the US for surgery, she remained there for 18 months and also addressed a meeting of burn victims. She realised there was no need for her to wear a burkha during that period in the US because the acceptance level was higher and people were not as intrusive.
"I needed my space and got it there," she says, looking back on those days.
Shirin says in the US people with 90 per cent burns were known to survive, while in India those with even 60 per cent burns did not.
'Nobody warned me about how people would react'
Last updated on: July 11, 2011 13:31 IST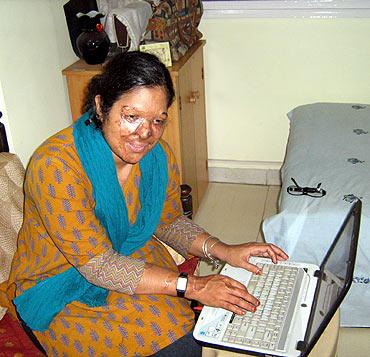 When she returned to India, she got a job with an organisation which worked with children and youth which in turn helped her clear doubts about her own capabilities.
"When my face was disfigured, nobody warned me about how people would react. My parents also did not know," says Shirin, who aims to educate burn victims on these issues and help them boost their self esteem.
Livelihood is another important factor in the life of burns victims, she feels, as they are often given jobs due to sympathy instead of merit.

Her interactions with other burn victims on the Internet resulted in her being invited to the World Burn Conference in the US. Kirti Panchal from the Tata Institute of Social Sciences and Dr Sunil Keswani from Mumbai's Masina Hospital helped with her research on burn victims in India; while the Tatas paid for her ticket.
In 2008 she went to South Wales for higher studies, where her thesis was on whether disfigurement was a disability due to social exclusion. She received a distinction and the best student award which was a great boost to her self-esteem.
"I felt fantastic."


Her time in the West made her realise that there were support groups who help burn victims to reintegrate into society. On her return to India, she started Palash, an organisation to help burn victims like her
Shirin also spent a week in Kashmir in 2007 to understand the people's problems there and find out what they wanted.
After starting Palash last year, she has established contact with burn wards in hospitals and has been working with burn victims. She has also formed support groups in various hospitals and works full time on it, assisted by friends who volunteer and interacts with about 30 burn victims.
"I have not been able to really help them so far but am in the process of finding out about their problems," she says honestly.

While talking to other burn victims, she makes it a point to assure them of confidentiality. In the first meeting she just encourages them to talk. Only after they open up does she ask them about the incident.


She forms support groups for them, takes them out for picnics, helps them with skill development and advises them about the jobs they can take up.
'Attacking a woman is about ego, it is about pride, it is about control'
Last updated on: July 11, 2011 13:31 IST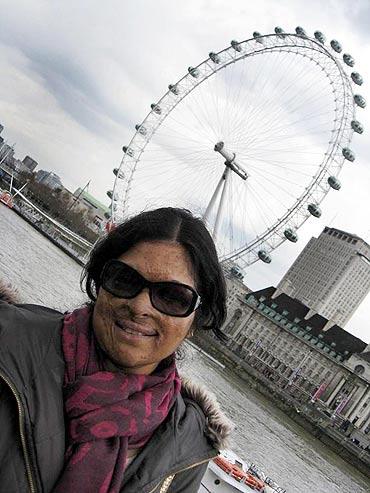 Shirin feels attacks on women in India happen because it is a patriarchal society where the man rules run supreme. "But women are also to blame, see how a woman treats her daughter-in-law. Also how a mother treats her son differently from her daughter."

Though literacy levels are rising, she feels that children do not get enough exposure or the right knowledge.

"Men are the so-called bread-winners and women are thought of as burdens. Dowry adds to that factor. Attacking a woman is about ego, it is about pride, it is about control."
"The idea of the family is huge in India. We do not like to wash our dirty linen in public. Women do not talk about how they are treated in their homes. Thus the atrocities continue. They have to talk about it. Only if they discuss will a solution be found."

Shirin is now researching the number of such victims that need help and regrets the lack of funding for research.

Currently, Palash is being run from her home and she hopes to start workshops in six months. In the meantime, she is researching how many hospitals have burn wards, the number of burn victims and how many trusts/organisations work for such needs.

Drawing from her own experience she feels burn victims should first come to terms with their own problem because denial hinders the ability to deal with it.

This is what she hopes Palash will do, by providing moral support and creating reintegration programmes so that burn victims can go back to being part of society.
"We will give them a social space which is not hostile and teach them to deal with their scars."
Shirin Juwaley can be contacted at shirinjuwaley@gmail.com