The pilgrimage of a lifetime
Last updated on: November 15, 2010 11:09 IST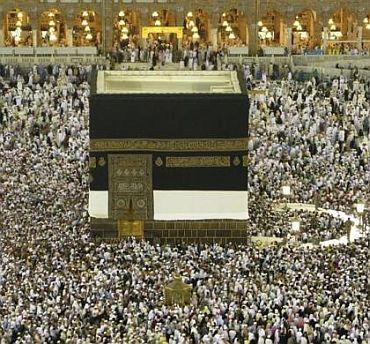 Over 1.5 million Muslims from around the world have flooded into the holy cities of Mecca and Medina for the annual Haj pilgrimage.

The pilgrimage takes place during the middle of the month of Dhul al-Hijja, and the date will be determined once Saudi religious authorities announce the start of the month with the sighting of the crescent moon.
The Haj is associated with the life of Islamic prophet Muhammad, who lived during the seventh Century, but Muslims believe the ritual of going to Mecca stretches back thousands of years to the time of Abraham.

Haj is also the 5th pillar of Islam -- a religious duty that must be carried out at least once during the lifetime of every able-bodied Muslim, and officially starts on November 15
Click on NEXT to see more PHOTOS...




The pilgrimage of a lifetime
Last updated on: November 15, 2010 11:09 IST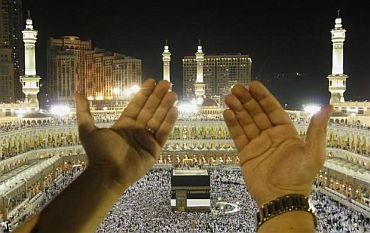 Muslim pilgrims circle the Kaaba at the Grand Mosque in Mecca
The pilgrimage of a lifetime
Last updated on: November 15, 2010 11:09 IST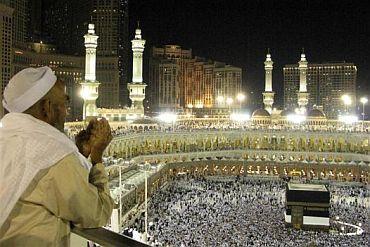 Muslim pilgrims circle the Kaaba at the Grand Mosque in Mecca
The pilgrimage of a lifetime
Last updated on: November 15, 2010 11:09 IST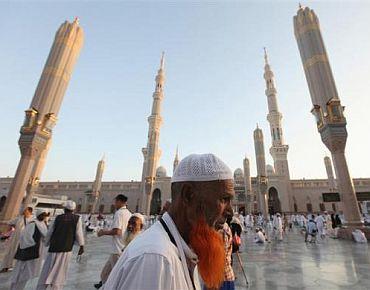 A man walks in Mohammed Mosque during the annual Haj pilgrimage ahead of Eid al-Adha in the Saudi holy city of Madina
The pilgrimage of a lifetime
Last updated on: November 15, 2010 11:09 IST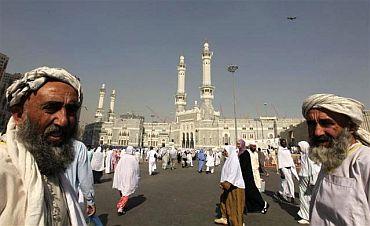 Pilgrims walk outside the Grand Mosque during the annual haj pilgrimage in Mecca
The pilgrimage of a lifetime
Last updated on: November 15, 2010 11:09 IST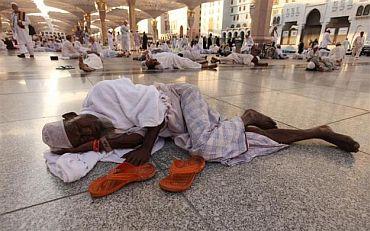 A Muslim man sleeps in Mohammed Mosque during the annual Haj pilgrimage ahead of Eid al-Adha in the city of Madina
The pilgrimage of a lifetime
Last updated on: November 15, 2010 11:09 IST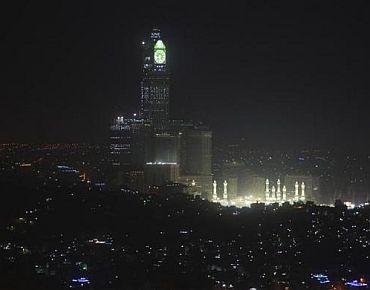 The Grand Mosque (R) and four-faced Mecca Clock Tower (L) are seen during the annual haj pilgrimage in Mecca
The pilgrimage of a lifetime
Last updated on: November 15, 2010 11:09 IST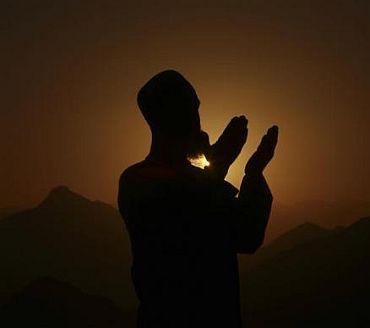 A pilgrim prays atop Mount Al-Noor during the annual haj pilgrimage in Mecca
The pilgrimage of a lifetime
Last updated on: November 15, 2010 11:09 IST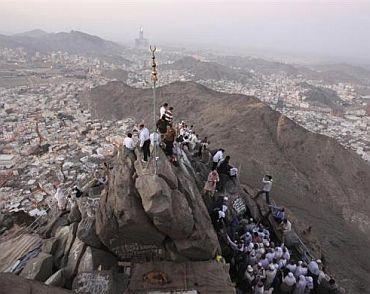 Muslim pilgrims stand on Mount Al-Noor
The pilgrimage of a lifetime
Last updated on: November 15, 2010 11:09 IST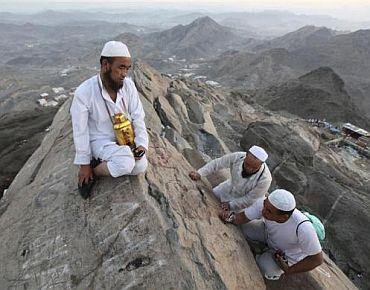 A pilgrim scribbles a note on a rock on Mount Al-Noor during the annual haj pilgrimage in Mecca
The pilgrimage of a lifetime
Last updated on: November 15, 2010 11:09 IST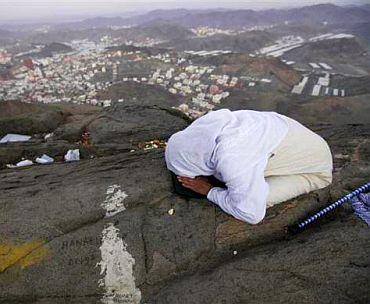 A pilgrim prays atop Mount Al-Noor during the annual haj pilgrimage
The pilgrimage of a lifetime
Last updated on: November 15, 2010 11:09 IST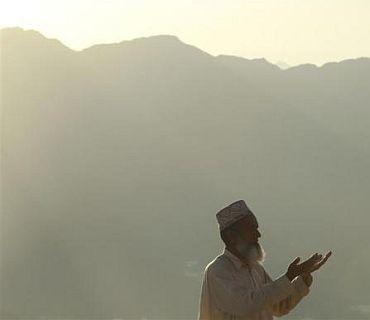 A pilgrim prays on Mount Al-Noor during the annual Haj pilgrimage
The pilgrimage of a lifetime
Last updated on: November 15, 2010 11:09 IST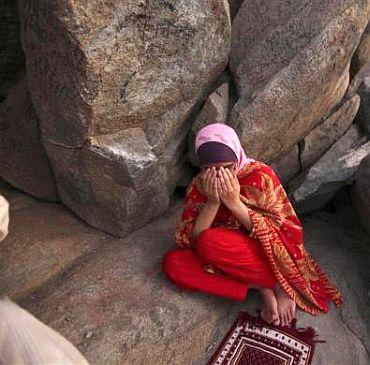 A pilgrim prays near the entrance of Hera cave on Mount Al-Noor during the annual haj pilgrimage in Mecca
The pilgrimage of a lifetime
Last updated on: November 15, 2010 11:09 IST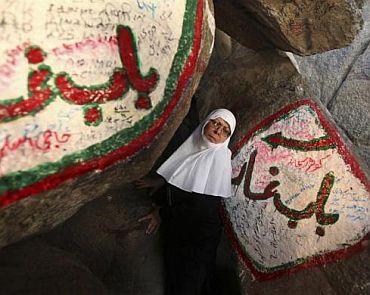 A pilgrim stands at the entrance of Hera cave on Mount Al-Noor during the annual haj pilgrimage
The pilgrimage of a lifetime
Last updated on: November 15, 2010 11:09 IST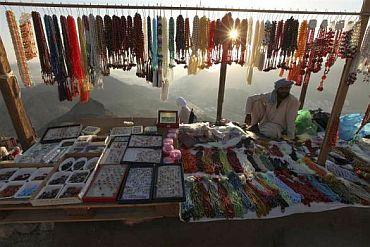 A vendor sells prayer beads during the annual haj pilgrimage in Mecca
The pilgrimage of a lifetime
Last updated on: November 15, 2010 11:09 IST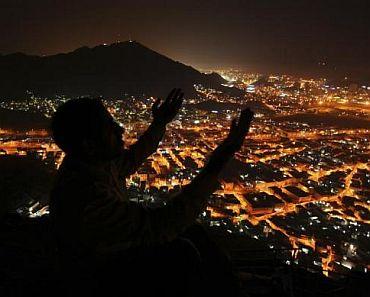 A pilgrim prays atop Mount Al-Noor during the annual haj pilgrimage in Mecca