'The Indian Mujahideen is very much alive'
Last updated on: July 14, 2011 09:59 IST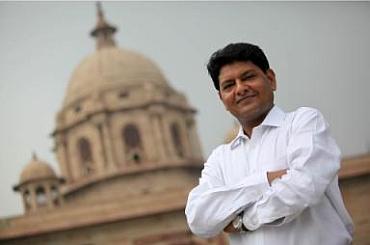 I
ndian Mujahideen - Tracking the Enemy Within
is a book which deals with the recent acts of terror which have exploded the myth that Indian youth is insulated from the global terrorism phenomenon and had little time for extremism.
The author, Shishir Gupta, editor of the Express News Service at The Indian Express, says his book deals with various trends of homegrown jihad in India.
This book is the first attempt to link jihadists all over India and trace their association with terrorists based in Pakistan, Nepal, Sri Lanka, Bangladesh, the United Arab Emirates, Oman, Yemen and Saudi Arabia.
In this interview with Vicky Nanjappa, Gupta discusses the various aspects of terrorism that has rocked India.
Could you tell us what your book is about?
The book picks up various trends of homegrown jihad in India and its inter-section with the conservative Salafi ideology. The book also deals with how funding for terrorism and the ideology got mixed up.
It joins the dots on the various incidents of terror in the past decade. It gives us details about how all this took place and also looks at the various revelations made by David Headley and Sarfaraz Nawaz.
The book also deals with the manner in which all these cases of terror were probed in India and also goes on to point out some instances where investigations were not carried out in a proper manner. Each of these incidents are analysed in the book.
It also gives us a full fledged picture of the Headley confessions and also what the Karachi Project is. On the 26/11 front, it deals with the various players such as Sajid Mir and the other players in this plot.
The book charts the growth of homegrown jihad in India and the influence of conservative Islam or Salafism along with funding from Pakistan and the Middle-East on already radicalised SIMI youth in India.
It joins the dots as far as terrorist incidents of the past decade are concerned with detailed insight in the support given to local Indian youth through testimonies of David Coleman Headley, Khawaja Amjad Sheikh and Sarfaraz Nawaz.
The book gives insight into Abdur Rehman Saeed's so-called Karachi Project, a joint venture of the ISI-LeT (Inter Services Intelligence-Laskar-e-Tayiba), and the failure of Indian law enforcement agencies in detecting the tale of retribution and counter-retribution being played out between Muslim and Hindu extremists.
It emphasises the need for police to properly investigate terror cases and not coming up with tailor-made accusations or the real culprits like in the cases of blasts at the Mecca Masjid, Sarojini Nagar and local trains will never be found.
Please click NEXT to read further...
'Not everyone in SIMI is out to kill people'
Last updated on: July 14, 2011 09:59 IST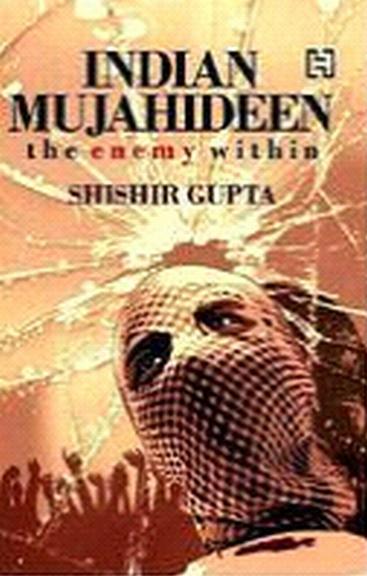 D
o you think groups like the Indian Mujahideen are on the backfoot?
I would not say that the IM is dead and I would not agree that it is on the back foot. My understanding is that it is slowly regrouping. Two days ago there was a report of the National Security Guard regarding the IED (Improvised Explosive Device) which was found outside the Delhi high court.
The device had ammonium nitrate, grease, wax and detonators. In this particular case, the detonators had malfunctioned. Look at the September 19, 2010 incident at the Jama Masjid in New Delhi where a car was burnt.
There again the detonators had failed. Had these bombs gone off, it would have been a major incident. This is an indicator that there is a group which is still active.

According to the Intelligence Bureau, the IM is an off-shoot of the Students Islamic Movement of India. Did the ban on SIMI lead to the emergence of a more dreaded outfit?
SIMI was the feeder cadre. I am not saying that everyone in the SIMI is out to kill people. There was an element within SIMI which was radicalised.
For the ISI, a homegrown outfit was always important in order to keep the focus away from Pakistan and groups like the IM and SIMI provided this solution. If the police are to be believed, then the IM is down and out as of today.
In such a situation what happens to the concept of home grown jihad?
The basic ideology is to destablise India, and this they will continue to do irrespective of the terrorist organisation's name. The core continues to be SIMI and if you look at the activities in Kerala, Karnataka, Rajasthan and Andhra Pradesh, there are still certain groups which are active.
Take the case of T Nasir who was first part of LeT and then IM. Despite him changing outfits, the intention always remained the same.
Such people will continue to try to destablise India. The ISI has always been looking for such elements and have even tried to penetrate into the Naxal movement.
Please click NEXT to read further...
'Calling Safdar Nagori the kingpin won't be correct'
Last updated on: July 14, 2011 09:59 IST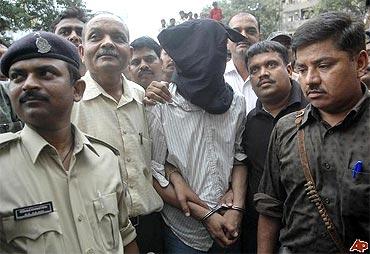 I
M bigwigs like Abdus Subhan continue to be on the run. Do you think that such men are capable of re-building the outfit?
My understanding of him is different. It has been claimed that he is behind almost all the incidents undertaken by the IM. Subhan is not on the Central Bureau of Investigation's most-wanted lost. There is no Red Corner Notice against him. He is a friend of Safdar Nagori.
He was a diehard SIMI cadre. Till 2008, I had nothing on paper to say that he was a terrorist. Once Nagori and the rest were arrested, we saw him getting closer to (Riyaz) Bhatkal and it is said that he sought revenge for the Gujarat riots.
Both he and Safdar were not talking about bombs. They were talking about shooting incidents. To say he is the kingpin is not correct. The likes of Amir Reza Khan, Ilyas Kashmiri and Sajid Mir are all very much around and these men are very dangerous.
Then there is also Dr Shahnawaz who is equally important in this outfit who continues to be out there.
What do you make of the alleged death of Riyaz Bhatkal? Do you think this is true?
I have tried to crosscheck it in various places. We are not getting much about his movements. So there could be a possibility of him being bumped off.
But there is no confirmation. Amjad Khwaja Sheikh's (of the Harkat-ul-Jihad-al-Islami) interrogation confirmed the killing of Shahid Bilal in Karachi. So till such time there is a substantive corroboration of Riyaz Bhatkal's demise, one should keep fingers crossed.
Please click NEXT to read further...
'Kerala could be used to rebuild IM'
Last updated on: July 14, 2011 09:59 IST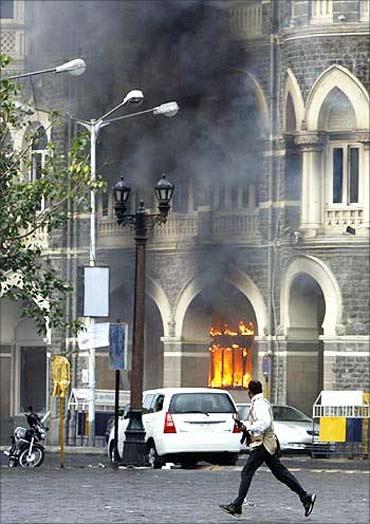 W
hich states do you think IM cadres IM would utilise today to re-build their organisation?
South India is the next base. Kerala is worrisome; Karnataka will have a bad mix since Naxalism is on the rise there. Then again, there is Andhra Pradesh, and Uttar Pradesh always has a political element to it. However, Kerala will always be my key concern.
Speaking of the 26/11 Mumbai attacks, do you believe these outfits had any role to play, at least in helping the likes of David Headley, survey their targets?
It is very hard to swallow what both the IB and the police say. They say that there was no local support. Looking at the scope and bandwidth of the attack it is clear that there were local players.
However, these local players had limited roles to play. If you look at the various reports, you get a feel that there were locals who played a part, but never knew about the scope and the magnitude of the attack.
There are a lot of aspects we never knew regarding this attack. Had it not been for the Americans, we would have never known about David Headley.
The Gulf angle to Indian terrorism is something that we cannot rule out. Do you think India needs to be more assertive while dealing with IM cadres settled in the Gulf?
We need to build up developmental and economic leverage with these countries. Last year, there was an alert from the home ministry regarding three people, but they were allowed to go.
If we do not take this issue lying down, then those countries will start to take us seriously.