The daughter who chose not to live at Rashtrapati Bhavan
Last updated on: April 9, 2013 08:21 IST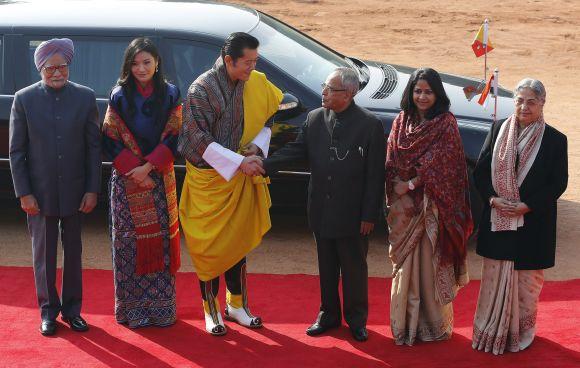 Sharmistha Mukherjee, the fiercely independent daughter of the President of India, would rather not have her life and her father's official position cross paths.
One night, when he was the external affairs minister, Pranab Mukherjee received an unexpected call from Iran. The person on the line told him: "We are taking good care of her. The problem has been solved." It took some explaining before a bewildered Mukherjee realised that the call concerned his daughter, Sharmistha, who was out on a road trip through central Asia with her friends and had apparently run into some permit trouble.
For Sharmistha Mukherjee, the easiest thing to do would have been to call up her father in Delhi and have the issue promptly resolved. She chose not to. It was only when the situation seemed to be getting out of hand and the language barrier compounded the ordeal that she gave in to her friends' pleas and called the Indian embassy in Tehran.

That was the one time, the father helped. Today, usually it is the daughter who lends a helping hand. Known to be fiercely independent, the 47-year-old daughter of the President of India would rather not have her life and her father's official position cross paths. But since he took over as president on July 25 last year, Pranab Mukherjee has been increasingly counting on her to help out when protocol demands.
For example, when the king and queen of Bhutan came to attend the Republic Day parade, Sharmistha Mukherjee accompanied her father, along with Prime Minister Manmohan Singh and his wife, Gursharan Kaur, to receive them at the airport. Later, at the banquet held in their honour at Rashtrapati Bhavan, she was the official hostess. And, it was she who went with him on his official visit to Mauritius. "It's not true that I am the official hostess at all state dinners held at Rashtrapati Bhavan," she says. "My mother is the official hostess. But because of her health, I sometime have to step in." Incidentally, when Pranab Mukherjee visited Bangladesh in March, it was his wife, Suvra, who accompanied him.
Click NEXT to read further...
'I love my privacy and my independence'
Last updated on: April 9, 2013 08:21 IST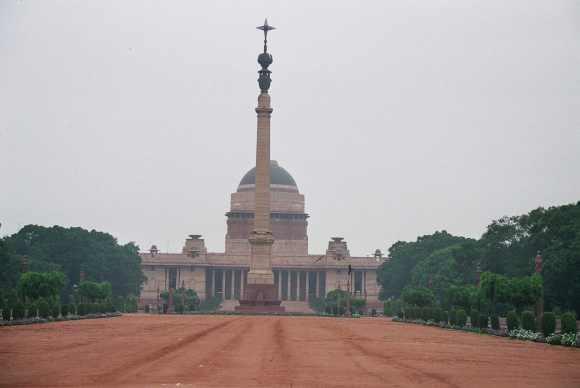 Sharmistha Mukherjee makes it clear that she doesn't "have much interest in politics." And that, "I love my privacy and my independence." So, instead of moving into Rashtrapati Bhavan, she continues to stay in her house in Delhi with her three dogs.

When she's required to be by her father's side for state visits and banquets, she does her home work. She reads up about the history, geography and culture of the country she's visiting or to which the dignitary she's meeting belongs. Reading is a habit she has acquired from her father who, as many say, devours books. So much so that now when the books from his table disappear, he accuses her of having taken them.

"There is really no extra pressure when I have to officiate as the hostess," says Sharmistha Mukherjee. "The banquet with the king and queen of Bhutan, particularly, was a very relaxed affair because I know them personally. Besides, I like meeting people. As long as you don't get overawed by them, you're fine."

Of course, there are protocol trappings. "Here my training as a classical dancer helps. Even when you're performing on stage, there are some rules and codes of conduct to be adhered to," she says. An accomplished Kathak dancer and choreographer who has performed across the world, Sharmistha Mukherjee started training around the age of 12 "after I saw a mesmerising performance by late Pandit Durgalal ji," her first guru. Over the years, she's developed her own unique style of Kathak and has even performed to Bach's much-loved Brandenburg concerti.
Click NEXT to read further...
Sharmistha has displayed little inclination towards politics
Last updated on: April 9, 2013 08:21 IST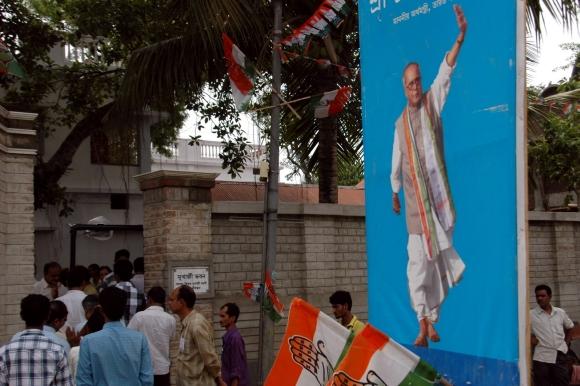 Many believe that Pranab Mukherjee would've liked to see her, his younger child, as his political heir. She has his traits -- "though he is far more reasonable and I am headstrong," she says -- but she has displayed little inclination towards politics. She seldom makes political statements, though she didn't hesitate for a second before publicly censuring her elder brother, Abhijit Mukherjee, the Congress MP from Jangipur in West Bengal, when he shot his mouth off and described the anti-rape protesters in Delhi as "dented and painted women." "I am shocked at my brother's statement, my apologies on behalf of my brother," she said without waiting to work out a damage-control exercise.

Grapevine has it that she even complained to Prime Minister Singh for making her father overwork when he met with an accident in 2007. "No, I didn't say anything to the prime minister," she laughs. "But I did make complaints to several other people."
TOP photo features of the week
Last updated on: April 9, 2013 08:21 IST
Click on MORE to see another set of PHOTO features...
Source: