The 2 MPs who brought shame to Parliament
Last updated on: September 5, 2012 16:15 IST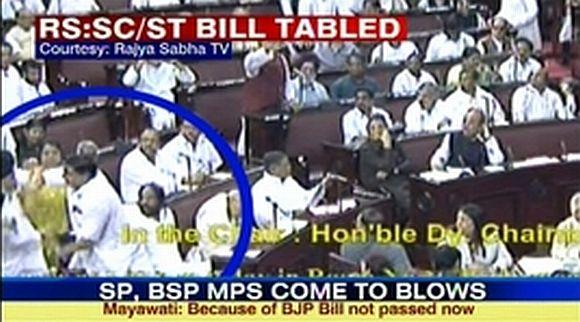 Even as the Parliament was paralysed for the 11th day over the coal block allocation, the unruly side of its two of its members shocked the nation on Wednesday.

When the Rajya Sabha met at noon after being adjourned an hour earlier, a scuffle broke out between Naresh Agrawal (Samajwadi Party) and Avtar Singh Karimpuri (Bahujan Samaj Party) during introduction of a Bill seeking to provide reservation in promotion to SC/ST in government jobs.
"The BSP MPs were misbehaving with me. I did not try to tear the bill. We wanted a division of votes. I will complain against Karimpuri to the chairman of the Rajya Sabha," Agrawal said.


Members of SP, a party opposed to the bill, were on their feet and Aggarwal proceeded towards the well of the House. He was stopped by Karimpuri, who grabbed the SP member by his collar to prevent him from trooping into the well.

At this, other members from the BSP, including Brajesh Pathak, immediately intervened and held back Karimpuri.


Tempers ran high as the scuffle continued for a few minutes before Karimpuri was finally made to take his seat. Soon marshals were called into the House.

Click on NEXT for info on the MPs who put Parliament to shame
The 2 MPs who brought shame to Parliament
Last updated on: September 5, 2012 16:15 IST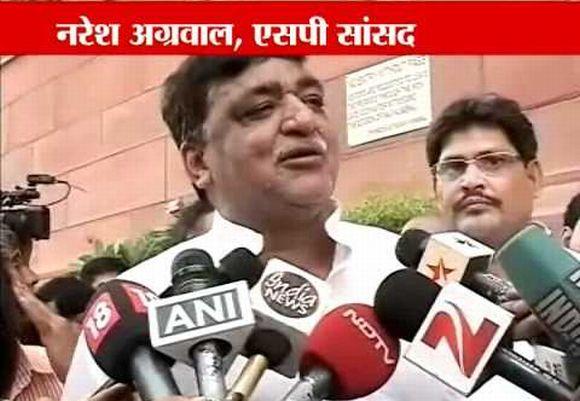 Naresh Agrawal

This Samajwadi Party leader and lawyer entered Rajya Sabha from Uttar Pradesh

Educational Qualification:
Bachelor in Science., LLB from Lucknow University
Positions Held:
From 1980-84 and 1989-2008 member of Uttar Pradesh legislative assembly; 1997-2001 minister of power in the Uttar Pradesh government; 2003-2004 minister of tourism in the Uttar Pradesh government; 2004-2007 minister of transport in the Uttar Pradesh government; 2007-2008 chairman of the public accounts committee of the Uttar Pradesh Assembly; March 2010 elected to Rajya Sabha; March 2010 onwards member of the consultative committee for the ministry of petroleum and natural gas; August 2010 onwards member of the committee on home affairs; April 2011 onwards member of the sub-committee to examine various provisions of the enemy property (amendment & validation) Second Bill; 2010 onwards on the committee on home affairs; December 2011 onwards member of the parliamentary forum on disaster management

Click on NEXT to read further...
The 2 MPs who brought shame to Parliament
Last updated on: September 5, 2012 16:15 IST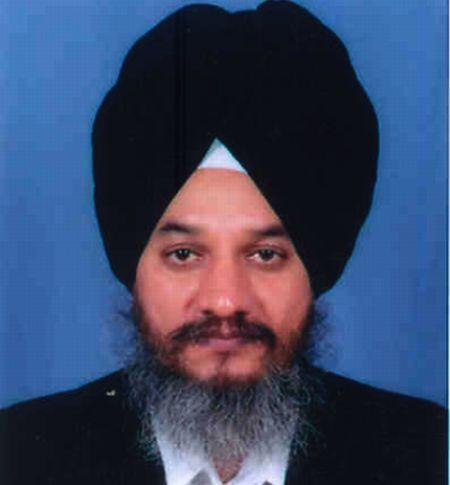 Avtar Singh Karimpuri
This Bahujan Samaj Party leader and social activist entered Rajya Sabha from Uttar Pradesh.

Positions held:
Member of the committee on social justice; August 2009 onwards on the committee on empowerment; September 2009 onwards member of the consultative committee for the ministry of civil aviation; October 2009 onwards was member of the joint committee on food management in parliament complex
Educational Qualification:
BA (Public Administration), Diploma in Police Administration, Diploma in Social Welfare Administration, M A (Human Rights) (Part-I), Post Graduate Diploma in Criminology and Forensic Science Educated at Govt High School, Kotranjha, (Punjab) and Annamalai University