Terror's favourite target braces for the next strike
Last updated on: April 8, 2013 08:38 IST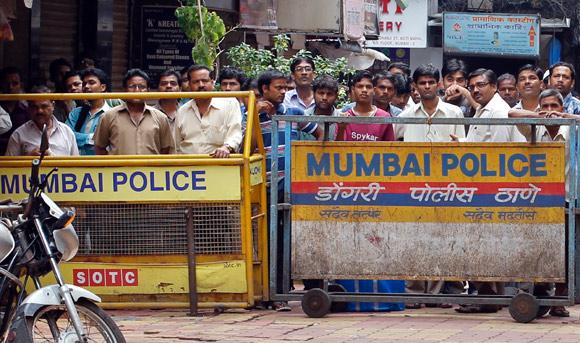 "This area is under CCTV surveillance," warn signposts placed every 15 feet in Zaveri Bazaar, south Mumbai's biggest market for precious stones that has been hit thrice by terrorism. These outnumber the 36 cameras, installed by the Bombay Bullion Association (not the police), that keep vigil on the crowded lanes of the 202-year-old market. (The association wants to install another 19.)
The cameras, set up four years ago, had helped with the investigation of the July 2011 bombing, though the quality of images had suffered in the rains. The cameras are night-vision enabled now but their feed is not monitored throughout the day.
Policemen and an armoured vehicle stand at barricaded junctions, holding back motorists, hawkers and occasionally questioning people with unwieldy bags.
Still, no one breathes easy.
One jeweller thinks the presence of the cops is no guarantee for security because "they are from the lower ranks and aren't well paid".
Shilpa Choksi, who owns a jewellery store, sizes up customers and passers-by with stern eyes. The security has hurt business and she is not sure if the bandobast is foolproof. Yet she can't think of shifting.
"This is home," she says.
Click on NEXT to read further...
Terror's favourite target braces for the next strike
Last updated on: April 8, 2013 08:38 IST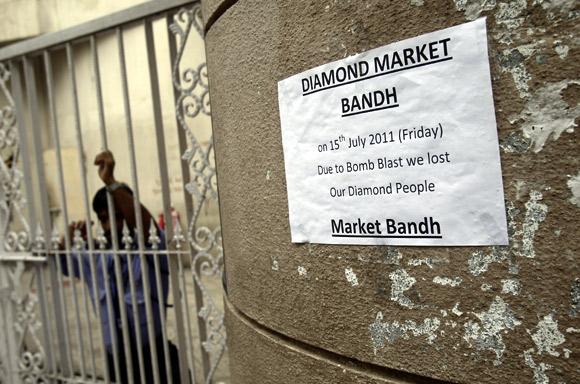 Like Zaveri Bazaar, the rest of Mumbai has seen a definite, although slow and inconsistent, tightening of its security.
Black Friday -- the 13 serial blasts in 1993 -- was followed by a lull of nine years. From 2002, there were eight more attacks on the city, with a death toll of 731, which quelled celebratory allusions to Mumbai's indomitable spirit.
The attacks of 26/11 jolted the government out of its somnolence and forced it to re-examine existing arrangements and create new agencies.
It established a hub of 241 National Security Guard commandos in Andheri. Mumbai also got its own elite commandos in the 300-strong Force One, which was initially trained by Israeli specialists. The local police too have been taken on board.
In addition to the Anti-terrorism Squad, anti-terrorism cells are being set up in each of the city's 92 police stations. The strength of policemen in these cells will grow from 500 to 2,000. Thirteen bomb disposal squads with sniffer dogs have been formed.
To gather leads online, last month the special branch of Mumbai Police launched a round-the-clock social media lab manned by 20 people who will watch blogs, forums like Facebook and Twitter, and any publicly accessible content.
While the police will not monitor individual conversations, the move is being dubbed as intrusive, especially in light of the arrest of two girls for their Facebook posts last year.
Click on NEXT to read further...
Terror's favourite target braces for the next strike
Last updated on: April 8, 2013 08:38 IST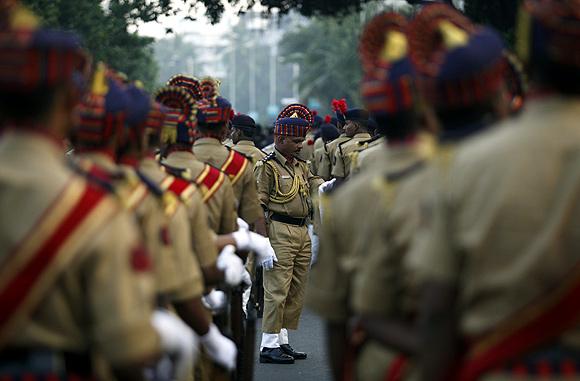 Is it enough?
Since 2004, ATS claims to have prevented at least five attacks, nabbing terrorists in Mumbai and Aurangabad. They were said to be plotting attacks on sites including the Bhabha Atomic Research Centre and ONGC's office in Bandra.
"Since 26/11, (the police) have improved in numbers, infrastructure and in our understanding of jihadi terrorism," says Sadanand Date, joint commissioner of Mumbai Police, law and order,, who had battled terrorists at Cama Hospital in 2008.
However, an RTI activist found that the force was 18 per cent short of the sanctioned strength of 41,401 personnel as on July 2012.
RTI queries also reveal that 10,413 policemen, constables and officers, were assigned to protect celebrities and VIPs in 2009, up from 4,450 in 2007.
The grand security plan has hit other roadblocks too. The multiplicity of agencies at work results in clashes of egos and inept co-ordination.
Some say NSG was disinclined to help train the Force One commandos who were seen as rivals. The desire to get credit is also said to have led to reluctance among intelligence agencies in the state and Centre to share inputs.
Click on NEXT to read further...
Terror's favourite target braces for the next strike
Last updated on: April 8, 2013 08:38 IST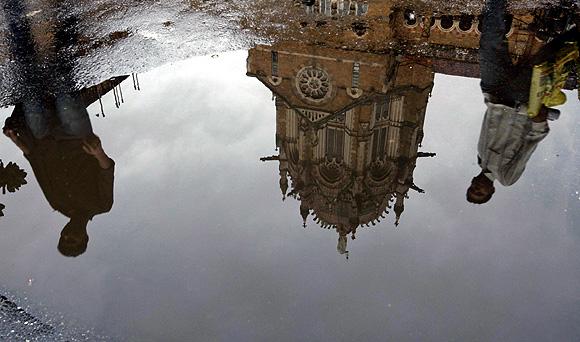 Such chinks in the armour show up frequently. When Canandian Prime Minister Stephen Harper was to visit India in November last year, the Royal Canadian Mounted Police recommended flying in two armoured vehicles, citing recent terror attacks and absence of cars 'safe enough" to ferry their prime minister.
It was only in March this year that the Maharashtra government dipped into its contingency fund for the Rs 3.5 crore it needed to buy armoured Mercedes cars for dignitaries.
Mumbai's suburban trains are the softest target for terror attacks (there has been several blasts in the last 10 years). More than 7.2 million residents commute daily by these trains which, during peak hours, are as tight as a can of sardines. It's Mumbai's lifeline and any untoward incident can throw the city out of gear.
Security has been improved at the railway stations. At Chhatrapati Shivaji Terminus, where Ajmal Kasab and his accomplice wreaked havoc on the night of 26/11, four baggage scanners have been set up.
The feed from an undisclosed number of CCTVs is monitored in the railway control room. But the door-frame metal detectors buzz incoherently as two or three commuters hurriedly squeeze through them at a time.
Heavily armed security personnel are on alert behind sandbag barricades. Most other stations too have similar paraphernalia, though the armed guards are not to be seen.
"The challenge is extremely extraordinary given the shortage of manpower, the resources crunch and the number of people who travel here," says Alok Bohra, senior divisional security commissioner, Railway Protection Force. He does have a point about manpower shortage.
Click on NEXT to read further...
Terror's favourite target braces for the next strike
Last updated on: April 8, 2013 08:38 IST
RPF, which is assisted by the Government Railway Police, had sought 300 extra personnel from the Home Guards but got only 150. The Central Railways suburban lines are manned by 2,500 personnel, while 720 positions remain vacant.
The government's ways remain slow and mired in red tape. The contract for the Rs 800-crore plan in 2008 to install 6,000 CCTV cameras across Mumbai was finalised only in January this year.
The integrated security system, with Internet-based surveillance and baggage screening, chalked out for six Central Railway stations was to be completed in 2010 but work began only in 2012 because of disagreements over the price of the equipment. Hiccups also slowed the process of securing land to build living and training facilities for the NSG and Force One commandos.
In contrast, private offices and commercial establishments are leaving nothing to chance. The 10 guards who take turns minding Leopold Cafe are checking diners' bags. One asks for my backpack, unzips it and throws a cursory glance inside before returning it. The premise is under constant CCTV surveillance.
During high alert, policemen reach the location within minutes, says the owner, Ferzad Jehani. Things were different before 26/11: the only security was two unarmed guards at the entrance.
"Customers have been cooperative because they realise it is important," says Jehani.

Click on NEXT to read further...
Terror's favourite target braces for the next strike
Last updated on: April 8, 2013 08:38 IST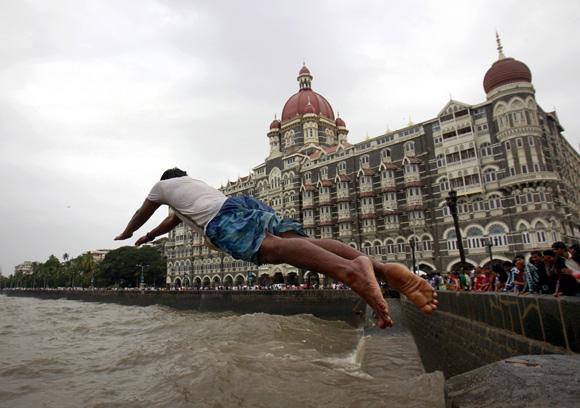 A short distance away, at the Taj Mahal Hotel, private security guards armed with walkie-talkies and handheld devices check cars. Anyone who enters has to pass through the metal detector and has his bags frisked.
Some Mumbai citizens say modern gadgetry may be fine, but the police need to beef this up with human intelligence.
"The old ways of monitoring people on the ground can help," says S Hussain Zaidi, a journalist who is considered an expert on the Mumbai underworld.
Even policemen know they need to engage better with the citizens.
"The emergence of the Indian Mujahideen shows that our own boys are being radicalised. This should be neutralised by involving communities and ensuring they are not taken advantage of," says MN Singh, former Mumbai Police commissioner.
The police took a small step in this direction last year through Mission Mrityunjay: its officers addressed 120,000 students in nearly 150 colleges and schools on the issue of terrorism, urging them to report suspicious objects and activities.
After the Hyderabad blasts in February, the cops lectured people in high-risk areas and distributed literature outlining precautions.
Let's hope it works.
Click on NEXT to read further...
TOP photo features of the week
Last updated on: April 8, 2013 08:38 IST
Click on MORE to see another set of PHOTO features...
Source: