26/11: Terror is still in their hearts, even 3 years on
Last updated on: November 21, 2011 18:28 IST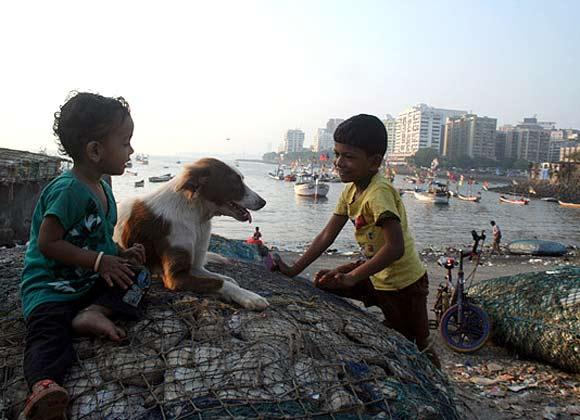 On November 26, 2008, ten terrorists attacked the city killing about 188 people and injuring close to 300. Three years on, we walk down the same road from Badhwar Park to Girgaum Chowpatty in Mumbai and are greeted with stories of despair and disappointment. Divya Nair reports.
It's an average evening at the Machhimaar Colony at Badhwar Park area in Mumbai. With me is photographer Uttam Ghosh who had closely followed the Mumbai attacks way back in 2008.
Three years ago, on November 26, 2008, the boat that carried a bunch of terrorists landed here at Badhwar Park.

The terrorists, 10 of them, had first arrived in the country by a trawler before they moved to an inflatable boat and entered the city through the Machhimaar Colony at about 8 pm.

At 9.20 pm, the first attack was reported in the city at the bustling Chatrapathi Shivaji Terminus.

Interestingly, many at Badhwar Park also remember the day distinctly because they were watching an exciting cricket match between India and England.

In fact, none of the residents at Badhwar Park had seen the terrorists land there except Anita Udaiyya, a 45-year-old scrap dealer. Udaiyya is now of the prime witnesses in the case.
I am told that some things have definitely changed about the place after the incident. Today, there is a police chowki and the fishermen confess to being occasionally frisked for identification and security purposes.
We walk past the lane the two terrorists took before they took control of Nariman House. The National Security Guard commandos took control only the following day. After a long battle, one NSG commando and the two attackers were killed.
Click NEXT to read further...
People are still scared to step out of homes
Last updated on: November 21, 2011 18:28 IST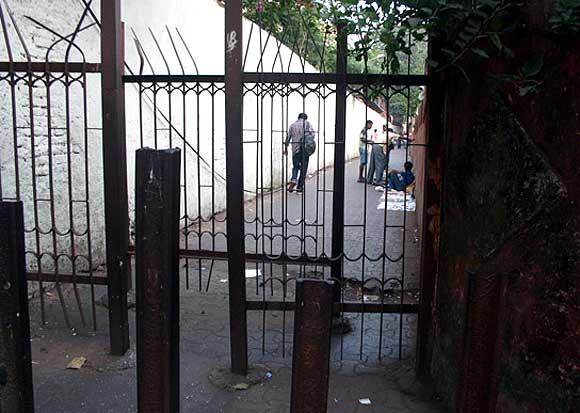 Also known as the Chabad House, the three storied building is almost a haunted piece of property now.
Vijay Surve, 60, shakha pramukh (branch head) and a local party worker with the Shiv Sena, whose men contributed immensely to the cause of protecting and safeguarding people's lives at Nariman House in those three days.
Surve told me how one of his men was hit, while he himself dodged a grenade attack during the rescue operations. He briefly narrated the three days of terror and how they tackled the situation till the NSG commandos arrived. 
Surve also showed me the letter of appreciation dated December 2, 2008, signed by Lt Gaurav Guha of the NSG, which was sent to him in lieu of his contribution. 
But what is the use of a police chowki that is almost dysfunctional? Even today people are scared to step out of their homes. Ask people who have heard gunshots and the explosion of grenades and they will tell you how memories of those three days of terror still haunt them.
When the policemen were busy waiting for orders from senior officials, local people took to the roads and helped people move to secure places. 
Click NEXT to read further...
'All the govt can do is offer comforting words to secure votes'
Last updated on: November 21, 2011 18:28 IST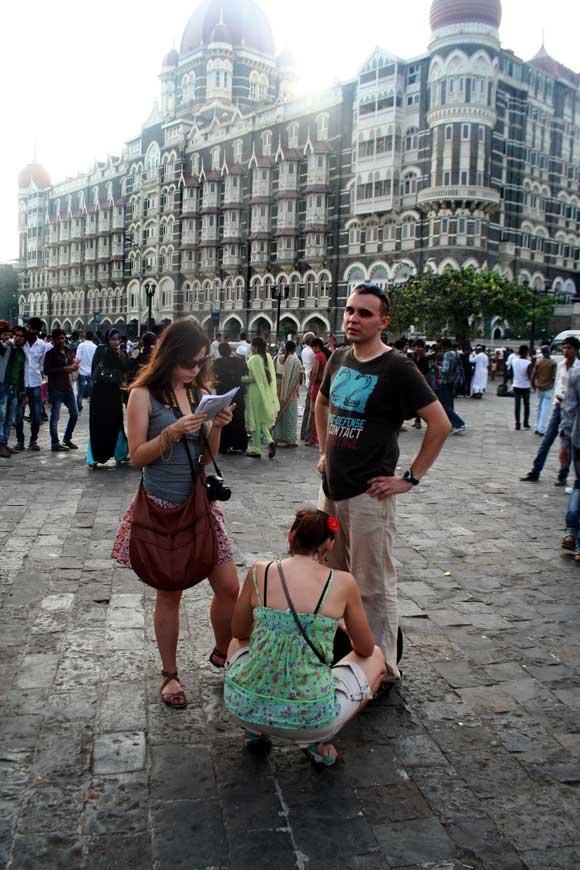 "The government seems to have forgotten those three days of sleepless nights and relentless service by the common man. All they can do is say comforting words to secure votes. What answer do they have for the families of those who suffered the attacks that day? Has the government learnt any lessons? If yes, why couldn't they prevent the Zaveri Bazaar blasts and other attacks in the city? How long will they continue to fool us?" asked Surve.
"The authorities promised they will install CCTVs in Badhwar park area, since this is a very vulnerable area and hence needed continuous monitoring. Show me how many CCTVs you see here," rebuked another local from Colaba. 

Kulkarni said that the attackers were brutal towards their hostages, as he remembers carrying the body of a woman who had no clothes on. 
While one of the party workers was narrating the incident, he took us to the place where 25-year-old Haresh Gohil was killed. Gohil was hit by a bullet when he had stepped out of his home. He died on the spot. 
Although I did not want to confront the family of the deceased, the elderly lady, who later introduced herself as Haresh's paternal grandmother spotted us and insisted that we meet Haresh's mother.
Click NEXT to read further...
'Every day I wake up to see the ill-fated building'
Last updated on: November 21, 2011 18:28 IST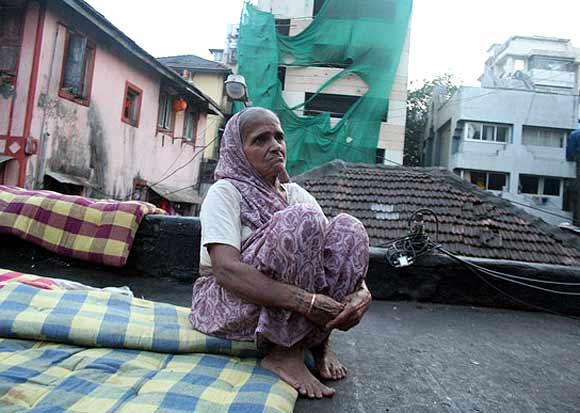 The grandmother tells us that Haresh lost his father when he was young and is survived by his 50-year-old mother Damayanti Gohil. Three years have gone by since Damayanti lost her only son, but her tears don't stop rolling as she remembers that night.
"Every day I wake up to see the ill-fated building," she said pointing towards the Nariman House building, which is only a stone's throw away from where they live.
"The bullet hit Haresh's chest and before anyone could even fetch him water, he succumbed to his injuries. He was barely 25. 
"Few days after the incident when state Home Minister RR Patil came to visit us, he folded his hands before me, and sat on our doorstep. There was security all around us. Patil was barely here for two minutes. He did not even talk to me or anyone in the family. He promised that we could get compensation. But we did not want to stay here. I did not want to stay in this home. He promised me that he would help us move to a new place. There has been no news from him or the government since then," she said. 
Click NEXT to read further...
'News of Kasab on television makes me disappointed and angry'
Last updated on: November 21, 2011 18:28 IST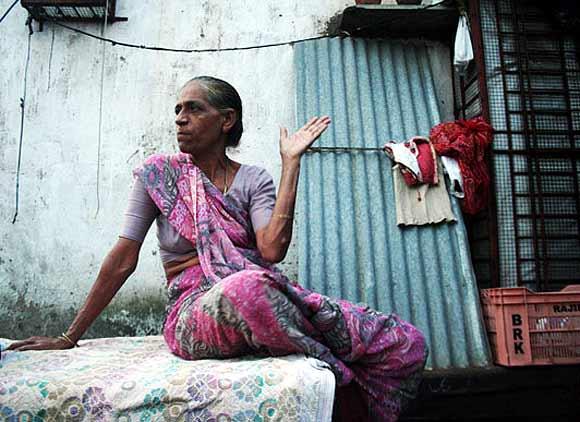 "Every time I see or hear the news of Kasab on television, you have no idea how much disappointed and angry I feel. He took away my son and he is living the life of a king. Please tell me how can the people in power be so unfair to us? Don't they have a heart? Three years have gone by. So many festivals have come and gone. Will a mother not miss her only son? Does she not have the right to be angry at these people? 
"If it has happened to me, it could happen to anyone tomorrow. Who will tell the government what they are doing is wrong. Today I am forced to ask, why is it that no politician's relative has ever been a part of these attacks? Why only common people have to bear the consequences of these attacks?" said Damayanti.
Her questions refuse to cease just like her tears. As for the answers she seeks, only time will tell. 
The next day, we head towards the Gateway of India and the Taj Mahal hotel, where three years ago, four terrorists had held about 300 hostages.

Another five star hotel that was under attack was the Oberoi Hotel (now The Trident). Interestingly, the security had been tightened two weeks in advance. I occasionally visit the Gateway, but our bags were never checked. But before I could feel proud about it, Ashish, a 26-year-old make-shift lemonade stall owner, told me, "This security is not for the safety of common people. This is because some high profile international guest has come to the Taj Hotel." 
Click NEXT to read further...
'Terrorists are smart. They don't repeat locations'
Last updated on: November 21, 2011 18:28 IST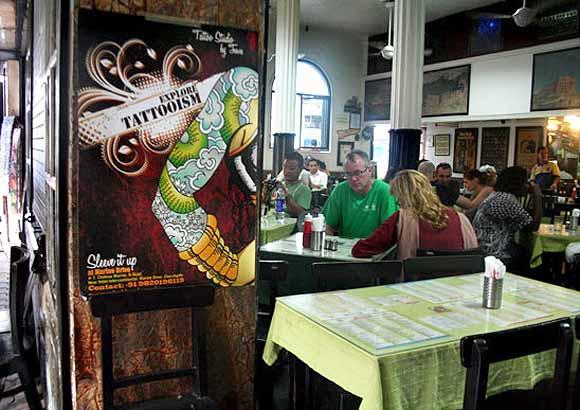 Shivkumar Choudhary, 37, a resident of Colaba and a photographer, vividly remembers the details of the terror night and says that it was a frightening experience.
"That day, I had just finished my work and was having my dinner a little away from Leopold Cafe. I heard news of the firing and I quickly rushed towards Gateway. I could hear occasional sounds of firing. I telephoned my wife and informed her that I was safe. This place resembled a battlefield. While the tourists were escorted to a secure location, there were journalists, photographers, police soldiers and commandos.
"My heart rumbled at the sound of bullets, but I wanted to click some pictures. This place haunted us for quite some time before we got back to normal," said Choudhary.
The terrorists' gunfire at Leopold had killed about 10 people. 
Peter, 27, an IT engineer from Poland who was on his first visit to Mumbai said he felt quite safe to visit places where terrorist attacks happen.
"Terrorists are smart. They don't repeat locations. I think the security forces should consider looking at other locations, if they really care to do something for people," he added.
Click NEXT to read further...
'We felt so helpless'
Last updated on: November 21, 2011 18:28 IST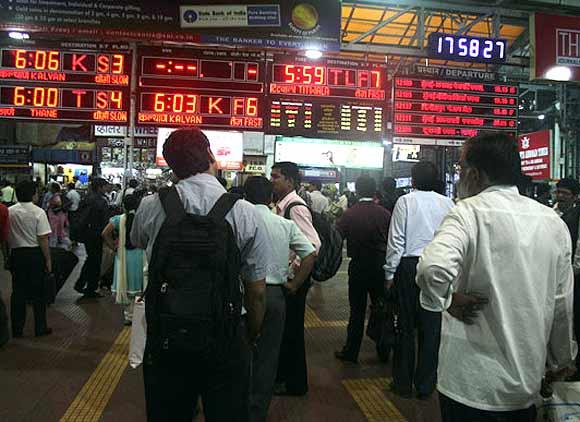 Next, we head towards Chhattrapati Shivaji Terminus where Ajmal Kasab (the only attacker who was caught alive) and his comrade attacked unsuspecting victims by spraying bullets from AK-47 rifles killing about 58 people and injuring over 100 people.
Salim Shaikh, who runs a soft drink stall on platform number 1 at CST, said that he heard the sound of bullets and immediately shut shop and fled for his life.
Next, we took the flyover, just as the two attackers did and headed towards Cama Hospital. Since the hospital staff locked the gates, there weren't any casualties inside the hospital, but residents tell us that a bhelpuri stall owner was injured.
"All of us were right here that day. We heard the sound of bullets and came out. There was a bhelpuriwala here. His hand was hit by a bullet. Another family lost their elder son here. And we felt so helpless. They were armed and the sound of bullets was alarming," recounted Akshay Makwana, 19, a hotel management student and resident of the area.
Bharat Waghela, 30, lost his brother that day. "I saw him (Kasab) fleeing this place and I could do nothing. He killed my brother. I have identified and testified against him in court. But it's disheartening to know that he hasn't been punished for his crime."
"That criminal should be hanged to death. He should not be alive. He took away my son from me," said Udabhai Waghela, father of the deceased.
Click NEXT to read further...
Is three years too less to decide the fate of Kasab?
Last updated on: November 21, 2011 18:28 IST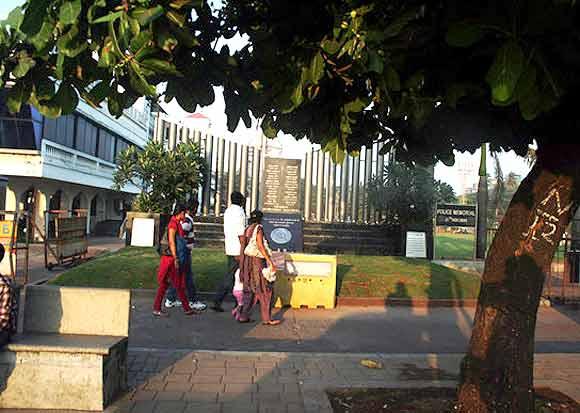 On the night of November 26, after failing to take over Cama Hospital, Kasab and his comrade Khan hid in the bushes behind the lane until they shot three police officers; Hemant Karkare, Vijay Salaskar and Ashok Kamte. They seized the police vehicle, headed to Mantralaya, and then towards Girgaum Chowpatty, where they were confronted by police officers who were waiting for them.
In the confrontation that killed assistant sub-inspector Tukaram Omble, one of the attackers was killed, but Kasab was caught alive.
There is also a memorial of Omble at Girgaum Chowpatty in honour of his valour. Meanwhile, there is another memorial outside the Mumbai Police Gymkhana, which has names of all those policemen, who lost their lives while fighting the terrorists, inscribed in granite.
The site naturally attracts visitors who take a minute to remember the heroes. 
Three years have gone by since the attacks took place, but the damage has been irrevocable for the families of the deceased.
While some of them shed tears for their loved ones, there are those who want to know whether three years is too little time to decide the fate of a terrorist who wasted no time in taking several lives in a matter of seconds.
People in the city do not feel safe and demand better security measures to curb such attacks. Three years on, the ever-resilient city that has always bounced back is still grappling in the dark to find some of these answers.