'Terror became international priority after 9/11'
Last updated on: September 9, 2011 23:43 IST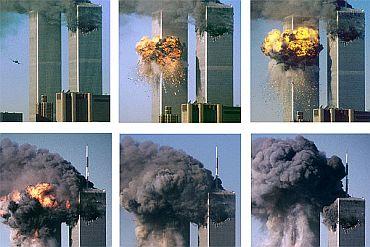 Post 9/11, when terrorism ceased to be a 'regional' issue and became an 'international' one, experts feel India went wrong in assuming that the United States and western forces would help wipe out terror within India.

Held in the backdrop of the nearing anniversary of September 11 terror attacks in the United States, in a session titled 'South Asia after 9/11', experts like Praveen Swami (associate editor, The Hindu) and C Raja Mohan (consulting editor, The Indian Express) spoke about
what went wrong for India in tackling terror within India.

Former Ambassador of India to USA, Ronen Sen, who moderated the session, said that 9/11 made terror the top agenda for all international players.

"I remember I was in Brussels when the attack took place. I was then the Ambassador to Germany and I was at a meeting of Ambassadors of European countries. At that meeting, international terrorism was described as a national issue for India. As soon as the meeting ended, I received news about the attack in the US from my wife. Within days terror became international priority," Ambassador Sen recalled.

Praveen Swami said that India had jihadi terrorism much before 9/11. "In concrete terms, nothing much has changed since then. Granted, today we have the Natinal Investigation Agency, the National Intelligence Grid is in the pipeline, but other than these new acronyms, nothing much has changed, really.
The lower order of Indian police is mere unskilled laborers and their salaries match that of an unskilled laborer. You are not really going to get scientific policing out of unskilled laborers. Getting in more number of police (without scientific training) has only created a pool of unskilled laborers. There is no national template or a document that defines standards of modern policing," Swami said.
Click NEXT to read further...
'Nothing has changed since HM Chidambaram took over'
Last updated on: September 9, 2011 23:43 IST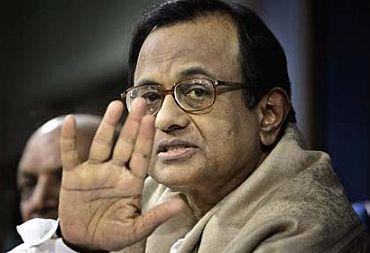 Talking about Home Minister P Chidambaram, Swami said that there were talks of improvement in police forces in India after a 'new dynamic home minister took over'.

"Sadly, nothing has changed. We have a two-fold problem in our present policing system. We have not been able to gather enough intelligence to stop terror attacks. At the same time, after terror investigations, we have not been able to prosecute the perpetrators for lack of evidence," Swami said.
C Raja Mohan talked about policy changes post 9/11 in four cities: Washington, Kabul, Rawalpindi and Delhi.

"Before 9/11 the US was going strong; its economy was growing at a good pace and its strengths were discussed around the world. A decade after the terror attacks, you see the world discussing its weaknesses," Mohan said.

Saying that Kabul initially welcomed American and Northern Alliance intervention in Afghanistan, Dr Raja Mohan said that today the country is still not sure what the US stand will be in the next few years.

"The US is talking about limiting its presence in Afghanistan by 2014. But there is no surety if the country will be stable by then," Mohan said.
Click NEXT to read further...
'US interests in Pak kept off India, US working together against terror'
Last updated on: September 9, 2011 23:43 IST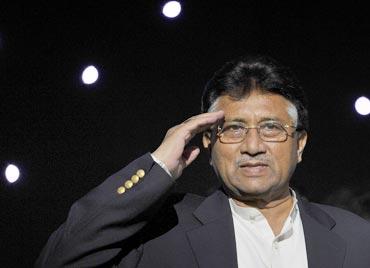 Mohan said that the September attack saved Pakistan's former President Pervez Musharraf and the Pakistan
Army as post 9/11 US interests in Afghanistan made them an important ally.

"Therein lies the tragedy of US foreign policy. For India, 9/11 gave us hope that finally we could work together with international players to eradicate terror. But the ability of India and US working together against terror was constrained for US because of their interests in Pakistan," Mohan said.

Talking about Pakistan-sponsored terror, Swami said that this was nothing new for India.

"We need to think about building higher walls to sort of counter cross-border sponsored terrorism. There is no doubt that Pakistan provides funds and imparts training to terrorists to carry out activities in India, but the question is should we just sit around waiting for the US to save us or do something about it ourselves," Swami said.

Speaking about the banned Students Islamic Movement of India and Indian Mujahideen, Swami said that it is difficult to make sense of the motivation of the youth involved with these organisations.

"Most of them come from good economic backgrounds. Most of the young men who joined SIMI were from lower middle class and middle class. I was just analysing the profiles of the eight young men from Azamgarh who were arrested for their involvement in the Delhi serial blasts. Eight of them are college graduates, with five of these eight being
post graduates. Only one of these boys studied in a (religious) seminary. When you talk to these boys, most of them speak about communal violence and of being isolated from mainstream Indian society," Swami said.
Swami said that there was an urgent need to have national level honest debates on communalism to try and tackle home-grown terror.
Ambassador Sen, in his brief interjection reminded the audience that after 9/11, Indo-US bilateral relation saw India getting nuclear deal. He said that former president George Bush kept the Kashmir issue off the agenda and importantly talked about India's important role in Asia, not just in South Asia.