Understanding Gujarat: Why the Patels won't be decisive
Last updated on: August 13, 2012 15:43 IST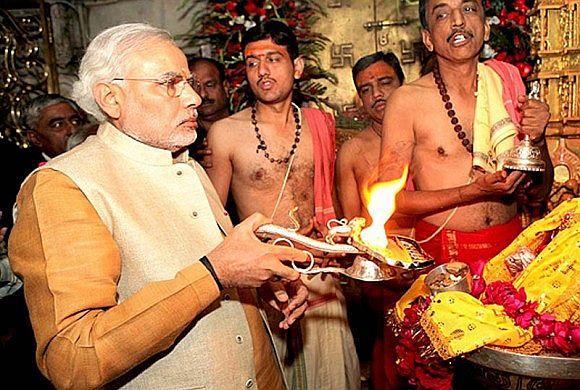 Rediff.com launches its coverage of the coming electoral battle for Gujarat with a series of exclusive interviews.
This week: Achyut Yagnik, the Ahmedabad-based social activist, writer and political analyst, discusses the electoral winds in Gujarat, with Sheela Bhatt.
The battle to win the minds of around 37 million Gujarati voters will begin soon after the monsoon.
Chief Minister Narendra Modi is at the centre of this crucial electoral battle that is as politically important for Modi as the Uttar Pradesh assembly election of 2012 was for Congress General Secretary Rahul Gandhi.
Gujarat's assembly election will be invariably focused around Modi. He confronts anti-incumbency after 11 years of uninterrupted rule. He managed to provide more than eight hours of electricity to rural areas for irrigation and abundant power to the urban centres, but consumers also receive huge bills due to the privatisation of the supply and distribution in many cities.
Modi also faces challenges posed by a moderate monsoon this year. Even if the issue of drinking water won't turn a grave challenge due to the Narmada's bounty, water supply for irrigation will be affected, leading to a drastic fall in agricultural production and a cash-crunch in rural areas.
Modi has done everything possible to attract investment, but the state has become a battleground for bigwigs of Indian industry to grab the pie of prosperity and the Modi government's largesse. The chief minister has been accused of aligning with the top five industrial houses in the state to change the future of Gujarat's economy, but corporate wars among industrial empires is new to the fast-developing state.
Surely, as of today, Modi is not on a weak wicket in spite of the fact that the Congress, the chief minister's primary opponent, is really serious about the election!
What favours Modi is that there are no visible trends among the urban middle-class, yet, to throw him out of power. The current of Hindutva has subsided substantially in the last 10 years of Modi's rule. The caste factor will play an important role, but Modi, who himself is an Other Backward Caste, is likely to play the caste card as much as the Congress.
Modi is being branded a Ravana by supporters of former chief minister Keshubhai Patel in some pockets of Saurashtra and in some areas dominated by the Patel community in Surat. Nevertheless, Modi is likely to collect the anti-Patel forces under his belt.

Please click NEXT to read further...
The political battle in Gujarat is likely to be a mind game
Last updated on: August 13, 2012 15:43 IST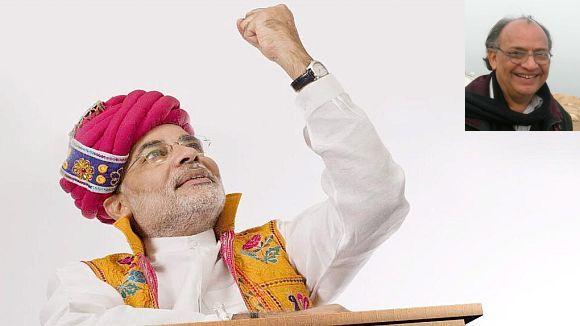 The Congress party, the main and only opposition to him, is trying to figure out how to demolish the myth woven by Narendra Modi around himself.
In the last assembly election in 2007 Modi's Bharatiya Janata Party won 117 seats and 49.12 percent of the vote while the Congress won 59 seats and 38 percent votes.
The political battle in Gujarat is likely to be a mind game where forces within the country are turning the electoral exercise into a larger, secular versus communal debate.
However, in Gujarat, the Congress seems determined to not 'fall into the trap' of the communalism-secularism debate when they take on Modi's 'autocratic and right-wing rule'.
As the election season comes closer, the ground situation is likely to change, increasing the pressures on Modi.
The Congress has been out of power in the state since 1995, and if it loses the battle again it will pave the way for Modi's rise like never before.
Rediff.com will keep a close watch as Modi, with his prime ministerial ambitions, plans his moves to counter the Congress's political assault to defeat him or restrict him to Gujarat.
This week on, we will publish a series of exclusive and extensive interviews on the coming battle for Gujarat.
The series will be in the form of engaging conversations with experts and opinion-makers, including writer Gunavant Shah, a staunch supporter of Modi, Arjun Modhwadia, president of the state Congress, who does not like to utter or hear the word 'Modi'.
We launch the series with Achyut Yagnik, the Ahmedabad-based social activist, writer and political analyst, who has co-authored several books like Creating a Nationality: Ramjanmabhoomi Movement and Fear of the Self, The Shaping of Modern Gujarat: Plurality, Hindutva and Beyond and Ahmedabad, a Royal City to Megacity.
Yagnik speaks to Sheela Bhatt about the situation in Gujarat, the state's caste equations and about Modi's politics.
Please click NEXT to read further...
'Patidars are a powerful community but they are divided'
Last updated on: August 13, 2012 15:43 IST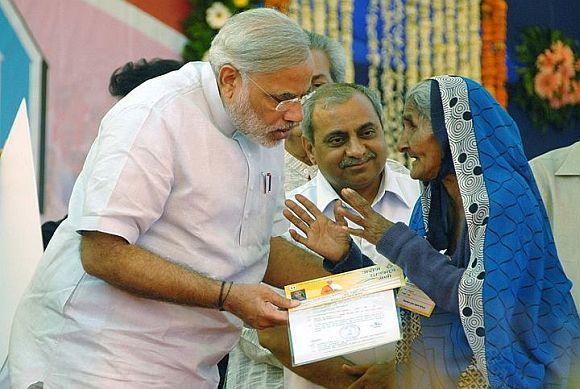 Are the Patels upset with Modi? Please help us understand the Patel factor in Gujarat politics.
The answer is not simple. Patel is a surname and Patidar is a community. The Patidars in Gujarat have emerged as a dominant community, no two opinions about it.
From the second quarter of the 20th century they have been on the rise. They have economic power, but at the same time, one should know that they are not that big in numbers in Gujarat as they are being projected by the media and by Patel leaders.
They are not at 24 percent of the total population as projected. The Patels are around 15 percent if we calculate as per the 1931 census, which was the last caste census.
So, whenever we talk about caste and their numerical strength in Gujarat, it is basically a projection of the 1931 census. The demography and caste strength doesn't change much over a short period. The effects of changes are visible only after many centuries.
The second important aspect about the Patidar community is that it is divided into many blocs. One bloc is Leuva, also called upper caste Patidars, and another bloc is Kadva, also called lower Patidars.
There is a third section, also called Anjana, who call themselves Chowdhary. They are only concentrated in north Gujarat -- Mehsana, Sabarkantha and Banaskantha. They are on the OBC list. So naturally the Leuvas and Kadvas don't consider them equals.
This means there is no question of any unity between the Anjanas with the Kadvas in north Gujarat or with the Leuvas in the context of entire Gujarat.
Even if the Leuvas go against Modi due to Keshubhai Patel's rebellion, the Kadvas can remain with the BJP. The Patidar community is strictly divided according to the 'marriage circle'. Even today, the Patel-dominated villages are divided according to the 'marriage circle'.
Take, for example, the Leuva Patels of Khera district which is now divided into Anand and Nadiad. Patidars considered themselves so-called 'upper castes' and always belong to the 'marriage circle' in these areas.
Sardar Vallabhbhai Patel and (former RBI governor) Dr I G (Indraprasad Gordhanbhai) Patel belonged to six-village (cha-gaum) Patidars, that is the circle of six villages. And they are the highest in the social order among the Leuvas.
Similarly, you find in north Gujarat, the Kadva Patidars divided according to the marriage circle, which consists of aggregation of some villages.
Kinship plays a very important role in these marriage circles. Before you comment on the Patels as a vote bloc, we should understand the caste dynamics of the Patels in Gujarat.
Saurashtra has Kadvas, are originally from north Gujarat, and Leuvas, who are from central Gujarat and north Gujarat. You simply cannot treat Patels as one bloc.
The question cannot be simplified as to whether the Patidars are with the BJP or against the BJP. Yes, they are the dominant community. Yes, they are a powerful community, but at the same time they are divided.
Please click NEXT to read further...
'You cannot consider Patels as one single bloc who will go en bloc with Keshubhai or Modi'
Last updated on: August 13, 2012 15:43 IST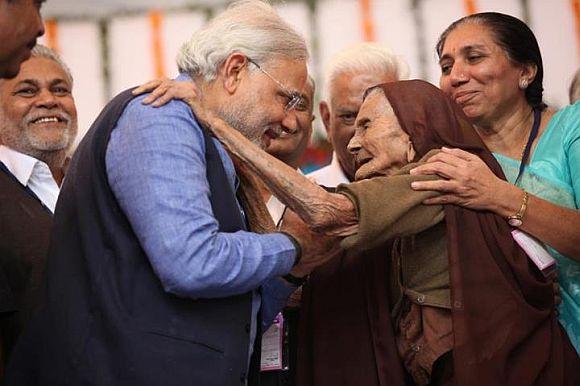 And, as you say, if they are pitted against each other, then it will depend on the influence of the candidates in their villages.
That is a traditional aspect of caste dynamics. But, there is a change. The rise of urbanisation and class -- not only caste -- also plays a very important role.
So it is also possible that those who belong to the upper class in Ahmedabad, but say are originally from north Gujarat, may not observe the Patel kinship, mainly due to the class difference.
On one hand you have this traditionalist strain -- surely, marriage circle plays a very important role at another level, because of rapid urbanisation and class formation among the Patidar rich, they behave differently.
And that is why you cannot consider Patels as one single bloc who will go en bloc with Keshubhai or Modi.
In 1995, the election was fought under the leadership of Keshubhai Patel. His community was a major factor in making the BJP what it is today. Don't you agree?
They played a big role in the urban areas in favour of the BJP.
Please don't forget that the same logic did not work in the 2000 local elections. Keshubhai Patel was off-guard at that time. Why did Keshubhai lose? Why was Keshubhai replaced with Modi by the BJP high command in 2001?
In the local elections, in the panchayats and corporations, the BJP lost. They lost heavily. What does that suggest? That suggests that the Patidars are divided blocs.
Do you think, initially, Modi, who is an OBC, had gone out of his way to cajole and please the Patels?
How are Modi's relations with the community leadership of the Patels? And, how do Patels look at Modi's leadership?
In Gujarat, in the last few years before and during Modi's rule, large-scale land acquisition has taken place in south Gujarat and in coastal Saurashtra. The Patels also lost land in the process.
Many of them are unhappy with the Modi government. They have been alienated from their land, so they are upset about that.
At another level they are developing their agriculture.
All said and done, Patel is a peasant caste. Even when they migrate to cities, the Patels keep holding land in their native places. They depend on cash crops which have made them rich. The cash crop is tax free income for them.
Land deprivation is making them uneasy.
Take, for example, the case of Nirma's cement factory. Who fought against them? All the local communities fought under the leadership of an Ahir community leader -- Kanubhai Kalsaria.
Modi has not been able to touch him in spite of Kalsaria taking Modi's policy head-on.
Keshubhai's family was in farming. He initiated a large-scale construction of water bunds for conservation of water which can be used for irrigation, also known as check dams.
Now that momentum has got a setback because Modi does not belong to the farmer community. He has no background as an agriculturist.
He spent government money differently; his interests lie in different sectors.
Irrigation is not getting top priority from the Modi government. The sub-canals of the Narmada -- either the Saurashtra canal or in the Kutch or in north Gujarat -- never got the funding it deserved from Modi. The sub-canals did not develop properly during the last 10 years.
Please click NEXT to read further...
'Modi's vote base is, still, urban middle-class'
Last updated on: August 13, 2012 15:43 IST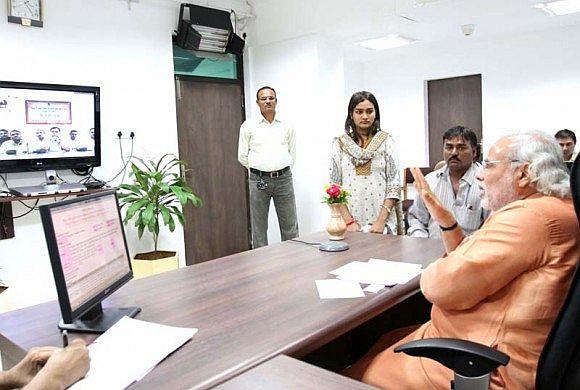 But Modi claims the best progress in agriculture sector in India.
That is because of the cash crops, mainly BT cotton. But everyone is not interested in cash crops only.
What is important to know is whether your farmer is taking one or two or three crops a year. It has to be a mixed crop pattern.
What are Narendra Modi's strengths as he moves towards the election season?
His vote base is, still, urban middle-class. And now you know according to the 2011 census, that urban population in Gujarat is more than the national average, about 44 percent.
In the urban areas 'towns' are also included. There you find an ever-growing middle-class which is the main support base for the BJP.
How do you look at Modi's celebrated achievements in the last five years?
It is there for you to see. Modi is talking about industrialisation, he is talking about investment, he is talking about agricultural production etc, but if you look at the human development index, Gujarat is very poor, whether in health or in education, or in malnutrition.
Again, according to the government of Gujarat, 44 percent children are malnourished. India's Human Development Report 2011 released by the Planning Commission, and not disputed by the Modi government, says 69.7 percent kids up to the age of five are anaemic in Gujarat.
Please click NEXT to read further...
'You cannot equate the Gujarati middle-class, Modi's support base, with the Indian middle-class'
Last updated on: August 13, 2012 15:43 IST
Is the Indian middle-class different from the Gujarati middle-class?
When we talk of Modi's ambitions and his political future we must remember that you cannot equate the Gujarati middle-class, Modi's support base, with the Indian middle-class.
The Gujarati middle-class has close ties with the Western world. Can you compare the Bihari, Orissa and Madhya Pradesh middle-class with the non-resident Gujarati?
Have you ever heard a word like non-resident Bihari? The outlook to life and money of the Gujarati middle-class is different in many ways.
Like?
The identity crisis which Gujaratis faced has changed society. The core of Modi's politics is centred here.
The identity crisis of the newly urbanised Gujarati became instrumental in the rise of various religious sects -- not only here, but abroad as well. Gujaratis supported religious sects like none other.
And that identity problem of the NRG (Non Resident Gujarati) in the United States and the United Kingdom and other Europe countries has been transferred to the middle-class here.
The Gujarati middle-class is also drawn from all kinds of communities. It is not only from the upper castes.
Look at the composition of the Gujarati middle-class. They are also from the OBCs. Take, for example, the Prajapatis or the potters -- Kumbhars. They are highly organised in Gujarat. Many of them are well-settled and progressive.
In Gujarat, the middle-class is growing and consolidating its strengths. In the 2007 election, the potters of Gujarat wanted some seat in the assembly from the BJP, so one lakh potters (100,000) in Surat city exhibited their unity.
You cannot compare the Gujarati middle-class with their counterparts in the rest of India.
The upper-caste Gujaratis are a divided lot. For example, the Brahmin and the Baniya have 84 sub-castes in Gujarat. Even today, when all the Brahmins of a town or village are invited for a religious function and religious bhoj, the event is known as chaurasi (84).
Similarly, amongst the Baniyas you find as many sub-castes.
If the Patels are divided according to 'marriage circle', the Baniyas and Brahmins of Gujarat are divided into sub-castes and sub-sub castes. Even Brahmins and Baniyas have dos and don'ts about marrying into certain villages.
When rapid urbanisation took place, the Gujarati castes were not able to keep up their traditions and they had to make adjustments according to the changing society because they wanted to live in the cities.
They wanted the comforts of the growing cities. That brought up the issue of identity. They had to transcend many traditions when they married off their city-born children into castes their family was never familiar with.
Parents wanted their children to marry according to their conservative choice, but they could not do it because of the urban surrounding and lack of social networking.
These parents found their identity crisis resolved through modern Gujarati sects like the Swaminarayan, Asharam Bapu, Gayatri Parivar, Sri Sri Ravishankar and many other gurus, swamis and variations of Vaishnav faiths.
When they join these modern sects, it meant to them a first step towards retaining their Hindutva or 'resolving' their identity issue. One should not forget that.
You won't find similar developments in other parts of India. No province in India can boast that they have more than 30 temples, like the Swaminarayan in the US.
In Gujarat you will even find a small but confident Dalit and tribal middle-class. You will find separate tribal and Dalit housing societies in Ahmedabad.
Please click NEXT to read further...
'The subtle emotion of Hindutva is helping Modi'
Last updated on: August 13, 2012 15:43 IST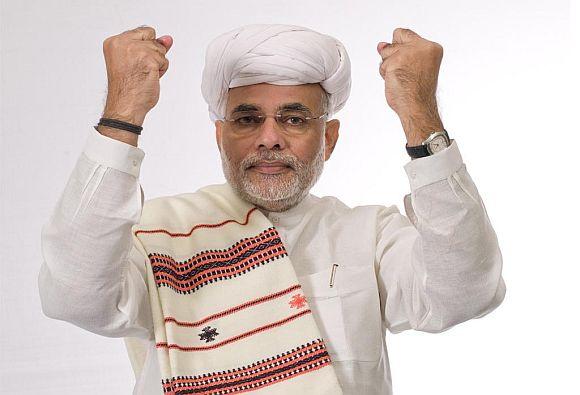 What does it mean?
Political awareness. This is due to the implementation of reservations and quota system
You know that in other side of Ahmedabad, there are more than 300 housing societies of Dalits. It shows their strength, as also discrimination.
This is the evidence of discrimination against Dalits by the upper castes and upper class.
The unique factor of Gujarat is that there exists a symbiotic relationship between the upper middle-class of Gujarat with the NRG.
When Gujaratis can't keep up with their marriage and social traditions they go to sects to get comfort. Even for marriage.
Marriages are becoming difficult in urban areas because your sub-caste is also divided into upper middle-class, middle-class and lower middle-class.
Nobody wants to marry into the lower middle-class.
A doctor or an engineer would not like that his daughter or son marry the daughter or son of a clerk even if they are from same sub-caste. So they now want a different kind of social backup and organisation. And this new religious sects provides that kind of social insurance which the new middle-class is looking for.
How is Modi playing out on this identity factor and how is this churning that is taking place within the castes of Gujarat helping him?
The subtle emotion of Hindutva is helping him. That is the cause of the rise of the BJP. Later on, after 2002, Modi's main card became Hindutva.
When the urban middle-class was looking for clarity in resolving the identity issue, Modi came with a Hindutva card. Right from 1990 onwards, their main card has been Hindutva.
After the riots of 2002, Modi also introduced this great Gujarati consciousness and parochialism.
On the very first day when he became Gujarat chief minister he said 'Apnu Gujarat...our Gujarat, unique Gujarat.' He used idea of 'Gujarat ni asmita' for his own benefit.
Maharashtra has a provincial identity which Gujarat never had. In public meetings Maharashtrians say Jai Maharashtra, but Gujaratis never greeted each other with Jai Gujarat. We were not highlighting provincialism.
Don't forget that 24 percent of the total coastline of India is in Gujarat. It's an open society. Our relationship with the world is different. The kind of parochialism Modi unleashed was never there.
And by introducing that provincialism his two purposes were served. Gujarati parochialism in a way supplemented this Gujarati identity problem.
Second, he could target the Congress. He alleges frequently that after 2004, the Congress is ruling at the Centre and they have deprived Gujarat by not supporting its causes.
Whenever he speaks against the Centre he is talking about 'injustice' and whenever anybody speaks against Modi he says his critics are speaking against Gujarat.
If you criticise Modi he would say Gujarat nah virodhi che (they are opposing Gujarat).
Modi has raised the emotion of parochialism quite high and has identified himself with the fibre of Gujarati society.
Modi has sold his notion of development about which the middle-class is very happy.
Three aspects -- Hindutva, 'great' Gujarat plus development -- are his key to leadership. He also projects himself as vikas purush in line with Sardar Patel who was known as loh purush (iron man).
Don't miss the second part of the interview where Achyut Yagnik tells us if he thinks Modi win the 2012 election!
Please click NEXT to see other interesting features...
Top PHOTO features of the week
Last updated on: August 13, 2012 15:43 IST
Click on MORE to see another set of PHOTO features...