Fallen Indians remembered in South Africa
Last updated on: November 18, 2010 10:43 IST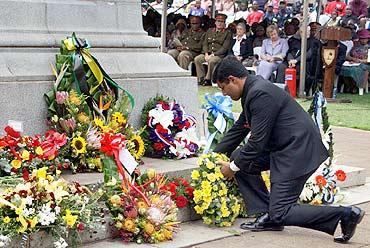 Mahatma Gandhi was remembered by South Africans as they marked the 150th year since the first indentured Indian workers arrived by boat in Durban.
During an event organised at the Cenotaph in Johannesburg on the 90th annual Remembrance Sunday, Gandhi and the Indian Ambulance Corps came under the spotlight for their contribution in the fight against the British in South Africa.
Text: Fakir Hassen/PTI
Please click NEXT to read further..
Father of India remembered in South Africa
Last updated on: November 18, 2010 10:43 IST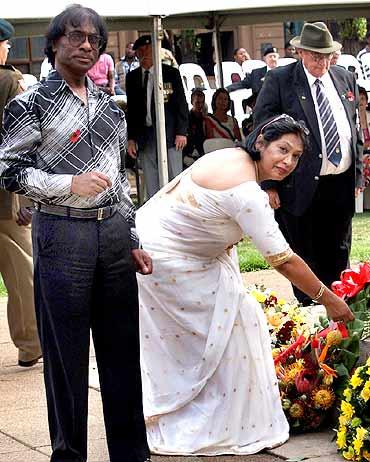 "About 1,000 Indian stretcher bearers, mainly indentured labourers from Natal's sugar estates, served under Gandhi in the Anglo-Boer War of 1899-1902," acting Executive Mayor of Johannesburg Parks Tau said shortly before India's Consul General Vikram Doraiswami laid a wreath at the memorial.
National Civic Remembrance Sunday annually honours all South Africans who made the supreme sacrifice for their country in wars and conflict, including the struggle for democracy.
'In South Africa Gandhi decided to dedicate his life to the cause non-violence'
Last updated on: November 18, 2010 10:43 IST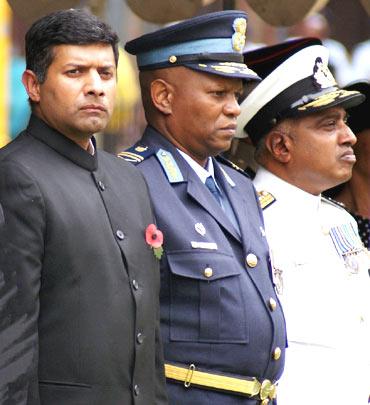 "They were in action at the Battle of Colenso and the Battle of Spioenkop, coming under fire more than once. In 1906, Gandhi again raised a medical corps for the British forces in what became known as the Bambata Rebellion. The young Gandhi's experience of colonial conflict spurred him on to dedicate his life to the cause of peace and non-violence," Tau said.
"Gandhi went on to become a world leader of the anti-war movement," the mayor added. Gerrie Lubbe, who served the Via Christi Community Church in Lenasia from 1970 to 2006, led the service.
'We honour Indians for their contribution to freedom in South Africa'
Last updated on: November 18, 2010 10:43 IST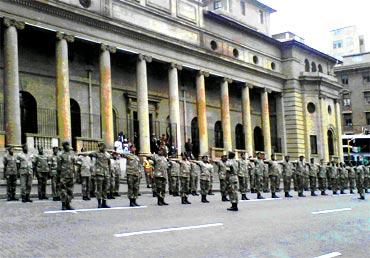 "We honour the Indian community for the way they served in times of war and peace and for their contribution to freedom in South Africa," Lubbe said.
Meanwhile, the Pretoria Bhajanai Mandram, about 60 km from Johannesburg, hosted 10 bhajan groups from all over South Africa in a programme titled Bhajan Maalai -- a Garland of Bhajans -- till evening. An exhibition was held to showcase the history of the Indian community in South Africa.
"Our past 150 years echoes with sentiments of gratitude and generosity, fortitude and forbearance, suffering and sacrifice, vision and tenacity," Raj Kolapen, who spearheaded the campaign to build the temple, said.
Celebratory events will continue over the next few months, some organised with support from the South African government.