Sikhs protest Bhullar's death penalty near UN
Last updated on: July 26, 2011 08:50 IST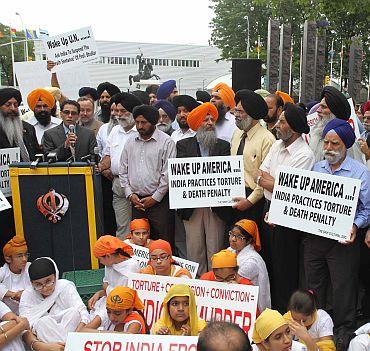 Asking the United Nations to put pressure on India to not carry out death sentence on Devinder Pal Singh Bhullar, hundreds of Sikhs gathered near the UN headquarters and protested against his death penalty.
Bhullar was convicted for carrying out a bomb blast in New Delhi outside the All India Youth Congress headquarters in 1993, which claimed nine lives.
His mercy plea was rejected in May 2011.
Gurpatwant Singh Pannun, legal adviser of Sikhs for Justice said that the group had written to Secretary-General Ban Ki-moon reminding him that the UN General Assembly had passed a resolution that called on nations to put a moratorium on the death penalty.

Click on NEXT to read further...


Sikhs protest Bhullar's death penalty near UN
Last updated on: July 26, 2011 08:50 IST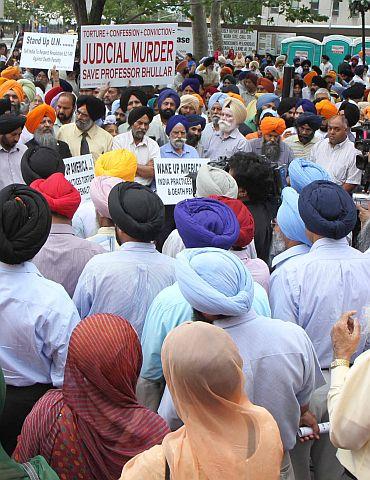 "We are asking the UN to save Professor Bhullar," said Pannun, noting that no response from the UN had been received.
UN spokesperson Martin Nesirky told PTI that, so far, no communication on Bhullar had been received by Ban's office.
Germany, the country that deported him in 1995, has also raised objections to him being on death row.
The protesters included many women and children.

"Wake up and save religious minorities in India. We want justice," they chanted.
They held placards saying "Stop India from Judicial Murder" and "American woman's son is on death row."
Bhullar's family are American citizens. "I want the UN to intervene and save my brother's life," Tejinder Singh Bhullar told PTI.
© Copyright 2022 PTI. All rights reserved. Republication or redistribution of PTI content, including by framing or similar means, is expressly prohibited without the prior written consent.