'Nobody listened to Sarabjit Singh'
Last updated on: July 10, 2012 12:10 IST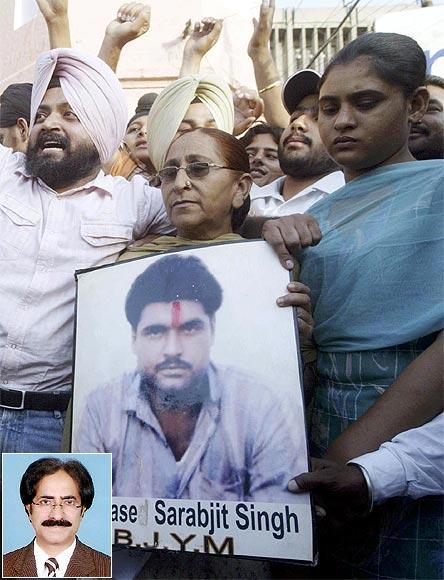 Awais Sheikh, the counsel for Sarabjit Singh, believes that the Indian convict on death row in Pakistan was the victim of a case of mistaken identity. Sheikh, the president of Pakistan-India Peace Initiatives, has also penned a book on his high-profile client called Sarabjit Singh -- A Case of Mistaken Identity.
In an interview with Tahir Ali, Sheikh expresses hope that Sarabjit, who has been languishing in a Pakistan jail for over 20 years, will be soon pardoned by the powers that be in Islamabad.
What is the current status of the case against Sarabjit Singh?
This is a case of mistaken identity. The FIR does not carry his name. The culprit is named Manjeet Singh and he had frequently travelled to Pakistan under different names and different passports. He was a double agent. He brought a copy of a certificate from a religious school/madrassa certifying that he has changed his religion from Sikhism to Islam. With that, he managed to marry the daughter of a government servant in Pakistan. He divorced his first wife in India.
In 1990, he was in Pakistan and was arrested on charges of carrying out some blasts. The very next day, Sarabjit, who had accidentally crossed the border while working in a field on the Indian side, was arrested. The police produced him in court as the culprit behind the blasts called Manjeet Singh. He protested in court that he was Sarabjit and not Manjeet but nobody listened to him. The trial against him went on and he was sentenced to death.
Manjeet Singh was let off by the agencies or he disappeared mysteriously. The high court and the supreme court confirmed Sarabjit's death sentence. In the supreme court, the review petition was dismissed on the non-appearance of the previous lawyer. Only two notices were issued. The lawyer failed to appear and the case was decided ex-parte. This has never happened in cases where capital punishment has been awarded. If the lawyer fails to appear, the SC asks the government to appoint a lawyer. This is clearly an unfair trial.
Later, after my appointment, I worked day and night and found the clue to Manjeet Singh. He went to Canada where he was arrested on murder charges. He remained in jail for four years. He is also a suspect in the assassination of Punjab Chief Minister Beant Singh. I collected reports by the foreign media of his criminal record. Finally, Manjeet Singh was arrested in India and I filed a case in the SC for reopening the case.
Five mercy petitions have so far been filed to the president for commuting Sarabjit Singh's death sentence to life imprisonment. I regularly meet Sarabjit at the Central Jail in Lahore. I hope the president pardons him and I can take him to India on August 14 (Pakistan's Independence Day).
Click on NEXT for more...
'Sarabjit is innocent'
Last updated on: July 10, 2012 12:10 IST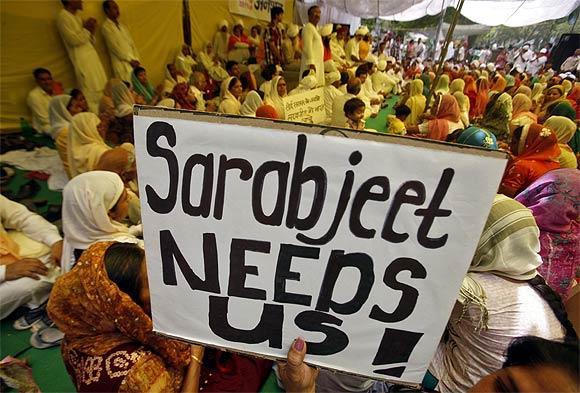 Do you see any possibility of the Pakistan government commuting Sarabjit Singh's death sentence?
There is a lot of pressure on Pakistan from all over the world (over Sarabjit's case). Again, this case has a direct bearing on India-Pakistan relations. His release will help in improving relations between the two countries. I hope he will be pardoned on or before August 14.
What according to you were the mistakes committed by the courts during Sarabjit's trial and while deciding on his appeals against the death sentence? 
He is a victim of politics. In cases of death sentence, ex-parte decisions are not made. There is no direct evidence (against Sarabjit). The principal witness has later stated that he gave the statement due to police pressure. The most important point is that Sarabjit has never confessed. His statement before the special judge is available on record. He denied having given any confessional statement.
Mistaken identity can play a role in this case; first he was Manjeet Singh, and then became Sarabjit?
Yes, that is why not only India but the whole world is supporting him and urging Pakistan to release him, since he is innocent. The person convicted was Manjeet Singh
Is it true that Sarabjit has never confessed before any court of law or any agency that he worked for the Research and Analysis Wing?
His statement is clear on that point. He has denied receiving any training to carry out bomb blasts or being an agent of RAW.
Click on NEXT for more...
'India expects Pakistan to reciprocate the gesture'
Last updated on: July 10, 2012 12:10 IST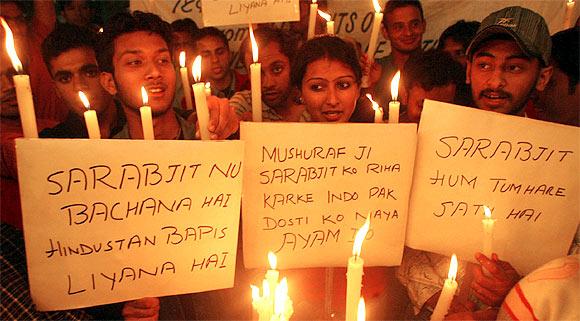 There are many prisoners both Indian and Pakistani languishing in each other's jails. Why are members of the civil society and NGOs not campaigning enough about this issue?
This is the question I have asked in my recent press conference. Civil society, NGOs and peace activists are silent. Unless they raise their voices and demand the release all cross-border prisoners -- at least those who have completed their prison terms -- neither government will take any action.
Do you think Pakistan should release Sarabjit as Dr Khalil Chishti was released by the Indian government?
After the release of Dr Chishti, the government and the people of India expect Pakistan to reciprocate the gesture and repatriate Sarabjit immediately.
How hopeful are you about taking Sarabjit to India on August 14?
I do hope and pray that Sarabjit is released on or before August 14 and I can take him back to India. In fact, the decision to release Sarabjit was taken and announced by the president's spokesperson, but the statement was withdrawn after five hours. It was stated that Surjeet Singh, not Sarabjit, was being released.
In fact, Surjeet was serving a life imprisonment and I have fought his case for six months in the high court. The HC ordered his release. The two cases cannot be compared. The government's clarification was not accepted by the world media, the people of India and its government.
Click on NEXT for more...
TOP photo features of the week
Last updated on: July 10, 2012 12:10 IST
Click on MORE to see another set of PHOTO features...