Sadhu's dream + 1000 tonne gold = Solution to India's woes
Last updated on: October 18, 2013 19:37 IST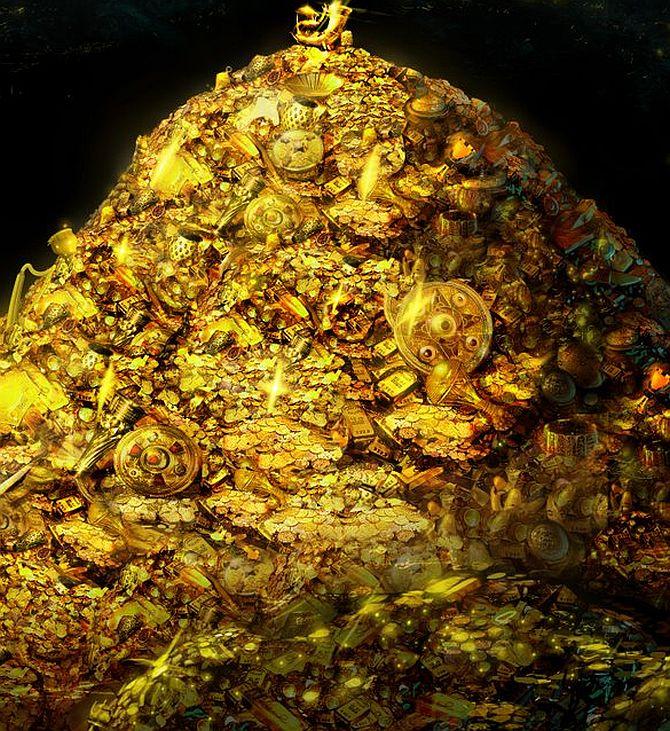 The Archaeological Survey of India may not have imagined that an excavation exercise could turn miles around it into a tourist spot well before it would unearth 1000 tonnes of gold its experts were hoping to strike in Daundiya-Khera village of Unnao district of Uttar Pradesh.
Watch: ASI chases sadhu's dream, digs for 1000 tonnes of gold
The excavation is unique in as much as it is aimed at a treasure hunt about which there is neither any historical nor scientific evidence but is simply based on a dream seen by a sadhu.

And to top it all, it was none other than Unnao District Magistrate Vijay Karan Anand who hit the first shovel on ground zero to mark the commencement of the excavation around 12.40 pm on Friday. Significantly, District Police Superintendent Sonia Singh and ASI superintending archaeologist R K Misra were also in tow.
The claim of the seer, popular in the region as Baba Shobhan Sarkar, about striking so much gold under the ruins of an erstwhile prince's fortress that it could put even 'MacKenna's Gold' to shame, has turned the innocuous village into a something like a 'mela' destination.

Convergence of people from different parts of the state has led to setting up of dozens of food and game stalls.

Click on NEXT to read further...
Sadhu's dream + 1000 tonne gold = Solution to India's woes
Last updated on: October 18, 2013 19:37 IST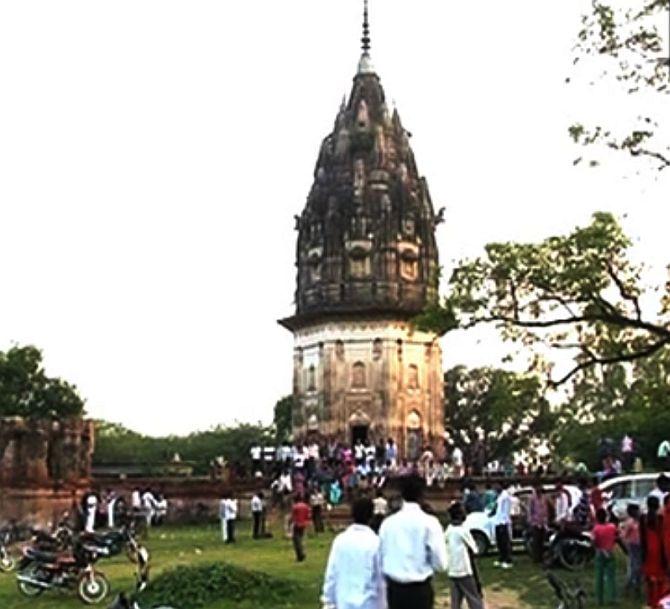 Even as the local administration has cordoned off the main area marked by Geological Survey of India experts, people continue to make a beeline for the otherwise old and forgotten ruins, from where the Baba has promised a literal goldmine.

Police deployment has been made not only to protect the area but to also regulate the unprecedented movement of people
"Babaji has dreamt that there is 1000 tonne gold buried under the 17th century fortress of Raja Ram Baksh Singh in Daundiya-Khera village; the question of disputing Baba's dream does not arise; If the Baba was not confident, he would not have shot off a letter to Prime Minister Manmohan Singh to say that he was willing to be tried for sedition in case his prediction did not come true," declared Om Ji, a close disciple of Baba Shobhan Sarkar, who runs an ashram in Fatehpur, about 50 km apart.

According to him, "Raja Ram Baksh Singh was hanged by the British for participating in the first war of independence in 1857. His two daughters, who were his only successors, ended their lives by jumping into the Ganga river after which the palace remained abandoned before it eventually crumbled."

Click on NEXT to read further...
Sadhu's dream + 1000 tonne gold = Solution to India's woes
Last updated on: October 18, 2013 19:37 IST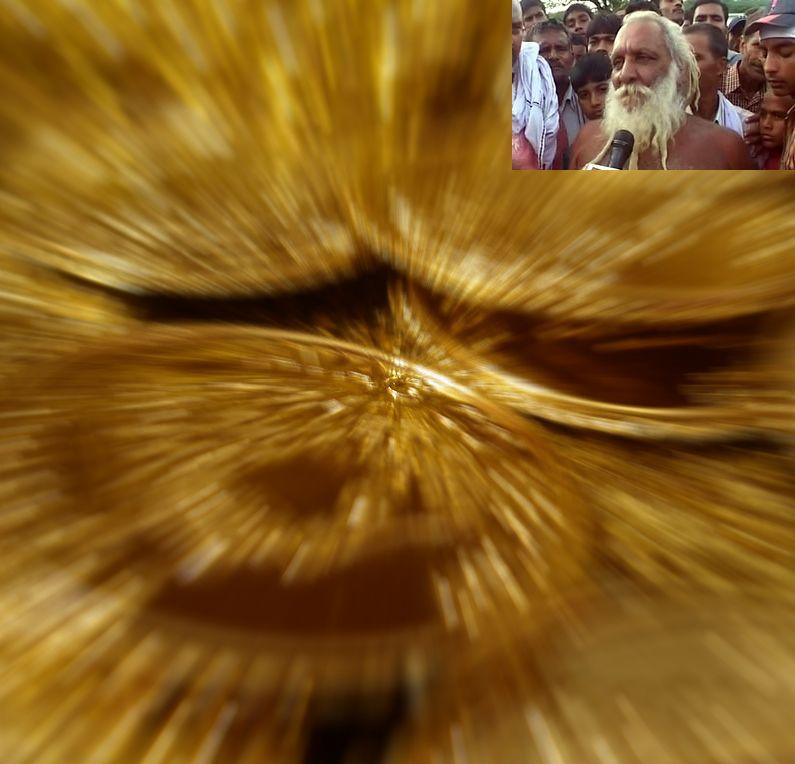 There are thousands like Om Ji who have such sublime faith in the Baba that they were not even ready to discount any bit of whatever the Baba has been claiming or proclaiming.

"I cannot disbelieve Baba Shobhan Sarkar. If he is saying that a he quantity of gold is hidden under the runs of that fortress, rest assured you will find it in the excavation," says Rajendra Tiwari, another strong disciple of Sarkar.
Going a step further, Tiwari added, "Hum yeh chahte hain ki Babaji ke is sapne se diwali ke pahle hi is desh mein phaili mehngai ka ant ho jaye; petrol 5 rupay litre ke rate par bikey… 2 rupaye kilo gehun… 2 rupaye kilo shakkar… aur 50 rupaye mein urea ka bora miley … (I wish Babaji's dream brings us respite from the countrywide price rise well before Diwali; imagine petrol at Rs 5 a litre, wheat and sugar at Rs 2 a kilo, and a bag of urea for Rs 50)."
Sporting along white beard, and draped in a while dhoti, the English-speaking Om Ji is the Baba's official representative in Daundiya Khera.

While overseeing the excavations, he told scribes: "Babaji was always deeply concerned about the falling rupee value and sometime back he dreamt that an excavation at a particular place could give the Indian government such a huge stock of hidden gold that could turn the fate of the falling rupee."

Click on NEXT to read further...
Sadhu's dream + 1000 tonne gold = Solution to India's woes
Last updated on: October 18, 2013 19:37 IST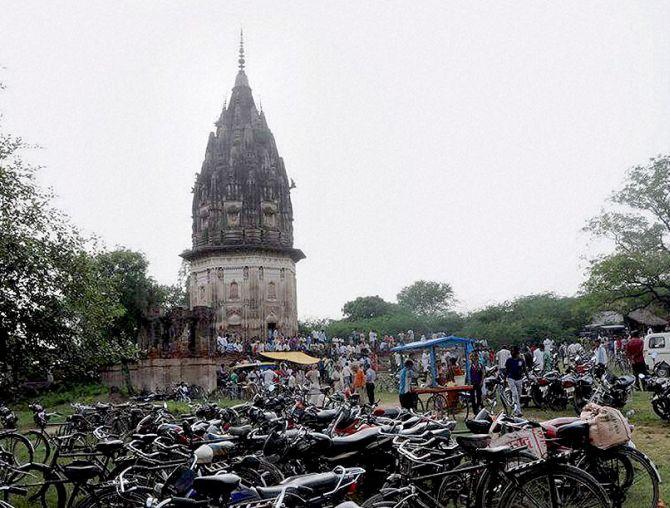 But even before the treasure is unearthed, its claimants -- the self-styled descendents of the erstwhile Raja as well as the Uttar Pradesh government -- have already begun to stake their respective claims to the gold that may be dug out.
Dismissing the claim of so-called descendents of the Raja, Samajwadi Party Rajya Sabha MP and party general secretary Naresh Agarwal declared in Lucknow, "Whatever gold is unearthed, it is bound to automatically become the property of the state government."
Sunil Yadav, adviser to the dairy development department and conferred with the rank of minister of state, went to the extent of formally raising the demand for the state's share in the excavated gold.

"I met Baba Shobhan Sarkar at his local ashram in Baksar village of Unnao district yesterday and told him that UP must get the lion's share in the gold that is struck at the site. He has assured me that the state government demand would be fulfilled," Yadav told media persons in Lucknow.

He confesses, "I have full faith in the Baba, who never talks off his hat ; we must take him seriously."
Baba Shobhan Sarkar may not have succeeded in his mission, but for the intervention of Union Minister of State for Agriculture and Food Processing Charandas Mahant, who is known to be an ardent follower of the seer.

The Union minister was understood to have used his clout with the prime minister to get formal instructions issued to the ASI to undertake the excavation, which may take "about a month", according to the district magistrate.