'Jan Lokpal Bill is a regressive piece of legislation'
Last updated on: August 30, 2011 19:25 IST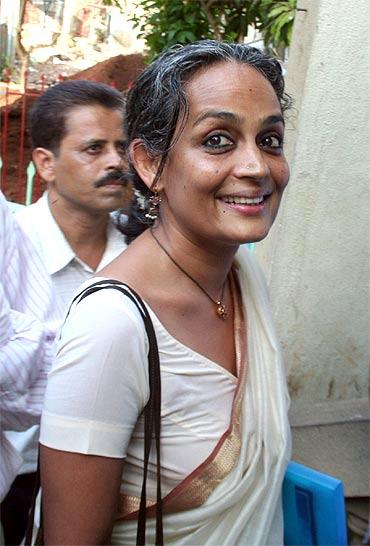 In an interview with CNN-IBN, author and activist Arundhati Roy explains why she strongly opposes Anna Hazare's movement for the Jan Lokpal Bill
On her article on Anna Hazare's movement
"I am extremely glad that the Jan Lokpal Bill did not go through Parliament in its current form. I'm sceptical about the legislation itself for a good number of reasons. I think the legislation is a dangerous piece of work. You use the real and legitimate anger of the people against corruption to push through this specific piece of legislation, which is very regressive according to me. It could have turned from something inclusive to (something) destructive and dangerous. So I'm very happy that it's over for now."
'Anna Hazare was propped up as the saint'
Last updated on: August 30, 2011 19:25 IST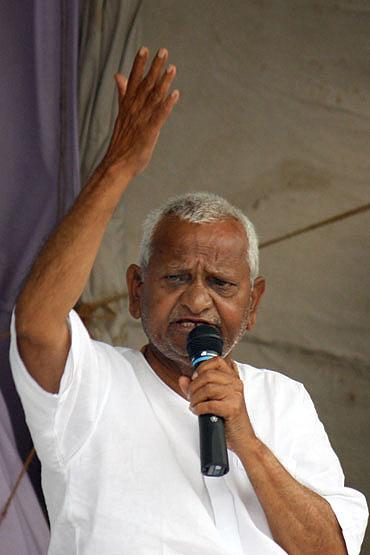 On the NGOs behind the movement
"It was an NGO driven movement by Kiran Bedi, Arvind Kejariwal, Manoj Sisodia. Three of them run NGOs and all the three core team members are Magasaysay Award winners. I wanted to indicate why these NGOs are participating to mediate in what the public policy should be. World Bank and Ford Foundation fund the anti-corruption campaigns. This is copy book World Bank agenda though they might have not meant it.
Major parts of corruption -- in terms of corporate corruption and NGOs taking over the government's functions -- were sidelined. Anna Hazare was picked up and propped up as the saint for the masses. He was not the brain behind the movement. We really need to worry about it."
 
"The movement did not gather momentum from the 2G scam, the CWG scam, the Bellary mining scam and the anger of the people due to these scams. It's not the same thing as the Narmada movement. It was not same thing as a people's movement. Obviously people joined in, but all of them were not from the middle class and many came for a sort of reality show, well orchestrated by the media."
'It's important to define what corruption is'
Last updated on: August 30, 2011 19:25 IST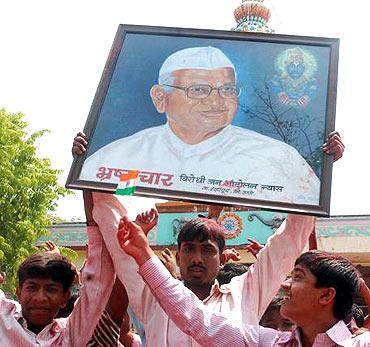 On the Jan Lokpal Bill
"Let's separate the movement from the bill. I don't think many would know the provisions of the Jan Lokpal Bill. If you study the bill carefully, you see the creation of a parallel oligarchy.
The Jan Lokpal team, including the chairman, is to be selected by a pool of elite people. You have a bureaucracy which will have the powers of policing, the power to tap phones, to prosecute, to charge and judge, all the way from the prime minister to lower-rung officials. I am not analysing the bill from the point of view of someone like Aruna Roy, who has proposed a less draconian form of the bill. It's important to define what corruption is and then to decide, for those who are disempowered and disenterprised, to have two parallel oligarchies."
'I'm not interested in this debate'
Last updated on: August 30, 2011 19:25 IST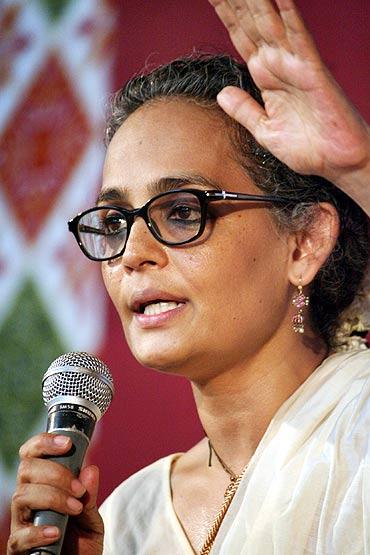 On corruption
"I am someone who has been asking basic questions about injustice. Can we define what corruption is? Is it just financial irregularities or is it the currency of social transaction in a very unequal society? Poor people have to pay bribes to get their ration cards and NREGA cards from very powerful vested interest groups. You have a middle class which buys favours for itself with bribes.
At the top, you have corporates looting mines and millions. But you still have a large number of people outside the legal framework who don't even have legal housing. You can only talk about an anti-corruption law when all your laws are designed to perpetuate the inequality that exists in your society. If you are not addressing that, I'm not someone interested in that debate."
'If it was only for TRPs, why not settle for pornography'
Last updated on: August 30, 2011 19:25 IST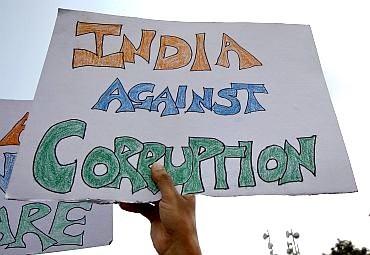 On the media's role in the movement
"I would not say that it was completely media manufactured event. There was mobilisation from the Rashtriya Swayamsevak Sangh and the Bharatiya Janata Party too. I don't know when the media has campaigned in this way earlier, where every kind of news has been pushed out for ten days and you have only this (particular piece of) news. For a nation of one billion people, the media did not find anything else to report. 
Certain major TV channels campaigned (for the movement). That's a kind of corruption for me in the first place. If it was only for TRPs, why not settle for pornography or something which generates more TRP ratings? How can news channels abandon all other news and cover this for ten days? Had the media campaigned against farmer suicides, I would have been glad. It was one man trying to push through a regressive  piece of legislation by all means."
 
On the movement
"If the movement had not ended this way, it could have ended extremely dangerously. The symbolism was dangerous. The victims and recipients of corruption were together. They could have not held together for long and that was scary."