Robert Vadra: The rise of the son-in-law
Last updated on: October 6, 2012 12:40 IST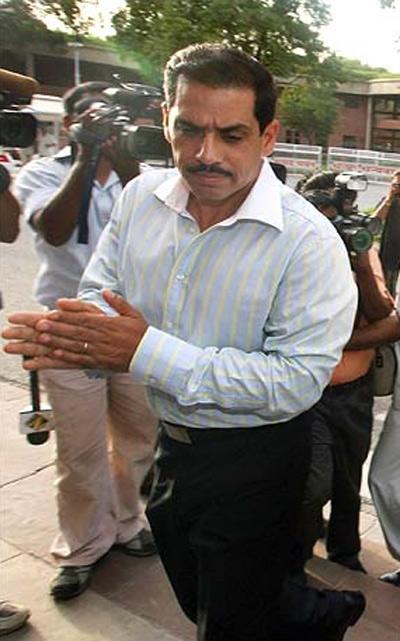 Robert Vadra, 42, has evolved from being simply a son-in-law of the Gandhi family to one of India's most successful businessmen. Amid the latest allegations by activists Arvind Kejriwal and Prashant Bhushan about his involvement in multi-crore land deals, rediff.com takes a look at the life and times of Vadra and the controversies that he courted.

Life before Priyanka:

Robert Vadra's family is originally from Sialkot, Pakistan. His father Rajendra moved here during the time of Partition.

Rajendra Vadra ran a brassware export business in Moradabad.

Vadra did his early education in Moradabad and then moved to Delhi.

Click NEXT to read further...
Robert Vadra: The rise of the son-in-law
Last updated on: October 6, 2012 12:40 IST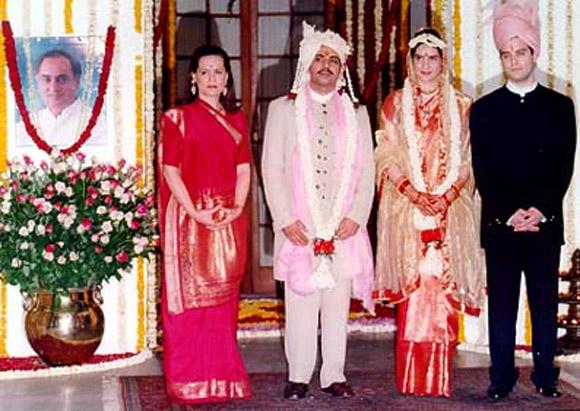 Meeting Priyanka

Priyanka first met Robert six years before their wedding at a party organised by their Italian friends. After being in public glare since her childhood, Priyanaka was in search of a man who led a simple life.

The two tied the knot in 1997. Their marriage was a strictly private affair with a guest list limited to 150 people.

The couple has two children -- Raihan, 11, and Miraya, 9.

The family lives in Delhi's Lutyens Zone, Lodi Estate.

Tussle within Vadra family

Unhappy with his marriage with Priyanka, Vadra's father broke off all ties with him.
Vadra issued a public notice in 2002 stating that his father, Rajender, and brother, Richard, were "duping" people by promising jobs at the Uttar Pradesh Congress Committee. Rajendra later threatened to file a defamation suit against his son.

The Vadra family has witnessed some tragedies. Robert's sister Michelle died in a car accident in April 2001. His brother Richard committed suicide in 2003 and his father reportedly died of a heart attack in 2009 although some sources reported it as a suicide.

Vadra is close to his mother Maureen, an Anglo-Indian of Scottish origin.
Robert Vadra: The rise of the son-in-law
Last updated on: October 6, 2012 12:40 IST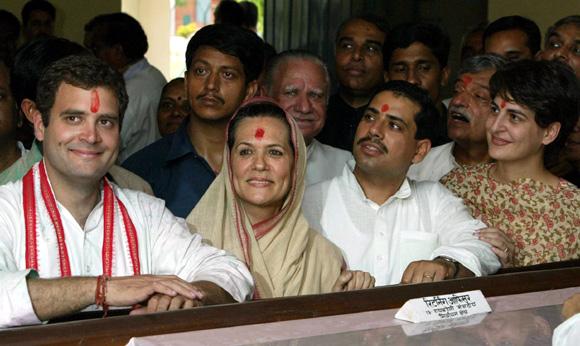 Flourishing businesses

In 1997, the year Vadra got married to Priyanka, he started Artex, a handicrafts and fashion accessories business.

He diversified his business in 2007, acquiring land in Haryana and Punjab. Since then he has forayed into various sectors.

Today he has stakes in teh country's biggest reality firm DLF and Sky Light Hospitality Pvt Ltd (owned by Vadra and his mother Maureen Vadra).

Robert Vadra also has a stake in Hilton Gardens, New Delhi.
Robert Vadra: The rise of the son-in-law
Last updated on: October 6, 2012 12:40 IST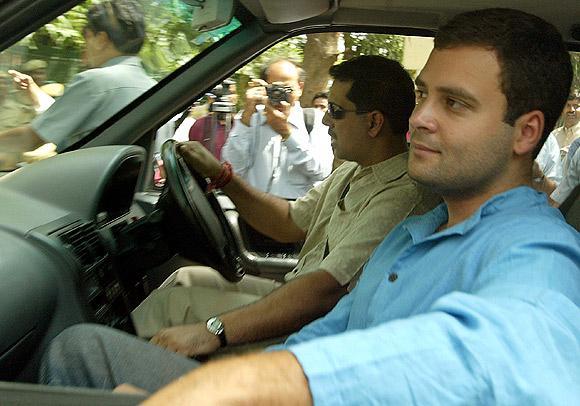 Vadra and politics

Vadra started accompanying the Gandhi family on election campaigns since 1999. But he always maintained a low-profile, often driving brother-in-law Rahul's car.

Vadra had revealed that he was under great pressure to contest from Sultanpur in Uttar Pradesh in the 2009 Lok Sabha elections but refused

In an interview to a leading newspaper in 2010, he said he would join politics only when he felt he could make a difference. "There is a time and place for everything. If I feel that I know enough about this line (politics), if I can dedicate enough time and effort to it, when my children are grown up and if I can make a difference, then why not?"

In February 2012, ahead of the Uttar Pradesh elections, he said, "If people want, I can join politics.''

His wife Priyanka however downplayed the statement. She blamed the media for asking her husband a golmatol (roundabout) question. "He (Vadra) is a successful businessman and has no time for politics,'' she said.
Robert Vadra: The rise of the son-in-law
Last updated on: October 6, 2012 12:40 IST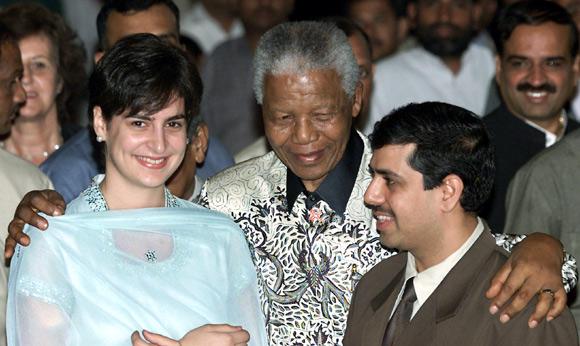 The perks of being a Gandhi son-in-law

Vadra is exempted from security checks at all Indian airports. In a list with 30 entries displayed at all airports, "Shri Robert Vadra" is the only name; the rest are defined by ranks and posts like the President of India.

He is covered by the Special Protection Group. His car is preceded by a pilot Gypsy with five Delhi police commandos and followed by another Gypsy.

Robert Vadra: The rise of the son-in-law
Last updated on: October 6, 2012 12:40 IST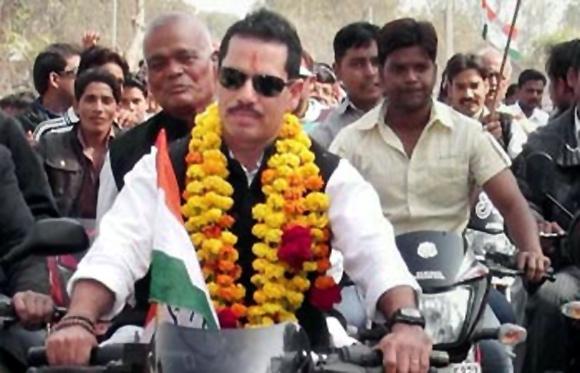 Bikes and bodybuilding

He has a penchant for bikes and bodybuilding. He often appears in fitness mags and is seen displaying his physique on his Facebook profile pictures.

In 2011, he purchased top-end bikes -- Hayabusa, Harley-Davidson and Ducati.

He has an array of luxury cars, including a black 500 SEL Mercedes, a top-end BMW and a recently acquired Range Rover.

He loves to party.

TOP photo features of the week
Last updated on: October 6, 2012 12:40 IST
Click on MORE to see another set of PHOTO features...