Robert Vadra's extraordinary jump to fame and power
Last updated on: October 6, 2012 00:01 IST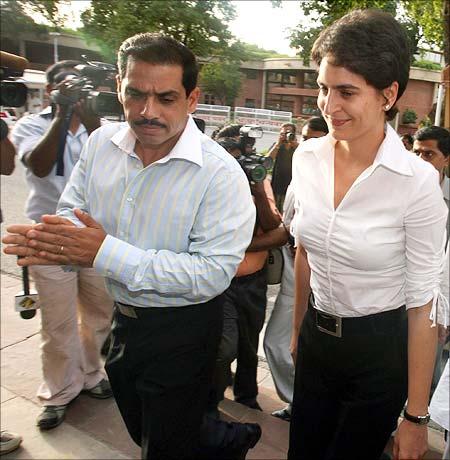 From an ordinary lad in Moradabad with a lacklustre business to being part of a family lineage known all over the world, it has been a big leap for Robert Vadra, says Renu Mittal.
In the season of scams, there is further bad news for the ruling Congress party. The son-in-law of the first family of the Congress, Robert Vadra, has now been openly targeted by activist-turned-politician Arvind Kejriwal and his aides, exposing and bringing into the public domain the rise and rise of Robert Vadra and the hefty increase in his fortunes ever since he married Priyanka Gandhi.
Priyanka met Robert through his sister Michelle, as she and a group of friends used to party together. Robert, who was in the brassware and artificial jewellery business, had frequent meetings with Priyanka and gifted her jewellery items. After she became close to Vadra, Priyanka used to visit him in Moradabad and the first news of their friendship came from a Hindi newspaper reporter who followed Priyanka's security trail to Vadra's house and got a quote from his father Rajendra Vadra revealing that Priyanka was a friend of his son and had come visiting.
Those who have followed the developments in the Priyanka and Robert love story say she was impressed when he proposed to her, as no one till then had shown the courage to come so close to her and actually come out with a proposal of marriage. It was a quiet wedding, in 1997, at 10 Janpath with very few friends and relatives in attendance. For quite some time the reclusive and low-key Vadra remained out of the public eye, fully aware that he was the son-in-law of the Gandhi family and they did not like controversies around them.
Click NEXT to read further...
Previous controversies Robert Vadra was embroiled in
Last updated on: October 6, 2012 00:01 IST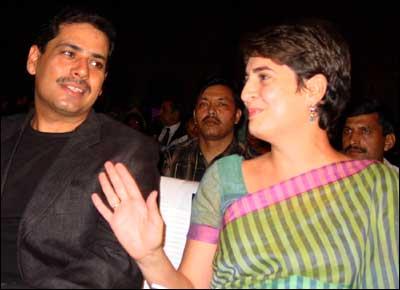 The first controversy arose in 2002 when Robert Vadra issued a public notice in the daily newspapers that he had nothing to do with his brother and father, and that no body had been authorised to use his name to contact anyone in power.
The notice was issued by the son of Hansraj Bhardwaj, a Gandhi family loyalist, and the background was a visit by Robert's brother to Maharashtra Chief Minister Vilasrao Deshmukh to get some work done. Deshmukh called up 10 Janpath to check whether it was alright and it was then that Robert was asked by Sonia Gandhi to issue such a notice.
Insiders say that it was Rajiv Shukla who first arranged a meeting between Robert Vadra and the then Prime Minister Atal Bihari Vajpayee's son-in-law Ranjan Bhattacharya. While the circumstances of the meeting are unknown, it was after that, that Rajiv Shukla expanded his wings in the inner circle of the Congress. Shukla once again helped him when a daily published a story about Robert Vadra and his business dealings, and it was Rajiv Shukla who took Rahul Gandhi to a public function of the publisher where a truce was called and no further reports appeared about Robert's businesses.
Click NEXT to read further...
Robert Vadra's relationship with his family
Last updated on: October 6, 2012 00:01 IST
Robert and Priyanka have two children, but over the last couple of years there have been a number of stories in New Delhi's cocktail circuit that the two have split. That Robert lives in his penthouse in Gurgaon and Priyanka had almost shifted to her mother's place with the kids and so on and so forth. But people who know them vouch that these are baseless stories. The couple is seen, occasionally, in Lodhi Garden, very much together, entertaining friends at their Gurgaon residence, both wearing aprons and serving the guests personally.
While Robert over the years has developed a six pack abs and has fine-tuned his appearance, wearing designer labels and sharp cuts, he and Rahul Gandhi are known to share a close rapport as both love speed. Vadra takes his extravagant motorcycles and cars out in the dead of night for a spin in Lutyens Delhi.
As far as his family is concerned, it's now only he and his mom. His sister Michelle died in 2001 in a road accident while returning from Jaipur. Robert's brother Richard "fell off the roof" in 2003 and his father committed suicide by hanging himself. Not a pretty picture by any means but he remains close to his mom Maureen, who is an anglo-Indian.
Those who have access to the Gandhi family say that over the years both Priyanka and Sonia Gandhi have had gnawing worries about the speed and ease with which Robert Vadra has increased his business empire. While all attempts have been made to keep a close watch to ensure that no sensitive stories break out, the Kejriwal expose that his assets have grown from Rs 50 lakhs to Rs 300 crore, and that he has helped DLF builders in Gurgaon in a big way in return for which he has been given interest free loans, and the number of apartments and vast stretch of land has hit the Congress hard. This comes at a time when the party is already reeling under allegations of numerous scams and financial scandals.
A battalion of spokesmen and ministers have defended Robert Vadra. So far there was an unwritten consensus amongst political parties that political leaders of various parties would not attack each other's families and children. That is why the Congress under Sonia Gandhi never said a word against Ranjan Bhattacharya, nor were any cases of corruption registered against him, despite the fact that the country would talk about his business dealings as the son-in-law of the prime minister.
Click NEXT to read further...
Did info on Vadra's business dealings come from within the govt?
Last updated on: October 6, 2012 00:01 IST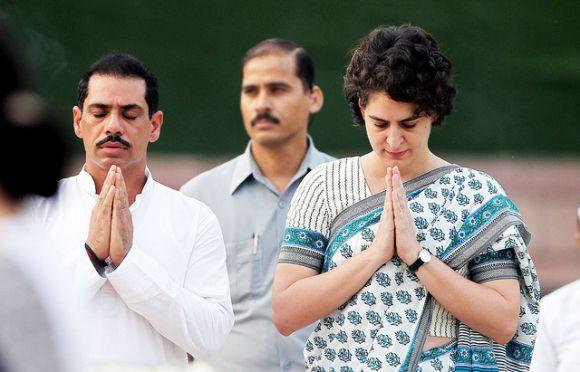 Now with the Bharatiya Janata Party impatient to come to power, and Vajpayee out of the political scene, that consensus appears to have been broken. When it comes to her son-in-law Sonia Gandhi is a soft target. But the interesting question being asked in the Congress party is whether the information on Vadra's vast business dealings from BPTP, to land dealings with various Congress governments, to interests in hotels, to his deals with the DLF etc. have come from a section of the government and have been routed through the BJP-RSS to Kejriwal and company.
If it's the season of war, it may be difficult for Sonia Gandhi to hit back, but the earlier caution of Sonia and Priyanka urging Robert Vadra to go slow in expanding his business appears to have been grounded in sound thinking. During the last assembly elections in Uttar Pradesh, Robert Vadra had gone to Amethi and Rae Bareilly to join Priyanka and there voiced his wish to one day join mainstream politics. The idea was quickly dumped by Priyanka but he said it again in another interview. Obviously it was a well thought out wish and he clearly wanted to make his presence felt.
For an ordinary lad from the backwaters of Moradabad and a lacklustre business to being the husband of one of the most beautiful women in the country, with a family lineage known all over the world, it was an extraordinary jump.
Even now young reporters come and ask the question: But why did she marry him? Obviously she must have seen something in him and the fact that they are very much a family unit after so many years also speaks for the family life she wants to lead with her husband and kids. Her mother Sonia Gandhi has kept her away from the hurly burly of politics on the plea that she has young kids to raise. But most Congressmen realise that it would be difficult to keep her away from the public arena. More so, now! 
Then would come the real test of how Priyanka handles her husband's businesses and the stories of how the millions were made, almost overnight.
TOP photo features of the week
Last updated on: October 6, 2012 00:01 IST
Click on MORE to see another set of PHOTO features...