'Rahul Gandhi must be more active to help Congress'
Last updated on: July 17, 2012 17:38 IST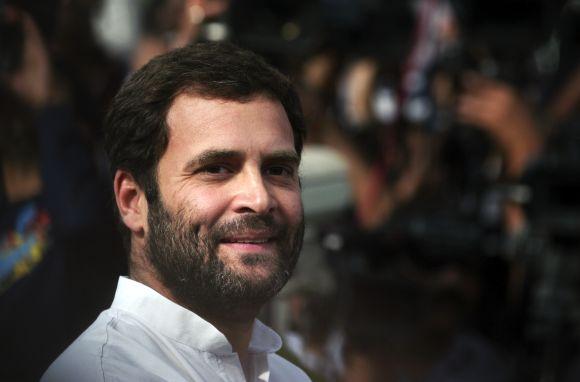 Can Rahul Gandhi save the Congress? Dilliwalla, who has his ears to the ground in matters political, was in conversation with Rediff.com's Abhishek Mande and answered questions about Rahul Gandhi, his future in the Congress and more!
We present to you select transcripts from the ZaraBol conversation #Can-Rahul-Save-Congress?
Was Khurshid's comment about Rahul calculated? Was it a cue for what seemed like an evidently an impending announcement?
Dilliwala: Looks like it was calculated and even calibrated! Khurshid did not look one bit when his remarks went public.
Please do elaborate.
Dilliwala: What Congress leaders mean Rahul will play a more pro-active role than hitherto. But what will his role be? Only Rahul enjoys privilege to decide!
Please click NEXT to read more...
'Rahul cannot let the drift in the Congress go further'
Last updated on: July 17, 2012 17:38 IST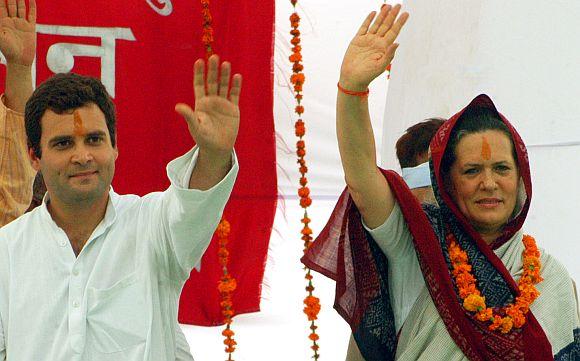 Let us come back to talking about Rahul's role in a bit but... some would say that this whole issue is perhaps a ploy to take attention away from serious issues. Would you agree?
Dilliwala: Sonia (has) asked Rahul several times to become party vice-president. PM (Manmohan Singh) wanted him to be in the Cabinet as minister. But Rahul's reply was no.
What Khurshid said in that newspaper interview he had put it down in a letter to Sonia Gandhi after UP polls
Also, he cannot let the drift in the Congress go further.
I think it is to tell Rahul that his present style won't do...he must be more active.
How long would you say has this sentiment (that he should do more) has been simmering for within the Congress party?
Dilliwala: I would say since last year when Sonia went abroad for medical treatment. She even put in a place a 4-member panel with Rahul and AK Antony. Perhaps, I would say. Congress leaders believe Rahul's foray can give a new look to the party.
'Rahul thinks Cong men don't tell him the truth'
Last updated on: July 17, 2012 17:38 IST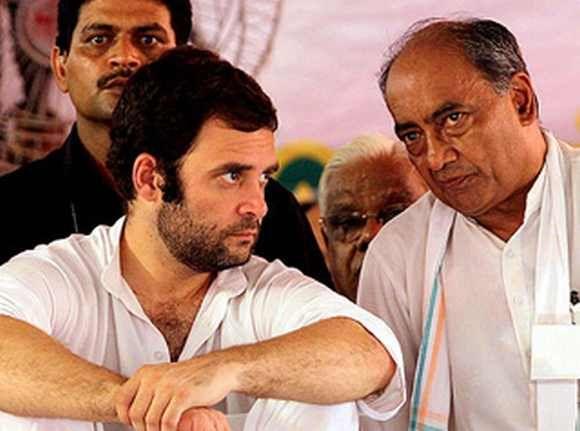 You mention Rahul turning down plum political positions. Does he come across to you as a reluctant politician?
Dilliwala: Rahul thinks Cong men don't tell him the truth. He was mislead on UP, his aides say. Even now, Congress leaders say it will be Sonia who will lead the party in 2014.
Leaders like Digvijay are telling Rahul that this is his hour. If he can get Congress out of this, he would have made it.
No one has blamed Rahul for UP. But he has shied away since then. Now, efforts are to make him forget UP debacle.
UP has to be put behind, Congress leaders keep telling Rahul.
Senior Congress functionaries seem to believe he will continue with the organisation, perhaps take additional responsibilities.
In 2004, Congress did not project anyone as PM. In 2009, PM Manmohan Singh was in the lead and the mandate was seen as for him.
In 2014, Congress cannot afford to be silent on PM. Manmohan Singh cannot duck anti-incumbency...
When do you think Rahul will take on the said 'larger role'? What happens in September?
Rahul is at present in-charge of NSUI and Youth Congress. To begin with, Rahul can be made a member of the Congress core group.
Congress had in the past a vice president and a working president.
(Chances are) Rahul comes into the Congress core group and gives company to the PM, Sonia, Antony and Chidambaram when key moves are made.
Kamalapati Tripathi was working president when Indira Gandhi returned to power in 1980.
Arjun Singh was vice-president when Rajiv Gandhi was Congress president.
This time, everyone in Congress is sure Sonia Gandhi has to remain on the top, Rahul can best be her deputy.
Even Jitendra Prasada, father of present Union minister Jatin Prasada, was vice president during Rajiv Gandhi's time.
Why September timeline? Digvijay's answer is by the time the elections for new president and vice president will be over.
'Cong knows Rahul doesn't have a magic wand'
Last updated on: July 17, 2012 17:38 IST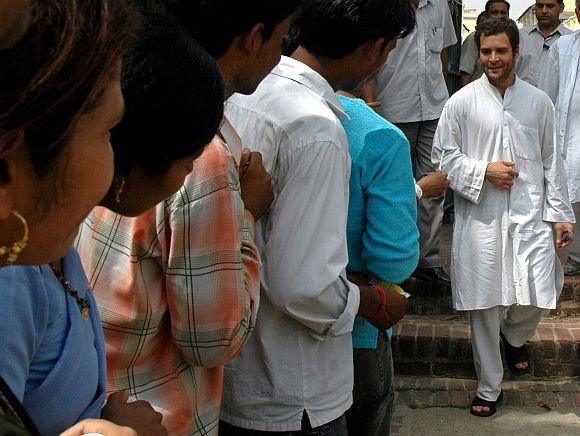 So it'll be VP or Working President of the Congress Party or a new position especially for Rahul?
PM may again renew his invitation to him to join the government as Human Resources Development minister or Rural Development minister or he continues to remain a general secretary and the Congress projects him as PM candidate for 2014 polls.
Congressmen and women know Rahul does not have a magic wand. What they want he take charge and induct more young people.
With Pranab Mukherjee gone, the list of wise men to guide the Congress looks dwindling. So only Rahul can assert his role.
In fact, the word from Khurshid and other leaders, he must get into the Congress "mainstream" and face strong currents of political tide!
In reality, no matter what post he takes on, the clamour will only grow for him to shed his reluctance and push for Rahul-for-PM slogan!
Since we seem to have completely run out of time, my final question to you is can Rahul really save the Congress? Or will it be a weak BJP that will really do the job for him?
Dilliwala: At least, Congressmen want Rahul to take one last plunge and have a full go. They don't want to leave it to stars or a weak BJP!
Thanks very much Abhishek...
TOP photo features of the week
Last updated on: July 17, 2012 17:38 IST
Click on MORE to see another set of PHOTO features...