Prisoner swap deal causes anguish in Israel
Last updated on: October 17, 2011 10:44 IST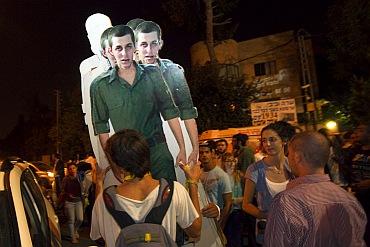 The relatives of Israelis killed in Palestinian attacks have reacted strongly against a prisoners swap deal with Hamas to win freedom for captive soldier Gilad Shalit, as the country's Supreme Court prepares to hear petitions on Monday, challenging the decision.
The swap is scheduled to take place on Tuesday, a week after a deal was sealed between Israel and Hamas to free Shalit, held by Hamas in the Gaza Strip since he was taken captive in a cross-border raid in June 2005, in exchange for 1,027 Palestinian prisoners.
Among the prisoners to be released on Tuesday are militants involved in deadly bombings and other attacks targeting Israeli civilians and soldiers.
"What they did to us is like a slap in the face. We need to hear about the terrorist who killed our daughter being released from the media? Everyone is happy and dancing in our blood and with all due respect to Gilad's smiling mother, there are hundreds of parents whose heart is bleeding today," Haim Karisi, who lost his daughter Yasmin in a terror attack 11 years ago, said.
Click NEXT to read further...
'Is this how they towards bereaved families?'
Last updated on: October 17, 2011 10:44 IST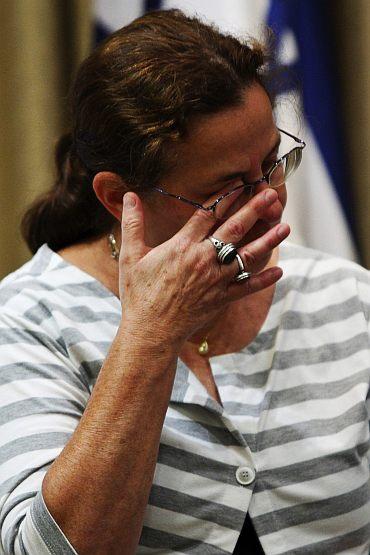 The bereaved father under a spell of renewed grief called it an "insult" to find out from the media that Khalil Mohammed Abu Ulbah, the terrorist who cost him his daughter, was one of the 477 prisoners set to be released in the first phase of the deal to free captive Israeli soldier, Gilad Shalit.
Abu Ulbah was sentenced to eight consecutive life sentences following the February 14 terror attack in 2001 in which he used a bus to run over a group of female soldiers near the Azor Junction.
Eight died in the attack and 26 were wounded. Yasmin Karisi was one of those who did not survive.
"We sent our girl to the army, just like they sent Gilad. My girl never made it back and now I feel humiliated, what did we ask for? For them to show a little sensitivity? Cooperation?" Karisi told Ynetnews.
"For someone to pick up the phone and say, 'The price is heavy but we decided to release them'. This is a proof of inadequacy for the State of Israel, if this is how they act towards the bereaved families," he added.
Click NEXT to read further...
'I felt like someone gave me a slap in the face'
Last updated on: October 17, 2011 10:44 IST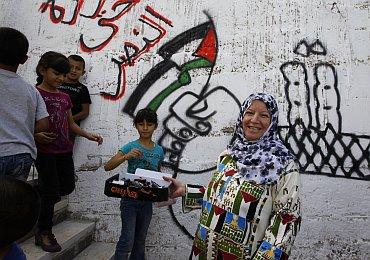 The mother of another soldier killed in the same attack also echoed similar sentiments, apparently irked at the State's insensitivity at not even considering taking them into confidence.
"This morning I woke up and I saw it in the newspaper and felt like someone gave me a slap in the face", Tanya Polanski, mother of Kochi Polanski said recalling the moment she discovered that abu-Ulbah was being released.
"A year or two ago when the Shalit deal fell through they made us a promise that before it would be published in the media – they would tell us who was being released and who wasn't," she noted.
The bereaved families were also critical of the legal process and the heavy price Israel has agreed to pay.
"All these petitions to the high court are lip service," claimed Zion Yunesi, father of Yasmin Yunesi who was critically wounded in the terror attack.
"Apparently we aren't even a party in the matter. No one is asking us. They decided on the list, signed and that's it. The names are only published at the last minute and it's clear why," he said.
Click NEXT to read further...
'I am comforted that we are saving a life'
Last updated on: October 17, 2011 10:44 IST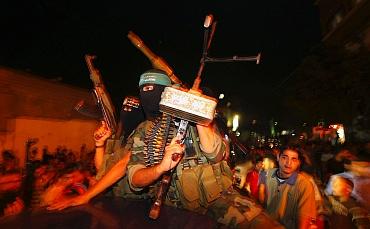 Despite the strong emotions and insurmountable grief, some victims also expressed sympathy at the deal to bring back an Israeli soldier.
"It's a complex issue but I'm comforted by the fact that an abducted soldier will return to Israel after suffering for five years. Following the attack I became religious and now believe this is a divine move", Sigal Yunesi, who was badly injured in a terror attack said.
"It hurts that the terrorist who killed my friends and injured me is being released after such a short time, but I'm comforted by the fact that we're saving a life", Yunesi opined.
While most of the Israeli populace supports the deal, many believe it is capitulation to terror and runs against Prime Minister Benjamin Netanyahu's stated policy of zero tolerance against terror.
Those opposing the deal are also seeking justification to their argument from the ongoing show of triumph by Hamas supporters in the Gaza Strip who have been projecting it as a victory over Israel.
© Copyright 2020 PTI. All rights reserved. Republication or redistribution of PTI content, including by framing or similar means, is expressly prohibited without the prior written consent.