PM Modi's HIT plan for Nepal
Last updated on: August 03, 2014 20:29 IST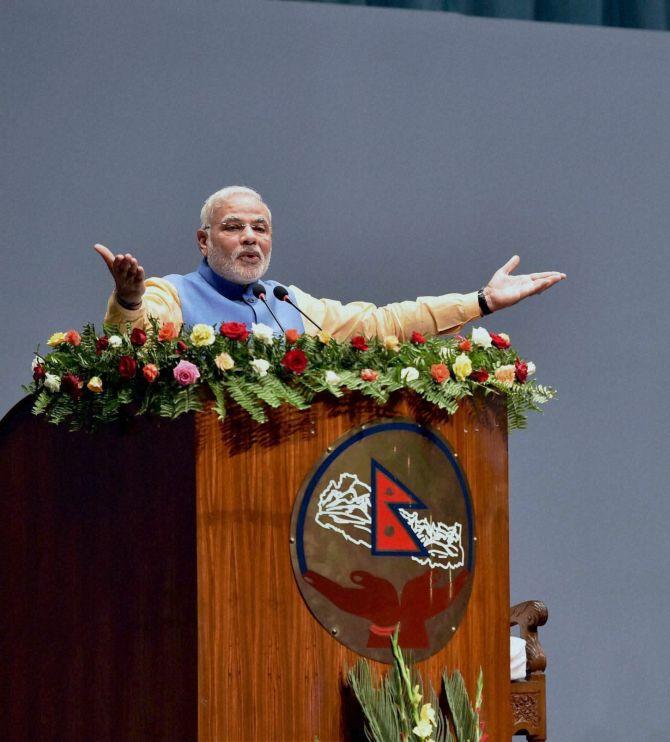 Assuring Nepal that India did not want to interfere in its internal affairs, Prime Minister Narendra Modi, the first Indian PM to visit the Himalayan nation in 17 years, on Sunday emphasised that their border should be a "bridge" and not a barrier even as he announced $ 1 billion Line Of Credit to the country.
As India makes efforts to deepen its diplomatic and economic engagement with its neighbours, Modi said he wanted to see Nepal become a developed nation and was ready to work with that country in all its efforts and offered a "HIT" mantra-- Highways, I-Ways and Transways for its development.
Allaying fears of Indian interference in Nepal's affairs, Modi said, "Nepal is a truly sovereign nation. We have always believed that it is not our job to interfere in what you do but to support you in the path you decide to take."
Please click NEXT to read more…
PM Modi's HIT plan for Nepal
Last updated on: August 03, 2014 20:29 IST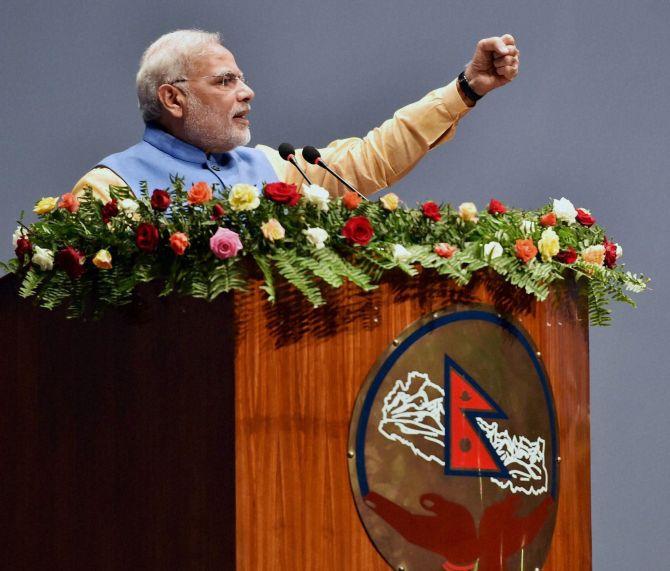 Modi, who arrived here on a two-day visit to Nepal, was addressing the Nepalese Constituent Assembly. It is only the second time that a foreign leader was addressing the Parliament with German Chancellor Helmut Kohl being the first to have the honour to deliver a keynote speech in 1990.
Modi was given a thunderous applause as he began his 45-minute speech telecast live nationally with few sentences in Nepali language just hours after his talks with his Nepalese counterpart Sushil Koirala during which the two sides signed three agreements.
"I have come here with the goodwill and love from one and a quarter billion people of India," Modi said in Nepali, which prompted members to thump their desks.
Please click NEXT to read more…
PM Modi's HIT plan for Nepal
Last updated on: August 03, 2014 20:29 IST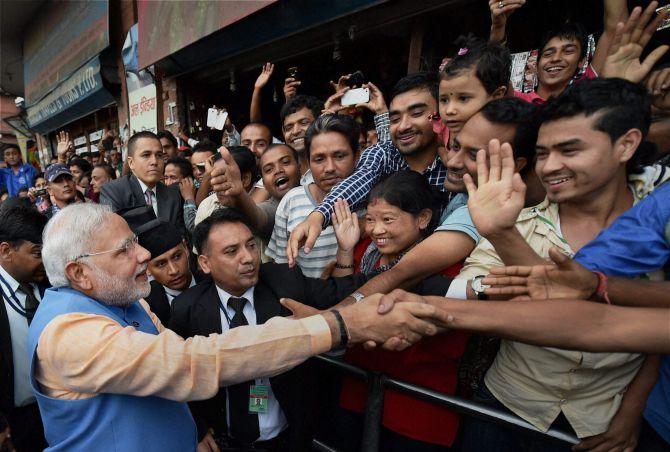 Stating that India's relations with Nepal is as old as the Himalayas and the Ganga, Modi said, "border should be a bridge not a barrier between the two neighbours".
India has decided to provide Nepal with $1 billion as concessional Line Of Credit for various development purposes. This amount is separate from the previous assistance that India has already provided to Nepal," Modi said.
The grant will be utilised for infrastructure development and energy projects as per Nepal's priority, according to Nepalese Foreign Ministry.
Please click NEXT to read more…
PM Modi's HIT plan for Nepal
Last updated on: August 03, 2014 20:29 IST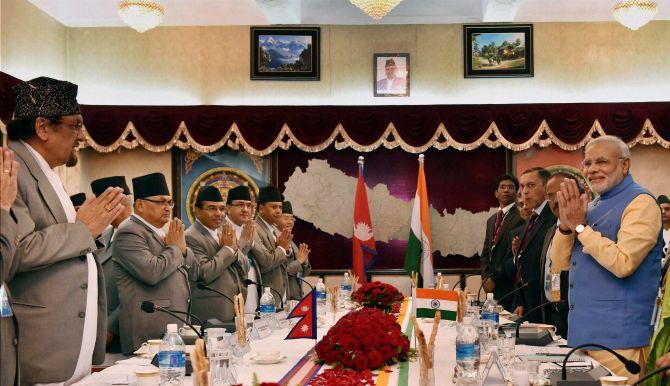 Proposing a model development formula for Nepal, Modi said, "I want to HIT Nepal", drawing wide applause from the lawmakers.
Elaborating his strategy, Modi said HIT in his lexicon implies - H:Highways, I:I-ways and T:Transways. He said these three combined together would pave the way for rapid development of the country and India wants to "give this gift at the earliest".
Modi was earlier given a rousing welcome with his counterpart receiving him at the TribhuvanInternationalAirport, deviating from protocol for the purpose. Along with Koirala, Deputy Prime Ministers Bam Dev Gautam and Prakash Man Singh were also present at the airport.
Please click NEXT to read more…
PM Modi's HIT plan for Nepal
Last updated on: August 03, 2014 20:29 IST
After their talks at Singha Durbar Secretariat, Modi and Koirala witnessed the signing of three agreements, including one regarding the amendment of Terms of Reference of the Pancheshwar Multipurpose Project on the Mahakali river.
The other agreement relates to cooperation between Nepal Television and Doordarshan, the state-owned television stations of both the countries.
During their talks, Modi and Koirala discussed various issues including Nepal's peace process and constitution-drafting process as well as economic issues. They also touched upon various facets of mutual relations and issues of common interest.
On his way to the Constituent Assembly, Modi stopped his convoy to meet common people. In his address, Modi told the lawmakers, "Being your neighbour and seeing our experience as a democracy we feel happy at the direction in which you are going. Our only wish is that Nepal's progress reaches as high as the Himalayas."
Please click NEXT to read more…
PM Modi's HIT plan for Nepal
Last updated on: August 03, 2014 20:29 IST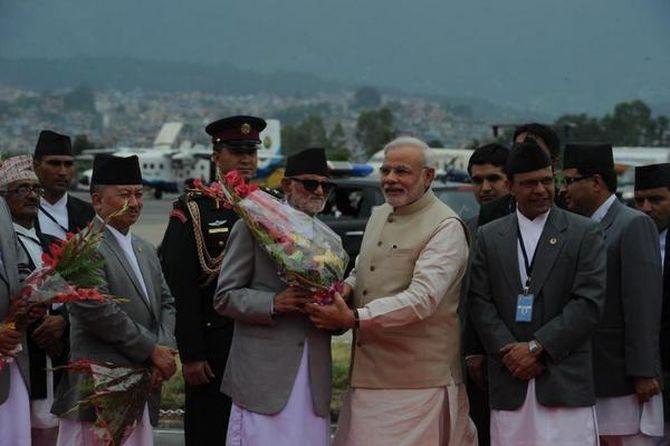 Modi said India will help Nepal in constructing highways for better connectivity.
He said Nepal has abundant potential for developing its hydropower sector and for this purpose India is committed to establish transmission lines for the export and import of electricity. "I want to double the amount of electricity India is providing Nepal today so we have to lay the transmission lines as soon as possible," the PM said, adding India wants to buy electricity from Nepal. "This is my notion of hitting Nepal and you too would agree that it soon becomes a hit," he said.
Striking an optimistic note, Modi said, "For now, we will remove darkness here and a decade later Nepal will come to our help. This is our bonding."
He said India welcomes and respects the aspirations of a Nepalese Federal Democratic Republic. Praising the contribution of Gurkha soldiers in India's defence, Modi said India has won no war without the sacrifices by Nepalese soldiers. "I salute those bravehearts who laid their lives for India," he said.
Invoking Sam Manekshaw, the first Field Marshal in the Indian army, Modi said, "Any soldier who says I am not afraid of death would either be lying or is a Gurkha."
© Copyright 2023 PTI. All rights reserved. Republication or redistribution of PTI content, including by framing or similar means, is expressly prohibited without the prior written consent.