Pix: Assam bandh turns violent, normal life hit
Last updated on: August 28, 2012 18:23 IST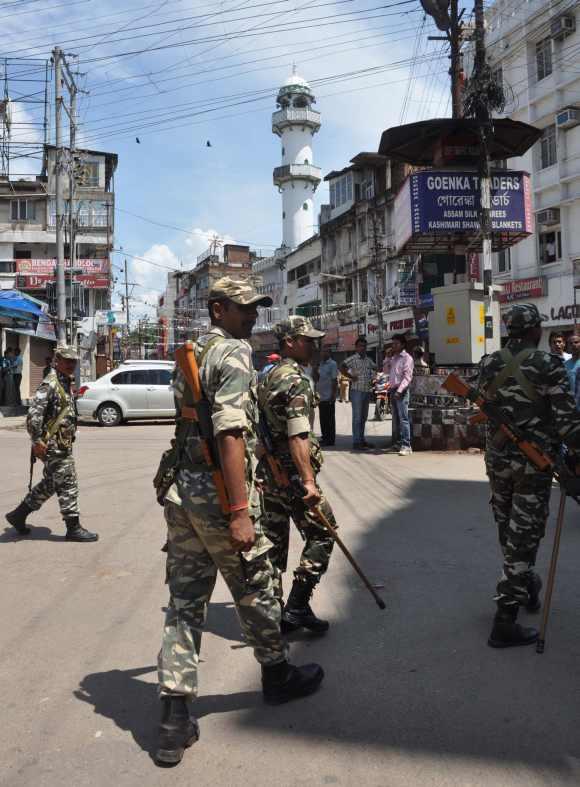 One person was killed and scores injured as police rounded up hundreds of trouble makers even as 12-hour Assam bandh called by All Assam Minority Students Union (AAMSU) and its allies turned violent on Tuesday.
Indefinite curfew was enforced in parts of Sonitpur, Barpeta and Nagaon districts for preventing the violence from spreading to other areas. The AAMSU and its allies called for the bandh in protest against continuing attack on Muslims in Bodoland Territorial Autonomous District Council (BTC) areas in Assam.
About 500 bandh supporters were rounded up by the police for trying to create trouble. Police and paramilitary force personnel had to open fire in the air, fire tear gas shells and resort to baton charge in various bandh-hit areas to control mob frenzy.
Indefinite curfew was clamped in Barpeta Road and Howly in Barpeta district after armed miscreants had hacked to death one person and injured more than 20 others in Beltola area on Barpeta Road. Several houses were also torched by the miscreants, who also attacked and injured journalists on duty. The Army was called out to stage flag march in Barpeta Road to control the situation.
Click NEXT to read further...

With inputs from PTI
Assam bandh turns violent; one killed, several injured
Last updated on: August 28, 2012 18:23 IST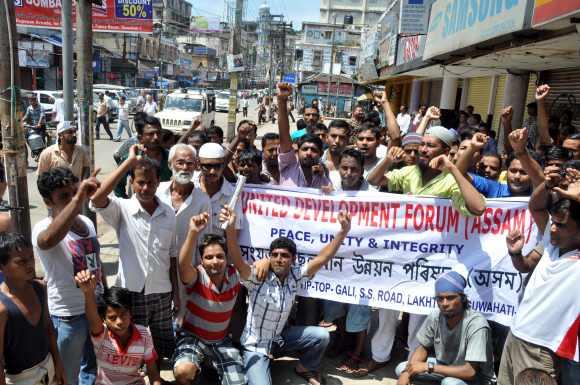 Curfew was also clamped at Tezpur town in Sonitpur district as a precautionary measure after bandh supporters attacked a newspaper van on Tuesday morning.
In neighbouring Nagoan district, clashes between bandh enforcers and public were reported in different parts of the district. Indefinite curfew has been clamped in Ambagan area of Nagaon, while a prohibitory order under Section 144 of the Cr PC was imposed across the district.
Violent protests were staged by bandh supporters in Jogighopa in Bongaigaon district while there were clashes in Sivasagar district. Protestors blocked the national highway at Bilasipara in Dhubri district besides halting an inter-city train in the district for few hours.
Blaming the Bharatiya Janata Party and All India United Democratic Front (AIUDF) for making provocative statements, Chief Minister Tarun Gogoi urged political parties and outfits to refrain from calling bandhs which were inflaming passions in violence-hit areas.
"I am not happy about the way in which BJP and All India United Democratic Front and some other outfits are conducting themselves. I appeal to them not to make any more provocative statements," he told reporters.
Director general of Assam police, J N Chaturvedi, said that five district of Sonitpur, Barpeta, Nagaon, Kokrajhar, Bomgai Gaon have been placed under curfew to prevent any untoward incident in the state.

Chaudhary told rediff.com from Guwahati said, "The situation has now been brought under control. Action is being taken against those who are creating trouble," he said.

"One person lost his life in the clashes on Barpeta road," he said.

"Scores of people belonging to both sides were injured in the violence that began late on Monday night. Some policemen were also injured while they were bringing the situation under control," he said.
Click NEXT to read further...
Assam on edge after fresh violence, normal life hit
Last updated on: August 28, 2012 18:23 IST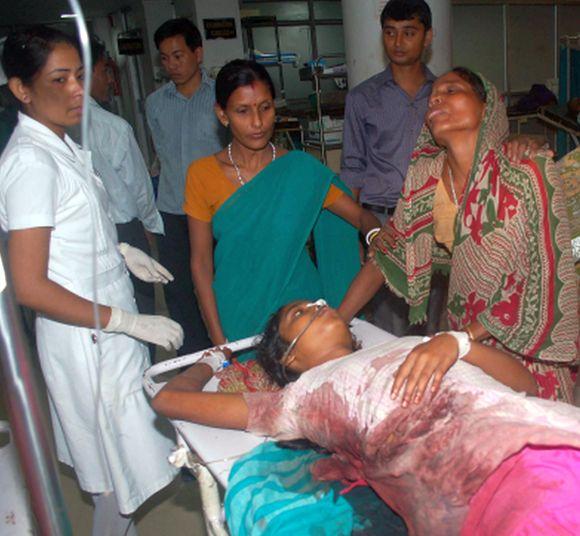 Tension had gripped many parts of Assam, including the troubled Bodoland Territorial Areas Districts (BTAD), following fresh incidents of violence on Tuesday in which at least one person was killed and six people were injured.
Referring to Monday's bandh called by Bajrang Dal and the one on Tuesday called by the AMSU he said, "This is not a time to call bandhs. Instead of bringing calm, bandhs only increase the temper and also affect the economy. I urge all parties and outfits to refrain from calling bandhs."
Unidentified persons lobbed grenades, torched several houses and engaged security forces in a shoot out at Pakritala village in Fakiragram and Choukhati village in Salakati on Monday night.
The army was patrolling the disturbed areas and security has been further tightened in Bodoland Territorial Autonomous Districts following the incidents with night curfew continuing in Kokrajhar, Chirand and Dhubri.
The police opened fire to disperse bandh supporters, who blocked NH-31 at Joghighopa in Bongaigaon district and three bandh supporters were injured.
High tension prevails in Dhubri district with the Central Reserve Police Force and the police opening fire to disperse bandh supporters, who burnt the effigy of Mohilary near No 2 Kali Mandir on NH 31 at Gauripur.
Bandh supporters also blocked NH-31 at New Hatipota near Bilasipara, ransacked the Bodoland Peoples' Front office in Gauripur as well as eight shops at Asharkandi besides forcibly closing shops at Gariapatti.

The bandh was total in Mankachar and south Salmara areas bordering Bangladesh.
TOP photo features of the week
Last updated on: August 28, 2012 18:23 IST
Click on MORE to see another set of PHOTO features...