Album: Stunning PHOTOS of the 9-year Iraq war
Last updated on: October 24, 2011 11:18 IST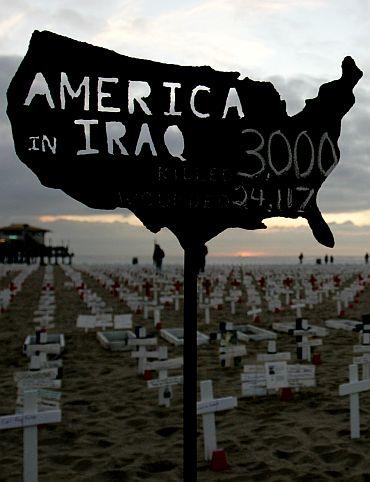 So it is official. US troops will leave Iraq by the end of 2011.

Since former President George W Bush declared war on Iraq in 2003, more than 4,000 American soldiers have lost their lives, and the United States has spent an estimated $3.2 trillion to finance the wars in Iraq and Afghanistan, according to a study by Brown University.
While Iraq was quickly defeated and Saddam Hussein eventually captured and executed, it took another 8 years before the Iraqi government and security forces were strong enough for the U.S. to withdraw. 
The United States had previously agreed to leave 3,000 to 5,000 troops in Iraq as trainers, but after failed negotiations with the Iraqi government, as few as 150 troops will remain in the Middle Eastern country. The current military presence in Iraq stands at just under 40,000.

Rediff.com takes a look at some defining moments of the nine-year war.
Click on NEXT to see the PHOTOS...


PHOTO Album: The 9-year Iraq war
Last updated on: October 24, 2011 11:18 IST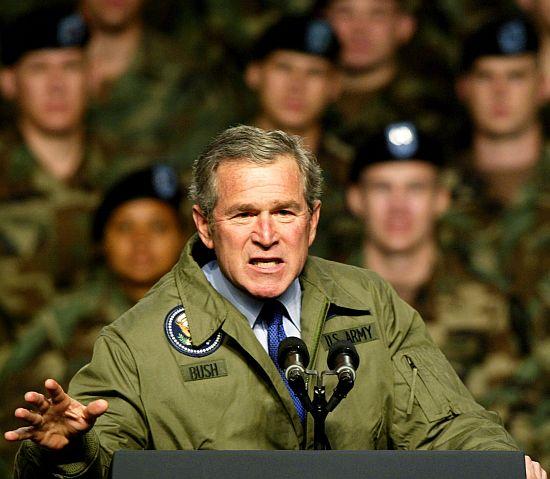 US President George W. Bush addresses US Army soldiers and their families at Fort Hood, Texas, January 3, 2003. Bush addressed the possiblity of military action against Iraq. Jeff Mitchell/Reuters
PHOTO Album: The 9-year Iraq war
Last updated on: October 24, 2011 11:18 IST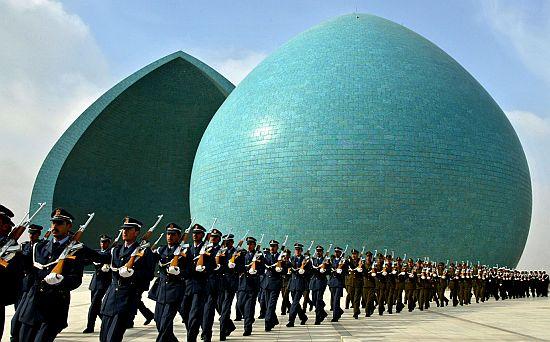 Iraqi soldiers march in the courtyard of the martyrs monument in Baghdad February 16, 2003. Suhaib Salem/Reuters
PHOTO Album: The 9-year Iraq war
Last updated on: October 24, 2011 11:18 IST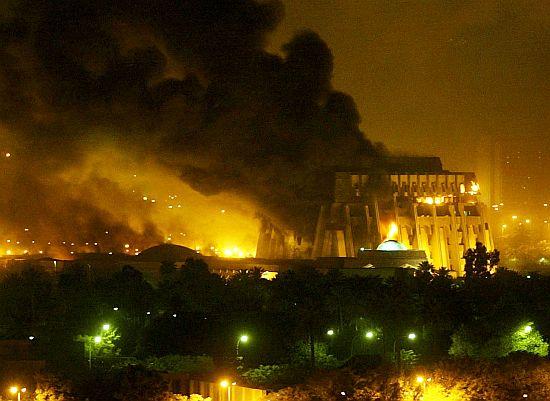 An explosion rocks Baghdad during air strikes March 21, 2003. US-led forces unleashed a devastating blitz on Baghdad on Friday night, triggering giant fireballs and deafening explosions and sending huge mushroom clouds above the city centre. Missiles slammed into the main palace complex of President Saddam Hussein on the bank of the Tigris River, and key government buildings, in an onslaught that far exceeded strikes that launched the war. Goran Tomasevic/Reuters
PHOTO Album: The 9-year Iraq war
Last updated on: October 24, 2011 11:18 IST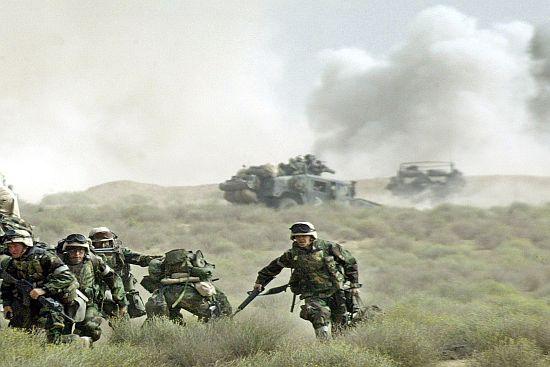 Marines of the US Marine Expeditionary Unit (MEU) Fox Company "Raiders" take cover from Iraqi fire as British artillery rounds explode behind during the early stage of the push into southern Iraq to take control of the main port of Umm Qasr on March 21, 2003. Desmond Boylan/Reuters
PHOTO Album: The 9-year Iraq war
Last updated on: October 24, 2011 11:18 IST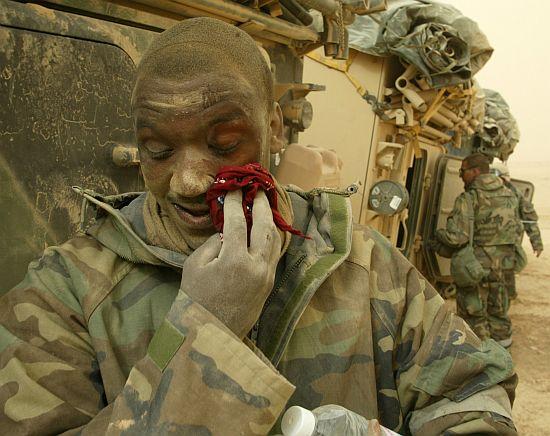 Private George from the US army 2nd Battalion, 70 Armor cleans his face after driving in a sand storm on the desert in Iraq south of the city of Karbala, March 25, 2003. A sandstorm blew in over US troops advancing on Baghdad, cutting visibility and hampering operations. Peter Andrews/Reuters
PHOTO Album: The 9-year Iraq war
Last updated on: October 24, 2011 11:18 IST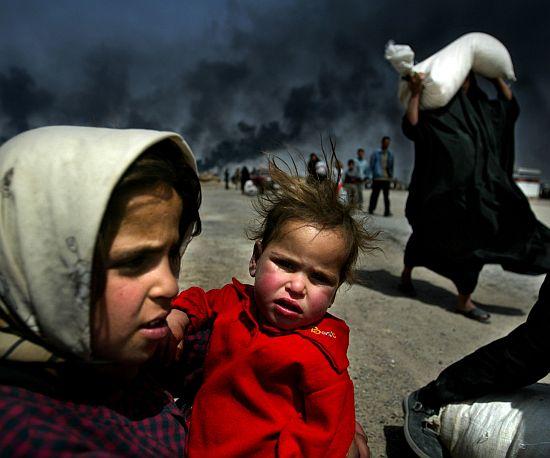 An Iraqi girl holds her sister as she waits for her mother (Right) to bring over food bought in Basra, March 29, 2003. Jerry Lampen/Reuters
PHOTO Album: The 9-year Iraq war
Last updated on: October 24, 2011 11:18 IST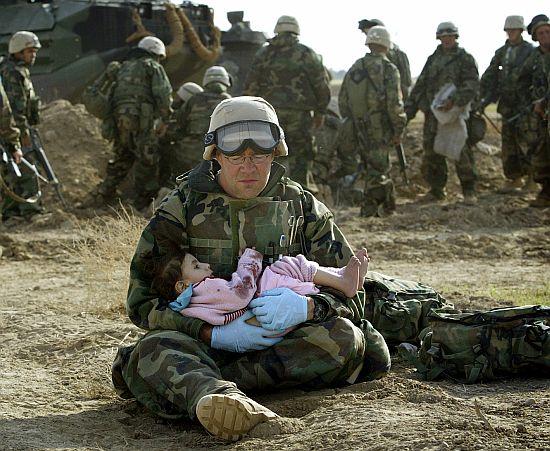 US Navy Hospital Corpsman HM1 Richard Barnett, assigned to the 1st Marine Division, holds an Iraqi child in central Iraq in this March 29, 2003 photo. Confused front line crossfire ripped apart an Iraqi family after local soldiers appeared to force civilians towards positions held by US Marines. March 20 marked the one year anniversary of the beginning of the US led war against Iraq. The war started on March 20 Baghdad local time. Damir Sagolj/Reuters
PHOTO Album: The 9-year Iraq war
Last updated on: October 24, 2011 11:18 IST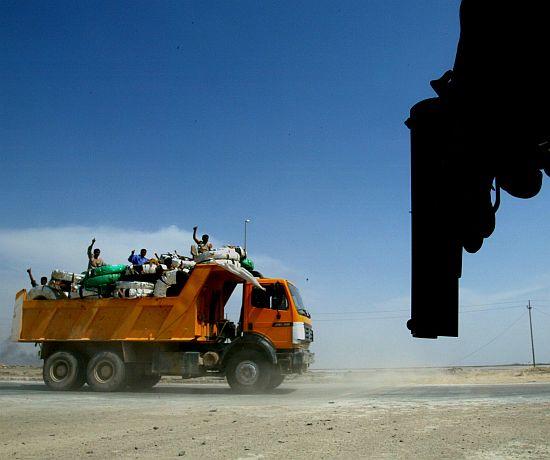 A British army officer has her handgun cocked as Iraqi civilians flee fighting in Basra April 6, 2003. After a two-week siege, British tanks shot their way into the centre of Basra in a bid to stamp out dogged resistance in Iraq's second city from paramilitary fighters loyal to President Saddam Hussein. Yannis Behrakis/Reuters
PHOTO Album: The 9-year Iraq war
Last updated on: October 24, 2011 11:18 IST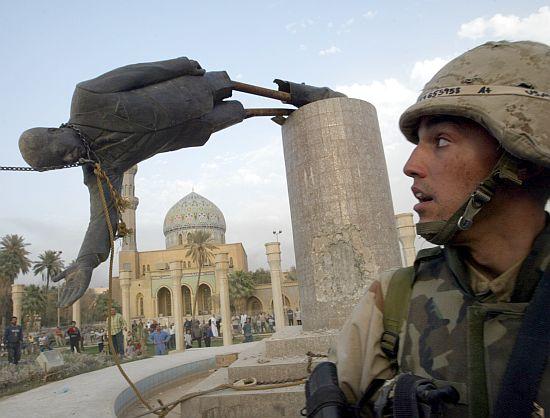 US Marine Corp Assaultman Kirk Dalrymple watches as a statue of Iraq's President Saddam Hussein falls in central Baghdad April 9, 2003. US troops pulled down a 20-foot (six metre) high statue of President Saddam Hussein in central Baghdad and Iraqis danced on it in contempt for the man who ruled them with an iron grip for 24 years. In scenes reminiscent of the fall of the Berlin Wall in 1989, Iraqis earlier took a sledgehammer to the marble plinth under the statue of Saddam. Youths had placed a noose around the statue's neck and attached the rope to a US armoured recovery vehicle. . Goran Tomasevic/Reuters
PHOTO Album: The 9-year Iraq war
Last updated on: October 24, 2011 11:18 IST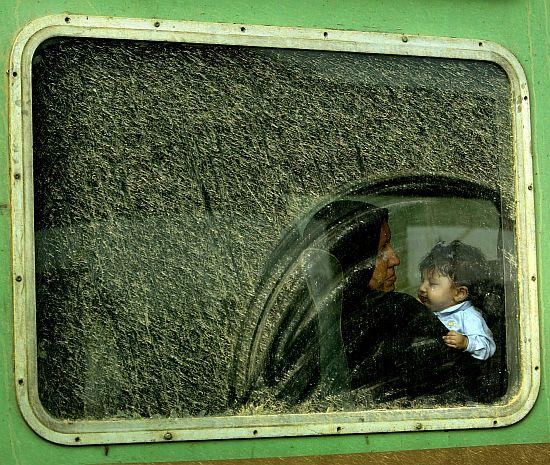 An Iraqi woman holds her child onboard a carriage at Baghdad central railway station May 7, 2003, on the first passenger train to leave Baghdad bound for Basra since the toppling of Saddam Hussein. Kieran Doherty/Reuters
PHOTO Album: The 9-year Iraq war
Last updated on: October 24, 2011 11:18 IST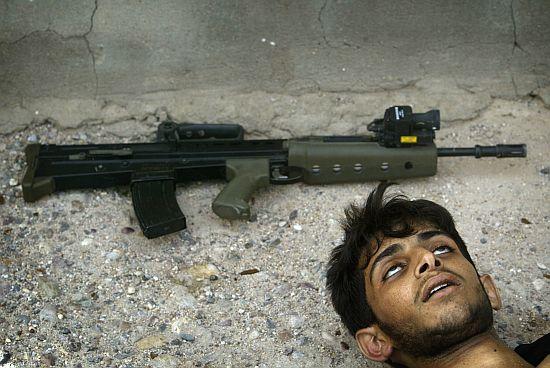 An Iraqi gunman who was shot by coalition soldiers after he threatened joint police patrol with a rocket launcher is treated by British miltary policemen in the Hayaniya neighbourhood of Basra May 20, 2003. Finding criminals is not a problem for British and Iraqi police patrolling the impoverished neighbourhoods -- the problem is that there are too many crimes to investigate and too many lawbrakers to arrest. Damir Sagolj/Reuters
PHOTO Album: The 9-year Iraq war
Last updated on: October 24, 2011 11:18 IST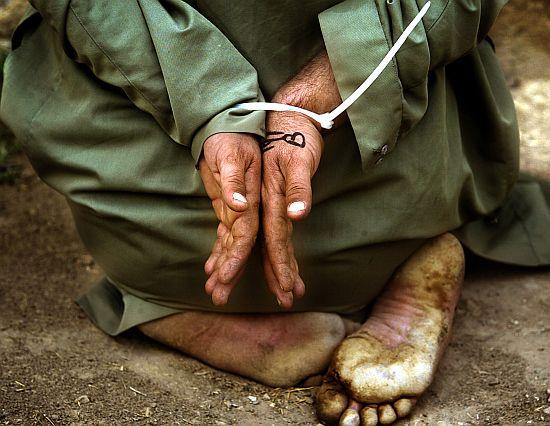 A barefoot Iraqi man is detained by soldiers of US Army's 4th Infantry Division (Task Forse Ironhorse) during a raid in the suburb of Baquba November 9, 2003. US troops raided several houses in Baquba late afternoon looking for members of suspected terrorist cell planning attacks on coalition forces. Damir Sagolj/Reuters
PHOTO Album: The 9-year Iraq war
Last updated on: October 24, 2011 11:18 IST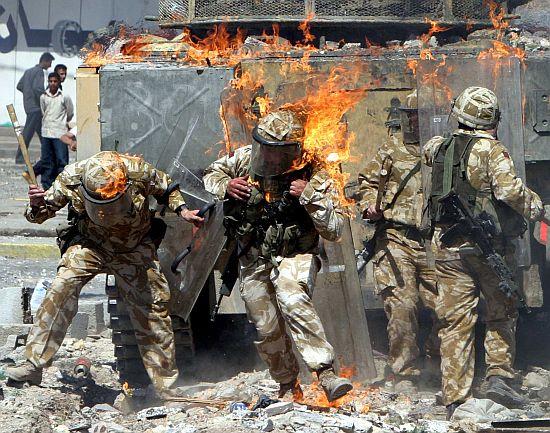 British Army troops are covered in flames from a petrol bomb thrown during a violent protest by job seekers, who say they were promised employment in the security services, in the southern Iraq city of Basra March 22, 2004. As the protest evolved into violence, demonstrators were heard to chant, "Yes yes to Yassin, no no to America, Britain and Israel" in response to the killing in Gaza of Hamas founder and spiritual leader Sheikh Ahmed Yassin. Atef/Reuters
PHOTO Album: The 9-year Iraq war
Last updated on: October 24, 2011 11:18 IST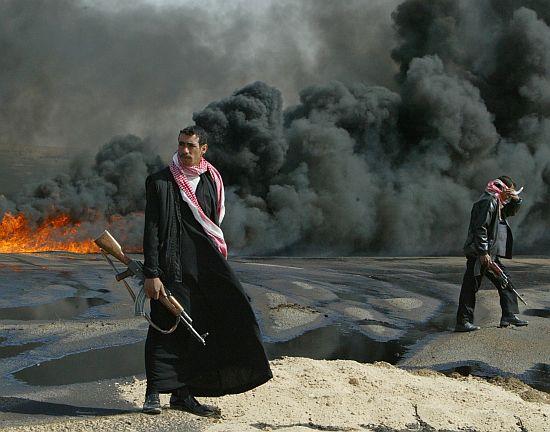 Iraqi policemen guard the burning pipeline near the city of Kerbala, some 110 km south from the Iraqi capital Baghdad on February 23, 2004. Oil infrastructure sabotage has been rare in Iraq's mostly Muslim Shi'ite south, but Iraq's main internal pipeline was on fire after coming under attack a few days ago near the Shi'ite holy city of Kerbala. Faleh Kheiber/Reuters
PHOTO Album: The 9-year Iraq war
Last updated on: October 24, 2011 11:18 IST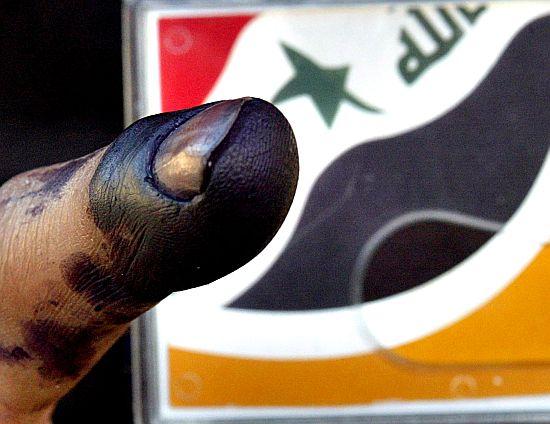 An Iraqi man shows his right index finger stained with blue ink after his casting his vote at a polling station in Amman, January 28, 2005. Iraqis living abroad enthusiastically cast the first ballots in their homeland's landmark election and urged countrymen back home to defy insurgents and vote for democratic Iraq. Ali Jarekji/Reuters
PHOTO Album: The 9-year Iraq war
Last updated on: October 24, 2011 11:18 IST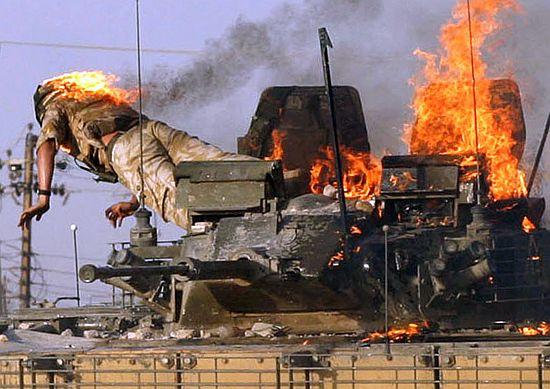 A British soldier jumps from a burning tank which was set ablaze after a shooting incident in the southern Iraqi city of Basra September 19, 2005. Angry crowds attacked a British tank with petrol bombs and rocks in Basra after Iraqi authorities said they had detained two British undercover soldiers in the southern city for firing on police. Two Iraqis were killed in the violence, an Interior Ministry official said. Atef Hassan/Reuters
PHOTO Album: The 9-year Iraq war
Last updated on: October 24, 2011 11:18 IST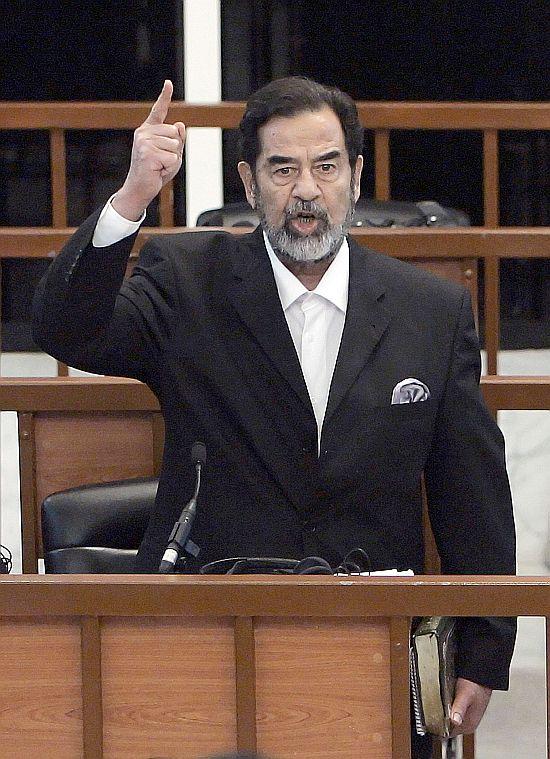 Former Iraqi president Saddam Hussein yells at the court as he receives his verdict during his trial held under tight security in Baghdad's heavily fortified Green Zone November 5, 2006. A US-backed Iraqi court sentenced toppled leader Saddam Hussein to death by hanging for crimes against humanity. David Furst/Reuters
PHOTO Album: The 9-year Iraq war
Last updated on: October 24, 2011 11:18 IST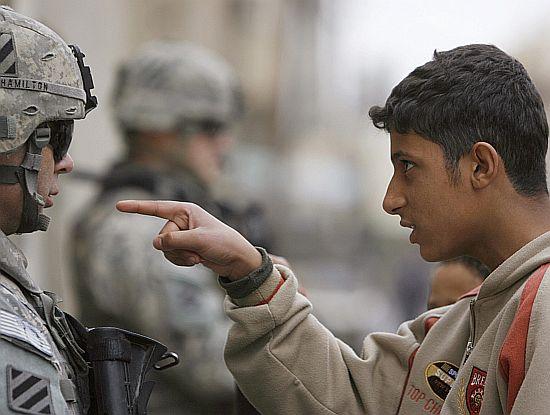 A resident gestures as he talks to a US soldier from 2nd Brigade combat team, 82nd Airborne on patrol in Baghdad's Adhamiya district January 5, 2008. Mahmoud Raouf Mahmoud/Reuters
PHOTO Album: The 9-year Iraq war
Last updated on: October 24, 2011 11:18 IST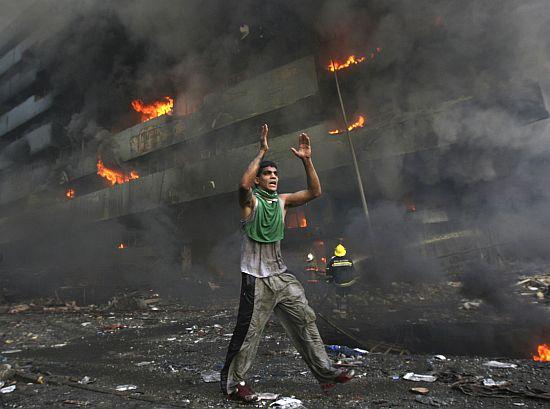 A man runs down a street warning people to flee shortly after a twin car bomb attack at Shorja market in Baghdad February 12, 2007. Three bomb attacks at markets in Baghdad killed at least 64 people and wounded 150 as Iraqis marked the first anniversary of a Shi'ite shrine bombing that pitched the country to the brink of civil war. Ceerwan Aziz/Reuters
PHOTO Album: The 9-year Iraq war
Last updated on: October 24, 2011 11:18 IST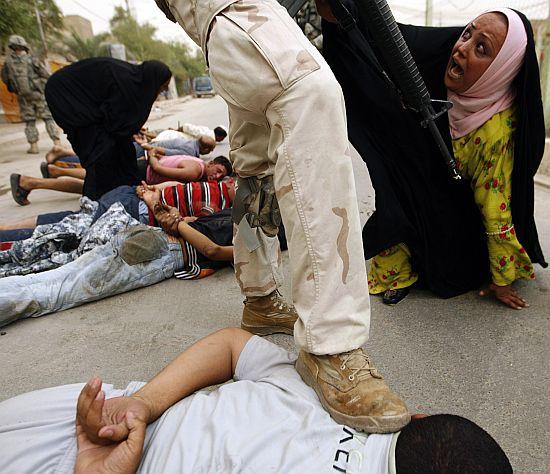 An Iraqi woman reacts as men are taken out of a house and detained by US soldiers of the 2nd Brigade, 1st Armour Division and Iraqi soldiers during a joint military operation in Baghdad's Sadr City July 12, 2008. Damir Sagolj/Reuters
PHOTO Album: The 9-year Iraq war
Last updated on: October 24, 2011 11:18 IST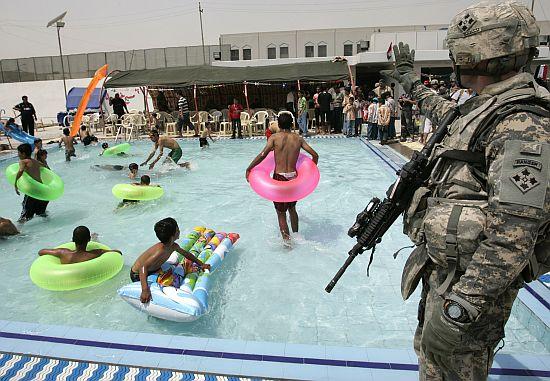 A US soldier waves to residents at the newly-opened Mithaq swimming pool in Baghdad's Sadr City August 30, 2008. Thaier al-Sudani/Reuters
PHOTO Album: The 9-year Iraq war
Last updated on: October 24, 2011 11:18 IST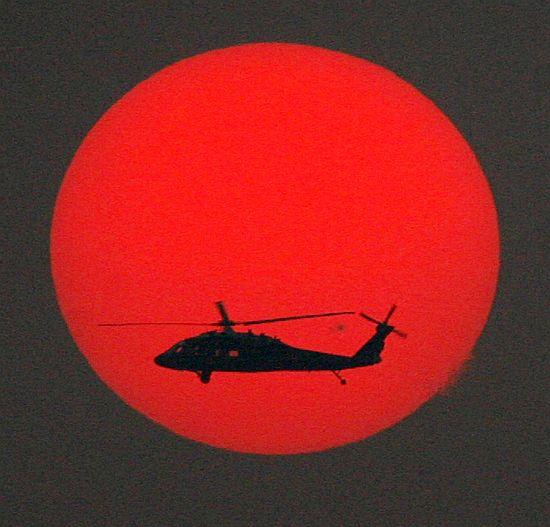 A US Black Hawk helicopter patrols over Baghdad during sunset, December 13, 2009. The coldblooded killing of Iraqi civilians along with two Reuters journalists by the US troops in an Apache helicopter in 2007, revealed in a WikiLeaks video in 2010 had created a major furore around the worldNikola Solici/Reuters
PHOTO Album: The 9-year Iraq war
Last updated on: October 24, 2011 11:18 IST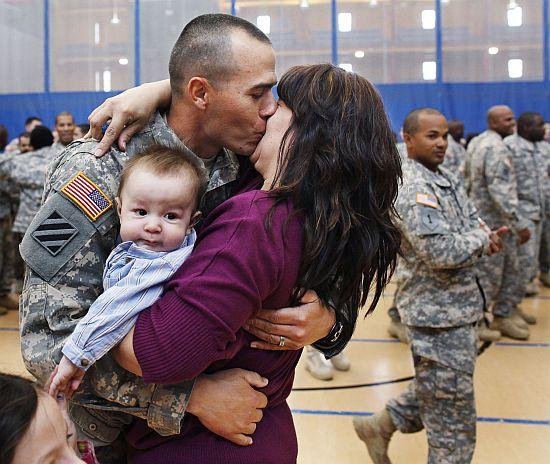 Staff Sgt Keith Fidler kisses his wife Cynthia, as their son Kolin looks on, during a homecoming ceremony in New York, April 8, 2011 for the New York Army National Guard's 442nd Military Police Company's return from Iraq. Shannon Stapleton/Reuters