Parts of Himalayan region face risk of MAJOR quakes
July 18, 2013 12:12 IST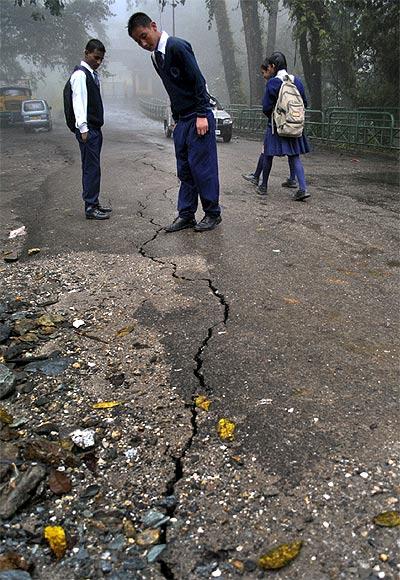 Parts of the Himalayan region face the risk of major earthquakes in the future, according to a study conducted by the National Geophysical Research Institute.
"The conclusion was reached following seismic imaging (similar to human body imaging) of the Kumaon-Garhwal region in Uttarakhand for the purpose of the study," said Shyam Rai, chief scientist (Seismic Tomography), who led the team of NGRI scientists.
The study, also contributed by Stanford University of United States, was conducted from April, 2005 to June, 2008 as sought by the Union government.
The initial report was submitted in 2010.
Full details regarding seismic imaging and other aspects of the study were found out subsequently.
Click on NEXT for more...
Parts of Himalayan region face risk of MAJOR quakes
July 18, 2013 12:12 IST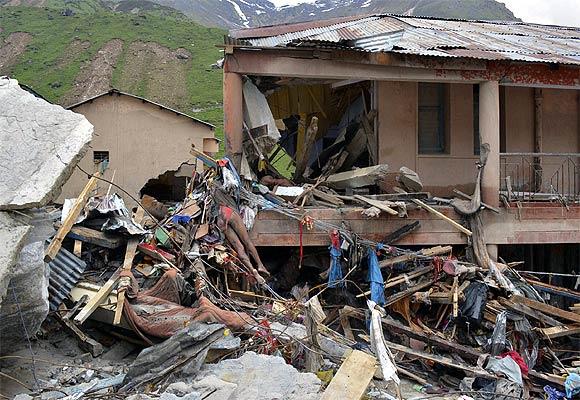 Asked if the recent heavy rains in Uttarakhand were anyway related to the findings, Rai replied in the negative, but said they are coupled systems.
"Uttarakhand was chosen because space measurements were available, which show that the strain build-up is maximum in this area, so the chance of having an earthquake also is maximum. So, they wanted to know where the earthquakes are occurring. Also, in Kumaon, there was a major earthquake in 1803," Rai said.
Quoting from British Gazettes of the date, he said the effects of the 1803 quake were felt right up to Lucknow.
"Even if that has to occur now, with this whole bunch of new constructions and dams and large population, the effect would be far more severe. It is in this context that the government decided that we should have proper monitoring," Rai said.
He said that several destructive earthquakes had occurred along the Indian Himalayan belt -- from Jammu and Kashmir to Arunachal Pradesh.
Geophysicists found that 90 per cent of earthquakes were concentrated along a line that passes through Badrinath, Kedarnath and goes up to north-west Himalayas.
Click on NEXT for more...
Parts of Himalayan region face risk of MAJOR quakes
July 18, 2013 12:12 IST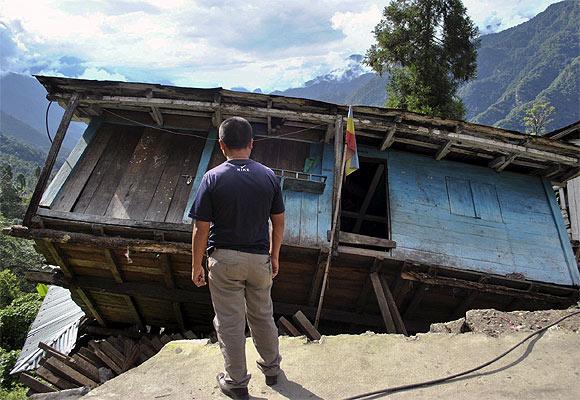 NGRI, under the Council of Scientific and Industrial Research, is the country's largest research and development organisation.
It is generally felt that earthquakes are likely to occur in the region where they have already taken place.
"It is always said that India is going down beneath Asia and that's what basically causing all earthquakes. So, it will be going down at some angle. If this angle is very smooth, then the chances of any energy concentration would be very low. But if the angle becomes high, then there is a stronger chance of energy concentration, where it is bending," Rai explained.
Earlier, it was said that India was "going down" at something like 4-5 degrees which was smooth. However, when we tried to image this, we found that this is not true," Rai said.
Click on NEXT for more...
Parts of Himalayan region face risk of MAJOR quakes
July 18, 2013 12:12 IST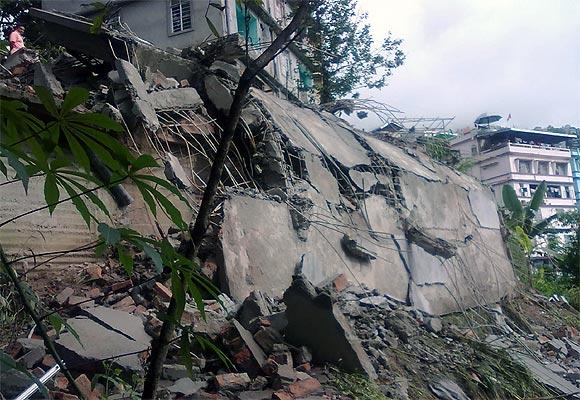 The observation made by the NGRI team was that the seismic development was taking place at the steep angle of 16 degrees.
"From flat to very steep, the energy concentration would always be much higher. This is happening closer to Chamoli. A couple of years back, we had a sequence of quakes in Uttarkashi, Chamoli, and most of them happened where it is bending.
"This is the precise reason why we made the statement that this is bending and bending at a much steeper angle," the chief economist said.
He said the geophysical activity in the area makes it vulnerable to big tremors.
"The chance of energy concentration is going to be much higher. Energy concentration is continuously going on and no big earthquake is coming.
"That means energy is continuously being stored at that location. But it cannot happen indefinitely. It has to be released. If it has to be released, then an earthquake has to be of a magnitude more than eight or there are 20-30 earthquakes of more than seven," he said.
Click on NEXT for more...
Parts of Himalayan region face risk of MAJOR quakes
July 18, 2013 12:12 IST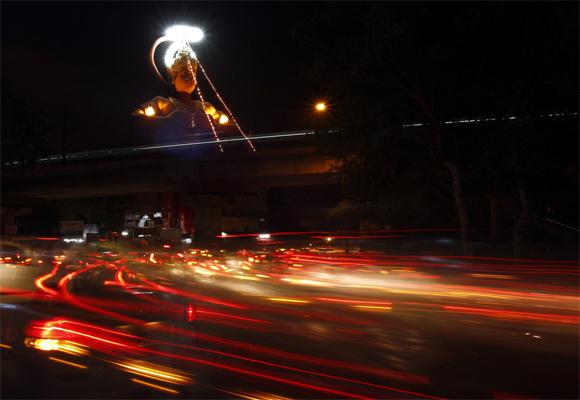 "However, this is unlikely and an earthquake, if it hits the region, could be of the magnitude of more than eight," Rai said.
He said that any major earthquake in Chamoli or Kumaon region could affect Delhi too as the city is in the line.
Rai said it was impossible to assign any time-frame to the calamity.
"However, a prediction based on general pattern of cyclicity of earthquakes shows that it is possible to have an earthquake of more than 7.5 magnitude after 180 years. The last such major earthquake had occurred in 1803 in that area," he said.
Click on NEXT for more...
TOP photo features of the week
July 18, 2013 12:12 IST
Click on MORE to see another set of PHOTO features...
© Copyright 2020 PTI. All rights reserved. Republication or redistribution of PTI content, including by framing or similar means, is expressly prohibited without the prior written consent.