Pakistan turning into a haven for Al Qaeda's white jehadis
Last updated on: March 30, 2012 08:20 IST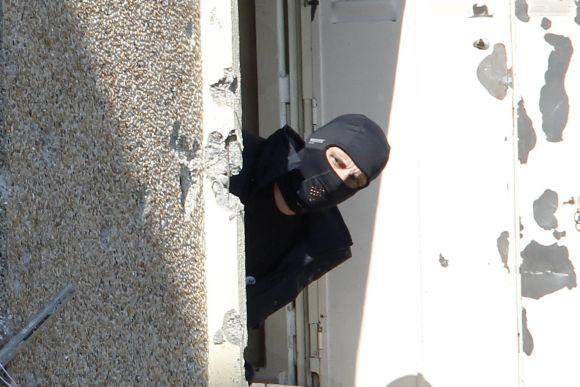 A study has pointed out that the Al Qaeda seeks to employ white men with western nationalities to successfully strike in the heart of the West. Amir Mir reports from Islamabad
The Pakistani Taliban's recent claim that the Al Qaeda-inspired gunman who killed seven people in France was trained in the country's Waziristan region on the Pak-Afghan tribal belt has given credence to earlier reports by the Western intelligence agencies. There have been reports that the Al Qaeda network operating from Pakistan has been recruiting western Muslim converts to widen its pool of potential terrorists beyond the traditional Asian and Middle Eastern radicals who could foil racial profiling and carry out terrorist attacks in the West.
Mohamed Merah, a Muslim French citizen, born to French parents of Algerian descent, killed three Jewish schoolchildren, a rabbi and three soldiers in three separate attacks in the cities of Montauban and Toulouse in the Midi-Pyrenees region of France in March 2012. Merah was shot dead on March 22, 2012, after a 30-hour siege in a gunfight with the special operations tactical unit of the French police.
Before being killed, Merah told a French journalist in a telephonic chat shortly before being killed that he was a member of Al Qaeda and his motives for the gun attacks was for the honor of Islam to avenge the deaths of Palestinian children at the hands of the Jewish Army. He said his only regret was not having been able to execute more killings.
Click NEXT to read further...
'White jehadis' have often found refuge with the TTP
Last updated on: March 30, 2012 08:20 IST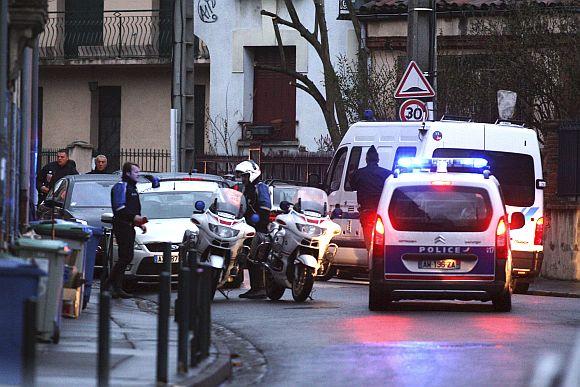 A day after his killing, a spokesman for the Jandola faction of Tehrik-e-Taliban Pakistan (TTP) Ahmed Marwat told Reuters on March 23: "Mohamed Merah was trained with the Tehrik-e-Taliban Pakistan in the North Waziristan region". In fact, foreign militants who are also called 'white jehadis', have often found refuge with the TTP, which was formed in 2007 as an umbrella group of various Pakistani militant factions operating in the tribal areas along the porous border with Afghanistan.
A day after the release of the TTP statement, The Associated Press reported that 85 French nationals are being trained in North Waziristan, being members of the Islamic Jehad Group, which mostly consists of the white jehadis from the West. While pledging allegiance to Al Qaeda, they work closely with the TTP.
As a matter of fact, the Pakistani Taliban have long struggled with their choice of targets, with some of their factions waging a war against the state of Pakistan while some others fighting against the United States and its Western allies in Afghanistan. They are reportedly led by a French commander who goes by the name Abu Tariq. Five of the men had already returned to France in January 2011, to find new recruits; Mohammed Merah could be one of them.
According to The Associated Press report, the white jehadis are being trained in the Miramshah, Mir Ali and Datta Khel areas of North Waziristan in the use of explosives and other weapons. Datta Khel, an Al Qaeda hub, and Miramshah and Mir Ali, two strongholds of the Haqqani network, have long been known to host training camps for white jehadis. Therefore, these three areas are the focus of the ongoing American drone strikes in the North Waziristan region.
An increasing number of westerners who wanted to join the so-called jehad that Al Qaeda is waging against the US-led Allied Forces in Afghanistan have travelled to the Pakistani tribal areas in recent years, which include Americans, Britons, Germans, French, and Australians. The Al Qaeda-trained white jehadis have formed their own contingents in North Waziristan which are also fighting along with Al Qaeda militants on the Pak-Afghan border. The white jehadis living in North Waziristan wear local clothes and travel in small groups in vehicles or on motorcycles, flaunting weapons including assault rifles, rocket launchers and rocket-propelled grenades. It is largely believed that recruits bearing Western citizenship are prized by the Al Qaeda, mainly because of their nationality and English speaking ability.
Click NEXT to read further...
'CIA drones have been targeting white jehadi networks'
Last updated on: March 30, 2012 08:20 IST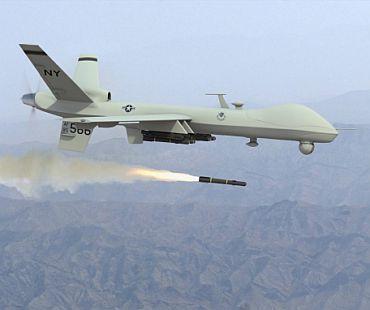 Therefore, more and more Muslim converts from the West [like Mohamed Merah] are currently being chosen by Al Qaeda who are trained and dispatched to Europe for carrying out commando-style terrorist raids - similar to the 26/11 attacks in the Indian commercial capital of Mumbai that killed 166 people, including dozens of foreigners.
The Central Intelligence Agency, which actually runs the drone programme, has been repeatedly targeting Al Qaeda hideouts in North Waziristan, ostensibly to wipe out the white jehadi networks from there. The last time a known white jehadi was killed in North Waziristan in a drone attack was on July 5, 2011, when Saifullah, 50, an Australian national who used to serve as a key aide to Osama bin Laden and had been working in tandem with Al Qaeda's chief military strategist Commander Ilyas Kashmiri, was targeted.
Commander Saifullah was not the first white jehadi from the West to have been killed in Mir Ali. In fact, 16 Germans and two Britons had earlier been killed in the same area in American drone strikes. All the killed Europeans were members of the Islamic Jehad Group, an Al Qaeda affiliate based in Mir Ali, which had suffered another major setback on December 10, 2010, with the killing of two white commanders, both British nationals, in a US drone attack.
The Britons were killed in Khadar Khel town of Miramshah in North Waziristan and identified as Stephen and Smith. They were generally known in the militant circles of North Waziristan with their pseudonyms of Abu Bakar (Stephen) and Abu Mansoor (Smith), and were travelling in a vehicle with two other local militants when the drone targeted them.
Even though the car was completely destroyed and little remained of the bodies, local militants were quick to take out from the burnt vehicle the mutilated corpses for burial. Stephen alias Abu Bakar, 47, was subsequently identified as a senior Al Qaeda operative who was imparting terror training to a group of white jehadis from Great Britain in North Waziristan to carry out terrorist operations in Europe and America. Smith alias Abu Mansoor, 28, was identified as the right-hand man of Stephens in the Islamic Army of Great Britain.
Click NEXT to read further...
'White jihadis frequently contacted their contacts in England, Germany'
Last updated on: March 30, 2012 08:20 IST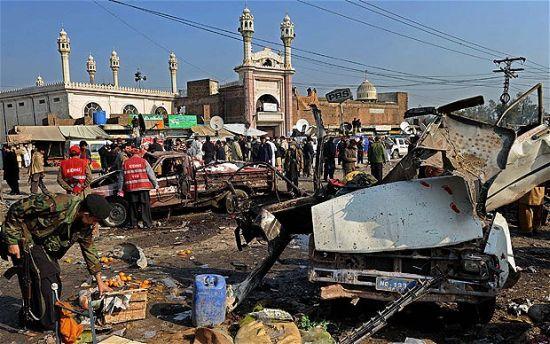 Hardly two months before the killing of Stephen and Smith, another American drone had killed the operational chief of the Britons in the same area. Abdul Jabbar, a British national, was killed in a drone attack in North Waziristan on October 4, 2010. Identified as the chief operational commander of Islamic Army of Great Britain, he was a British citizen, came from the Jhelum district of Punjab in Pakistan, and had a British wife. Abdul Jabbar had earlier survived a drone strike on September 8, 2010, targeting a training camp being run by Hafiz Gul Bahadar. Jabbar was tasked by the Waziristan-based Al-Qaeda leadership to plan Mumbai-style fidayeen attacks against targets in the Great Britain, Germany and France. 
Besides perishing Abdul Jabbar, the October 4, 2010, drone attack also killed German nationals who were known in the militant circles of North Waziristan with their Islamic names of Imran and Shahab. According to the intelligence information shared by the British authorities with their Pakistani counterparts, Jabbar, Imran and Shahab had been making frequent phone calls to England and Germany to their jehadi contacts in a bid to set off the terror plot by finding appropriate accomplices in Europe. In their frequent conversations, the white jehadis reportedly used to talk about facilitators and logistics they needed in Europe to successfully execute their terrorist operations.
However, Jabbar's younger brother, who is a key leader in the lslamic Army of Great Britain, and two other most wanted German jehadis were lucky enough to survive the October 4, 2010, drone hit. The white Germans - 27-year-old Mouneer Chouka alias Abu Adam and 25-year-old Yaseen Chouka alias Abu Ibrahim are real brothers. Coming from Bonn, both lead a group of 100-plus German militants who had travelled to the border areas of Pakistan in recent years, raising security alert in Europe. Information about the presence and activities of the Chouka brothers in North Waziristan as well as the hatching of a Mumbai-like terror plot for Europe actually came from an arrested German jehadi of the Afghan origin, Rami Mackenzie alias Ahmed Siddiqi.
Click NEXT to read further...
German militants sent to carry out Mumbai-like terror attacks in Europe
Last updated on: March 30, 2012 08:20 IST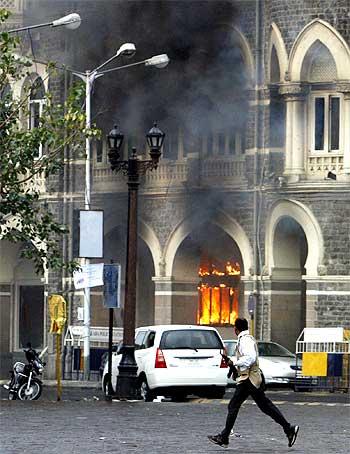 The 36-year-old was part of an 11-member jehadi cell which was to take part in the European terror plot, but was arrested in the Afghan capital, Kabul, in the beginning of July 2010. He is reported to have told his American interrogators that the European terror plot was approved by none other than Osama bin Laden who had also provided some funding to execute the scheme.
Currently being held at the US military airbase at Bagram, Siddiqi further told his interrogators that small teams of militants were to model their missions in European countries on the pattern of Mumbai attacks by first seizing and then killing hostages. While unveiling the terror plans of the Chouka brother, Siddiqi reportedly told his interrogators that they have already trained and sent back to Europe over a dozen well-trained, battle-hardened German militants who had been tasked to carry out Mumbai-like terror attacks in Europe.
The unearthing of the European terror plot soon led to an unprecedented surge in the American drone strikes in North Waziristan, primarily to target the hide outs of the Islamic Army of Great Britain, thus killing many of its top leadership. In fact, many of the terrorist plots directed against Britain in recent years had been linked, either directly or indirectly, to Pakistan, starting with the suicide bombings of London's transport network in 2005.
The attacks, which killed 52 people, were conducted by four British nationals of the Pakistani origin. Furthermore, the September 1, 2005 video message of one of the four 7/7 suicide bombers, Mohammad Siddique Khan, was recorded in the Waziristan region during the latter's November 2004, visit to Pakistan. Through the video broadcast, showing pictures of Dr Ayman al-Zawahiri and the bomber, the Al Qaeda had claimed responsibility for the July 2005 London attacks. "Until we feel secure, you will be our targets and until you stop the bombing, gassing, imprisonment and torture of my people we will not stop this fight," Siddique Khan said in the video tape.
According to the findings of a recent study conducted by the British home department, almost three quarters of the most serious terrorism cases investigated since the July 7, 2005, London terrorist attacks had links to Al Qaeda in Pakistan. The study clearly shows that Al Qaeda seeks to employ white men with Western nationalities to successfully strike in the heart of the West. Hence, the CIA is ruthlessly using drones to dismantle the network of the white jehadis in the Waziristan region in a bid to protect the West from any further act of jehadi terrorism.
TOP photo features of the week
Last updated on: March 30, 2012 08:20 IST
Click on MORE to see another set of PHOTO features...