530 Indians return from Libya with tales of horror
Last updated on: February 27, 2011 11:40 IST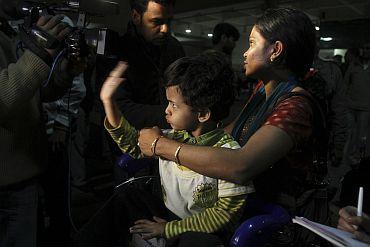 Launching a major evacuation drive, India has brought back over 530 of its nationals from strife-torn Libya by two special Air India planes, even as 88 others crossed over by road to Tunisia from the North African nation facing large-scale protests against the Gaddafi regime.
While the first flight evacuated 291 Indians from Libya and brought them back to New Delhi late on Saturday night, another Air India plane carrying over 235 people landed at the Terminal 2 of the Indira Gandhi International Airport in the wee hours on Sunday.
The two flights had left Libya on Saturday, a day after the authorities there allowed landing of two flights from India per day till March 10.
Click on NEXT to read further...
Indians in good health and cheer: MEA
Last updated on: February 27, 2011 11:40 IST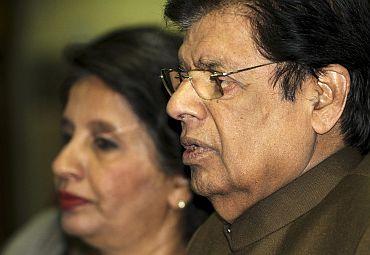 Minister of State for External Affairs E Ahamed and Foreign Secretary Nirupama Rao received the first batch of passengers on Saturday night who were helped by resident commissioners of 10 states, including Kerala, Uttar Pradesh, Tamil Nadu and officials of External Affairs and Overseas Indian Affairs Ministries.
Apart from these, 15 corporate houses, which have their units in Libya, have been asked to help the arriving Indian nationals, the officials said, adding adequate number of buses and taxis have been made available.
"They are all in good health and cheer. The passengers included a large number of women and children," an official statement from the MEA said.
The total number of Indians in Libya is estimated to be 18,000.
'We had to face arson and loot by locals'
Last updated on: February 27, 2011 11:40 IST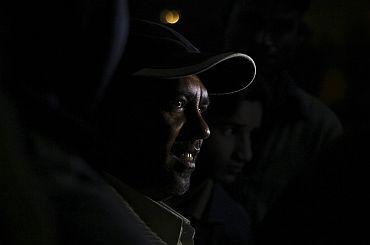 With fear still writ large on their faces, they gave an account of the tales of fear, horror and looting to mediapersons at the airport.
Mohammed Salim, hailing from Kochi in Kerala and who has been living in Libya for the past 31 years, said many people went without food and water for days as the situation turned from bad to worse in Libya, where Muammar Gaddafi is facing large-scale revolt against his regime.
"Ever since the protests began, people started fearing for their lives. I along with a few Indians were stuck in a camp for two days and some people looted all our belongings like laptops and phones," he said.
The engineer said there is "no rule of law" in Libya ever since the uprising began in mid-February and many police stations in capital Tripoli have been burnt down by protesters. "We had to face arson and loot by locals," he said and thanked a group of Libyans, who gave him and a few others shelter.
Karamvir, a carpenter working for a construction company, said he will never go back to Libya even if situation returns to normal. "The situation is very bad. People are looting. They are even killing. There is no police. There is no safety," he said.
The people also thanked the Indian government for making arrangements to bring them back home.
'There is no police, no safety in Libya'
Last updated on: February 27, 2011 11:40 IST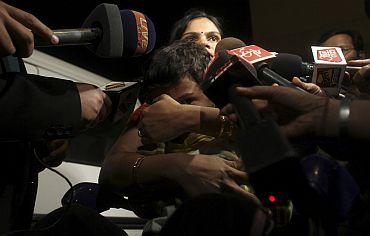 Dr Navbir, who has been living alone in Libya for the past few years, said she had never felt unsafe in the country till the protests broke out.
"Never did I feel that I was in a foreign country. Even when I was coming to board the flight, people asked me not to go," she said.
Navbir said the Tripoli airport was a scene of utter choas as people have to wait for at least 10 hours to get into the airport. "There is a long queue to enter the Tripoli airport and it took 15 hours to reach the check-in counter from the airport entrance," she said.
The story of Mobin Qureshi, a resident of Bijnor in Uttar Pradesh, is a little different. "There is no one to help us. All houses were burnt down and we went without food. Situation of Indians, especially who are residing in workers' camps, is very bad as the camps have been burnt down and there is no shelter, food and water," he said.
Qureshi alleged authorities at Tripoli airport had taken away money, mobile and other valuables from them.
Libya not hell for all Indians
Last updated on: February 27, 2011 11:40 IST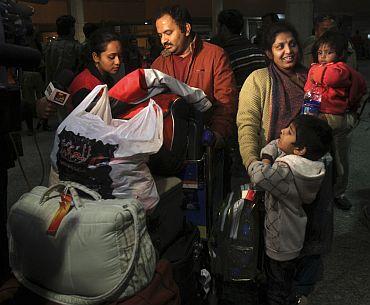 But Sajjan Lal of Hyderabad, who was working in a hospital near Tripoli, praised Libyan leader Moammar Gadhafi saying, "He is a nice person."
Some of the Indians employed as worker and labourers alleged that the police there did not provide any security and instead took away their mobiles, money and other belongings in the pretext of searches.
The prevailing situation in Libya was a blessing in disguise for a group of workers belonging to Rajasthan's Sikar district as they went to that country on a two-month visa procured through agents. They did not have a valid work permit.
"When we approached the Indian embassy they told us that my visa is not a work visa. It is just a tourist visa valid for two months," Vikram Singh said.
The workers alleged that the company for which they were working did not provide any food or medical facilities during the rioting and arson. They also alleged that one of their fellow members was hit by the rioters and sustained head injuries, but was not provided any medical facilities by the company.
Meanwhile, 88 Indians have crossed over by road from Libya to Ras Jedir in Tunisia and were received by officials of
Embassy of India in Tunis, who have set up a camp there.
"All 88, who work for Punj Lloyd, have since been housed in Best Hotel in Djerba (Tunisia), from where they are likely to be flown back to India soon. Another 170 persons are likely to reach Ras Jedir on Sunday," the statement said.
© Copyright 2022 PTI. All rights reserved. Republication or redistribution of PTI content, including by framing or similar means, is expressly prohibited without the prior written consent.