The guys who put a bullet in Osama's head
Last updated on: May 2, 2011 17:39 IST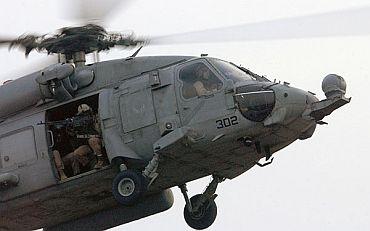 Which was the crack unit that took out dreaded Al Qaeda chief Osama bin Laden inside Pakistani territory in a swift operation? 

According to sources, it was the United States Navy's elite SEAL Team 6 that hit the compound between 1:30 and 2 am on Sunday. The team consisted of 20-25 SEALs under the command of the Joint Special Operations Command in cooperation with the CIA.

They came in four helicopters and were on the compound for under 40 minutes. As they swooped down on the compound, Osama's Arab bodyguards opened fire from the roof of the house. An intense round of heavy gunfire ensued; in addition to bin Laden, three adult males were killed.

Click on NEXT to read further...


The guys who put a bullet in Osama's head
Last updated on: May 2, 2011 17:39 IST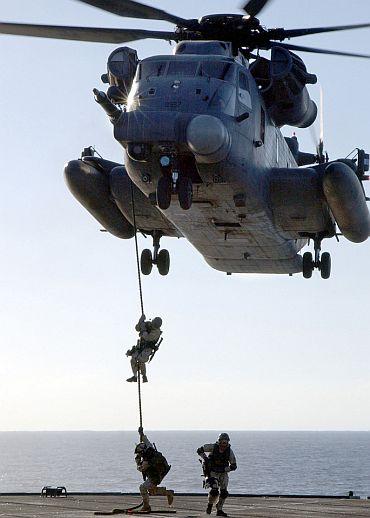 During the raid, one helicopter was lost (the reason remains unknown). The aircraft was destroyed by the crew and the assault force and crew members boarded the remaining aircraft to exit the compound.
The Navy SEAL programme was created by then US President John F Kennedy on January 1, 1962. The US Navy realised the necessity for guerrilla/counter-guerrilla warfare and wanted to establish itself in the role of special warfare.

The term "SEAL" comes from the unit's mission to be able to operate anywhere in the world: Sea, Air, and Land. 

Two original SEAL teams were established: Seal Team 1 out of Coronado in California, and Seal Team 2 out of Virginia Beach, Virginia.

The teams were trained in unconventional specialties such as demolitions, hand-to-hand combat, and high altitude-low opening parachuting. 
The guys who put a bullet in Osama's head
Last updated on: May 2, 2011 17:39 IST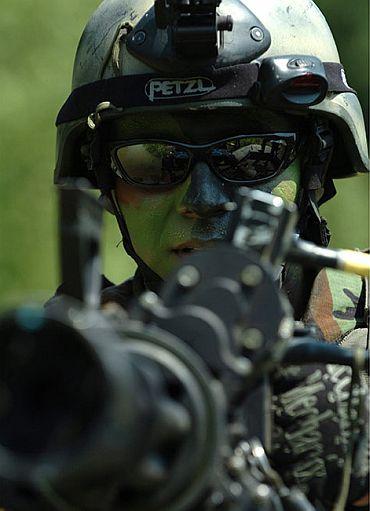 The Navy SEAL teams began deploying overseas as early as March, 1962, when they were tasked with training South Vietnamese soldiers to fight against the northern aggressors. As the conflict in Vietnam expanded, so did the SEALs' role in it. SEAL teams conducted guerilla warfare, disrupting the North Vietnamese Army's supply lines and ambushing key targets.

Since the Vietnam War, Navy SEALs have participated in multiple military operations, including Operations Urgent Fury, Just Cause, Desert Storm, Restore Hope, Gothic Serpent, Enduring Freedom, Iraqi Freedom, and Red Wing. 

Naval Special Warfare Development Group, otherwise known as 'DEVGRU', is a Counter Terrorism unit within US Naval Special Warfare Command.

An elite within an elite, the unit is made up of SEALs selected from existing SEAL Teams. DEVGRU is considered a 'Tier One' Special Operations unit on a par with the US Army's Delta Force.
The guys who put a bullet in Osama's head
Last updated on: May 2, 2011 17:39 IST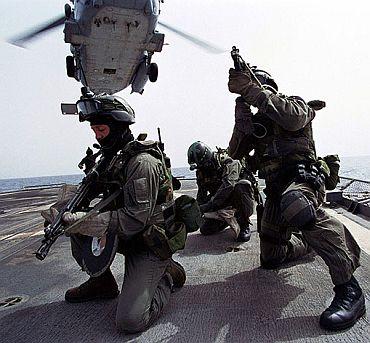 DEVGRU's origin can be traced back to the aftermath of Operation Eagle Claw, the aborted 1980 attempt by US SOF to rescue American hostages from Iran.

With the need for dedicated hostage rescue units stronger than ever, SEAL Team 6 was put together and commanded by Richard Marcinko, (external link) with the unit coming online in 1981. SEAL Team 6's remit included Maritime Counter Terrorism and ship-boarding operations.

SEAL Team 6 was eventually disbanded and, in 1987, its role, minus non-CT ship boarding, which was handed off the newly formed SEAL team 8, was given to the newly formed Naval Special Warfare Development Group.

Although ostensibly a new organisation, DEVGRU was manned by many SEAL Team 6 operators and carried on with the same ethos and standard operating procedures.