Omble family has not yet got an invite to meet Obama
A Ganesh Nadar
A Ganesh Nadar finds out which of the 26/11 heroes President Obama will meet in Mumbai.
Tukaram Omble was the biggest hero of 26/11. The Mumbai police assistant sub-inspector was responsible for the capture of Lashkar-e-Tayiba terrorist Ajmal Kasab alive.

When his vehicle was cornered near Chowpatty beach in south Mumbai, Kasab had rolled down from his seat and pretended to be dead on the road.
Omble, who was part of the police team stationed at the roadblock at Chowpatty beach, walked towards the Pakistani terrorist to disarm him.

As he tried to take away Kasab's AK-47, the terrorist began firing.
Omble refused to let go even as the bullets hurtled into his frail body.
Kasab was captured by his colleagues, but Omble did not survive the attack.

United States President Barack Obama will show solidarity with the victims of 26/11 on the morning of November 6. At the Taj Mahal hotel, where he will stay during his visit to Mumbai, Obama will meet some of the heroes of 26/11.

Sadly, Tukaram Omble's family has not been invited to the event.
Vaishali Omble, the slain police officer's daughter, told rediff.com she was aware of the visit, but "so far we have not received any invitation to meet President Obama."

The Americans may yet invite Vaishali's family, and also the families of slain Anti Terrorist Squad chief Hemant Karkare, Additional Commissioner Ashok Kamte, Senior Police Inspector Vijay Salaskar, Major Sandeep Unnikrishnan and Havaldar Gajendra Singh Bisht who laid down their lives during the attacks.

Also read: How life has changed for a 26/11 hero's family
Just another day at Omble's home
Special Coverage: 26/11, a year later

Please click on the Next button to meet the heroes Obama will meet
Image:
Tukaram Omble's family
Photographs:
Rediff .com
This saviour gears up for the big meeting
November 26, 2008 was just another day for Vishnu Zende, a railway announcer at the Chhatrapati Shivaji Terminus, that is until about 10 pm.
Little did he know that Mumbai's night of horror would make him a national hero.
Thanks to his presence of mind, Zende saved hundreds of lives at CST when terrorists Ajmal Kasab and Abu Ismail killed over 60 people at Mumbai's legendary railway terminus.
Two years on, Zende's brave act remains unforgotten. He will meet President Obama on November 6 in Mumbai.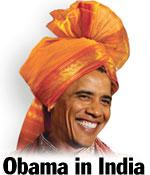 When Zende heard the sound of gunfire, he calmly picked up the microphone and announced, 'Commuters should exit the station from the back entrance of Platform No 1.'
Lost in the call of duty, Zende did not realise that his life was also in danger. He continued to make the announcement for almost 30 minutes and saved the lives of hundreds of commuters.
Zende is thrilled at the honour of meeting Obama, but confesses he has not been informed offically about the meeting the Taj.
"I have only heard that I am meeting President Obama and that too from the media. People at work are talking about it, but I have not received any official intimation yet," he told Rediff.com
He is undecided what he will tell Obama, if given a chance. "I will reply to whatever he asks me," he says humbly.
"I remember every detail of what happened on the night of 26/11. If he asks me any question on what happened that night, I will be able to tell him."
Also Read: When time stood still at CST
Forgotten 26/11 hero gets only Rs 500 as award
Image:
Railway announcer Vishnu Zende in his cabin at CST
Photographs:
Dominic Xavier/Rediff.com
For this 26/11 hero, English won't be a hitch while speaking to Obama
On the night of November, 26, 2008, Chhatrapati Shivaji Terminus was attacked by terrorists. Most people ran for their lives. Jillu Yadav, a Railway Police Force constable, was on duty at the CST that night.
He had only a lathi (baton) with him at that time. But he snatched a rifle from another policeman and fired at the terrorists who were shooting with automatic weapons.
He is said to be one of the reasons that the terrorists left CST station. He was the first Indian to fight back.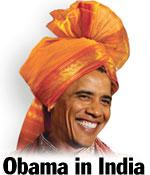 Jillu Yadav is very happy that he has been chosen to meet the visiting American president. "I am honoured and look forward to meeting him," he told rediff.com

"I will reply to whatever he asks me," he says.

"I will go in my uniform. I will be on duty," he declares.

The fact that he does not know English does not deter him. "I am sure there will be an interpreter if he asks me anything."
Also Read: 'We will never lower our guard'
He took on armed terrorists with a .303 rifle
Image:
Jillu Yadav
Photographs:
Uttam Ghosh/Rediff.com