When Michelle danced to Rang De Basanti
Last updated on: November 7, 2010 09:35 IST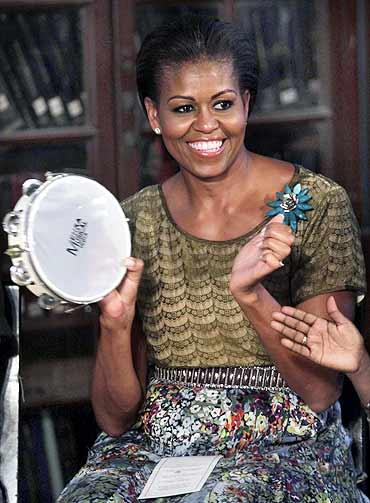 When United States President Barack Obama was talking serious business with industry honchos in at the Trident Hotel in Mumbai, First Lady Michelle had a rather fun-filled Saturday evening.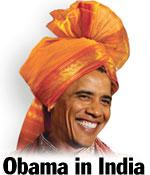 She interacted with underprivileged children enrolled in the academic programme of Make A Difference, a NGO  founded by two young social entrepreneurs who mobilise youth to serve as mentors and teachers for the less fortunate at the library of the Mumbai University.

Michelle put her best foot forward, quite literally as she danced with them to the tunes of a hit number from Aaamir Khan's Rang De Basanti.

Click on NEXT to read further...
The First Lady who loves to dance
Last updated on: November 7, 2010 09:35 IST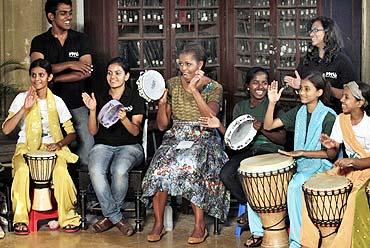 During her half-hour interaction, Michelle spoke to the kids and inspired them to reach greater heights, bringing a touch of compassion to the presidential visit.

"I love dancing.Oh, that was fun!  We should do that again.  Okay, we'll do this once again before we leave," Michelle said. 
"You are very lucky and blessed. I also have two children," she told the kids. "Working hard, studying and having courage are the important things in life. If you keep working hard, education is all that you need. It will help you be whatever you want to be," she told the children.   
You are my dream: Michelle tells kids
Last updated on: November 7, 2010 09:35 IST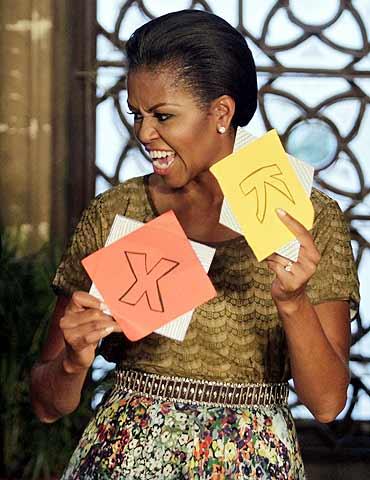 I never thought I will become the First Lady. I didn't grow up with a lot of money. But when I got a chance, I was prepared for it because of education. I got a chance to go to college, and then college opened up a new world to me. I started seeing all these things that I could be," Michelle said at the programme organised by Making A Difference. "You can be successful and smart with education." 
She also invited queries from students. A girl told her that after meeting First Lady, her dreams have come true. Michelle responded, saying "No. You are my dream. We are very proud of you."
Michelle shakes a leg to Rang de Basanti again
Last updated on: November 7, 2010 09:35 IST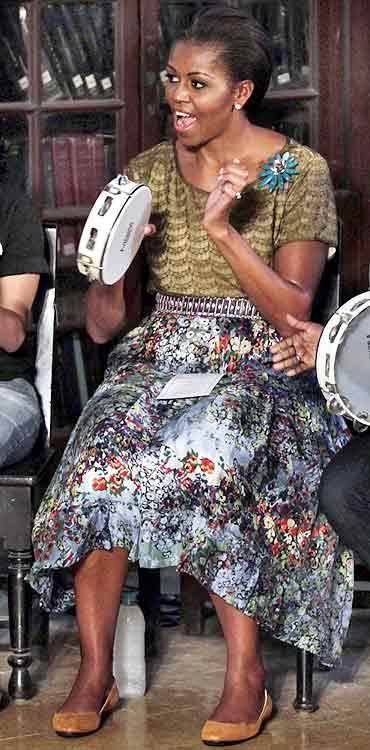 The First Lady told the children that President Obama was trying to make this world better so that kids like you can get better opportunities.Michelle asked the kids to work hard and "educate yourselves."
"Just remember there is nothing that you guys can't do. You know, you have everything it takes to be successful and smart and to raise a family," Michelle said. 

She later signed autographs on their hands and shirts and kept the promise she made to them at the start of the evening --she danced with them once again to the RDB title song.
© Copyright 2021 PTI. All rights reserved. Republication or redistribution of PTI content, including by framing or similar means, is expressly prohibited without the prior written consent.