India and US take ties to the next level
Last updated on: November 8, 2010 13:46 IST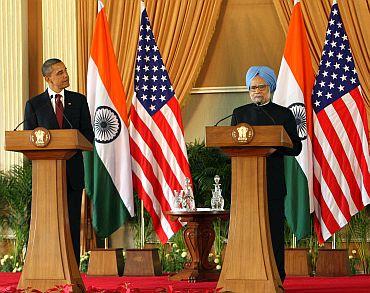 India and US on Monday reaffirmed their commitment to take relations between the two countries to the next level.
Addressing a joint press conference at the Hyderabad House after official talks, Prime Minister Manmohan Singh and US President Barack Obama stated the two countries have decided to expand cooperation in the fields of space, technology, health and agriculture.
Highlights of what Prime Minister Manmohan Singh said:

We are not afraid of talks with Pakistan. You cannot be talking at the same time and simultaneously the terror machine is active as ever before


India is committed to resolving all problems with Pakistan but simultaneously Pakistan should ensure that it moves away from terror-induced coercion. We will be happy to engage productively


We have decided to facilitate people-of-people contact


We will start a new homeland security dialogue


We have shared vision of security in the region


Strengthen efforts to tackle global nuclear proliferation and terrorism


Protectionism is detrimental to both nations


Our discussion have led to a meeting of minds and a evolution of a shared vision

Click on NEXT to read further...


India and US take ties to the next level
Last updated on: November 8, 2010 13:46 IST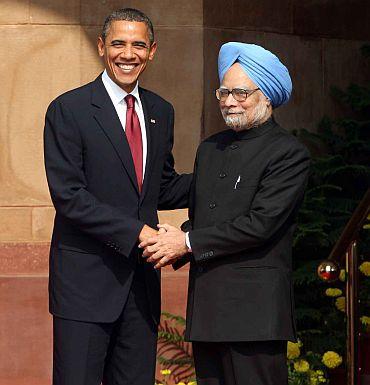 Highlights of Obama's address
Indo-US ties indispensable in facing the challenges of our times


I indicated to Prime Minister Singh that that I am happy to play any role the two parties may want to reduce tensions between the two countries


Dialogue between India and Pakistan may not begin on the particular flashpoint (Kashmir)


Obama commends Prime Minister for his sincere and relentless efforts for peace in the region


Consultations on global issues, including international institutions like the UN, to reflect the reality of the 21st Century


We agreed on the need for all nations in the region to take steps to ensure that there are no safe havens for terrorists


Setting up of clean energy resource centre in India


Greater cooperation between law enforcement agencies of the two countries


Obama welcomes agreement on supply of C-17 cargo planes to India


Obama says India, US relationship must for tackling challenges like terror and to work for a world without nuclear weapons.