'We had been mentored to ask safe questions'
Last updated on: November 8, 2010 16:04 IST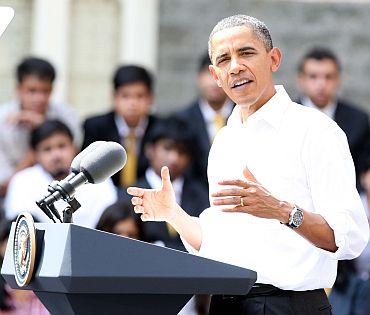 Over 100 college students in Mumbai interacted with President Obama at the St Xavier's College in Mumbai on Sunday.

Rediff.com proudly brings you some first-hand accounts:
Hena, Jaihind College:
It would be impossible to not be touched by, what is locally called as 'Obama fever', as his much talked about visit to St Xavier's College drew nearer.

While people were rather surprised when I said I wasn't too excited to meet him, considering I have always thought politicians are consciously duplicitous.
However, sitting in the St Xavier's courtyard this morning, I couldn't help but feel giddy that I would get to catch a glimpse of the man I have come to know since his election in 2008.

The 'face' that President Obama is and represents for Indian and American public is one of change, progress and hope. The media has served well to further this 'face' and so has his political reputation of being a charismatic orator, which amply filtered through in his interaction with students today.
Pleasantly surprised to hear Michelle opening the interaction with a humble address and a plea to address women's education and work, the President keeps up to the 'face' we know from TV: Graceful and effortlessly charming.

Please click the NEXT button to read further...
'Most of Obama's answers left me rather unsettled'
Last updated on: November 8, 2010 16:04 IST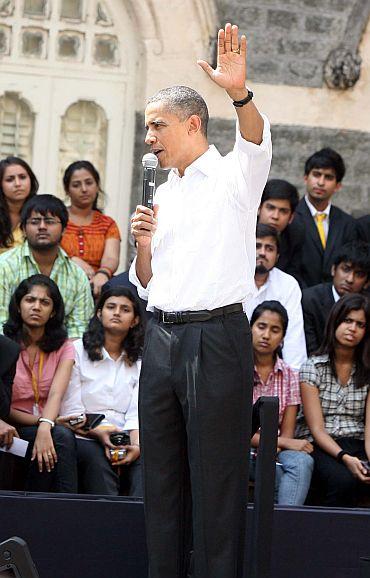 Keeping in mind his suave way of fielding questions, ranging from his stance on religious extremism to other expected questions like the one's on Gandhi's relevance to present day politics, most of his answers left me rather unsettled.
I felt not a word or idea was out of line, the President's address to the students was diplomacy at its finest, where the question of 'universalism' in trade (almost bordering on homogenisation) was thinly veiled with visions of progress, success and perhaps more dangerously, of relatively 'freer' markets.
The part where I grew a little sceptical was that these ideas of loosening the foreign policy from both nations in question, repeatedly furthered the goal of a profit-based democracy, rather than one modelled after one dedicated to protecting 'universal' human freedoms.
These freedoms, as it were, occupied a healthy space in the discussions of jihad, religious terrorism and extremism and in both the First Lady and the President's core address to the students.
'Obama's idea of democracy left me a bit disappointed'
Last updated on: November 8, 2010 16:04 IST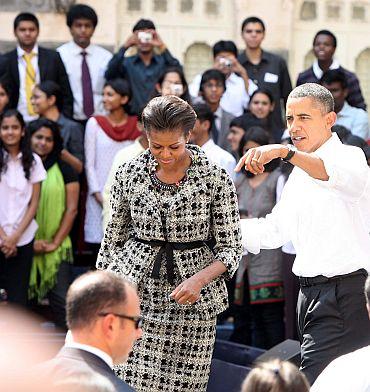 When paired with 'freer markets and moving forward' personal as well as public freedoms were the points of continuous vehement emphasis, that these 'freedoms' -- to hope, to dream, to be -- shouldn't be compromised.
Especially his insistence on encouraging a democracy that is more profit based than a model that encourages and tends to human freedoms left me a bit disappointed as I couldn't reconcile the idea that this is the same President who has made radical changes in his country's health care policies.

But the most problematic aspect of this session was his reiteration of the US foreign engagement policy when asked about the occupation of Afghanistan that seems more imperial than ever to me.
But, by the end of the session, shaking hands with Michelle and him put every one in a good mood and I too forgot about these questions for a while.
Had I got the chance, I would have liked to ask him about the recent nationwide debate on queer teen bullying that America is trying to reconcile and about the stay on proceeds of the US military's Don't Ask, Don't Tell policy that encourages American army officials to keep their sexual orientation deeply entrenched in the proverbial closet and how these to antithetical ideas will achieve a negotiation.
'Michelle's speech resonated with the working class values that we have learnt'
Last updated on: November 8, 2010 16:04 IST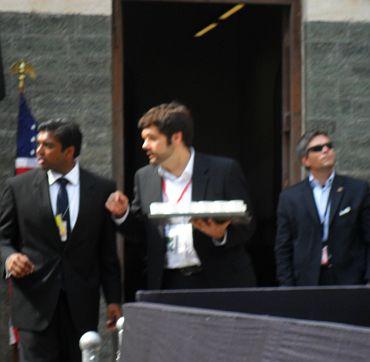 Ratnesh Desai, Jaihind College:
The vibrant country of India is well known for its hospitality and an insatiable appetite to pamper and serve its guests.
Right from the schooling days, Indian students are imbibed with the values of the golden Sanskrit verse Atithi Devo Bhavah -- meaning 'The Guest is Divine'.

With this value reaffirmed by our Principal Dr Kiriti Narain and BMM Dept Dean Professor Warahalaxmi, a delegate of 15 students from various disciplines at Jaihind College went to St Xavier's College on Sunday to have an one-on-one with the President and First Lady of the United States.
Once we entered the townhall meeting at St Xavier's, there was a sweet period of waiting, but the wait became even sweeter as we saw the US Secret Service coming forward to personally serve us students with water and insisting we have some water to keep dehydration at bay.

It doesn't stop here.
To our pleasant surprise, Michelle Obama greeted us with her amicable opening speech, which resonated with the working class values that we have learnt from our parents.
'Strike a strong balance in being Polite and Plainspoken'
Last updated on: November 8, 2010 16:04 IST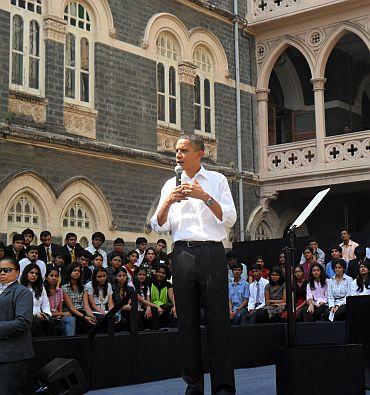 That set the tone of a warm dialogue possible with the President.
Before the meeting, I had asked many friends from other colleges on tips that they may have received from their superiors and most replied that they too, like me, were mentored to ask 'Safe Questions' to our guest and strike a strong balance in being 'Polite' and 'Plainspoken'.

Michelle turned the whole perception around by redefining hospitality. I was more impressed and inspired by her words that how much the world needs us, the youth, to secure tomorrow's world and that it is not just an Indian or an American need, but a human need.
She, for a change, made us feel at home!
Of course, President Obama electrified the student community with the fragrance of goodwill that he attracted through his expressions and body language as he started the speech with the Indian greeting "Namaste."
Above all, he set the tone of dialogue as cordially informal, by asking us three questions, which were food for thought for a future vision and an appeal to reach out to our community.
First, "Where do you see India 20 years from now?"; second, "Where do you see the Indian-US relationship 20 years from now?"; and last, "How do you see yourself contributing to the world?"
'The First Couple had the most magnetic smile'
Last updated on: November 8, 2010 16:04 IST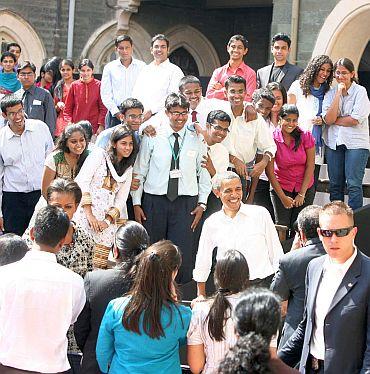 The President candidly answered some tough questions from us, including the one on Pakistan being declared a terrorist State. In my opinion, this is the first time that I have seen anyone of US origin, holding any office of power, to have not dodged the question.
He gave a very pragmatic answer that his policy regarding the terrorist elements is to aggressively engage with the Pakistani government in maintaining the stability of this region.
What I loved about President Obama was the fact that he engaged with us in an open dialogue on such a sensitive issue.
I was also very much astounded by the depth that he reflected on important topics like economics where he highlighted India's level-playing role today and the importance of free markets.
He also answered questions on spirituality where he quoted his pastor's words, "It's hard to preach on an empty stomach" and enlightened the youth to fulfill the severe basic material needs first of the poor and deprived and then step-wise progress to a stage of simple living beyond materialism.

They were about to leave from the other side of the stage, but then came back all the way to shake hands with us in the front row directly opposite the podium.
The First Couple had the most magnetic smile and they greeted us Happy Diwali.

At the end of his speech President Obama thanked us for our hospitality, but we Mr President thank you and the First Lady for your outstanding reciprocation of hospitality!
The persona of the First Couple of America has certainly appealed to young India.
Ask Obama tough questions. Keep him on his toes
Last updated on: November 8, 2010 16:04 IST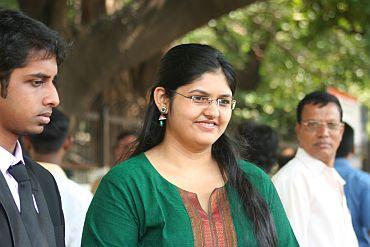 Khushboo Sharma, H R College of Economics and Commerce:
Eight days of waiting in excitement. Finally the moment arrived!
I was one of the selected few who were to meet the President of the United States of America at an interactive townhall discussion.
The morning started as early as 8 am with students from city colleges queuing up excitedly at the security check and getting seated, awaiting the arrival of the President and the US First Lady.
Each one of us was a little nervous, but equally curious, to find out what Mr Obama had in store for the youth of Mumbai.
The talk started with the First Lady Michelle Obama, a very good orator, addressing the students, talking about core human value systems and how they are important inculcations to build and shape the person that you are.
She concluded beautifully by introducing the man himself and urged us to ask him tough questions that kept him on his toes!



'He connected to the youth of Mumbai so beautifully'
Last updated on: November 8, 2010 16:04 IST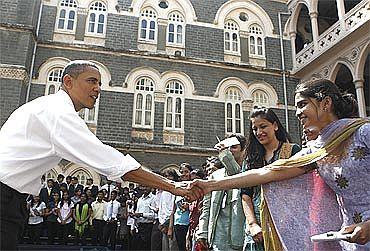 I was quite surprised by his simple attire and humble personality as opposed to expecting an intimidating formal meet. 
His speech and repeated mentions about improving Indo-American relations came across as the highlight of the meet.

Also, he answered all the questions bowled to him about politics, spirituality and religion in complete detail, expressing his personal views.

The sensitive questions on Pakistan and terrorism were handled quite well with diplomacy, without creating any controversy.

I personally loved how the most powerful man in the world came down to our level intellectually and emotionally and connected to the youth of Mumbai so beautifully.

I am truly impressed with his humble nature. I really appreciate the manner in which he has been striking a chord with the people of India, with such dignity and simplicity.

It has been a wonderful experience to be there and interacting with him. I am going to cherish this for a lifetime.


'Students could have asked a lot more issue-centric questions'
Last updated on: November 8, 2010 16:04 IST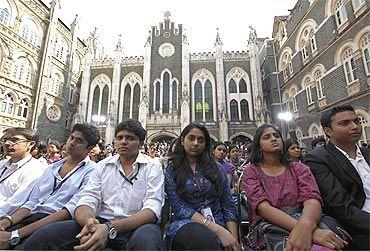 Avnish Pandya, HR College:

The morning began with a huge line of around 300 students who lined up outside St Xavier's College, along with the faculty and mediapersons.

President Obama did make all the students wait, but after his arrival, he made every second count.

The First Lady started the interactions by talking about various stages of Indo-US relations over the years, and introduced her husband as the next speaker.

Dressed in smart formals, the 6 feet 2 inches man walked into the crowd of young men and women and gave the whole crowd a different and a more interesting perspective on various global issues such as global warming, wars, the economic crisis etc.

President Obama did stress a lot on Indo-US relations in previous generations and how these relations will actually play an important part in the future. Then came the time for the best part of the day, the 'Q&A' round.

Various questions about Pakistan and jihad were hurled to him, which he tackled with utmost ease and respect.

The most outstanding question was asked by a student of the H R College of Commerce and Economics, it was about maintaining the right balance between materialism and abstract qualities such as love, compassion and brotherhood.

I personally feel the students could have asked a lot more issue-pertinent-questions about trade policies, world trade subsidies and his outsourcing bill.

The atmosphere was brilliant and all of us students had a very good learning experience.