Obama, Romney fight to the finish in a battle of equals
Last updated on: November 4, 2012 18:58 IST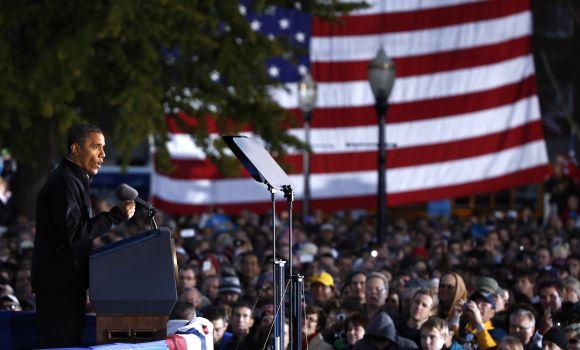 As they zeroed in towards the D-day in a virtually tied presidential race, both Barack Obama and Mitt Romney, battling fatigue and nerves, darted across crucial swing states in their desperate final bids to woo the starkly polarised American electorate.
On the final weekend before this Tuesday's election, the US president and his Republican challenger were locked in a bitter and tight race to the White House, with the outcome still too close to call.
The latest Washington Post-ABC News national poll showed a dead heat this weekend, with Obama and Romney both at 48 per cent among likely voters, though poll pundits gave the incumbent a narrow advantage in the crucial contest for the electoral votes needed to win the election.
Burdened by a sagging economy and fighting partisan attacks from the Conservatives, Obama, 51, is seeking a re-election with a contention that his job was only half done.
While Obama's plea has rested on the need for more time to revive an economy devastated by the cavalier policies of the former Republican administrations, Romney has sought to convince voters that the American economy was on wrong track and needs a change in command to lift it out of the doldrums.
The campaign though has often taken bitter and nasty turns with personal attacks and accusations, as the two sides spent millions of dollars in commercials blitz.
Interestingly, the Obama campaign took a Republicanisque turn when they released a web video featuring the president talking about his faith, with various faith leaders giving a moral, even Biblical backing for his policies.
Please click NEXT to read further....
Obama, Romney fight to the finish in a battle of equals
Last updated on: November 4, 2012 18:58 IST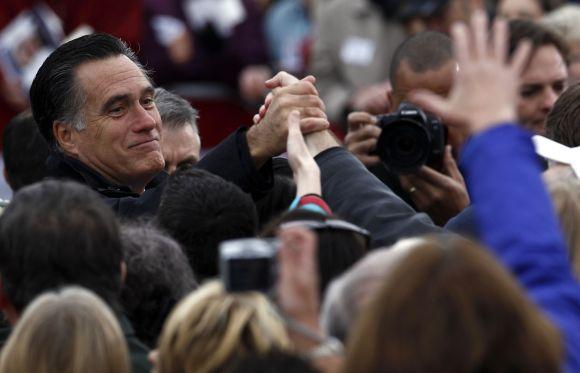 The most recent CNN Poll of Polls -- an average of 10 national polls -- has Obama just one point ahead of Romney -- 48 to 47 per cent, with the results very much inside the margin of error.
With the polarisation starkly visible, close to as many Americans will have voted against the winner as against him, once the results are out.
On a campaign trail that will end in Wisconsin just hours before the election opens on Tuesday, Obama will travel to Florida, Colorado and Ohio.
With the gruelling schedule taking a toll, both Obama and Romney were showing signs of fatigue as they criss-crossed on their multiple state visits to catch any undecided voters in the battleground states.
Please click NEXT to read further...
Obama, Romney fight to the finish in a battle of equals
Last updated on: November 4, 2012 18:58 IST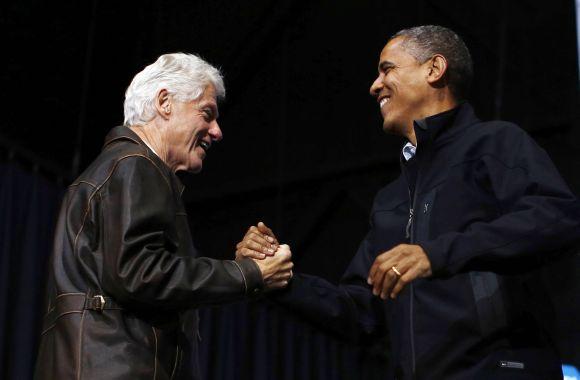 At a campaign event in Virginia, former president Bill Clinton, who has been making regular campaign appearances, joined Obama again and told the gathering in a hoarse voice that he had "given my voice in the service of my president".
"The power is not with us anymore, the planning, everything we do, it doesn't matter. It's all up to you, it's up to the volunteers... you have got the power. That's how democracy is supposed to be," said Obama in Virginia as he also addressed a rally in Milwaukee with pop star Katy Perry.
"We have come too far to turn back now; we have come too far to let our hearts grow weary," he said.
Please click NEXT to read further...
Obama, Romney fight to the finish in a battle of equals
Last updated on: November 4, 2012 18:58 IST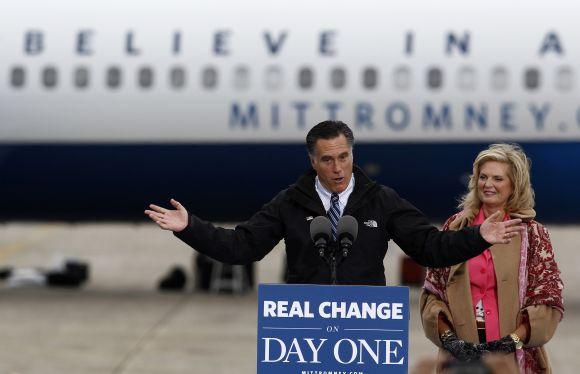 Romney, 65, who took his own time to come out of his image of a flip flopper of repute into a worthy opponent, also continued his attacks against Obama.
In Colorado Springs, he told supporters that the November 6 election would be "a moment to look into the future, and imagine what we can do to put the past four years behind us".
"We're that close right now... The door to a brighter future is there," he said.
Adding to the last days of election rhetoric came a stronger-than-expected October jobs report which expectedly the Obama campaign touted as showing signs of recovery while the Romney group shrugged off as insufficient.
The report showed that the US added 171,000 new jobs in October even though the unemployment rate ticked up slightly to 7.9 per cent.
Last week, Obama shed his candidate robes for a few days and once again donned the role of commander-in-chief as Hurricane Sandy caused havoc on the US east coast.
Almost half of all Americans said Obama's hurricane response would be a factor in their vote, according to the latest Post-ABC tracking poll.
An earlier survey found that 79 percent rated his handling of the situation excellent or good.
TOP photo features of the week
Last updated on: November 4, 2012 18:58 IST
Click on MORE to see another set of PHOTO features...
© Copyright 2022 PTI. All rights reserved. Republication or redistribution of PTI content, including by framing or similar means, is expressly prohibited without the prior written consent.