After tsunami and quake, volcano erupts in Japan
Last updated on: March 13, 2011 22:09 IST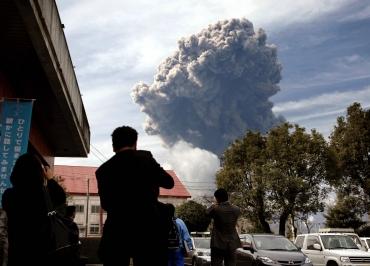 Facing an unprecedented nuclear crisis, Japan on Sunday struggled hard to avert multiple meltdowns at two of its reactors damaged by the devastating earthquake and tsunami, as it braced for a fresh explosion at Fukushima plant amid fears that the toll may exceed 10,000 in the ravaged north-eastern coast.
In south-western Japan, the 1,421-metre Shinmoedake volcano erupted on Sunday, ringing alarm bells as ash and rocks shot up into the sky, but it was not immediately clear if it was a fallout of the massive earthquake.
In a televised statement, Prime Minister Naoto Kan said Japan is experiencing its biggest crisis since World War II as it tackled the aftermath of Friday's massive earthquake with a magnitude of 9, the ferocious tsunami and the worrying nuclear crisis.
Radiation exceeds safety limit
Last updated on: March 13, 2011 22:09 IST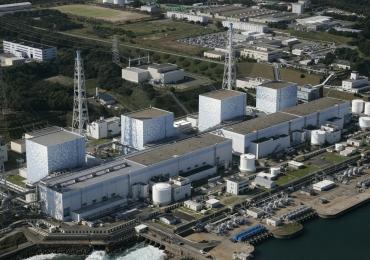 Japanese authorities scrambled to control overheating reactors and fresh radiation threats at the quake-hit Fukushima nuclear reactor as the risk of a second explosion grew. Fukushima shut down three reactors after the tsunami. A day after the first explosion, Kan said the situation at the plant, 240 km north of capital Tokyo, remained 'grave'.
The explosion had blown off the roof and walls around the reactor. The reactor faced serious troubles after its emergency cooling system failed, triggering a fresh radiation threat.
The Fukushima power plant's operator said pressure was rising inside reactor No.3 after it lost its cooling system.
'Possibility of another nuclear explosion'
Last updated on: March 13, 2011 22:09 IST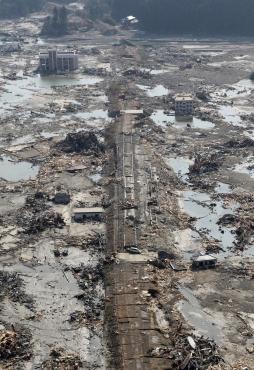 "We cannot rule out the possibility of another explosion," Chief Cabinet Secretary Yukio Edano said. But he dismissed concerns about it having any significant impact on human health.
He said the trouble with the No. 3 reactor has not led to a "meltdown," a critical situation where fuel rods have melted. A complete meltdown can lead to release of uranium and other radioactive materials in the environment and pose serious health risks.
Thousands of military personnel and civilians joined hands in a massive search and rescue operation. Kyodo news agency said 1.80 lakh people were evacuated from a 20- km radius from the nuclear plant, joining over 3.5 lakh who have already moved out.
'Death toll will be in tens of thousands'
Last updated on: March 13, 2011 22:09 IST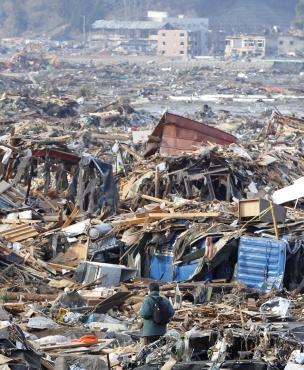 "We have no choice but to deal with the situation on the premise that it (the death toll) will undoubtedly be numbered in the tens of thousands," Naoto Takeuchi, head of the Miyagi prefectural police was quoted as saying by Kyodo news.
The official tally shows 983 confirmed deaths in Miyagi and other areas. Over 600 bodies have been found in Miyagi and Iwate prefectures on the Pacific coast. Miyagi includes the port of Minamisanriku, which was mostly swept away by gushing tsunami waters.
Worst earthquake to hit Japan
Last updated on: March 13, 2011 22:09 IST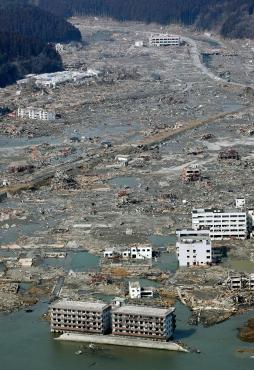 Tokyo Electric Power Co, which runs the power station, notified Japan's nuclear safety agency that the radiation level at the Fukushima No. 1 nuclear power plant had exceeded the legal limit.
Hourly radiation at the site was measured at 882 micro sievert, in excess of the allowable level of 500, Kyodo reported. The nuclear safety agency also said the Tokyo Electric Company acknowledged that the No. 3 reactor of the Fukushima plant had lost its cooling functions, while at least 22 people are known to have been exposed to radiation.
Reactor releasing radioactive steam
Last updated on: March 13, 2011 22:09 IST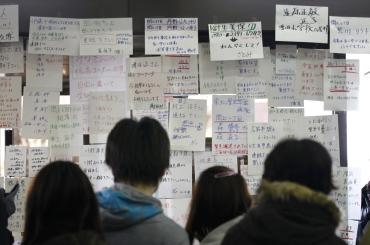 The No. 3 reactor had lost the ability to cool its core and was now in the process of releasing radioactive steam, Edano said. 
It was the sixth reactor overall at the Fukushima No. 1 and No. 2 plants to undergo cooling failure since the massive earthquake and tsunami struck Japan on Friday.
Prime Minister Naoto Kan ordered rushing of additional Self-Defense Force personnel to quake-hit areas. Over one lakh SDF personnel, the largest such operation, will assist in the relief and rescue operations, Defence Minister Toshimi Kitazawa said.  
10,000 missing in Minamisanriku
Last updated on: March 13, 2011 22:09 IST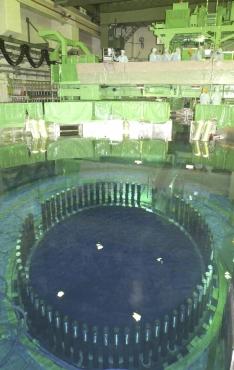 "I would like to ask for maximum efforts in order to save the lives of as many people as possible," Kan told a Cabinet-level emergency disaster meet. "We will do everything to rescue stranded people."
In Miyagi, about 4,400 people had been sheltered in schools, hospitals and inns in the tsunami-swamped town of Onagawa and neighboring Ishinomaki city, local officials said. Also, local governments have been unable to contact tens of thousands of people, and at least 20,820 buildings have been fully or partially damaged in quake-hit areas.
In Miyagi, about 200 more bodies were found in the city of Higashimatsushima, and about 10,000 people in Minamisanriku, over half the town's population, remain unaccounted for, police said. In neighbouring Iwate Prefecture, 258 people have been confirmed dead and the death toll will rise above 500.
Thousands missing, houses flattened
Last updated on: March 13, 2011 22:09 IST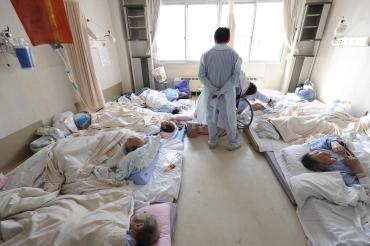 The city of Rikuzen-takata has been devastated by a tsunami. Self Defence Forces say they have found 300 to 400 bodies there. About 5,000 houses in the city had been submerged by the quake-triggered tsunami.
There were also tens of thousands of people that local governments had been unable to contact, police and local officials were quoted as saying.
Nearly 4,400 people remained isolated as of Saturday night in the tsunami-swamped town of Onagawa and neighboring Ishinomaki city, in schools, hospitals, inns and the Onagawa nuclear plant where they had been evacuated to, Miyagi officials said.
In Iwate Prefecture, north of Miyagi, many bodies were found on Sunday under the rubble in Rikuzentakata, and the US military in Japan is poised to airlift about 640 isolated residents there by eight helicopters, the police and the Defence Agency said.
After tsunami and quake, volcano erupts in Japan
Last updated on: March 13, 2011 22:09 IST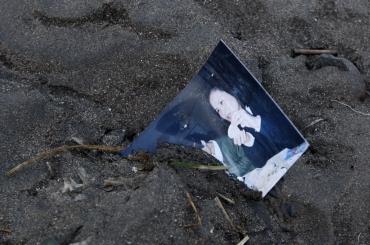 Nearly 5,000 houses in the city had been submerged by quake-triggered tsunami, and the city office has confirmed that only 5,900 of its population of about 23,000 had taken shelter. More than 215,000 people are said to be living in 1,350 temporary shelters in five prefectures in quake-hit areas. 
One report said four trains had disappeared following the quake and still had not been located. International disaster relief teams are being sent to Japan, with the United Nations helping to coordinate the operation. Japan's worst previous earthquake was of 8.3 magnitude and killed 143,000 people in Kanto in 1923. A magnitude 7.2 quake in Kobe killed 6,400 people in 1995.