Noida farmers' stir: Rahul misquoted, says Congress
Last updated on: May 18, 2011 17:33 IST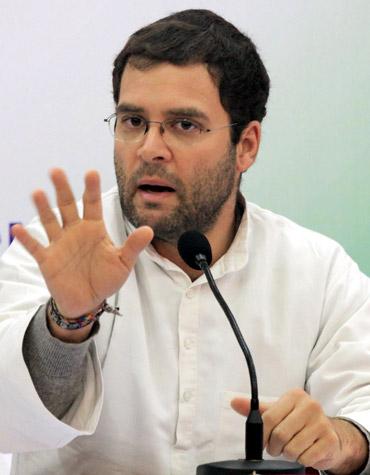 With his comments on burnt bodies and rape of women in Greater Noida villages triggering a major controversy, the Congress on Wednesday initiated a damage- control exercise saying Rahul Gandhi did not say that 74 persons have been killed there.
Congress General Secretary Janardan Dwivedi maintained that Gandhi merely repeated to the media what the villagers told him after meeting Prime Minister Dr Manmohan Singh on Monday. The party stuck to his demand that the Uttar Pradesh government should probe into the allegations of burning of men and rape of women.
"Whatever has come in media in unfortunate. Nowhere did Rahul Gandhi mention the number of 74 or 74 bodies. He had only said that at one place an ash heap of 70 foot area was there in which bones were found," Dwivedi told reporters.
His comments came in the wake of media reports quoting villagers of Bhatta Parsaul in Greater Noida that while there was police brutality, there was no complaint of rape of women and burning of men.
Click NEXT to read further...
'Concern about decrease in agricultural land is natural'
Last updated on: May 18, 2011 17:33 IST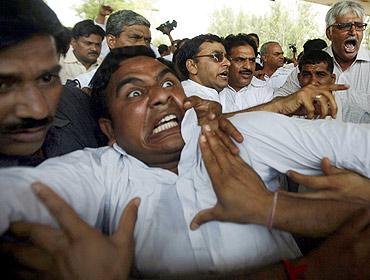 Asked what the party has to say on the allegation of Gandhi that women had been raped and people murdered in the villages, Dwivedi said, "This is a matter of investigation. It should be investigated. If bones have been found, whose bones are these should be found out. And if atrocities have taken place against women and they were even beaten up, why has it happened."
When asked whether the controversies will affect Congress plans to take up farmers' agitation issue now, he said the party is agitating over an issue and is serious about it. He said that while there is an issue of food shortage on one hand, the farmer's land is shrinking on the other hand.
"The concern about decrease in agricultural land is natural." He also said that there are land acquisition laws in different states and they are doing well in some of them including the Congress-ruled Haryana.
Corruption sets records in BSP regime: Digvijay Singh
Last updated on: May 18, 2011 17:33 IST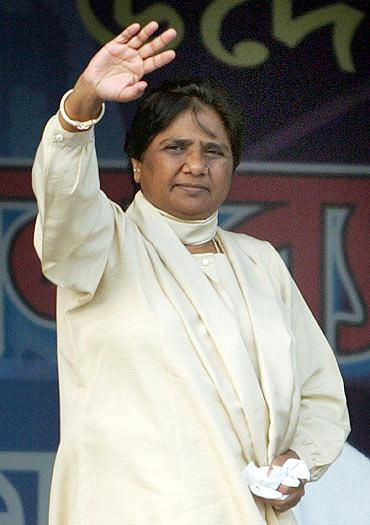 Meanwhile, Congress General Secretary Digvijay Singh accused the Mayawati government of institutionalising corruption and said people fed up with deteriorating condition of the state want to associate with the party in the 2012 Assembly polls.
Corruption set records in the Bahujan Samaj Party regime, and it has been institutionalised by the Mayawati government, he said while addressing the inaugural session of a two-day Uttar Pradesh Congress Committee convention in Varnasi.
Inaugurating the convention, Rahul Gandhi said he would address the party workers after listening to their views. "I am here to hear you. I will speak only after hearing your views."
Slamming the BSP-government in the state, Singh said, "The posting of officers are done after taking money. And such officers after posting extort money for none other than common man." He also alleged that during Mayawati's rule the condition of dalits and poor have deteriorated.
'People are looking forward to Cong rule in UP'
Last updated on: May 18, 2011 17:33 IST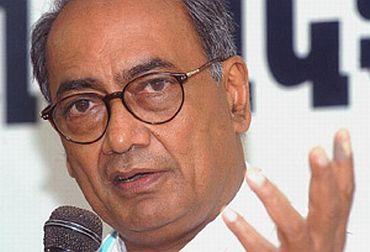 Apparently referring to farmers' agitation in Greater Noida, he said land was acquired in the state to be handed over to industrialists and there is no place for poor. "People have faith in Sonia Gandhi and Rahul Gandhi and in 2012 we have an opportunity to emerge as a force again," Singh said, adding that rising crime graph and other law and order issues in the state are haunting common man.
Stating that the Congress was out of power for 22 years in the state and people had seen misrule of Samajwadi Party, BSP and Bharatiya Janata Party, Singh pointed it is the right time to show party's strength and gear up for 2012 polls. "We are in opposition since 1990. We might have committed some mistakes but during non-Congress governments, Uttar Pradesh become a backward state from a leading state," Singh said.
The Congress general secretary said, "The opposition parties have divided the state on the basis of caste, creed and religion. People realise it and are looking forward to Congress once again."
Asserting that public want to associate with the party, Singh said in the Lok Sabha polls, when pundits were claiming that Congress would hardly get 7-8 seats, it won 22 seats. Congress leader said the convention will help the party to chalk out its plan for 2012 Assembly polls and suggestions emerging from it will be discussed at the CWC meeting.
© Copyright 2021 PTI. All rights reserved. Republication or redistribution of PTI content, including by framing or similar means, is expressly prohibited without the prior written consent.