No-nonsense EC makes TN polls a drab affair
Last updated on: April 1, 2011 12:55 IST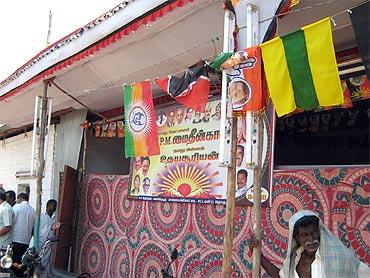 With the Election Commission keeping a hawk's eye on affairs, the usually flamboyant campaigns for Tamil Nadu polls have turned somewhat colourless, finds A Ganesh Nadar
In southern Tamil Nadu, the electoral tug-of-war will be between the front led by the ruling Dravida Munnetra Kazhagam and the coalition led by opposition All India Anna Dravida Munnetra Kazhagam, much like the rest of the state.
DMK's organising secretary in southern Tamil Nadu M K Alagiri is a political heavyweight here, who swung the fortunes in favour of his party at the by-elections in Thirumangalam.
Alagiri, the eldest son of DMK chief and Chief Minister M Karunandhi, is also the Union fertiliser and chemicals minister.
After repeated reports of money power being used to win elections in the southern districts of Tirunelveli and Tuticorin, the Election Commission has taken some rather strong steps to counter the abuse of the system.
A police outpost on the outskirts of Tirunelveli checks each and every vehicle that passes through. The policemen, personnel of Gujarat's State Reserve Police, ask each driver his name and the reason for his visit. They have been instructed to check for extra cash or gift items that may be used to lure voters.
A taxi driver inquired how the policemen were planning to prevent people from carrying cash inside the district while travelling in buses.
In Tirunelveli, no flags, posters or banners were visible. No sign of 100-feet banners that used to dot the area during earlier elections.
DMK party workers say that other than the candidate's car, only two other vehicles are being allowed to pass through. The car with the loud speaker informs the voters that the candidate had arrived.
Both vehicles have to be registered with the Election Commission. The number of workers in the vehicles has to be mentioned in the permit allotted to them.
'Dictatorship of the election commission'
Last updated on: April 1, 2011 12:55 IST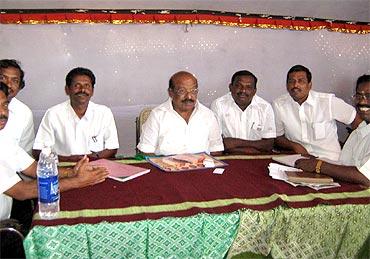 The workers are allowed to wear caps with the election symbol and carry party flags. Parties are allowed to print leaflets, but each leaflet or poster has to mention the total number printed. Wary of the total amount showing up on their expenditure account, the political parties have decided to go easy on posters and pamphlets.
Covering walls with party symbols and election slogans is no longer allowed witin city limits. In villages, the party needs to produce a written latter of  permission from the property owner to paint their grafiiti on the walls.
The EC adds the expenditure spent to the party's account, on the basis of the amount spent on each square metre of the wall.
A senior DMK party worker said, "It is like a dictatorship of the Election Commission, it is like army rule. Businessmen who come here to buy goods are stopped and their money is seized. Car and van owners, drivers, painters, pandal contractors, banner makers and labourers who used to get work during elections were happy then. That is no longer the case thanks to the EC".
So the party candidates have little choice but to go door-to-door canvassing, where they tell the voters their party's achievements in the last five years or what their party plans to do if it comes back to power.
TPM Mohideen Khan, the DMK candidate in Palayamkottai assembly constituency, was a minister in Karunanidhi's cabinet. He told rediff.com, "I have been canvassing all day. I stick to main roads; members of our youth wing go door-to-door to seek votes. Everyone knows me in my constituency and everyone knows what Kalaignar (M Karunanidhi) has done in the last five years, so we will win easily".
'Everyone knows that Raja has been arrested'
Last updated on: April 1, 2011 12:55 IST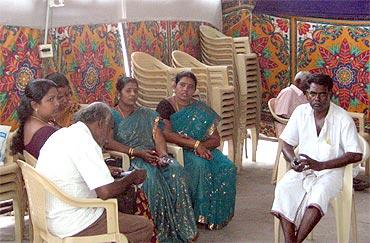 The AIADMK election office in Tirunelveli was also buzzing with activity. Party workers were discussing poll strategies and seeking votes.
The workers admitted that the 2G scam, involving DMK leader and former telecom minister A Raja, was an issue only in urban areas. In the villages, said AIADMK members, price rise and power cuts were the main issues.
"Everyone knows that Raja has been arrested and his aide Sadiq Batcha has committed suicide," they said.
In their door-to-door campaign, Jayalalitha's men remind voters that all of them didn't get the television sets, gas stoves and two acres of land promised by the DMK before the 2006 election.
AIADMK cadres claimed that they were keeping a lookout for candidates distributing cash during the campaign period.
"It was easy to do so in the by-election because the entire party machinery was there. It will not be so easy (to distribute cash among voters) during state elections as everyone will be busy in their own constituencies," they said.
Deputy Chief Minister M K Stalin has already campaigned in the area, informed DMK workers. They are not waiting for the next star campaigner -- comedian Vadivelu -- on April 2.
'They will find a way to do what they like'
Last updated on: April 1, 2011 12:55 IST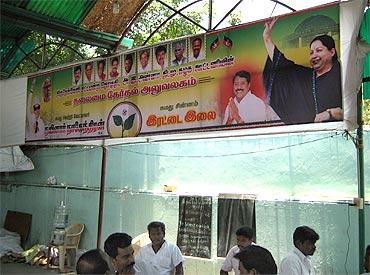 Not to be outdone, AIADMK supremo J Jayalalithaa will herself visit Tirunelveli on April 3, 2011.
According to the workers at AIADMK's office in Tuticorin, five auto rickshaws were plying in several electoral wards, playing campaign CDs sent by the party headquarters in Chennai.
Party workers were distributing notices, with photographs of founder MGR, Jayalalithaa and other senior leaders, with 18 specific ideas that they would implement in Tuticorin.
"On Thursday, one of our supporters from the harbour area called and said some people were distributing money there. We called up the Election Commission officer; he has given us his mobile number. But by the time he reached, they had all left. This is not the first time we have lodged a complaint. But they always disappear before the officers reach there. Obviously someone informs them too," said an AIADMK worker
Speaking about the poll issues in the district, a party worker added, "We are talking about frequent power cuts, escalating bus fares and the monopoly they have on cable TV".
All the major parties in Tamil Nadu run their own TV channels, which are witnessing their share of the electoral slug fest.
In spite of workers from both parties cribbing about the EC's high-handedness, senior political analysts say, "They will find a way to do what they like in spite of the election commission's diktats".