Nitish Kumar, please note: How Jaya runs her noon meal scheme
July 19, 2013 16:42 IST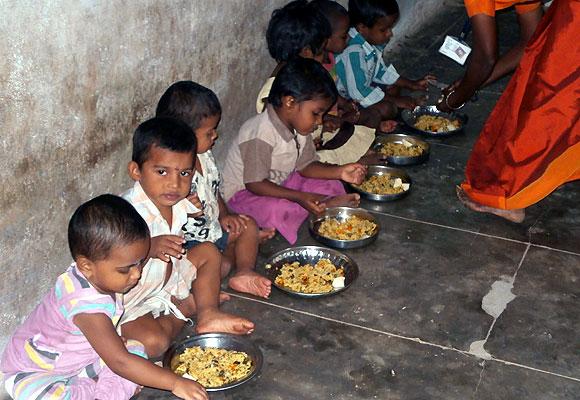 Tamil Nadu's decades-old noon meal scheme is a resounding success because it puts health and nutrition in the forefront of its effort, reports A Ganesh Nadar after visiting three schools.
From the womb to the tomb Tamil Nadu keeps one well-fed, it seems.
While the pregnant mother gets food supplements delivered to her home, the lactating mother gets health supplements. And the new-born child is given nutrients at home.
Little older, trom the age of two to five, the child can have a mid-day meal at the village anganwadi; from standard one to standard five at the primary school kitchen; and from standard six to 10 in the high school kitchen.
After that he or she can breakfast on idlis for one rupee and lunch on dal, rice and curd rice for less than 10 rupees. Sonia Gandhi may think the food security bill is her own idea, but Tamil Nadu has been providing food free to the poor for decades now.
K Kamaraj, the kingmaker of the undivided Congress party, introduced the noon meal scheme in Tamil Nadu in the early 'sixties. He knew that poor children shunned school and went to work as there was no food in the house. Once this meal was assured, parents sent their kids to school and not to work. So the child studied and at the same time got one complete meal. Admissions in schools increased and drop-outs decreased.
Later on M G Ramachandran, the iconic hero of Tamil cinema who became chief minister, added an egg to this meal. M Karunanidhi made it two eggs. 'Amma', as Chief Minister Jayalalithaa is known, made it five eggs a week. The one rupee idli and the five rupee dal-rice at Amma Unavagams are her latest ideas.
Sri Ganesar Higher Secondary School in Panickanadarkudieruppu, Tuticorin district of Tamil Nadu, is a revelation. The village has 300 homes of which 200 are locked up as the families are spread out in Chennai, Mumbai and Coimbatore. There are less than 25 children of school going age. But the strength in this school is close to 2000!
The noon meal organiser, P Jayalakshmi, says she has been working in the school for nine years. "We have a sanctioned strength of 165 but only 160 come to eat," she said. Only 160 in a school of 2000? "Sir, there are five other kitchens and the children are fed at different places. There is one in the primary school and four in the hostels," she explained.
Please click on NEXT to read further...
Nitish Kumar, please note: How Jaya runs her noon meal scheme
July 19, 2013 16:42 IST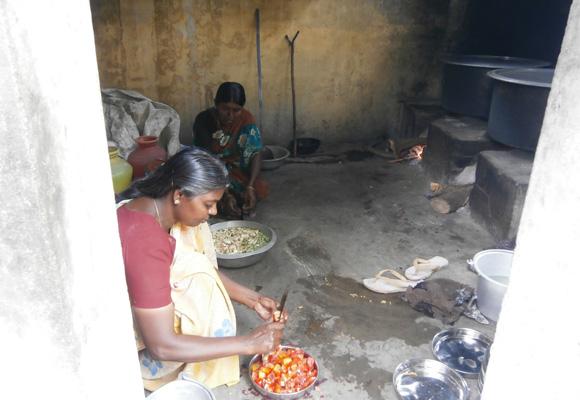 In the kitchen, two women were cutting vegetables, which looked remarkably clean. Two huge vessels were on the fire, their contents on the boil. There are no stoves, gas cylinders or electric ovens, good old firewood it is. "There is dal in one and rice in the other, later we will put in the eggs," said Jayalakshmi.
"We get all our supplies from the government. Each child is entitled to 150 grammes of rice, 15 gm dal, one egg, and also 80 paise per child for vegetables and firewood. The school gives us the kitchen, the vessels and anything else we want," she added.
"Two years back the government gave stainless steel plates and glasses to each student, but those the students take home and bring back every day," she added.
At exactly 12.40 pm the lunch bell goes off and students came running out of their classrooms carrying plates. They helped themselves to the rice which was kept in the open, the dal was served by Jayalakshmi, and the children took one egg each.
The boys ate in the open ground while the girls ate in the corridor. Jayalakshmi pleaded, "Tell them to give us a dining hall, please." The headmaster smiled, "They can eat in the classrooms when it rains," neatly side-stepping the dining hall demand.
The students said the food was tasty on some days and bad on others but it was always hot and clean. Jayalakshmi concluded, "There is no question of a Bihar-like incident happening here, I buy the vegetables everyday. The eggs I put in the water first. If it floats I throw it out. The food is always covered. Lastly, but most important, in nine years I am always the first to eat. I serve the children 40 minutes later. So if anything is wrong I will be the first to know."
The headmaster, Gopal, smiled at this and said it was true. "I depute two teachers to keep an eye on the cooking and also when the children are eating."
Please click on NEXT to read further...
Nitish Kumar, please note: How Jaya runs her noon meal scheme
July 19, 2013 16:42 IST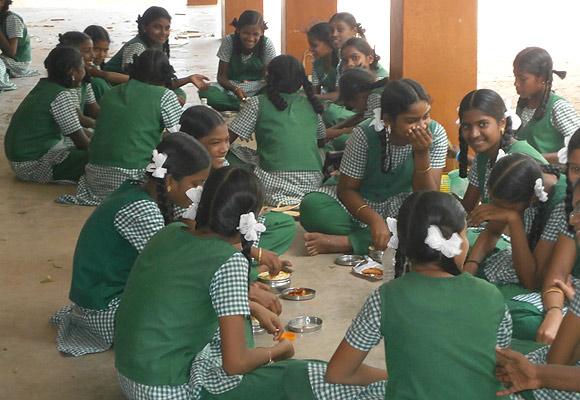 The Swamy Nelliappar Primary School opposite the Medical College Hospital in Tirunelveli is huge, possibly more than 10 acres. "The high school and higher secondary school are also in the same compound but on the other side," explained the watchman.
This school, though run in the name of a very popular and old temple, is actually run by the executive officer of the temple who is a government servant. So the locals call it a government school.
The headmistress, R Muthurani, has been working in the school for 17 years. "Have you received any complaints about us or have you chosen this school for some other reason?" she wanted to know. "Yesterday I visited a management high school and today I am visiting a primary government school," I explained to her, allaying any suspicions of my motive.
The kitchen is dark but clean. There is firewood piled on one side. There is a lady shelling eggs. The rice has already been cooked, and the dal was boiling on the fire. Everything was covered.
Here the rations are less than in the high school. Here every student is entitled to 100 gm rice, 15 gm dal, one egg and 70 paise for vegetables and firewood. "70 paise is very less but I have learnt to manage," says the organiser, C Muthulakshmi.
When asked how long she has been working here she laughed. "27 years. I joined at a salary of Rs 140 a month and now am paid Rs 3000 a month. I can expect a pension of Rs 750 a month."
Thaiamma, one of the two cooks, was in a combative mood, "These organisers have a grievance day meeting at the block office on the 12th of every month where they can air their problems. What about us? You think we don't have problems? Why can't they have a meeting day for us also?" She is paid a salary of Rs 2000 a month, an improvement on the Rs 600 she was paid five years back when she joined the school.
Please click on NEXT to read further...
Nitish Kumar, please note: How Jaya runs her noon meal scheme
July 19, 2013 16:42 IST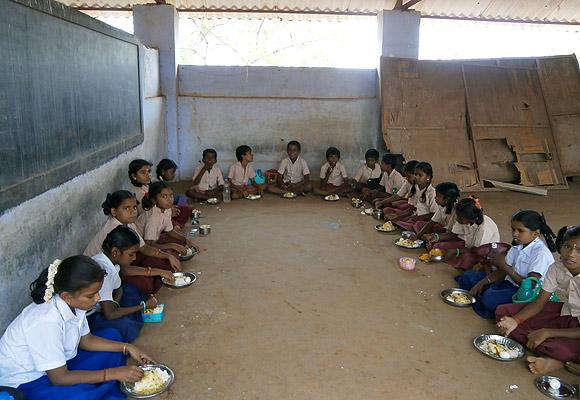 The children trooped in at 12.30 pm. Two of the plates were dirty. "Go wash it, there is water outside," said the cook, and the girls ran out obediently. The cook asked one child, "I haven't seen you in three days, where were you?" "I went for a temple festival," came the soft reply.
Some of the children had brought food from home but ate with the others. Some had bought a little food from home, and ate both, all of them seated in a line on the freshly swept floor. The food was served to them.
"In some schools they have to stand in line with their plates in hand, I don't like that. I like to serve them, like in a marriage hall," declared Muthulakshmi.
The headmistress said, "They usually do a good job so we don't interfere with them, but if necessary we advise them." The young kids said they liked the food. And, surprisingly, they did not drop the food all over the floor despite their young age.
Muthulakshmi reacts to my Bihar question and said, "The provisions are from the government. The vegetables are bought every day. If the egg is spoilt I throw it away, even though there is a chance that the children or the teachers might complain that we did not give them eggs. I keep everything covered and always taste the food first. I am sure I will know if a lizard or an insect or chemical is there in the food. Sir, I have been here for 27 years."
Please click on NEXT to read further...
Nitish Kumar, please note: How Jaya runs her noon meal scheme
July 19, 2013 16:42 IST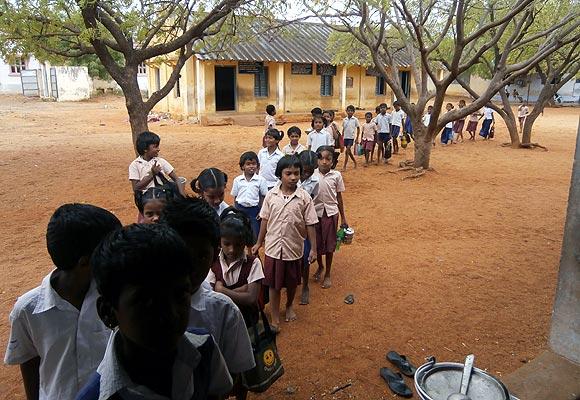 The anganwadi is the root from where everything else springs. It is here that pregnant mothers get their health supplement. It is here that lactating mothers get their nutrients. It is here that new-borns are given impossibly huge black laddoos. It is here that the baby gets his first weekly egg even before his first birthday.
This anganwadi in Nalumavadi revenue village fed seven children everyday, all below five years of age. The tiny tots were taught to wash their hands before eating. They were given dal-rice with vegetables and an extra potato. "Friday is potato day, three days it is egg day and one day is vegetable day," says the cook, Vasuki.
The organiser, Suba Shri, tells us that each child gets 80 gm of rice, 10 gm of dal, egg or potato or vegetable every day. For the vegetables and masala she is given Rs 2.55 a day for seven kids which works out to 36 paise per child. Anyways the food was hot, delicious and nutritious.
The anganwadi had its own building which had one room, one kitchen and one store. There was water available inside. And lo and behold, they had something that no other noon meal centre had. While others were operating on stone age firewood, this one had its own gas stove, cylinder and a cooker to boot.
There were charts, the alphabet, pretty pictures all around. It was what city folks would call a nursery.
From the womb to the grave, Tamil Nadu feeds its people, and feeds them well. A lesson in it for other states?